When it comes to putting on festivals, no other continent does it quite like Europe.
Enormous, star-studded line-ups, breathtaking locations and state-of-the-art, world-class production, from the iconic and insurmountable Glastonbury Festival to the mammoth, sixteen-stage dance mecca of Tomorrowland, rocker's paradise Rock Am Ring in Germany to Bilbao BBK in the mountains of Basque country, Spain... there's almost too much to go at.
Here to assist you through the difficult decision-making process of choosing the right overseas festival adventure this year, we've hand-picked fifteen of our favourites set to take place throughout the annual festival season, covering a wide spectrum of genres - from pop to hip-hop, indie, rock and electronica.
Whatever it is you're searching for - Europe's got it... Let's check them out, shall we?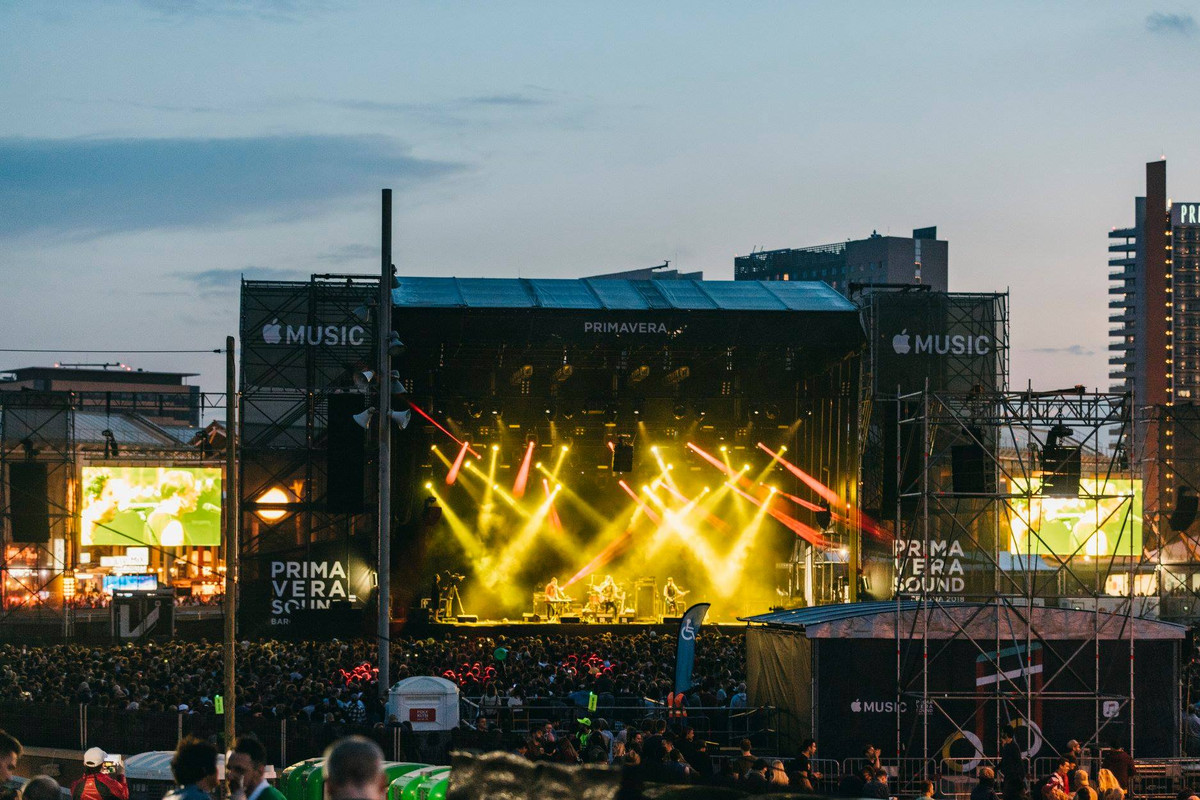 Photo: Primavera Sound / Facebook.com
2023 lineup: Depeche Mode, Pet Shop Boys, Halsey, Blur, Kendrick Lamar, Rosalia, Calvin Harris, and many more
When: Wednesday 31st May - Sunday 4th June 2023
Where: Parc del Fòrum in Barcelona
Nearest Airport: Barcelona Airport–El Prat (BCN)
Primavera Sound is one of the biggest festivals in the world and seems to be growing bigger and bigger each year. Known for booking the hottest talent and throwing genre out the window, Primavera sets the bar incredibly high for other major festivals.
Every year, Primavera wows the world with packed lineups that never miss. This year will be no different with an expanded lineup stretching across two weekends, each day filled with legendary artists as well as newbies to keep an eye on. With hip hop, pop, rock, experimental, electronic, RnB, and beyond, Primavera Sound is a great shout for 2023.
Find more information on Primavera Sound Barcelona - HERE
---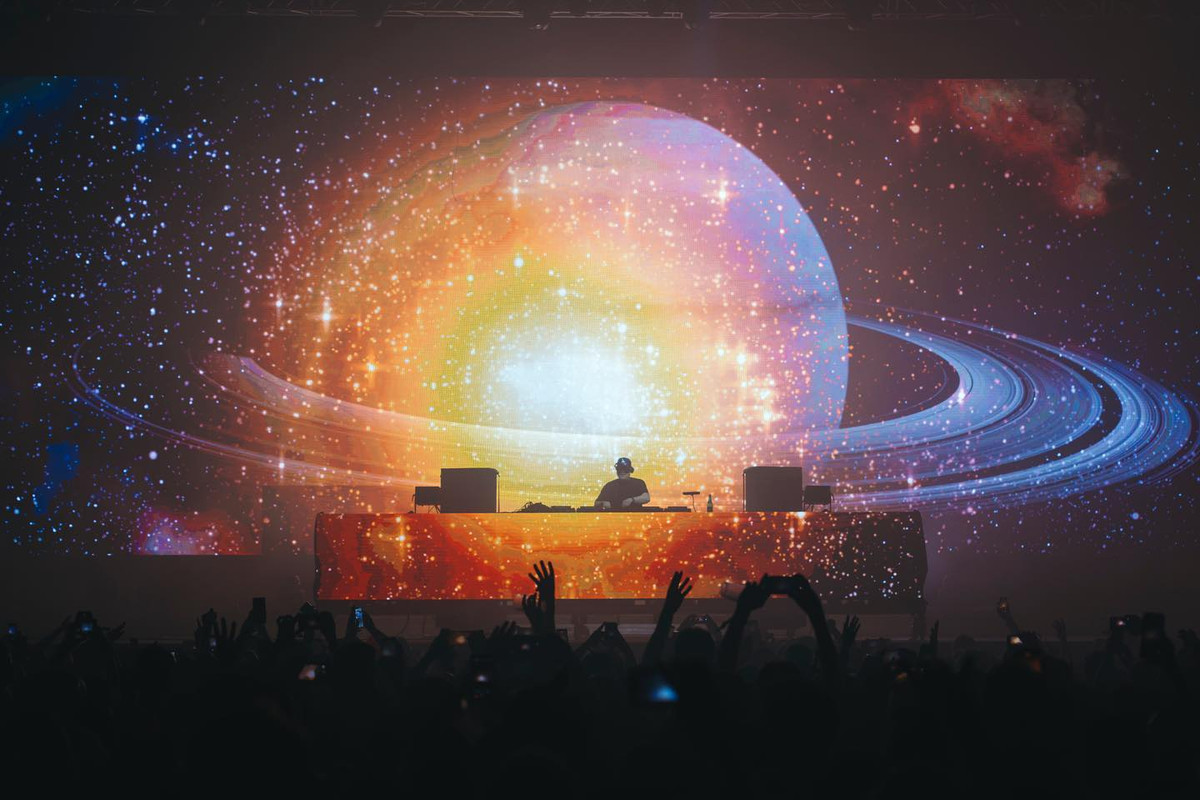 Photo: Sónar Festival / Facebook.com
2023 lineup: Bicep (live), Fever Ray, Peggy Gou, Amelie Lens, Solomun, The Blessed Madonna, Honey Dijon, and many more
When: Thursday 15th - Saturday 17th June 2023
Where: Fira Montjuïc in Barcelona
Nearest Airport: Barcelona Airport–El Prat (BCN)
Sonar Festival is known for pushing experimental electronic music, but that doesn't stop the team behind it from booking great artists from other genres, too. The fest has other editions in Reykjavik, Bogota, Buenos Aires, Istanbul and Hong Kong, but the sunny Barcelona edition is where it all began.
Beyond live music, ticketholders can enjoy technology conferences, a week of parties, business and networking opportunities, art installations, exhibitions, film screenings, debates and more. It's the perfect weekend filled with music, art, technology and creative activities.
Find more information on Sonar Festival - HERE
---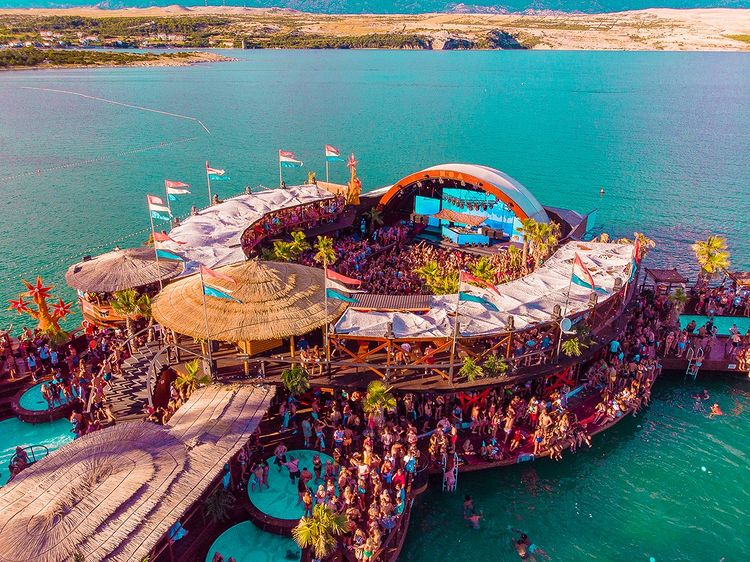 Photo: Hideout Festival Croatia / Facebook.com
2023 lineup: Alan Fitzpatrick, Honey Dijon, Andy C, Chase & Status, Sonny Fodera, Ewan McVicar, Patrick Topping, Bru-C, Eliza Rose, Harriet Jaxxon, Ben Hemsley, Gorgon City, Bad Boy Chiller Crew, and many more
Where: Zrce Beach on Pag Island, Croatia
When: Sunday 25th - Thursday 29th June 2023
Nearest Airport: Zadar Airport (ZAD)
Located on the scenic shores of the Dalmatian coast in Croatia, Hideout Festival is one of Europe's leading electronic music festivals. This year Hideout Fest is back with a mammoth-sized lineup covering a fair few genres, including techno, drum and bass, house, disco, UKG, bassline, and more. With huge, jaw-droppingly beautiful mountains around it, over 100 of the best electronic artists, pool, boat, and secret beach parties, it's no surprise Hideout has sold out every year since it started. Parties on parties with killer tunes in an unreal location - we mean, come on, it's a must!
Find more information on Hideout Festival - HERE
---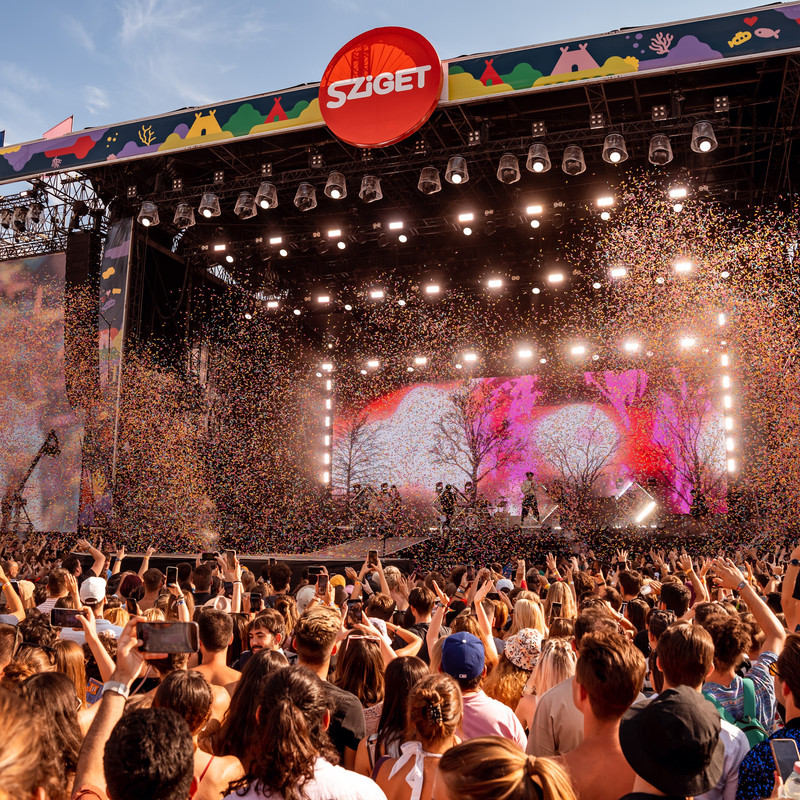 Photo: Sziget Festival Official / Facebook.com
2023 lineup: Billie Eilish, David Guetta, Florence + the Machine, Imagine Dragons, and many more
Where: Hajógyári Island in Budapest, Hungary
When: Thursday 10th - Tuesday 15th August 2023
Nearest Airport: Budapest Airport (BUD)
Situated on the banks of the river Danube in the Hungarian capital, on the man-made 'Island of Freedom' - Óbuda island, is one of Europe's biggest musical and cultural festival events; Sziget. The event is the champion of Budapest music festivals, being the biggest in the capital and even one of the biggest in Europe. With a super diverse lineup, everyone stays happy, and everyone has a good few artists to look forward to. And if you need a break from the music, you can head to the beach and take a dip, sit in on some talks, and even check out the cinema! Other artists on the lineup for 2023 include Sam Fender, Mall Grab, Amyl And The Sniffers, Mimi Webb, and The Comet Is Coming.
Find more information on Sziget Festival - HERE
---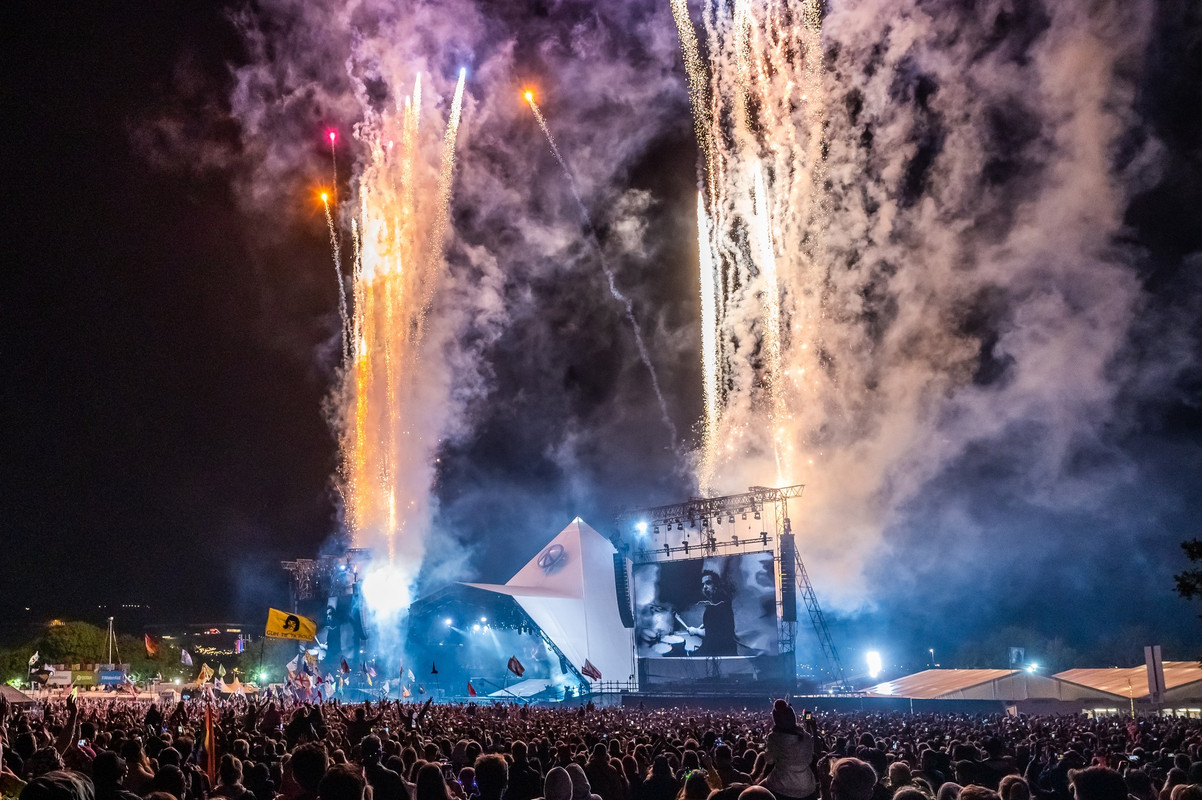 Photo: Glastonbury Festivals / Facebook.com
2023 lineup: Elton John, Arctic Monkeys, Guns N Roses, Lana Del Ray, Lewis Capaldi, Fred Again..., Blondie, Lizzo, Lil Nas X, Royal Blood, and many many more
Where: Worthy Farm in Somerset, England
When: Wednesday 21st - Monday 26th June 2023
Nearest Airport: Bristol International Airport (BRS)
Glastonbury is known across the globe for its huge lineups, large capacity and quality entertainment in the form of live music, circus performers, cinemas, and so much more. Glasto has come a long way since its humble beginnings back in 1970, a time when the festival was only one day and £1 a ticket. Today, it's the largest greenfield music and performing arts festival in the world.
Not much has been revealed about this year's edition yet, but we know Elton John will be headlining the Pyramid Stage for his last-ever UK gig. Regardless of the artists they choose, which span just about every genre you could imagine, you'll have a mint time here as there's so much to do and incredible vibes.
Find more information on Glastonbury 2023 - HERE
---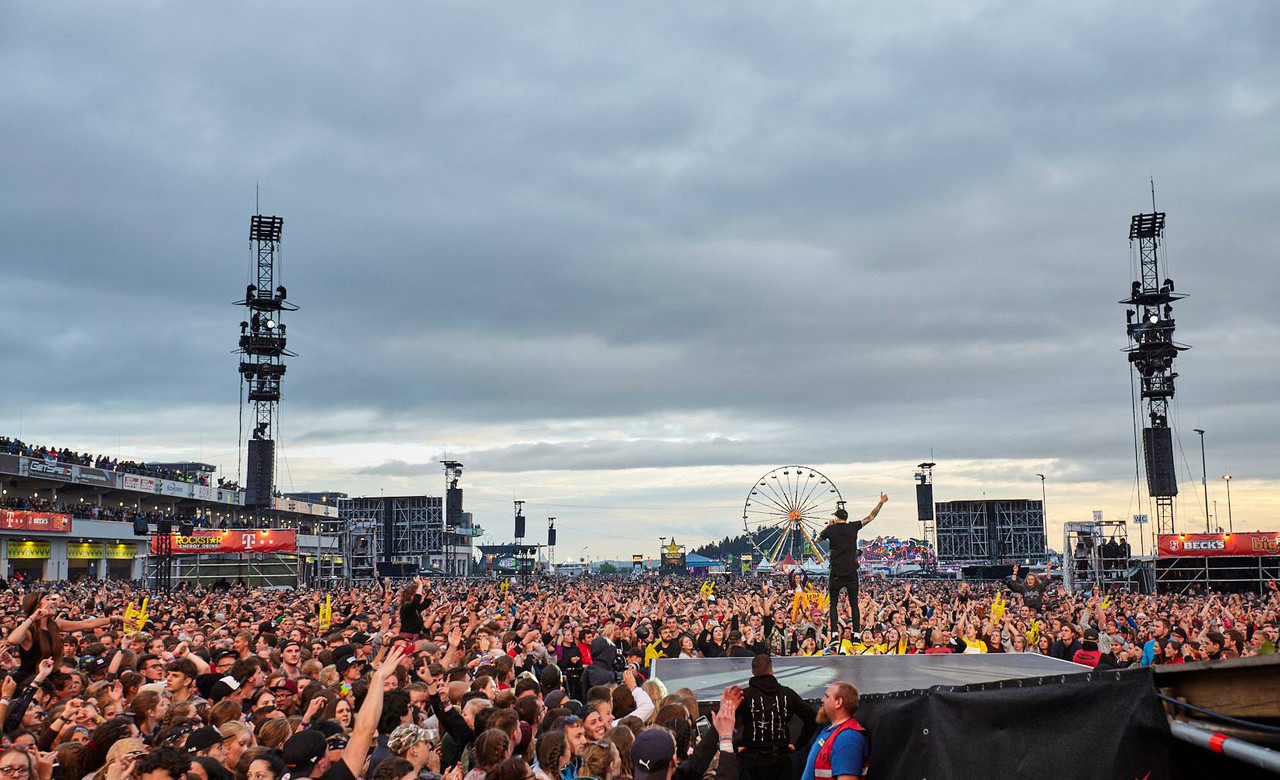 Image: Rock Am Ring / Rock Im Park on Facebook
2023 Lineup: Foo Fighters, Kings Of Leon, Die Toten Hosen, Limp Bizkit, Tenacious D, Bring Me The Horizon
When: Friday 2nd - Sunday 4th June 2023
Where: Nrburg, Nürburg & Zeppelinfeld, Nuremberg
Nearest Airport: Cologne Bonn Airport (CGN) / Düsseldorf International Airport (DUS)
These two sister festivals are known around the world as two of the biggest and best rock music festivals. Well respected in the heavier scene, the Germanic rock festival has welcomed many legendary acts including Slipknot, Paramore, Tool, Slayer, Sonic Youth, Rage Against The Machine, Alice in Chains, Halestorm, The White Stripes, and so many more. This year's lineup is looking as hard as ever, and with a crowd that's known for giving it their all, either of these mammoth festivals is worth considering if you're looking towards Germany for your festival this year.
Find more information on Rock am Ring 2023 - here / Find more information on Rock Im Park 2023 - here
---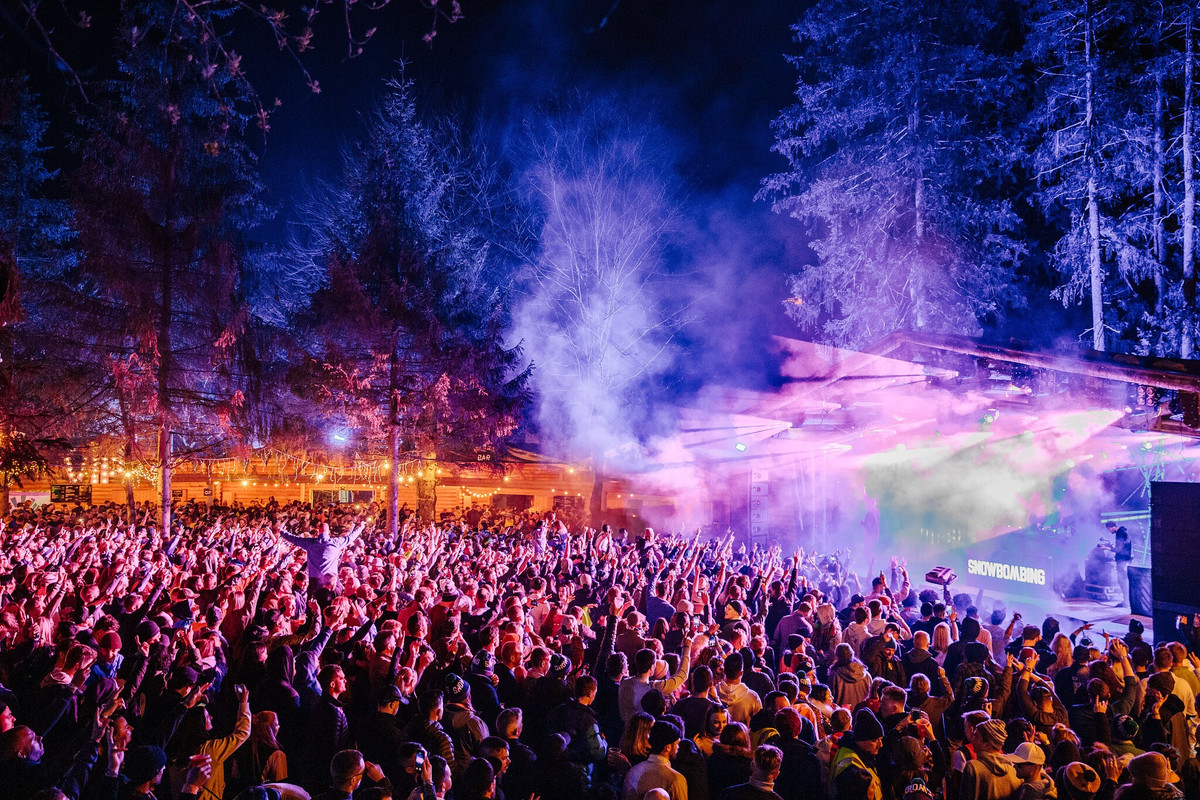 Photo: Snowbombing / Facebook.com
2023 lineup: Jamie XX, Chaos in the CBD, Ben Hemsley, Groove Armada, Bru-C, many more
When: Monday 10th - Saturday 15th April 2023
Where: Mayrhofen in Austria
Nearest Airport: Innsbruck Airport (INN) / Salzburg Airport (SZG) / Munich International Airport (MUC)
The original ski resort festival, held in the Austrian town of Mayrhofen, surrounded by miles upon miles of Alpine mountain range, is a popular destination for music lovers and adrenaline junkies alike. Attendees can ski and snowboard throughout the day on some of the gnarliest trails in Europe, and party with like-minded ravers in frozen forests and igloos by night.
Wondering what seven days at Snowbombing looks like? Anything could happen! You might discover your new favourite DJ, then laugh like a seal to some of the best comedians on the circuit before finding your zen at mountaintop yoga and meditation. There's the silent disco, UKG brunches, Bongo's Bingo, and more to discover. Then, as the fest comes to a close, you'll unwind in the hot tubs, saunas, and steam baths. Oh, and a live waterfall will be within earshot.
Find more information on Snowbombing - HERE
---
Photo: Tomorrowland / Facebook.com
2023 lineup: Amelie Lens, Eric Prydz presents HOLO, Ben Nicky, Franky Wah, Adam Beyer, Afrojack, Angerfist, Black Coffee, 999999999, Nina Kraviz, Claptone, Armin van Buuren, Above & Beyond, Dom Dolla, and many more
When: Friday 21st - Sunday 23rd July and Friday 28th - Sunday 30th July 2023
Where: Boom in Flanders, Belgium
Nearest Airport: Antwerp International Airport (ANR)
"Live Today, Love Tomorrow, Unite Forever" - that's Tomorrowland's ethos, which tells you plenty about the vibe there.
Tomorrowland is the undisputed champion of European electronic music festivals. Whether you're looking to go hard to the Earth-shattering thumping of hardstyle bangers, two-step to house tunes, or ascend to delicious trance music, there's something for you. Tomorrowland's lineup always covers just about every genre and sub-genre imaginable in electronic music.
The fest has a super extravagant stage design and décor to match its theme (which changes every year). As one of the biggest and best music festivals in Belgium, Tomorrowland is definitely worth checking out.
Find more information on Tomorrowland 2023 - HERE
---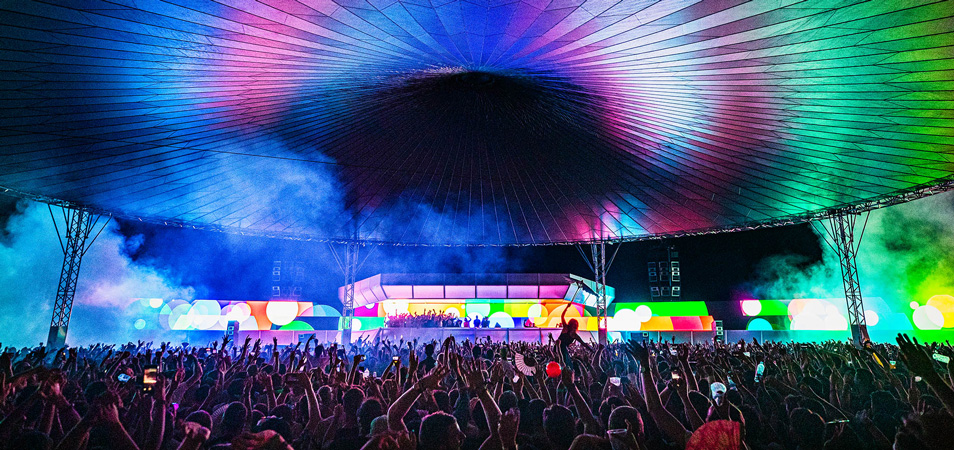 Photo: Dekmantel Festival 2023 / Facebook.com
2023 Lineup: Gary Numan, Jeff Mills, Ben UFO, Shygirl, Freddy K, Helena Hauff, Cymande, Sevalidza, and many more
When: Wednesday 2nd - Sunday 6th August 2023
Where: Amsterdamse Bos in Amsterdam
Nearest Airport: Amsterdam Airport Schiphol (AMS)
Dekmantel Festival is a special one. For one, many DJs consider it their favourite festival to play, with Jon Hopkins being one of many artists to sing its praises. The reason artists love it so much is likely due to its slightly unorthodox approach. Dekmantel encourages its artists to do things differently and explore the depths of their creativity.
Another reason Dekmantel is unique is its limited capacity. For such a cracking festival that everyone, both artists and spectators enjoys, the audience is limited to just around 6,000. Sounds brilliant, right? That's because it is! Head over to discover the best in electronic music, house, and techno.
Find more information on Dekmantel - HERE
---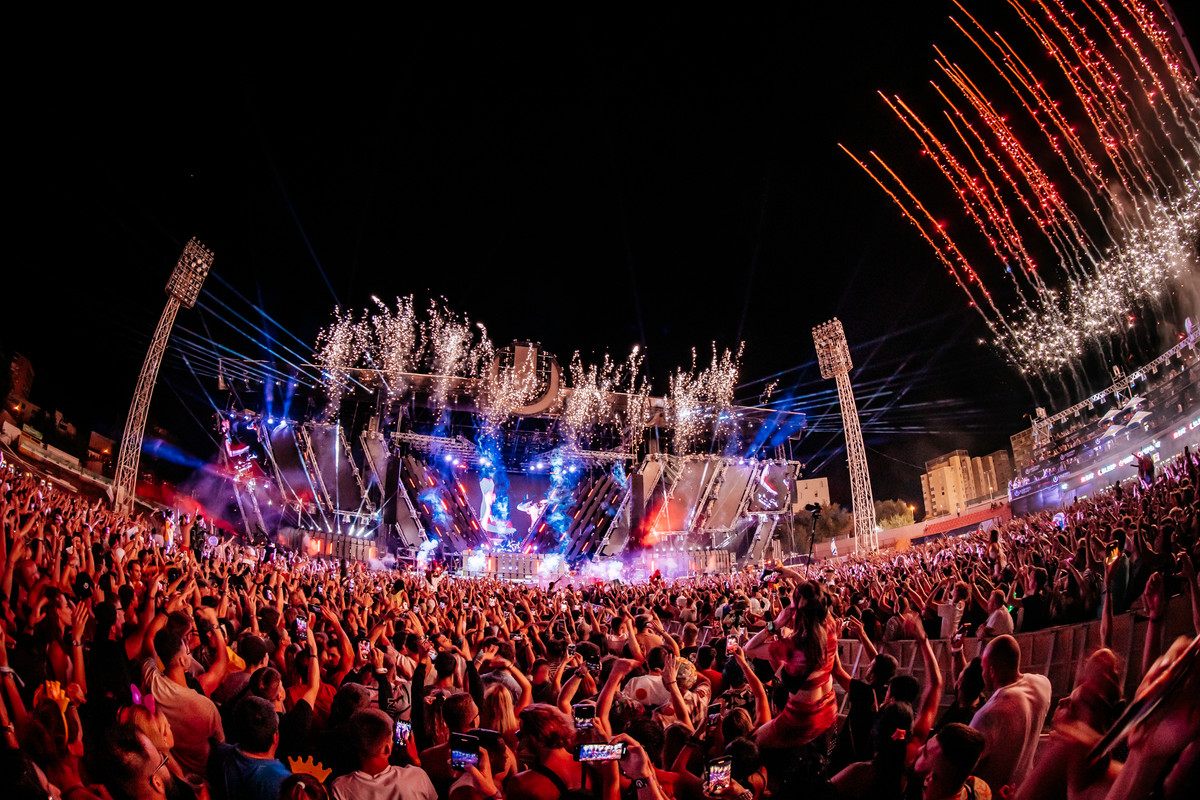 Photo: Ultra Europe / Facebook.com
2023 lineup: Carl Cox, Charlotte De Witte, Adam Beyer, DJ Snake, Alesso, Afrojack, and more
When: Friday 7th - Sunday 9th July 2023
Where: Park Mladezi in Split, Croatia
Nearest Airport: Split Airport (SPA)
Ultra Europe is one of the continent's biggest dance music brands and festivals, will return to Croatia this year for another huge celebration of banging tunes and unity. We don't have the full lineup for 2023 yet but it's already huge. Like, massive. Joining those listed above are Hardwell, Martin Garrix, Boris Brejcha, and more.
Easily one of the best festivals in Croatia, and in a shout for the best in Europe, Ultra should attract the eyes of any electronic fan. And, with it all going down in Split, you can enjoy stunning beaches, sights, markets and more while you're there!
Find more information on Ultra Europe - HERE
---
Image credit: Creamfields
2023 Lineup: Calvin Harris, Swedish House Mafia, Tiesto, Fatboy Slim, Carl Cox, Andy C, Camelphat, Nina Kraviz, Becky Hill
When: Friday 26th - Sunday 28th May 2023
Where: Hylands Park in Chelmsford
Nearest Airport: Liverpool Airport (LPL) - North, London Stansted Airport (STN) - South
If you're down to party from dusk until dawn, you need to look no further. This massive, multi-award-winning, world-renowned, open-air electronic music festival is an absolute must for all the hedonistic ravers out there. now split into a brother and sister festival, one in the north and one in the South, there's even more of a chance to be able to come down and get your groove on.
The headliners for 2023 are Calvin Harris, Swedish House Mafia and Tiesto. Names don't get much bigger in dance music than these headliners, but there's also world-class talent found throughout the rest of the roster from Andy C and Camelphat to Carl Cox and Fatboy Slim; This one will be turning the heads of many a dance music fan.
Find more information on Creamfields North - HERE
Find more information on Creamfields South - HERE
---
Bilbao BBK Live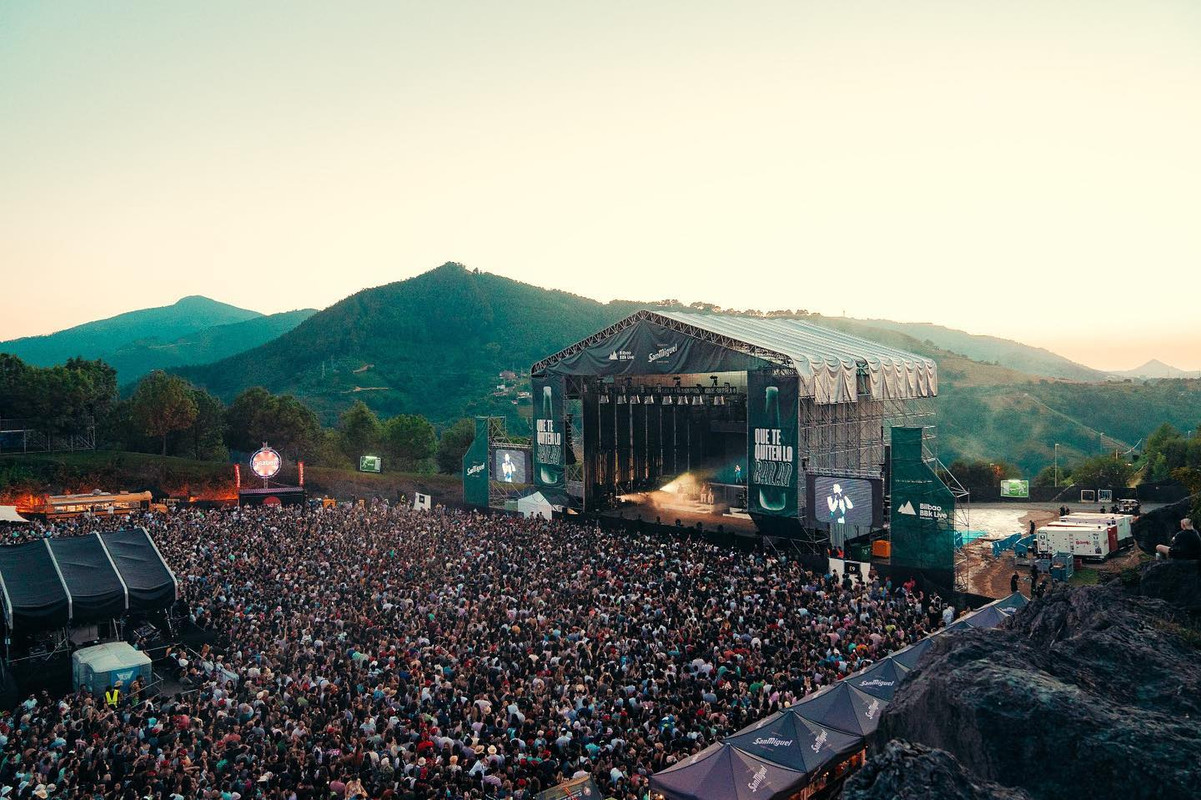 Photo: Bilbao BBK Live / Facebook.com
2023 lineup: Arctic Monkeys, Florence + The Machine, The Chemical Brothers, Jamie xx, and more
When: Thursday 6th - Sunday 8th July 2023
Where: Mount Cobetas in Bilbao, Spain
Nearest Airport: Bilbao International Airport (BIO)
Rising out of northern Spain's stunning Basque country, Bilbao BBK Live is one of the world's most elevated and appealing outdoor music events, renowned amongst international festival-goers for its idyllic setting and always impressive programme of artists.
Offering a lofty escape from the constraints of everyday modern life, the festival, which is set on the side of Mount Cobetas, provides breathtaking panoramic views over the city of Bilbao below. In between performances from some of the world's biggest musical stars, punters can relax, taking in the rejuvenating and enchanting hillside location whilst being bathed by the temperate Mediterranean sun. Lush.
This fest welcomes indie, rock, electronic, pop, and more to perform to around 100,000 music fans, with Mount Cobetas standing beautifully in the background. In a stunning location with a smashing lineup (and did we mention it's nearby the beach?!), this fest has everything we want.
---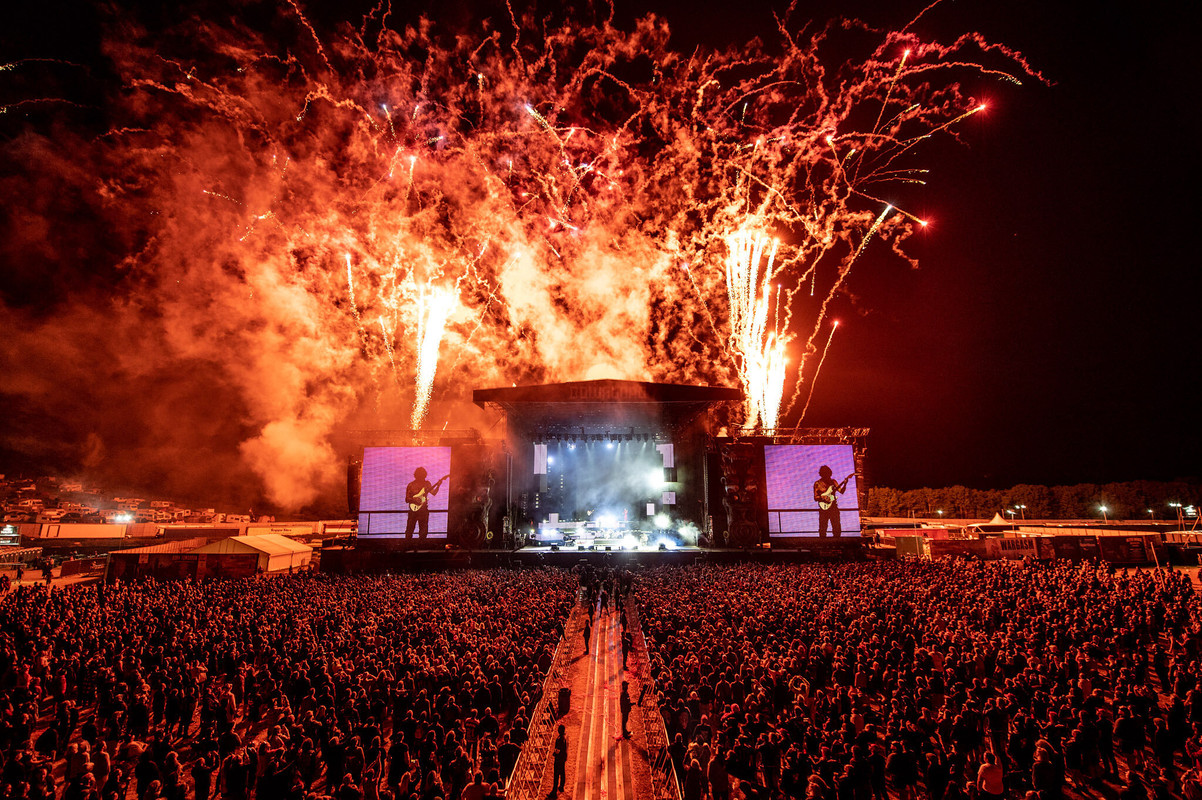 Image: Download Festival on Facebook

2023 lineup: Slipknot, Metallica, Bring Me The Horizon, Architects, Placebo, Evanescence, Disturbed, Ghost, Parkway Drive, Pendulum, Behemoth, Lorna Shore
When: Thursday 8th - Sunday 11th June 2023
Where: Donnington Park in Derby
Nearest Airport: East Midlands Airport (EMA)
The spiritual home of British rock and heavy metal, Download Festival is the UK's premier live music event for metalheads, punks and rockers alike. The annual gathering welcomes performances from some of the biggest names in the game and this year their going hard for their 20th anniversary, adding an extra day of tunes.
Metallica will headline two nights, playing two completely different sets, and we'll also be treated to headline sets from Bring Me The Horizon and Slipknot.
You can find just about every heavy genre on Download's lineups including metal, punk, rock, alt-rock, death metal, metalcore, nu-metal, and everything in between, with a splash of electronic music courtesy of Pendulum. We've only had one lineup announcement so far, so keep your eyes peeled for more announcements but know that it's going to be huge. As music festivals in Europe go, this is pretty much rock and metal Mecca.
Find more information on Download Festival - here
---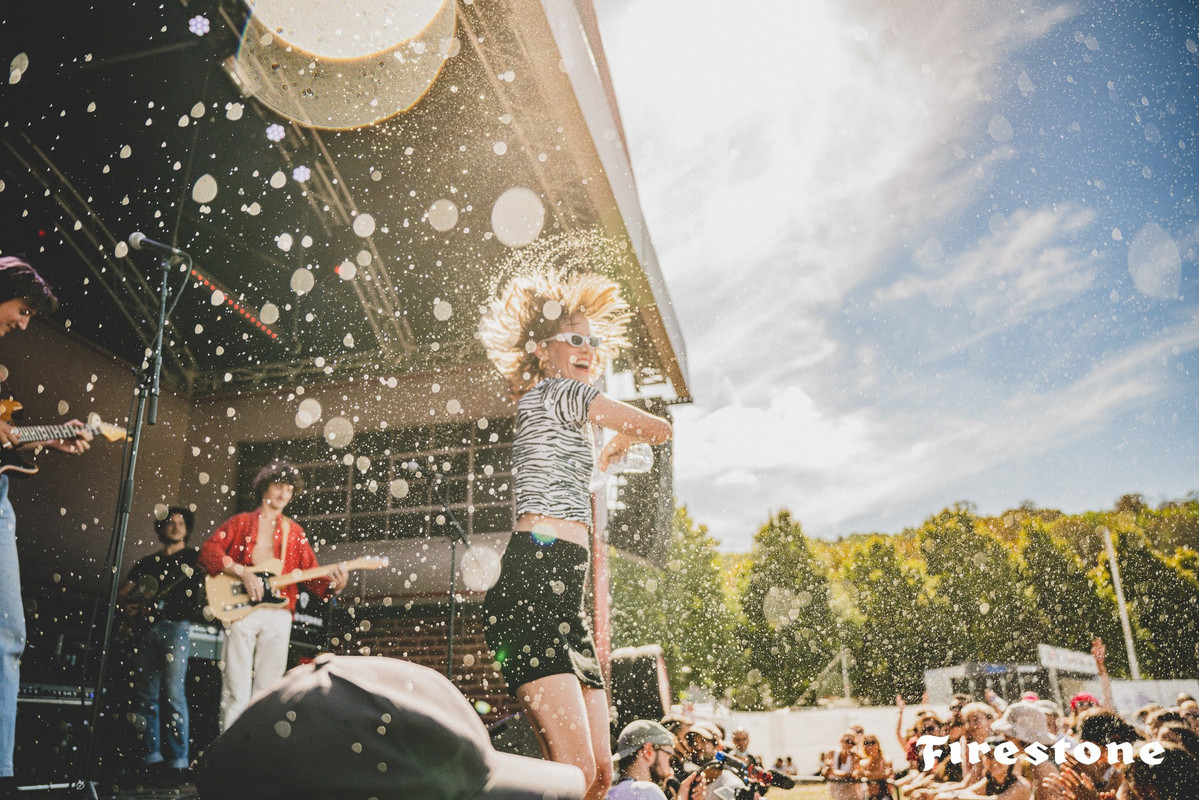 Photo: Rock en Seine / Facebook.com
2023 lineup: Billie Eilish, Florence + The Machine, Placebo, The Chemical Brothers, The Strokes, Charlotte De Witte, Foals, and many more
When: Wednesday 23rd August and Friday 25th - Sunday 27th August 2023
Where: Parc de Saint-Cloud in Paris, France
Nearest Airport: Paris Charles de Gaulle Airport (CDG)
With arguably one of the strongest lineups to rival all other French music festivals, Rock en Seine will be rocking 120,000 lucky revellers worlds in the country's capital. Alongside those huge headliners will be some brilliant smaller artists including Turnstile, Dry Cleaning, and The Murder Capital. Perfect for those who enjoy multiple genres, the fest will see sets from electronic stars, indie icons, pop royalty, and a splash of heavier bands. It'll be glorious.
Find more information on Rock En Seine - HERE
2023 Lineup: Red Hot Chili Peppers, Arctic Monkeys, Sam Smith, Lizzo, Queens of the Stone Age, IDLES, Men I Trust
When: Wednesday 5th - Saturday 8th July 2023
Where: Passeio Marítimo de Algés, Oeiras
Nearest Airport: Lisbon (LIS)
Another event that dominates the European festival season is the mighty NOS Alive. The festival is adored far and wide by locals and foreigners alike thanks to its monster lineups that span across many genres, creating an interesting fest that keeps you on your feet and excited for the next artist. This year is looking as diverse as ever with metal, rock, pop, indie, RnB, electronic, garage, alternative and more.
From the huge rock superstars like Red Hot Chili Peppers and Arctic Monkeys to the biggest pop stars on the planet in Sam Smith and Lizzo, to some stalwarts of the music world in The Black Keys and Queens of the Stone Age, NOS has it all, and the best part is they've still got more than half of the lineup to still be announced; basically, it can only get better!
Find more information on NOS Alive 2023 - here
---
Fancy checking out some of the incredible festivals currently on sale on Skiddle? You can find them all on our Festival inspire me page by clicking, or tapping - HERE
---
Check out our What's On Guide to discover even more rowdy raves and sweaty gigs taking place over the coming weeks and months. For festivals, lifestyle events and more, head on over to our Things To Do page or be inspired by the event selections on our Inspire Me page.