Kubix Festival 2022 Tickets
About Kubix Festival 2022
After a sell-out 2021 show, Kubix Festival is back for an all-day pop party like never before on Saturday 9th July 2022 in Herrington Park, Sunderland.
Remember all those nights spent drunkenly singing along to throwback bangers like Boom, Boom, Boom, Boom! and We like to Party by Vengaboys? Well now's your chance to see them and your other favourite dance-pop groups from the 90s and 00s live.
After a huge sellout edition last year, Kubix Festival 2022 is back and ready to hit you with some sonic nostalgia on a (hopefully) sunny Saturday over in Herrington Park in Sunderland.
The lineup is looking killer with the icons Steps, Aqua, Vengaboys, and Alice Deejay on the bill. And over at the dance tent will be Fatman Scoop, DJ Ironik and more. Tunes, throwback vibes, and pints? You can't go wrong.
With such a massive lineup that screams nostalgia and fantastic vibes, we doubt tickets will last very long.
Grab your Kubix pop party festival tickets now to secure your place at the maddest throwback dance-pop party.
Children under 5 go free and don't need a ticket for entry.
If you are looking for Kubix Rock Festival please click here
Music genres: Pop, 90s
Kubix Festival line up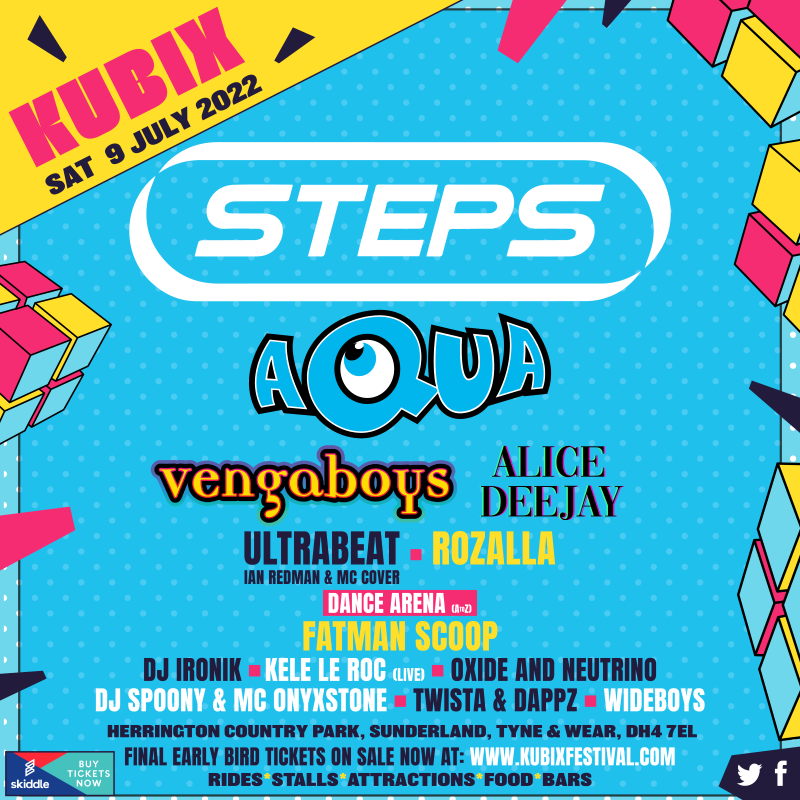 Kubix Festival information & FAQs
Disabled Access Information
Travelling to/from the festival
Map of Hotels near festival site
Try our fully interactive map of all nearby hotels and accommodation. Please check location and dates before booking.
The history of Kubix Festival
Explore similar festivals to Kubix Festival
Find similar festivals by exploring the categories and classifications below:
Categories: Mainstream / Pop Music festivals, Family Friendly festivals
Type: Music festivals
Size: Medium sized festivals
Amenities: Toilets