MADE Festival 2022 Tickets
About MADE Festival 2022
Since debuting in 2014, MADE Festival has become a cultural institution in the Midlands. Originally based in inner-city Birmingham the event has moved across a number of venues in the region and this year arrives at the impressive Dunstall Park in Wolverhampton.

Battling against all odds in 2021, MADE became one of the few major UK festivals to take place and continue its mission to spearhead the West Midlands burgeoning creative scene.

Featuring the usual blend of the region's finest street food, street art displays, installations and live demonstrations, as well as world-class DJs and live acts, the 2022 festival is set to celebrate its eight year with the biggest and most exciting production to date.


Music genres: House, UK Garage, Drum n Bass, Tech House, Bass Music
MADE Festival Reviews
Our visitors have reviewed MADE Festival 784 times. Read reviews of this festival »
Average rating:
4.1/5
from 784 reviews
MADE Festival line up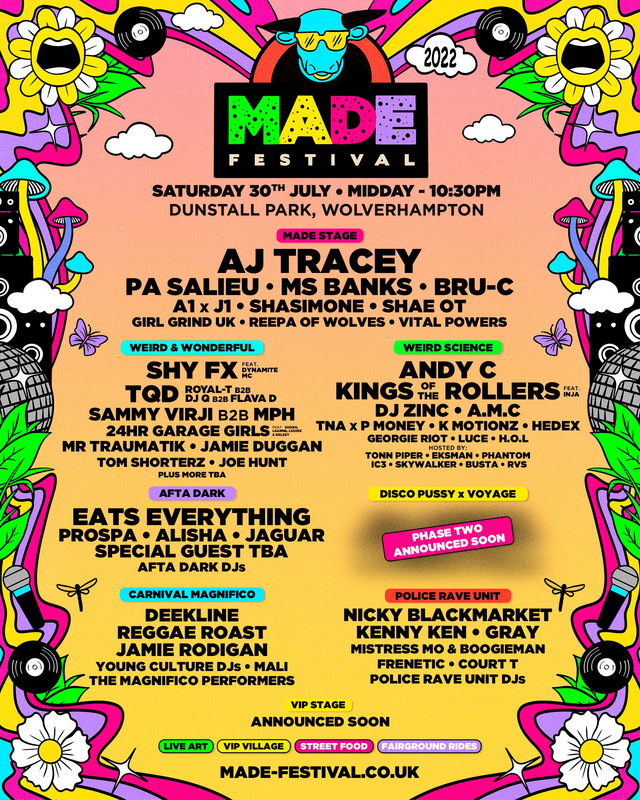 MADE Festival information & FAQs
Disabled Access Information
Travelling to/from the festival
Map of Hotels near festival site
Try our fully interactive map of all nearby hotels and accommodation. Please check location and dates before booking.
The history of MADE Festival
Explore similar festivals to MADE Festival
Find similar festivals by exploring the categories and classifications below:
Categories: Dance Music festivals, Boutique / Grassroots festivals, Budget festivals
Type: Music festivals
Size: Large sized festivals
Amenities: Luxury Toilets, Toilets
Attractions: Fairground