When we think summer, we think fun, booze, being carefree, and tunes. And music festivals are the place where all of that comes together.
Yep, with beautiful weather incoming and summer vibes thick in the air, July festivals are the place to be. Feeling it yet? We know you are. Here are the best festivals in July we can't wait for.
Image: Nass on Facebook
2023 Lineup: Wu-Tang Clan, Little Simz, Flava D, Pip Millet, Finn Foxell, Easy Life, Chase and Status, Biig Piig, Hedex, Shy FX.
When: Thursday 6th - Sunday 9th July 2023
Where: The Royal Bath and West Showground in Bath
NASS is a four-day festival held at the Bath and West Showground, which brings together 15,000 lovers of music, skating and BMXing to celebrate their lifestyle. Pitch your tent for a long weekend in the action sports and music world: purpose-built skate and bike parks and 5 stages of Dubstep, Drum and Bass, Punk and Rock.
This year's lineup is seriously stacked for fans of the rap genre, with superstar US rap group Wu-Tang Clan celebrating the 30th anniversary of 'Enter the Wu', alongside recent Mercury prize winner Little Simz, whose recent record since her win has only cemented her position as the Queen of Rap. With many other cult rap icons announced and a few more waiting eagerly in the sidelines; NASS in 2023 looks set to be a special one.
Between the massive music acts and the raw action sports professionals ruthlessly competing for gold, the festival's aim is to push boundaries. To ride or to party? You decide.
Tickets for NASS Festival 2023
Ticket waiting list for NASS Festival
Tickets you want not available? We know it's frustrating, but don't worry we've got your back. Join the waiting list below and we'll reserve you tickets if they become available.
---
Image: Mad Cool Festival on Facebook
2023 lineup: Robbie Williams, Lizzo, Lil Nas X, Machine Gun Kelly, Queens of the Stone Age, The Black Keys, Sam Smith, Red Hot Chili Peppers, Liam Gallagher, The Prodigy, and more
When: Thursday 6th - Sunday 8th July 2023
Where: Madrid, Spain
If there's any festival you can trust, it's one that's been nominated for an award titled Best Festival in the World.
From Mad Cool's first edition, they've brought the biggest names in music to Madrid. This year is looking as big as ever, with household names covering the lineup poster. Alongside those headliners, there's Honey Dijon, Rina Sawayama, Paolo Nutini, and The Hu. So that's electronic, metal, pop, indie, hip-hop, rock, and a splash of funk. And there are dozens more artists we've not even touched on, so every one of your mates is sure to have at least one artist they're dying to see.
Click or tap here for the best music festivals in Madrid
Find tickets for Mad Cool Festival - here
---
Image: Kelburn Garden Party on Facebook
2023 Lineup: Crazy P, Auntie Flo, Mungos Hi Fi, Dr Meaker, K.O.G., Rival Consoles, and many more
When: Friday, 30th June - Sunday 2nd July 2023
Where: Kelburn Country Centre in Largs
Interactive art installations, pop-up parties, waterfall plunge pools, workshops, a 13th-century painted castle, The magical Kelburn Garden Party festival is a cultural and artistic safari for the mind, body and soul, featuring a unique programme of music, art and entertainment spread throughout the ancient and spell-binding forest glen and gardens.
This family-friendly, independent event is bursting at the seams with creativity. Turning its back on the standard idea of what a festival should be, entertainment can be found, seen and heard in the most absurd of environments.
2023 sees the magical garden party returning for another year, and bringing it with a host of familiar music names - from London-based electronic music and visual art producer, Max Cooper to radio host and British house DJ Paulette, the legendary Ragga Twins with DJ Krucial, East African rising star Kampire and many more.
Tickets for Kelburn Garden Party
---
Photo: Bassfest on Facebook
2023 Lineup: Andy C, Holy Goof, Hybrid Minds, Krept & Konan, Bugzy Malone, Bad Boy Chiller Crew, Ben Hemsley, Ewan McVicar, Hedex, Shy FX, and so so so many more
When: Saturday 16th - Sunday 17th July
Where: Don Valley Bowl, Sheffield, England
Anyone who loves to skank out in a field with their mates to some filthy tunes will love Bassfest. Going down in Sheffield, Bassfest boasts a pretty killer lineup with icons from drum and bass, house, bassline, and similar genres. Picture it: the sun sets, you finish your pint, and one of Shy FX, Andy C, or Hybrid Minds takes to the stage for a set that blows your mind with all the pyro. Lovely.
Tickets for Bassfest 2023
---
Image: Kubix festival on Facebook
2023 Lineup: Sugababes, Blue, Five, A1, 911, N-Trance, Basshunter, Ultrabeat, and many more
When: Saturday 15 July, 2023
Where: Herrington Country Park in Sunderland
Sunderland's best pop party, Kubix, provides a much-needed injection of pure pop cheese for their joyous and carefree party that annually lights up the North East. Repeatedly bringing back pop icons from the older lots youth to come and get them moving like they used to when they were younger.
The Limneups are absolutely jam-packed with excellent throwbacks, especially in 2023. We're talking about Five, A1, The Sugababes, Blue, 911, Basshunter, and so much more. If you spend your nights out in Popworld, well you've probably already got tickets, but we can't remember a more well-catered cheesy pop lineup. So all rise, push the button, and get your tickets, we know it's all you ever wanted.
Tickets for Kubix Festival - Pop & Dance
---
Photo: MADE Festival / Facebook.com
When: Saturday 29th July 2023
Where: The Digbeth Triangle in Birmingham
2023 lineup: Ben Hemsley, Shy FX, Sammy Virji, Girls Don't Sync, Gardna, Hybrid Minds, and more
Arguably the champion of UK day festivals, MADE has been a widely-adored multi-genre electronic fest since its inception in 2014 with house, drum and bass, UKG, tech house, and more.
When you aren't raving to the best names on the scene, you can get stuck into street food, street art displays, live demonstrations, and art installations. The team behind the fest have also promised the most ambitious production to date, so you know you're in for a goodun.
Tickets for MADE Festival
---
Image: Rock Werchter on Facebook
2023 lineup: Arctic Monkeys, Muse, The 1975, Red Hot Chili Peppers, Fred Again.., Stormzy, and many more
When: Thursday 29th June – Sunday 2nd July 2023
Where: Festival Park in Werchter, Belgium
Back again with a stunning lineup, the award-winning Rock Werchter brings hip hop, rock, alt rock, metal, indie, electronic, and pop tunes to Belgium. Straight off the bat, we've got some huge, iconic names in headline slots. And there are plenty of other killer artists on the lineup, like Squid, slowthai, Sam Fender, and Rufus Du Sol.
With a lineup like that, it's going to be a hard one to top. And if the stunning lineup wasn't enough to convince you, this Belgian festival has been praised in the past for great organisation with free earplugs, short queues, and easy access to water.
Click here for more festivals in Belgium.
Find more information on Rock Werchter 2023 - HERE
---
Image: Rolling Loud Portugal on Facebook
2023 Lineup: Travis Scott, Meek Mill, Playboi Carti, Aitch, D-Block Europe, Gucci Mane, Kodak Black, JID, Joey Bada$$, Lil Uzi Vert, Nines
When: Wednesday 5th - Friday 9th July 2023
Where: Praia da Rocha beach, Portimão, Portugal
The world's biggest hip-hop festival is returning to the stunning Praia da Rocha beach in Portugal once again and, this one is set to be even better than the 2022 return. Last year's edition saw three huge headliners and other rising stars such as Jack Harlow, Rico Nasty, AJ Tracey, Flo Milli, and Central Cee.
However, 2023 looks absolutely stacked already, with some of the biggest names in the rap game coming down to Portugal and making a scene. The likes of Travis Scott, Meek Mill, Playboi Carti, Aitch, D-Block Europe, Gucci Mane, Kodak Black, JID, Joes Badass, Lil Uzi Vert, and Nines will be playing and there is even still more to come.
The crowd for this are always hardcore and the beachfront vibes are truly magical. So, if you are a huge hip-hop fan, and you and your pals are feeling a cheeky trip to Portugal for your summer festival this year, then it's hard to look past Rolling Loud.
Click here for more festivals in Portugal.
Find more information on Rolling Loud Portugal 2023 - here
---
2023 Lineup: Red Hot Chili Peppers, Arctic Monkeys, Sam Smith, Lizzo, Queens of the Stone Age, IDLES, Men I Trust
When: Wednesday 5th - Saturday 8th July 2023
Where: Passeio Marítimo de Algés, Oeiras
Another event that dominates the festival season in Portugal is the mighty NOS Alive. The festival is adored far and wide by locals and foreigners alike thanks to its monster lineups that span across many genres, creating an interesting fest that keeps you on your feet and excited for the next artist. This year is looking as diverse as ever with metal, rock, pop, indie, RnB, electronic, garage, alternative and more.
From the huge rock superstars like Red Hot Chili Peppers and Arctic Monkeys, to the biggest pop stars on the planet in Sam Smith and Lizzo, to some stalwarts of the music world in The Black Keys and Queens of the Stone Age, NOS has it all, and the best part is they've still got more than half of the lineup to still be announced; basically, it can only get better!

Click here for more festivals in Portugal.
Find more information on NOS Alive 2023 - here
---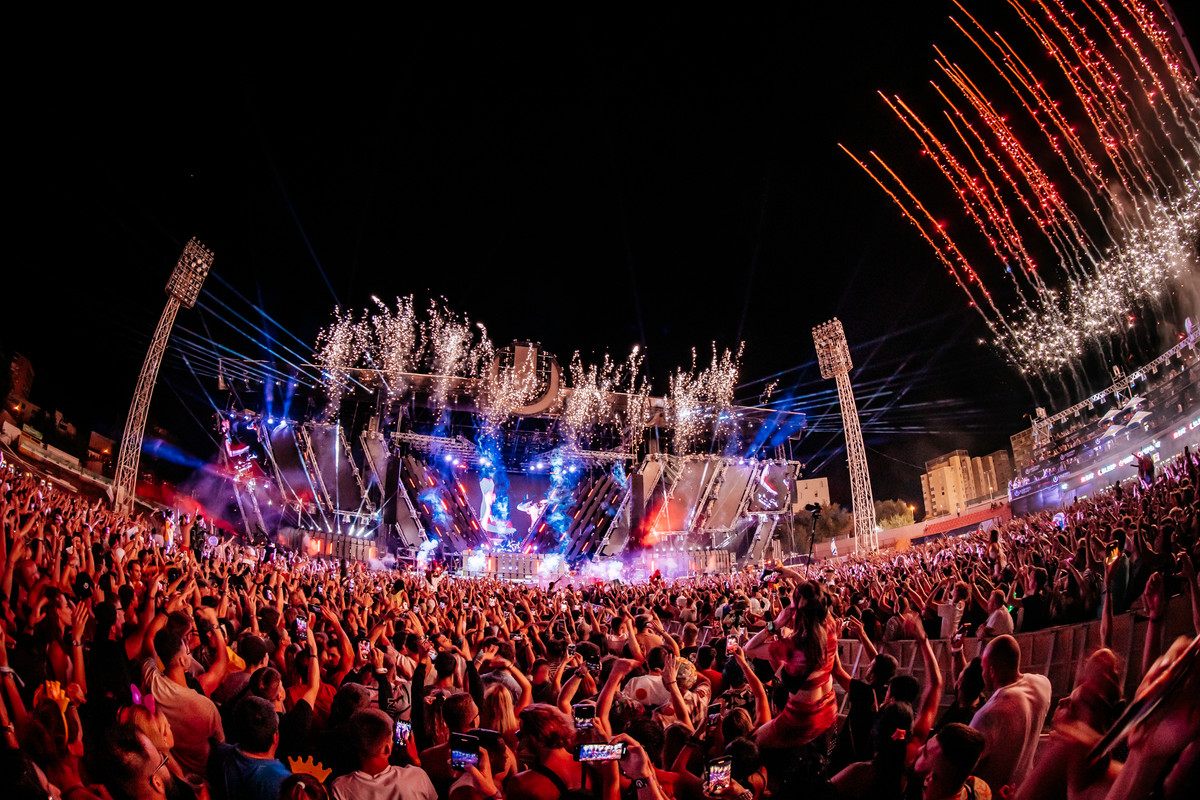 Photo: Ultra Europe / Facebook.com
When: Friday 7th - Sunday 9th July 2023
Where: Park Mladezi in Split, Croatia
2023 lineup: Carl Cox, Charlotte De Witte, Adam Beyer, DJ Snake, Alesso, Afrojack, and more
Ultra Europe, one of the world's biggest dance music brands and festivals, will return to Croatia this year for another huge celebration of banging tunes and unity.
We don't have the full lineup for 2023 yet but it's already huge. Like, massive. Joining those listed above is Hardwell, Martin Garrix, Boris Brejcha, and more.
Easily one of the best festivals in Croatia, Ultra is a shout for any electronic fan. And, with it all going down in Split, you can enjoy stunning beaches, sights, markets and more while you're there!
---
2023 Lineup: Pulp, Paolo Nutini, George Ezra, The Kooks, Metronomy, Paul Heaton & Jacqui Abbott, Black Midi
When: Thursday 20th - Sunday 23th July 2023
Where: Henham Park, Suffolk
One of the most impressive parts of Latitude Festival is the scale of the forest around it, enclosing and peering above all the tents below. A festival that's dedicated to greenery, Latitude has environmentally friendly initiatives such as bicycle hire, zero waste campsites and water refills.
Of course, no forest festival would be complete without stages dedicated to the scenery around it. And so, at Latitude, you will find six right in the heart of the forest and separate areas dedicated to theatre, art installations and more.
Plus, it's got an absolutely killer lineup. Returning Britpop icons Pulp are headlining one day, with the other two slots owned by Scottish Indie Soul darling Paolo Nutini, and pop icon George Ezra, plus elsewhere you'll get to see the likes of The Kooks, Metronomy, Paul Heaton & Jacqui Abbott, Black Midi tear up whatever stage they grace.
We'll see you in the woods for this one!
Find more information on Latitude 2023 - here
---
Tomorrowland
Photo: Tomorrowland on Facebook
2023 lineup: Amelie Lens, Eric Prydz presents HOLO, Ben Nicky, Franky Wah, Adam Beyer, Afrojack, Angerfist, Black Coffee, 999999999, Nina Kraviz, Claptone, Armin van Buuren, Above & Beyond, Dom Dolla, and many more
When: Friday 21st - Sunday 23rd July & Friday 28th - Sunday 30th July 2023
Where: Boom in Flanders, Belgium
Perhaps the biggest of all festivals in July, Tomorrowland is electronic music Mecca. The fest is huge, taking place over three weekends, and every year attracts thousands from all corners of the globe to celebrate multiple genres including EDM, dance, house, techno, hardstyle, and everything in between.
The momentous festival is known for its to-die-for lineups (just try combing through that image and tell us it isn't), crazy stages and immaculate vibes. It's back again in 2023 and ready to knock some socks off, blow some minds, and leave hundreds of thousands of people with unforgettable memories of grooving and having the very best time with all their clothes pals.
---
Image: Kubix Festival on Facebook
2023 lineup: Squeeze, The Enemy, Marc Almond, Inspiral Carpets, Terrorvision, Elvana, Neds Atomic Dustbin
When: Saturday 22nd July 2023
Where: Herrington Country Park in Sunderland
After another excellent edition of Kubix Alternative Festival in 2022, the North East knees up is returning in 2023 yet again for its fifth year, with the team promising that the event is going to return bigger and better for this milestone year.
Headlining the festival will be the 80s pop icons, Squeeze, who alone should make you feel tempted. Alongside will be the, recently reformed, noughties indie rockers The Enemy; one half of Soft Cell, and the man who's gonna take hold of your heart, Marc Almond; as well as the 90s Madchester legends Inspiral Carpets, who complete a lineup that might finally make them less lonely. Get those tickets and head up to the best celebration of alternative music in the North East.
Tickets for Kubix Festival - Rock & Indie
---
Bilbao BBK Live
Photo: Bilbao BBK Live / Facebook.com
2023 lineup: Arctic Monkeys, Florence + The Machine, The Chemical Brothers, Jamie xx, and more
When: Thursday 6th - Sunday 8th July 2023
Where: Mount Cobetas in Bilbao, Spain
Rising out of northern Spain's stunning Basque country, Bilbao BBK Live is one of the world's most elevated and appealing outdoor music events, renowned amongst international festival-goers for its idyllic setting and always impressive programme of artists.
Offering a lofty escape from the constraints of everyday modern life, the festival, which is set on the side of Mount Cobetas, provides breathtaking panoramic views over the city of Bilbao below. In between performances from some of the world's biggest musical stars, punters can relax, taking in the rejuvenating and enchanting hillside location whilst being bathed by the temperate Mediterranean sun. Lush.
This fest welcomes indie, rock, electronic, pop, and more to perform to around 100,000 music fans, with Mount Cobetas standing beautifully in the background. In a stunning location with a smashing lineup (and did we mention it's nearby the beach?!), this fest has everything we want.
Click here for more music festivals in Spain.
---
Openair Frauenfeld
Image: Openair Frauenfeld on Facebook
2023 Lineup: Travis Scott, Kendrick Lamar, Aitch, Bonez MC & Raf Camora, Stormzy, Wizkid, Central Cee, Denzel Curry
When: Thursday 6th - Saturday 9th July 2023
Where: Frauenfeld, Switzerland
Europe's biggest, wildest hip-hop festival will be back in July 2023, to welcome around 150,000 hip-hop-loving fans for a weekend of rap royalty. The festival has been running since 1985 and has grown exponentially to now consistently delivering the hardest lineups. If you have a passport and love hip-hop, keep your eye on this one.
This year's lineup is no exception to the rule, with the likes of Travis Scott, Aitch, Kendrick Lamar, Bonez MC & Raf Camora, BHC and Gazo set to perform, with many more yet to be announced.
If you're thinking about attending Openair Frauenfeld, expect a brilliant lineup, crazy crowds, and pure fun. The 2022 edition looked like an unreal return after two years out of the game, and with a lineup as stacked as it is, 2023 is going to blow it out of the park.
---
We'd argue some of the best festivals are in July. And you can't blame us; look at them! From the cracking artists to the stunning locations, these July festivals will be some of the most memorable of 2023.
Didn't find what you're looking for? Click or tap here for more July festivals.
---
---
Check out our What's On Guide to discover even more rowdy raves and sweaty gigs taking place over the coming weeks and months. For festivals, lifestyle events and more, head on over to our Things To Do page or be inspired by the event selections on our Inspire Me page.


Photo: TRNSMT on Facebook