Kubix Alternative Festival 2022 Tickets
About Kubix Alternative Festival 2022
After a fantastic 2021 show, Kubix Festival's Alternative day of rock, indie and much more, is back this Summer, extended to two days of brilliant live music on Friday 15th and Saturday 16th July 2022 in Herrington Park, Sunderland.
With a spectacular show across two stages and fantastic bands, including Shed Seven, UB40, Happy Mondays,Stiff Little Fingers, Ash, Lightning Seeds, New Model Army, Reef, Undertones and many more, on the bill, this will be two days of the very best live music, not to be missed.
Music genres: Rock, Rock & Roll, Brit Pop, Indie Pop, Pop Ro
ck, Punk, Ska, Alternative, New Wave
If you are looking for Kubix Pop Festival please click here
Music genres: Rock, Rock & Roll, Brit Pop, Indie Pop, Pop Rock
Kubix Alternative Festival line up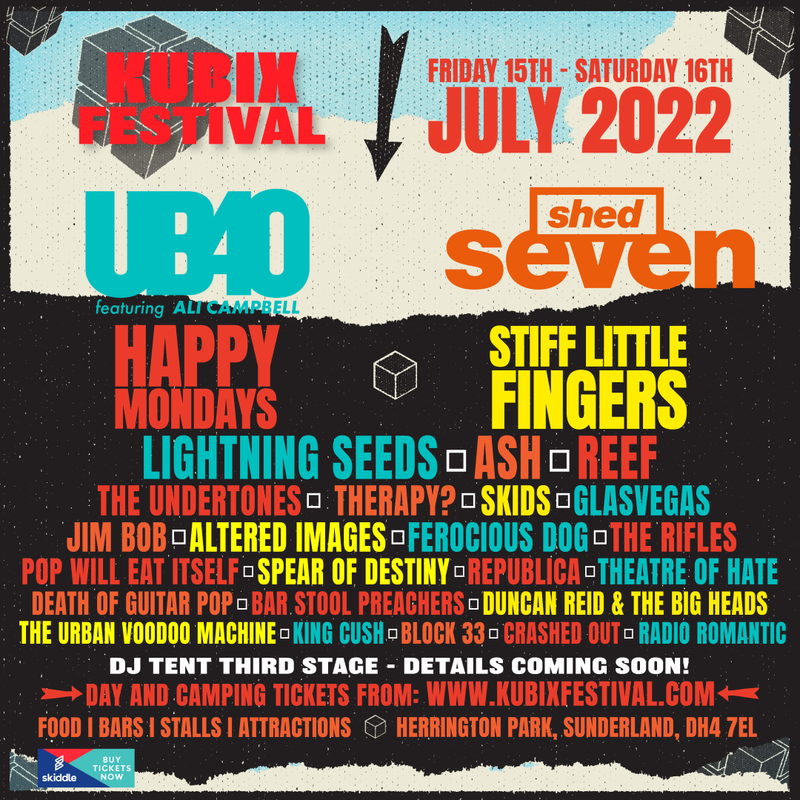 Kubix Alternative Festival information & FAQs
Where do the shuttle buses run from?
Disabled Access Information?
What Disabled facilities are there?
Map of Hotels near festival site
Try our fully interactive map of all nearby hotels and accommodation. Please check location and dates before booking.
Kubix Alternative Festival news