Spain has always had a deep connection to music. So many beautiful genres originate from Spain, including Spanish folk, flamenco, and fandango, to name a few. So it'll come as no surprise to you to hear that there are bucket loads of insanely popular, incredible festivals that go down in the country. And so it'd only make sense that there'd be great fests in the country's capital too.
With a bunch of brilliant festivals, we're sure we don't need to convince you to check Madrid out. But if you do need a bit of convincing, know the city is less touristy than Barcelona, it's easy to navigate, there's beautiful architecture, stunning parks, and, of course, the food is life-changing.
But we're here to discuss the festivals. So let's get into it. Here are the best music festivals in Madrid to keep on your radar as we head into festival season…
When: Thursday 6th - Saturday 8th July 2023
Where: Espacio Mad Cool in Valdebebas-Ifema, Madrid
2023 lineup: Robbie Williams, Lizzo, Queens of the Stone Age, Lil Nas X, Sam Smith, The Prodigy, Machine Gun Kelly, The Black Keys, Red Hot Chili Peppers, Liam Gallagher, and many more
It only makes sense to start with the biggest and best, right? Mad Cool is one of Spain's most adored festivals that attracts thousands from all over the world for a chance to check out some of the most legendary artists performing live.
This year's lineup is overflowing with modern music icons including Honey Dijon, Rina Sawayama, Rufus Du Sol, Sigur Ros, The 1975, and The Blessed Madonna. But there's also plenty of smaller names on the lineup such as Touché Amoré, Nova Twins, Pixey, and more. We don't need to say much about Mad Cool. The lineup says enough.
---
A Summer Story
When: Friday 23rd - Saturday 24th June 2023
Where: Ciudad del Rock in Madrid
2023 lineup: Armin van Buuren, Shlomo, Klangkuenstler, Fisher, Don Diablo, Nico Moreno, I Hate Models, and many more TBA
Here's one for the bucket-hat-wearing, gun-finger toting, two-stepping ravers. A Summer Story is a massive electronic music festival in Madrid that brings some of the scenes biggest names to around 60,000 ravers each year and 2023 will see it back again for its seventh edition.
Perfect for a friend group with diverse tastes, one stage at the fest is typically dedicated to EDM while another is reserved for underground techno and house, with harder styles represented across both.
---
DCODE Festival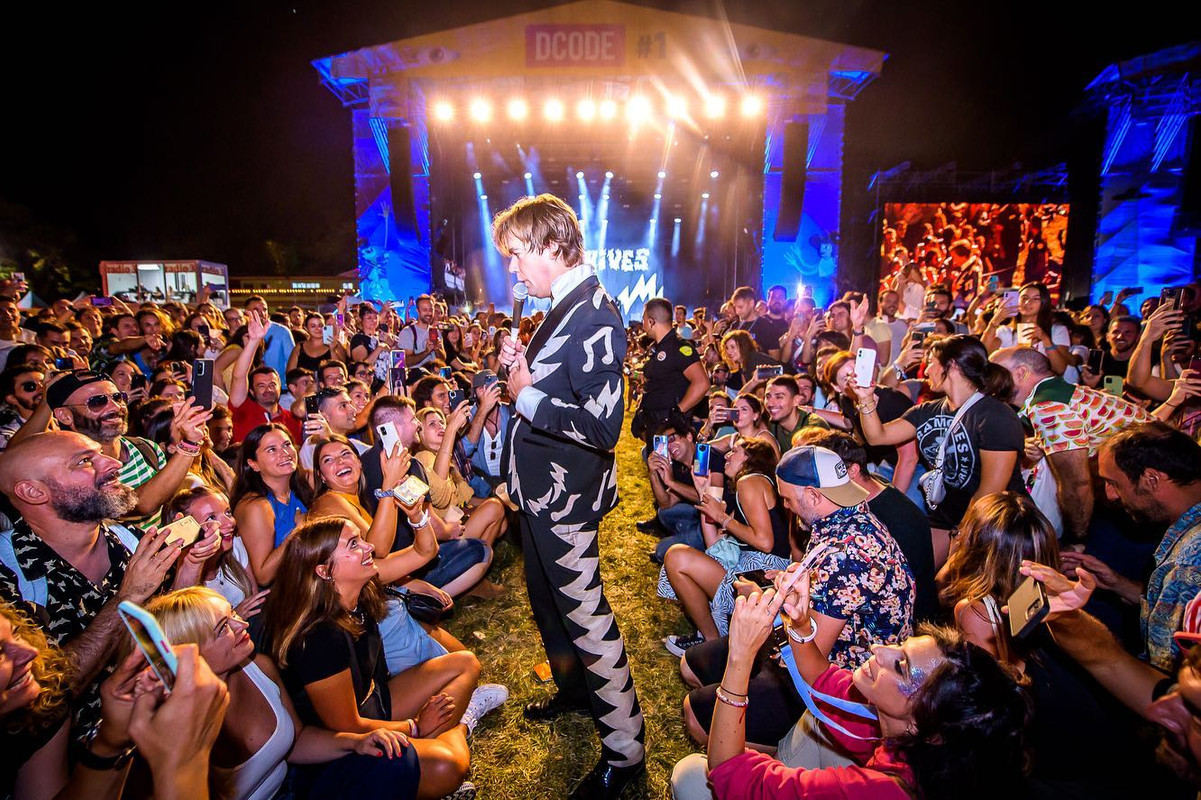 Photo: Dcode festival / Facebook.com
When: TBA
Where: Universidad Complutense de Madrid Campus in Madrid
2023 lineup: TBA
DCODE is a one-day rock, indie and pop festival that brings some of the worlds most in-demand artists to around 25,000 festivalgoers. Nothing has been confirmed for this year's edition yet, but previous years have seen The Vaccines, Jorja Smith, Liam Gallagher, Charli XCX, Foals, and Wolf Alice.
Likely taking place in September, DCODE is the perfect fest to see out the festival season with and soak up some last-minute rays before the sun vanishes for winter. And with such brilliant past lineups, you can guarantee a fantastic show to close off the year properly.
---
Tomavistas Festival
When: Thursday 22nd - Saturday 24th June 2023
Where: Enrique Tierno Galván Park in Madrid
2023 lineup: TBA
Perfect for those wanting to discover new music, Tomavistas Fest focuses on Spanish talent with the occasional international talent making an appearance. The most common genres you can find at Tomavistas include pop, rock, and electronic, allowing for a diverse range of music while maintaining a clear identity.
As the fest takes place in the stunning Enrique Tierno Galván Park, guests can check out the beautiful scenery in between acts, such as the tranquil pond surrounded by trees and the shelters that the trees interweave with. A beautiful location for any festival.
---
Rio Babel
When: Friday 30th - Sunday 2nd July 2023
Where: Caja Magica in Madrid
2023 lineup: Jamiroquai, Morat, Juan Luis Guerra 4.40, Bomba Estereo, Macaco, Julieta Venegas, and more
A newcomer to the Madrid festival scene, Rio Babel will be bringing a super diverse lineup to around 14,000 people this summer. This year's lineup is already bursting with Hispanic artists from electronic, folk, pop, Latin, salsa, rock, and hip hop.
So if a truly diverse festival that covers many genres is what you're after, Rio Babel could be your paradise. Especially if you're keen on hearing what sounds Spain, Colombia, Dominican Republic, America, and more have to offer!
---
So which Madrid festival have you got your eyes on? Whether you prefer the sound of the icon packed lineup at Mad Cool or the smaller, predominantly lesser-known Spanish lineup of Tomavistas, there's a sun-soaked festival in Madrid that will be the highlight of your year.
---
---
Check out our What's On Guide to discover even more rowdy raves and sweaty gigs taking place over the coming weeks and months. For festivals, lifestyle events and more, head on over to our Things To Do page or be inspired by the event selections on our Inspire Me page.


Header image: Dcode festival / Facebook.com