There's just something special about a forest festival, isn't there? You manoeuvre yourself through a natural labyrinth as strobe lights peek out between the cracks as if some kind of UFO has landed nearby. The enclosed space of a forest can make a festival seem communal and intimate.
They are places of complete escape where you can forget about any worries of the daily grind or any kind of responsibility. So here we have compiled a list of the best forest festivals that will provide you with that much-needed getaway in 2022.
---
2022 lineup: TBA
When: Thursday 21st - Sunday 24th July
Where: Henham Park, Suffolk
One of the most impressive parts of Latitude Festival is the scale of the forest around it, enclosing and peering above all the tents below. A festival that's dedicated to greenery, Latitude has environmentally friendly initiatives such as bicycle hire, zero waste campsites and water refills.
Of course, no forest festival would be complete without stages dedicated to the scenery around it. And so, at Latitude, you will find six right in the heart of the forest and separate areas dedicated to theatre, art installations and more.
The lineup hasn't been released yet, but if last years is anything to go by, it'll be brilliant. 2021 saw some huge names in music, including Wolf Alice, The Chemical Brothers, Hot Chip, Rudimental, Bastille, and Bombay Bicycle Club, take to the stage. As well as music, the festival had Jo Brand, Katherin Ryan, and more.
Find tickets for Latitude 2022 - here
-
---
2022 lineup: Basement Jaxx, Adam Beyer, Shy FX, Dimension, Sonny Fodera, Eli Brown, Sub Focus, Gok Wan, Hybrid Minds, Monki
When: Saturday 2nd - Sunday 3th July
Where: TBA
Forbidden Forest was born out of a love for dance music and clubbing, with the organisers wanting to move away from the restricting spaces of clubs and warehouses. So, they took their fest to the forest for a weekend of nothing but bangers, raving and cracking memories.
With intense performances and 12 hours of ensuing hedonism, prepare for the festival canopy to be lit up by lights of all colours, intensities and shapes. We already have some massive names on the lineup, including Basement Jaxx, the hitmakers behind "Where's Your Head At?" and "Romeo". Alongside them is Adam Beyer, Shy FX, Sonny Fodera, Dimension and more. And there are still names to be announced! We only have the first phase of artists, and they've already knocked it out of the park.
Find tickets for Forbidden Forest 2022 - here
-
---
2022 lineup: TBA
When: Thursday 25th - Sunday 28th August
Where: Lost Village Festival, Lincolnshire
Lost Village takes place in an abandoned woodland village. Sounds kind of creepy, right? This couldn't be further from the truth. Lost Village is the place to be for all things house, techno, disco and dance. The trees provide the perfect cover as you step into this hidden land and discover a new world full of mystery and wonder.
A thoroughly immersive and ethereal experience from start to finish, this unique festival invites around 18,000 passionate ravers to escape the aches and pains of everyday life by immersing themselves in the forest and the tunes.
Feel free to explore the village, taking in the sounds of the abandoned chapel, check out the global street food at Basecamp and take a relaxing trip to the Lake of Tranquillity. Lost Village's mystery premise is an alluring prospect and no trip is ever the same.
Find tickets for Lost Village Festival 2022 - here
-
---
2022 lineup: TBA
When: Thursday 4th - Sunday 7th August
Where: Cornbury Park, Oxfordshire
Wilderness Festival is framed within the wonderful splendour of Cornbury Park in Oxfordshire. Created by the team behind Lovebox and Secret Garden Party, this festival is an ode to diverse creativity. Artists from indie, funk, soul and dance all emerge here for a party within the meadows, and if you really feel like it, you can even dive into the lake.
We're eagerly awaiting a lineup announcement but rest assured it'll be brilliant. Last years fest featured the likes of Jamie xx, Loyle Carner, Rudimental, Bicep, Mahalia, David Rodigan & The Outlook Orchestra, The Blessed Madonna, Jayda G, Eats Everything, you get the picture.
As well as banging music, there are plenty of other activities to get stuck into. Last year had disco yoga, tai chi, qi gong, massages, theatre, and talks and debates. We can't wait!
---
2022 lineup: TBA
When: Saturday 25th June
Where: Witton Park, Blackburn
Restricted Forest Festival is here to deliver what we all need from time to time - a good old-fashioned rave-up. With music from the realms of house, techno and old school, this fest offers exactly what any raver could want in a secluded forest location.
There's a lot of mystery surrounding the event but the forest itself is its own mystery. It's said that our ancestors were banned after becoming too addicted to the secret of the forest. Now it has been unlocked again for our everlasting enjoyment.
No artists are confirmed yet but don't let that put you off. Last years lineup saw Love Inc., Snap!, Ultrabeat, Flip N Fill, Ratpack, Shades Of Rhythm and secret headliner Bugzy Malone take to the stage. You're in safe hands.
So grab your ticket, stick on your wellies, and get your gun fingers out because it's gonna be a mad one.
Find tickets for Restricted Forest Festival 2022 - here
-
---
Lovefest
2022 lineup: TBA
When: Thursday 4th - Saturday 6th August
Where: Park Jezero, Kacarevo, Serbia
Lovefest is one of the biggest house and techno festivals in the world. They haven't revealed the lineup for this year's edition yet but we know it'll be brilliant. For one, it was founded by DJ Groove Armada and last years edition saw Patrick Topping, Apollonia, Jamie Jones, Ilario Alicante, Michael Bibi and more put on mind-blowing shows for 50,000 guests and probably a few confused squirrels. And that's not all. Like many festivals, Lovefest isn't just about music. You can also enjoy film screenings, workshops and more.
Set between the trees of Park Jezero in Serbia, Lovefest is undeniably a jaw-dropping location as you get nestled between the forest and get to experience some stunning set design and amazing pyrotechnics. It is well worth the 4-ish hours on a plane.
---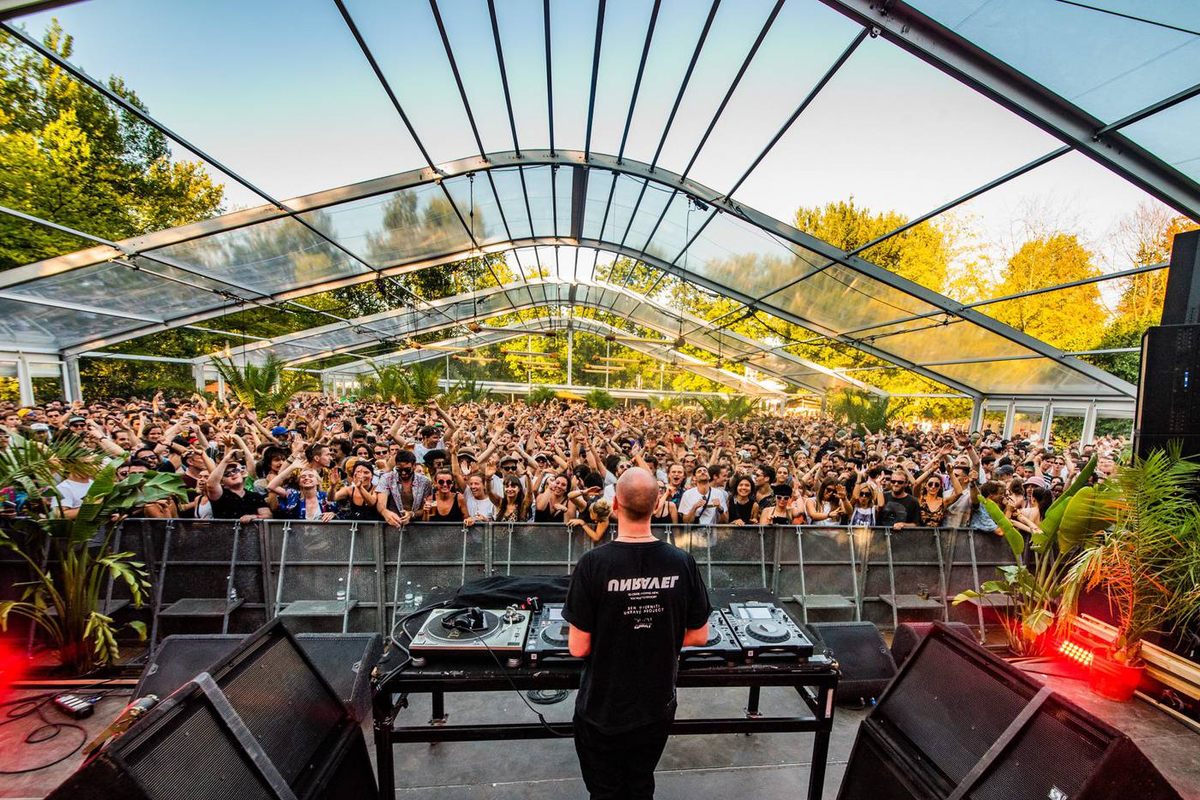 Image credit: Dekmantel (Facebook)
2022 lineup: TBA
When: Thursday 4th - Sunday 7th August
Where: Amsterdamse Bos, Amsterdam, Netherlands
Dekmantel Festival is an insane forest festival in Amsterdam that brings thousands of partiers to enjoy unreal electronic acts. We're waiting for a lineup announcement but, to give you a taste of what's in store, last years saw some top acts names including Floating Points and DJ Harvey, so we know it'll be great.
The fest is stretched across six, beautifully designed stages in the Amsterdamse Bos with stunning lights and are packed in tightly by borders of trees, giving the festival quite an intimate feeling despite its size. Dekmantel has a reputation for being the place where artists are allowed to let loose, making for a cutting edge festival that has the artists on show trying to push boundaries at every turn.
Find tickets for Dekmantel Festival 2022 - here
-
---
2022 lineup: Atlantik, Audley, Beth Lydi Vs Andreas Henneberg, Eats Everything, Frida Darko, Ipcress, John Digweed, Lize, OC & Verde, Quivver
When: Thursday 7th - Sunday 10th July
Where: Coney Woods, Leicestershire
Noisily Festival has a strong ethos that reflects its surroundings of Coney Woods. They have five pillars of Inclusion: the environment, wellness, education, community and creativity. With 6,000 people entering this festival it creates a close-knit community of shared beliefs.
As well as music, the festival focuses on three key subjects - mind, body and soul. Over four days, festival-goers will dive into the topics in workshops, healing practices and talks. The idea is to heal yourself and the planet we call home. It's the perfect event to reconnect with yourself, heal, make friends, find like-minded people, and of course, enjoy some banging tunes.
The full lineup hasn't been released yet but already we can see some great acts will be accompanying you on your spiritual journey at Noisily. Acts like Eats Everything, Atlantik and Frida Darko will be too good to miss. To complement the whole hippy vibe, the fest has a distinctively psychedelic feel in its lighting arrangements, transforming the woods into another world. If you've always wanted to check out a trippy forest rave, you know what to do…
Find tickets for Noisily Festival 2022 - here
-
---
Into The Woods Festival
2022 lineup: TBA
When: Friday 9th - Saturday 10th September
Where: Amersfoort, Netherlands
The Netherlands is one of the places in Europe we can all recognise as a haven for music fans. There are so many incredible music fests over there so of course they'd make this list.
Into The Woods is primarily geared towards electronic music but covers multiple genres. ITW usually books lesser-known artists but still include the occasional big name. For example, past lineups have included Alan Fitzpatrick, Abstract Division, Detroit Swindle, Adriatique, Nightmares on Wax, Juan Sanchez, to name a few.
What better place to discover your new favourite artist than in a secluded forest in The Netherlands?
---
Forest festivals are on another level. If music takes you to another planet, experiencing live music in a secluded forest takes you to another universe. We all deserve to completely let go from time to time, and that's exactly what hiking out to the middle of nowhere and raving to some sick tunes does.
---
---
Have these forest festival recommendations woken up the adventurer in you? Well, if you're looking for more amazing festivals that are going down this year, then check out our festival finder here.
Header image credit: Noisily Festival (Facebook)