In a week when everyone across the British Isles melted under the extreme heat of the firey sky demon, we saw some pretty cool and refreshing new events popping up on Skiddle!
Just in time to see out the remainder of the decent summer we've all been enjoying as of late, a broad range of rather impressive events are set to take place over the coming weeks and months, featuring performances from dance music icons the likes of Carl Cox, FISHER and Graeme Park, and guitar heroes, Working Men's Club, The Orielles and more...
Don't hang about, tickets are moving fast for the following events! Why not treat yourself - go on, you deserve it - bag a few tickets and make sure you make the most of both the summer sun and your newfound freedom!
(Click or tap on the event titles and artist names below for tickets and more...)
When: Saturday 14th August 2021
Where: Bramley Moore Dock in Liverpool
The DJs DJ of choice. The man, the myth, the bonafide legend - Godfather of techno, Carl Cox is coming to Liverpool this August to celebrate CIRCUS' 19th Birthday!
For those unaware of this man's talent and pedigree - seriously, where have you been? - he's one of the most influential names in electronic music. A true pioneer of the scene, an admired selector and a trusted curator.
Over the past three decades, he's appeared and performed at massive events across the world - from Glastonbury to Tomorrowland, Coachella and Creamfields - and still takes on residencies in the megaclubs of Ibiza, almost each and every year.
Catch him doing what he does best alongside CIRCUS boss Yousef, Deborah De Luca, East End Dubs, Syreeta and James Organ at Liverpool's Bramley Moore Dock next month.
Find tickets for CIRCUS presents Carl Cox - here
-
---
When: Saturday 6th November 2021
Where: Depot (Mayfield) in Manchester
From the team behind of the best and most acclaimed parties Manchester has ever experienced, this year's Homobloc Festival will be built on the same ethos as its predecessor, 2019's legendary Homoeletcric event - 'A place where there are no entry requirements, whether you're hetero, homo, lesbo or don't know, there's space for you here'.
A queer block party like no other, this inclusive and all-embracing day-long event will see live sets from some of the most adored names in dance music. Amongst the big hitters confirmed to take to the stage are the likes of Honey Dijon, Hot Chip, Derrick Carter, Octo Octa, Haai, Avalon Emerson... the list goes on.
Find tickets for Homobloc Festival - here
-
---
Back In The Day w/Graeme Park & more
When: Saturday 24th July 2021
Where: The Royal Music Hall in Stoke-on-Trent
Hacienda hero, Graeme Park will take a trip back in time alongside Stoke-On-Trent's very own house music ambassador, Pete Bromley this weekend, performing classics at Back In The Day.
Taking place at The Royal Music Hall, the 7-hour rave event - running from 9 pm until 4 am - will see world-class sets from both house music legends, spinning only the finest retro house cuts, with additional support from local talents Bob's Disco and Darren Harvey.
Join all four selectors at what is set to be one of the biggest parties the city has witnessed since the reopening of clubs, and dance until you can't no more.
Find tickets for Back in the Day w/Graeme Park & more - here
-
---
Old Skool Day Party - Liverpool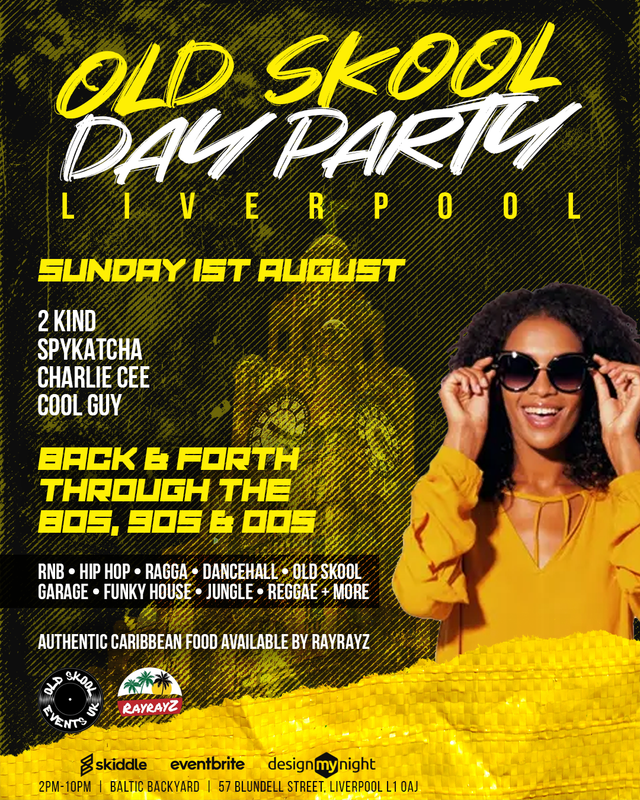 When: Sunday 1st August 2021
Where: Baltic Backyard in Liverpool
Promising a full day of nothing but old skool bangers, the Old Skool Day Party at Liverpool's Baltic Backyard will have you reliving moments from your past, delivering a definitive soundtrack of the '80s, '90s and '00s.
Watch DJs 2Kind, Spykatcha, Charlie Cee and Cool Guy performing retro anthems from 2 pm until 10 pm, covering the very best tracks in RnB, hip hop, ragga, dancehall, garage, old skool and more.
Dig out those dancing shoes and fix up in your finest attire, ready for the old skool Party of the year.
Find tickets for Old Skool Day Party in Liverpool - here
-
---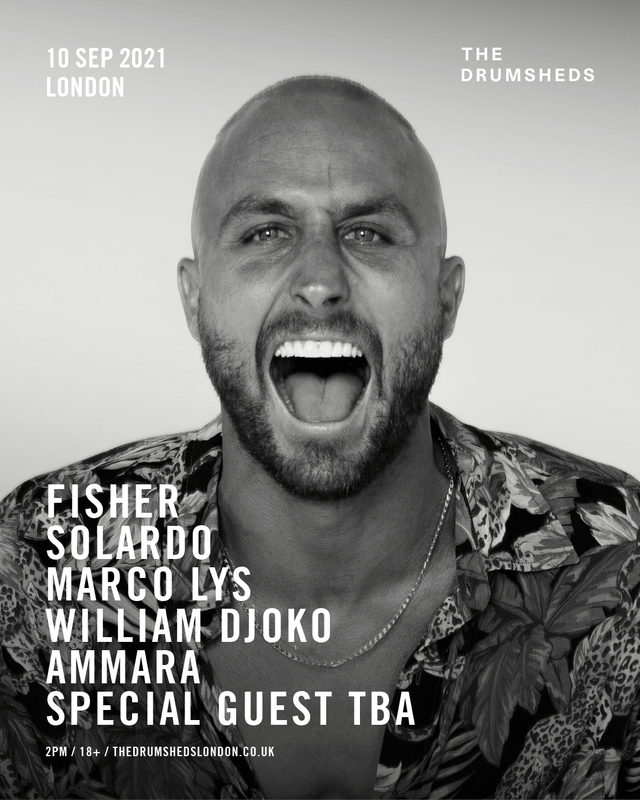 When: Friday 10th September 2021
Where: The Drumsheds in London
Everyone's favourite Aussie DJ, FISHER is gearing up for a trip over to British shores this September.
Confirmed for a HUGE headline performance at one of London's premier nightclubs - The Drumsheds, the 34-year-old producer is set to commandeer the venues' open-air stage, awarding those present with a first-rate selection of dance music, running throughout the day and long into the night.
Joining the techno-wizard on stage, Manchester duo Solardo, Marco Lys, William Djoko, Ammara and more will all put their stamp on the event.
If it's high octane club bangers you seek, look no further. This is a show you definitely can't afford to miss.
Find tickets for FISHER - Live in London - here
-
---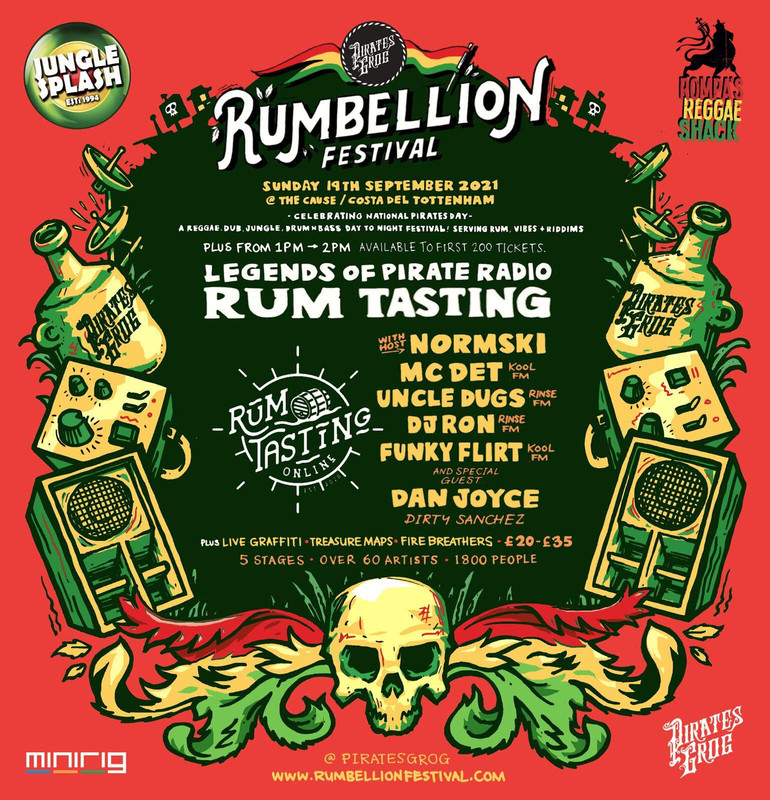 When: Sunday 19th September 2021
Where: The Cause Ashley House in London
Ahh, the pirate's life. Swanning about on boats all day, knocking back copious amounts of rum... Who doesn't like the sound of that? Well, if that does in fact sound like a bit of you, we've got some good news! London's Rumbellion Festival is the unofficial pirate convention of the capital.
That's right, you can become a pirate for the day at this upcoming one-day event! Help celebrate National Pirates Day on September 19th by sampling a range of the finest rums known to man, whilst watching a 12-hour all-star lineup of the best reggae, dub, jungle and drum n bass in town.
The event will stage performances from respected names the likes Congo Natty, Iration Steppas, Dub Pistols (DJ Set), Normski, Ray Keith, Rodney P + Skitz, King Tubby's, Fatman Sound and many more.
Find tickets for Rumbellion Festival - here
-
---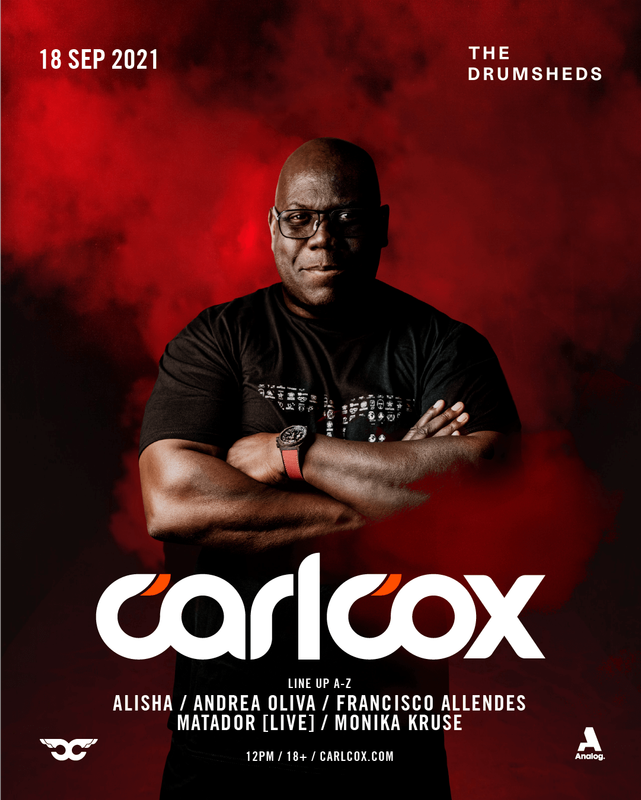 When: Saturday 18th September 2021
Where: The Drumsheds in London
Appearing on this week's New On Skiddle for a second time - Oh, oh yes, you guessed it. It's only Carl Cox again.
Obviously still very much in demand, the idolised DJ extraordinaire will grace The Drumsheds in London with his god-like presence this September, bringing his usual bag of dancefloor destroying records along with him.
Headlining an all-day outdoor event at the popular clubbing spot, the dance legend will receive support on stage from fellow techno talents, Alisha, Andrea Oliva, Francisco Allendes, Matador and Monika Kruse.
Tickets are flying. Don't hesitate. Go with your gut. You know it makes sense.
Find tickets for Carl Cox Invites - here
-
---
---
Wait, don't leave! There's more...
Check out the following selection of excellent upcoming events with tickets still on sale!
Ibiza Proms In The Park Festival
When: Thursday 9th September 2021
Where: Tudor Grange Park Solihull in Solihull
Have you ever considered what some of your favourite club classic anthems might sound like when performed by a full orchestra, consisting of up to fifty members? Well, consider no more, friend. Ibiza Proms In The Park can deliver just that!
Performing epic renditions of the biggest and most popular tracks that make up the distinctive sound of the famous White Isles, this is a dance event that any passionate dance music fan out there really needs to experience.
Hear the soundtrack of the island as you never have before, in the Midlands this September.
Find tickets for Ibiza Proms in the Park Festival - here
-
---
Mardi Gras: Proud In The Park Festival
When: Saturday 14th August 2021
Where: Roundhay Park in Leeds
Making its debut upon the spacious grounds of Leeds' magnificent Roundhay Park, Mardi Gras: Proud In The Park vows to leave those who choose to attend its inaugural edition in a state of awe and wonderment.
Boasting two huge stages with full festival standard light and sound production, and welcoming performances from a throng of music talents and celebrities, the mega day-long event is very much expected to be one of the cities best this year.
Appearing across both stages, ticket holders will be entertained by big names the likes of Jax Jones, Disciples, Gok Wan, Tin Tin and Will Tramp on stage one, and Tayce, Baga Chipz, Divina De Campo, The Cheeky Girls, Stephanie Hirst and more on stage two.
Also on offer across the festival site, a number of white knuckle fairground attractions for the thrillseekers, tasty food and drink options within the festival international food village for those who like to overindulge and much, much more.
Find tickets for Mardi Gras: Proud In The Park Festival - here
-
---
When: Saturday 11th - Sunday 12th September 2021
Where: Tudor Grange Park Solihull in Solihull
Where can you see big names the likes of Olly Murs, The Brand New Heavies, Artful Dodger, Alexandra Burke, From the Jam, Kim Wilde, Nik Kershaw, The Blow Monkeys, Marti Pellow of Wet Wet Wet, and Tony Hadley of Spandau Ballet live and all in one place? Why at the Solihull Summer Festival, of course!
Featuring a star-studded lineup of music greats performing across two huge festival stages - the Main Stage and Heritage Stage - and flaunting over fourteen different bars and twenty mouthwatering street food options, the summertime festival is bound to go down a storm with the music-loving inhabitants of the Midlands.
Get out in the sunshine and experience a festival for the first since 2019, in Solihull this September.
Find tickets for Solihull Summer Festival - here
-
---
When: Saturday 7th - Saturday 14th August 2021
Where: Invisible Wind Factory in Liverpool
Indie rockers and boppers, rejoice! FestEvol returns to its spiritual home, Liverpool's Invisible Wind Factory this August for the final instalment of this summer's trilogy of all-day events.
Scheduled to appear live over the two-day music festival, much to the delight of those looking to attend, are sought-after names the likes of Working Men's Club, The Tea Street Band, Liverpool-based experimental-pop outfit Stealing Sheep, rising electronic star Kelly Lee Owens, The Orielles, Self Esteem, Black Honey, The Big Moon and Big Joanie to name just a few.
Real, authentic live music inside an actual live music venue. Still sounds weird to say but bleeding heck! Are we glad music is back!
Find tickets for FestEvol2021 - here
-
---
---
Make the most of the return of your freedom this year and experience one of the many fantastic events happening all over the UK! Head over to our What's On page or check out our Things To Do page and get your hands on some tickets whilst you still can!