Mardi Gras 2022 Tickets
About Mardi Gras 2022
Following the huge success of the inaugural Mardi Gras Festival we are super excited to announce our return to Roundhay Park in Leeds on Saturday 2nd July 2022. We have moved the festival to the middle of summer so the first weekend in July will be the date for Mardi Gras each year going forward. And that's not the only thing that is new. We have a brand-new beautiful location as we depart from Soldiers Field and move right inside the park with the lake to our right, the famous bowl to our left, the Mansion to the north and woodlands to the south. The all-new site plan will be unveiled within the next few weeks and we can't wait to show you what we have in store.
We return with two stages, one catering for all things house and the second for live acts. The SOUTH STAGE will be housed in a huge circus big top which is also new for 2022 and the NORTH STAGE featuring a whole host of live acts will be open air. Full line-ups for both stages will be released shortly. The VIP also returns, hosted by a legend of Leeds nightlife with all new production and staging alongside the international food village and funfair rides.
Mardi Gras Festival Ticket Guarantee:
If the event is cancelled due to government restrictions around the COVID pandemic, we will refund the face value of your tickets.
If the event is postponed, your ticket will be automatically transferred to the new date.
If you are unable to attend the new date, refunds will be issued on request.
Booking fees are generally non-refundable and will depend on the ticket agent you have purchased from.
Our policy is in place to ensure you purchase your ticket(s) for Mardi Gras Festival with the utmost confidence.
Music genres: House, Pop, Funky House, Disco, Retro
Mardi Gras Reviews
Our visitors have reviewed Mardi Gras 8 times. Read reviews of this festival »
Average rating:
3.8/5
from 8 reviews
Mardi Gras line up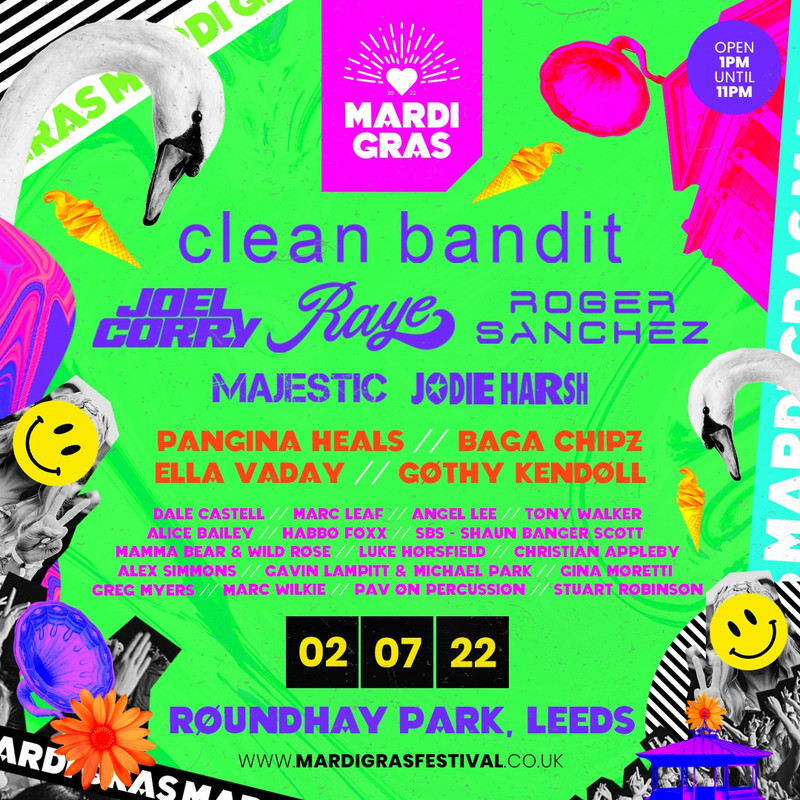 Mardi Gras information & FAQs
Disabled Access Information
Travelling to/from the festival
Map of Hotels near festival site
Try our fully interactive map of all nearby hotels and accommodation. Please check location and dates before booking.
Explore similar festivals to Mardi Gras
Find similar festivals by exploring the categories and classifications below:
Categories: Dance Music festivals, Budget festivals
Type: Music festivals, Food festivals, Beer festivals
Size: Small sized festivals
Amenities: Toilets