It's that dreaded time of year again for many parents... Yes, the school summer holidays have indeed arrived and everywhere across the land, guardians of those once adorable toddlers turned tiny terrors can already be seen with heads in their hands, breaking out in sweats as they try and fail miserably to pacify the hyperactive nature of a bored child.
Hey, we've all been there. We all know what it's like! And for some of us parents here at Skiddle, we feel the experiences we've gained from raising rogue kids over the years are ones we should pass down. More than a ticket, right! So here's one friendly piece of advice...
Pick an event or experience that you know your kids will enjoy. Think back to when you were a child, if possible... And no, they absolutely do not want to walk around the local shopping mall browsing for nick-nacks with you all day. That's just asking for trouble. What they actually want is a place to blow off some steam. Somewhere offering something that's going to engage and expand their adolescent minds, and, most importantly, stop them from screaming for a little while.
Struggling for ideas? Fear not weary custodians, we've done all the leg work for you. Below, there's a list of ten fantastic days out running over the school summer holidays, that we're absolutely certain both you and the kids will enjoy! And what's more, none of the events will break the bank! Hooray!
Why not take a look at some of the great experiences on offer, save yourself some stress and book a couple of top days out with the whole family this summer! Summer? Completed it, mate.
(Click or tap on event titles, artist names and locations below for tickets and more...)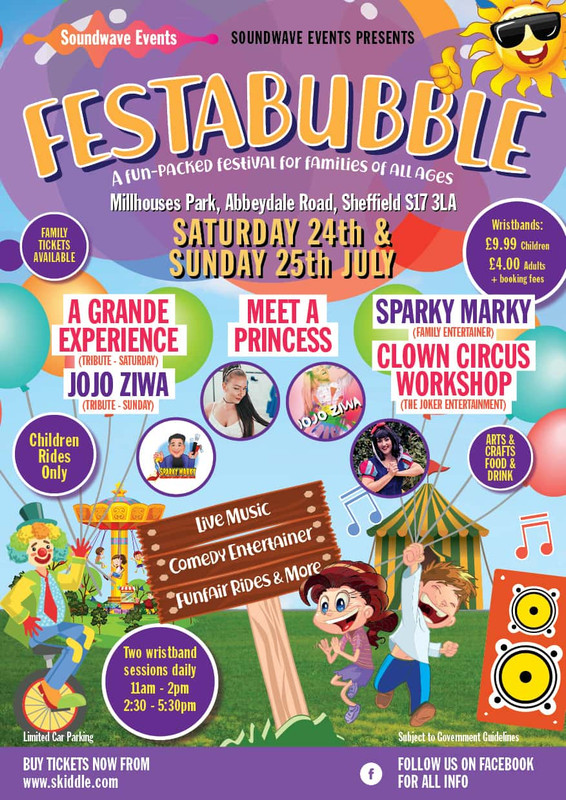 When: Saturday 24th - Sunday 25th July 2021
Where: Millhouses Park in Sheffield
Arriving at Sheffields' Millhouses Park this Saturday, a two-day festival event, Festabubble promises to provide a weekend of excitement and fun fit for the entire family.
Boasting energetic live performances from Ariana Grande and Jojo Siwa tribute acts, kids entertainment, Clown circus workshops, mystical magic shows, food stalls, game stalls, funfair attractions and much more - this is the perfect way to begin your campaign to keep the kids entertained throughout the summer!
Find tickets for Festabubble - here
-
---
When: Saturday 24th July - Thursday 26th August 2021
Where: Various venues across the UK
The UK's craziest family-friendly rave event, Rave Kidz UK is currently is heading to a town or city near you, bringing it with some of the biggest names in dance music.
Tearing up the dancefloors of venues and clubs across the British Isles, trusted selectors Andy Whitby alongside MC Storm, Ben Jammin, Clarkey and more, will deliver the hardest mixes of child-friendly club tracks known to man, for the tiny ravers in attendance.
No exceptions will be made! Expect huge stage production, mind-boggling laser shows, smoke machines, confetti cannons, glow sticks, whistles, and even a licensed bar, much to the delight of those of age, we're sure.
Find tickets for Rave Kidz UK Tour - here
-
---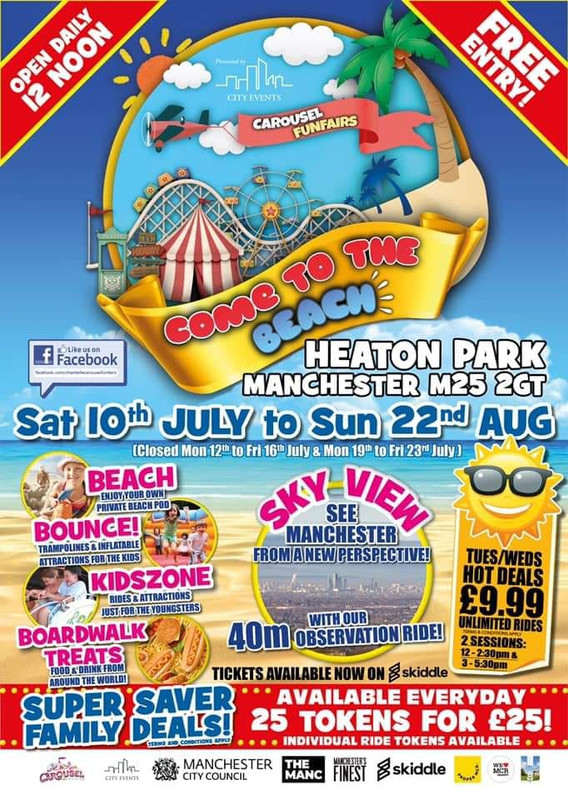 When: Saturday 24th July - Sunday 22nd August 2021
Where: Heaton Park, Manchester
Looking for those beach vibes but reluctant to venture too far out of Manchester? Come To The Beach has got you covered!
Bringing the seaside to Manchester's Heaton Park, situated on the outskirts of the city centre, throughout the duration of the school summer holidays, this carousel funfair attraction is the next best thing from taking a trip out to the coast.
Hire your own private beach pod and sample some traditional boardwalk treats. Jump around on the trampolines and inflatables, or see Manchester city centre from a whole new perspective, by taking a daring ride to the top of the 400m observation ride!
Find tickets for Come To The Beach - here
-
---
Majestic events present Jurassic Live ™
When: Saturday 11th September / Saturday 18th September 2021
Where: The Venny Blacon Adventure Playground in Blacon, Chester / Rhyl Leisure Centre in Rhyl
If your kids are mad about dinosaurs, this is this event for them.
Teach-Rex the T-Rex and Blue the Velociraptor are set to bring their special dino-focused Jurassic Live show to Chester and Rhyl towards the end of the summer holidays.
The educational and interactive show, which covers everything from the anatomy of dinosaurs to the many different species we've discovered, gives the little ones and the parents in the audience the chance to encounter life-like models of some of the most amazing creatures to ever walk the planet!
Both of these shows will sell out! Don't hang around, get your tickets now!
Find tickets for Jurassic Live ™ in Chester and Rhyl - here
-
---
When: Saturday 28th August 2021
Where: Lower High Street Car Park Prestatyn LL19 9LG in Prestatyn
Set just off the coast of North Wales, Prestatyn Rocks is the family festival that's set to provide the summer event we all truly deserve!
The day-long celebration, running from 12 pm until 9 pm in the evening on Saturday 28th August, will host a number of performances from musical talents the likes of Cerys McElroy, Neal Smith, Violets Leap and more, in addition to some daring entertainment, including spectacular fire and aerial shows, from Prestatyn dance group Inferno, kids fairground rides, stalls and more.
Punters who decide to visit will also be spoilt to a varied range of delicacies and tipples, offered by a selection of local food and drinks vendors.
Find tickets for Prestatyn Rocks - here
-
---
When: July - October 2021
Where: Various venues across the UK
A circus show that's not just for the kids - Circus Funtasia will have you gripped to your seat from start to finish.
Comprised of phenomenal world-class talents, this all-new production from the award-winning travelling troupe will have jaws wide open as stunning aerialists twist and turn through the air, daring motorcyclists tackle the wheel of death and more.
Featuring all the pazazz of a West End under one big top arena, don't miss your chance to see one of the best circus shows currently operating in the UK.
Find tickets for Circus Funtasia - here
-
---
Roller Nation's Family Jam - Late Session
When: Saturday 7th August 2021
Where: Rollernation in London
Strap on those roller skates, secure those elbow and knee pads, fix the helmet and coast your way to Roller Nations Family Jam event this August!
Suitable for those aged from 5 to 14 years old, the evening session, running from 3 pm until 5:30 pm, will allow families to glide around the purpose-built, retro-style roller disco venue, situated in Tottenham, London, whilst moving and dancing to a first-rate soundtrack of disco music.
Experience a kinetic club event like no other and teach your young proteges how it's done!
Find tickets for Roller Nation's Family Jam - Late Session - here
-
---
When: Friday 3rd - Saturday 4th September 2021
Where: Williamson Park in Lancaster
Some of the biggest names in British pop music are set to bring Lancaster's Williamson Park back to life in just over months time, performing live at one of Northern England's best-loved music festivals - Highest Point.
On the bill, those lucky enough to come by tickets will be wowed by spectacular performances from multi-platinum selling vocal star Rag N Bone Man, Becky Hill, Ella Eyre, rap queen Ms Banks, Rudimental, Wilkinson, The Lottery Winners, Charlotte OC, Clean Bandit, Hannah Wants and many, many more.
In addition to what is an unbelievable programme of acts, those with young families will also be pleasantly surprised to find a range of activities, workshops and more specifically for the kids, dotted across the festival site. From wacky experiments with the festivals' resident mad scientist, Professor Pumpernickel to treasure hunts, DJ workshops and face painting. So much to do, so little time.
Find tickets for Highest Point Festival - here
-
---
When: July - November 2021
Where: Alton Towers Resort Hotel in Alton
Without a doubt, one of the best theme parks found anywhere across the United Kingdom, Alton Towers Resort Hotel has it all.
Home to record-breaking, white knuckle rollercoasters the likes of The Smiler, The Wickerman, Nemesis and, of course, Oblivion, not to mention haunted attractions such as Duel - The Haunted House and terrifying ride, Thirteen, its a paradise for thrill-seekers both young and old.
For those who don't quite measure up to the legal height requirements of the aforementioned, not to worry, there's plenty of other fantastic experiences to be had. Learn the legend of the towers in Hex, ride the Congo River Rapids, or particularly for those really tiny guests, embark on an adventure around CBeebies Land.
Looking for some dutch courage, parents? There's a handful of licenced bars scattered across the huge theme park. No thanks necessary.
Find tickets for Alton Towers Resort Hotel - here
-
---
Merlins Magical London: 3 Attractions in 1 – Shrek's Adventure, SEA Life & Madame Tussauds
When: Tuesday 20th July - Tuesday 27th July 2021
Where: The London Eye in London
Holidays abroad are fraught with possible pitfalls this year, and as a consequence, many of us are choosing to take the kids on a vacation here at home - a staycation if you will. And where better for a short stay with plenty to see and do, than the English capital - London.
If this is you, you need to check out this brilliant three in one offer from the operators of Lastminute.com's London Eye!
Experience three of the cities best tourist attractions with the whole family for one excellent price. Head down into the depths of the ocean and discover creatures of the deep at the flagship SEA Life attraction. Join the search for Shrek at the wonderfully bonkers and immersive Shrek's Adventure or grab a photo opportunity with famous names, such as Dua Lipa, Ed Sheeran, Brad Pitt, David and Victoria Beckham and even the Queen at Madame Tussauds.
A must for those visiting London this year!
Find tickets for The Big Family Festival - here
-
---
---
For more family-friendly events, attractions and experiences, take a look at our Things To Do page