There are few experiences quite as humbling and irritating as the plod back to your tent from the festival arena, drenched to the bone with a sharp British breeze nipping at your exposed skin. Those painful memories are probably what brought you here.
Glorious, sunny, warm Greece is ready to welcome you with open arms, great music and, most importantly, a dry bed each night. Various parties, including boat, beach, and foam are plentiful, and the session goes on for days. It's heart warming to think about, isn't it?
Well, we won't tease you anymore. You want the best music festivals in Greece, so here they are…
Release Athens Festival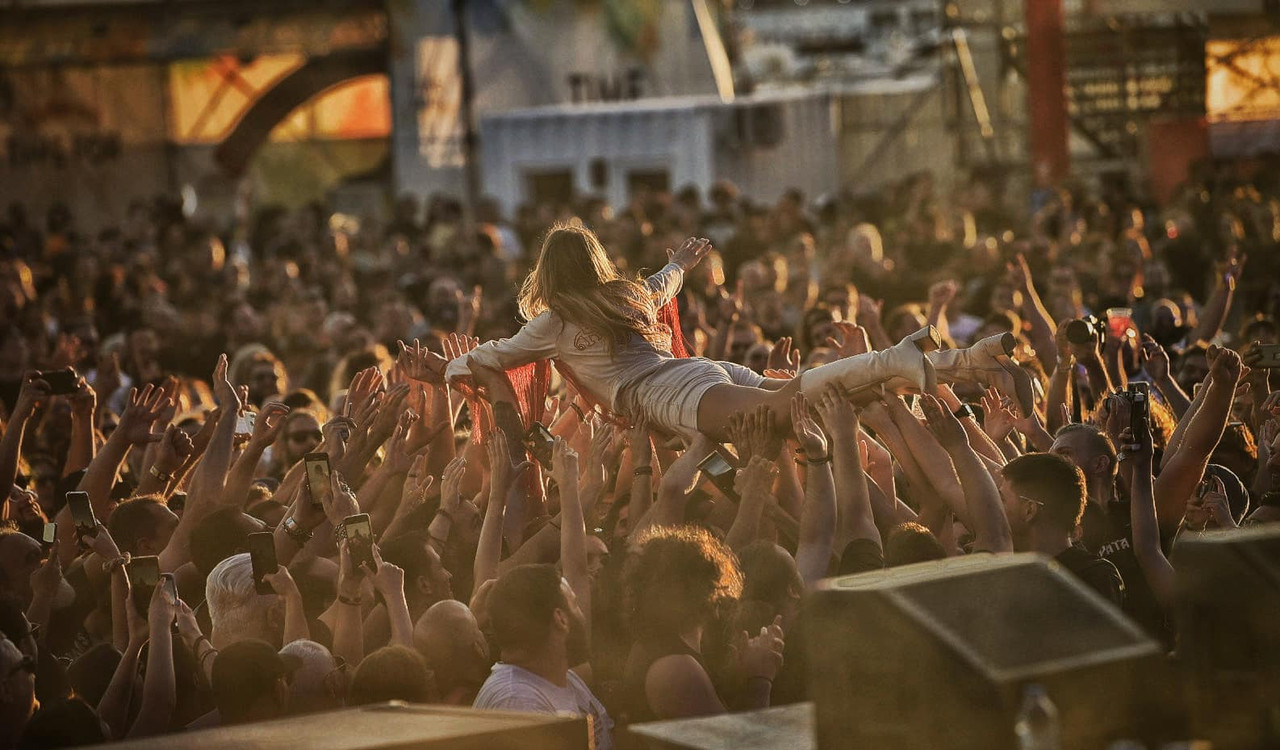 Photo: Release Athens Festival / Facebook.com
When: June - July 2023
Where: Plateia Nerou in Athens, Greece
2023 lineup: Rosalia, Arctic Monkeys, Siouxsie, Tash Sultana, Parkway Drive, The Hives, and more TBA
More dates and artists are still to be announced, but Released Athens is already looking huge. Release Athens is a series of concerts that split artists by genre to create themed days. For example, Arctic Monkeys will be accompanied by The Hives and Willie J Healey as they appeal to indie listeners. It's still early days, but the fest typically showcases a variety of genres, including metal, pop, electronic, and beyond. With plenty of variety, you're certain to find a day (or two!) that speaks to you.
---
Shapes Zakynthos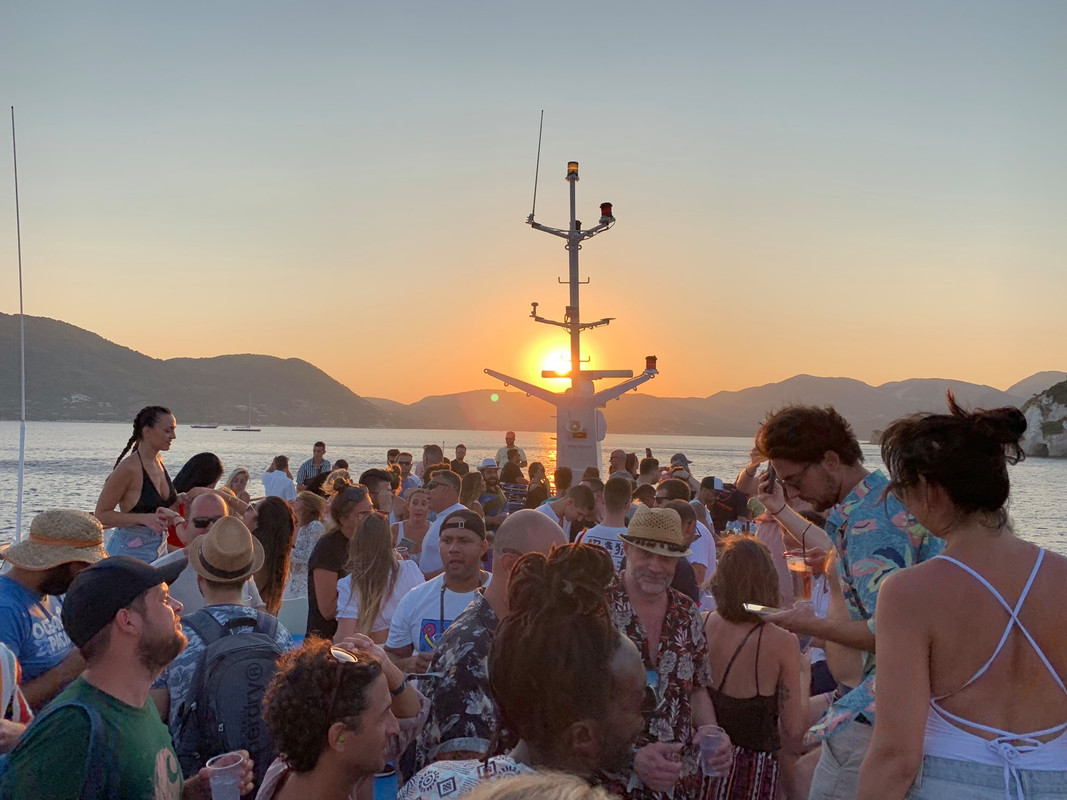 Photo: Shapes Festival / Facebook.com
When: Tuesday 22nd - Sunday 27th August 2023
Where: Zakynthos, Greece
2023 lineup: Joe Claussell, Nu Genea, Tama Sumo, Mele, Session Victim (live), Rebecca Vasmant, and many more TBA
Crystal clear waters, the soft, warm, golden sand wrapping around your toes, and six days of partying to banging house and techno - you can find all that and more at Shapes Zakynthos. Greece's best underground multi-genre music festival is situated on the island that features 2018's best beach in the world (according to travel experts). Shapes curates the best underground electronic artists and occasionally those of the hip-hop, afrobeat, and jazz variety. But you were sold at "best beach in the world", weren't you? We definitely were!
---
Plisskën Festival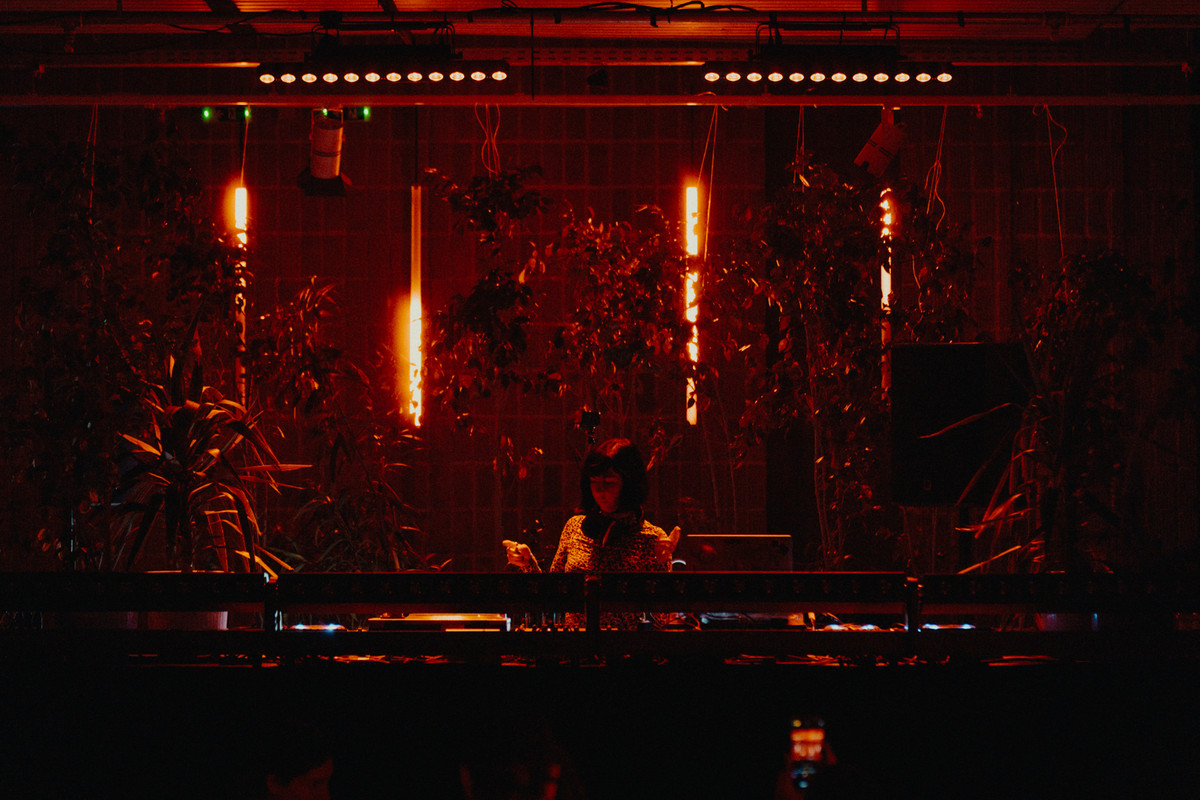 Photo: Plisskën Festival / Facebook.com
When: Friday 15th - Sunday 17th September 2023
Where: 100 Pireos Str. in Athens, Greece
2023 lineup: TBA
One of the best multi-genre Greek music festivals, Plisskën brings hip-hop, electronic, indie, R&B, and pop. We don't have the 2023 lineup just yet. But last year's event featured slowthai, Caribou, SHERELLE, and KeiyaA, so you know this year's lineup won't disappoint! The fest has also won the Commended Greener Festival Award two years in a row thanks to its eco-friendly efforts and was nominated twice for Best Indoor Festival at the European Festival Awards. Sounds great!
---
Rockwave Festival
When: Saturday 1st July and Friday 7th - Saturday 8th July 2023
Where: Terra Vibe Park in Attica, Greece
2023 lineup: Robbie Williams, James Bay, MIKA, Deep Purple, The Black Keys, As I Lay Dying, Asking Alexandria, and many more
Rockwave Festival will land in TerraVibe Park this July with some of the best names in indie, rock, punk, and metal music. Alongside these genres, you might also find the occasional electronic and pop artist. Dating back to 1996, Rockwave is one of the biggest festivals in Greece and regularly attracts heavy music fans from all across the globe. And with so many legendary acts performing each year, it's clear to see why. In 2023, we've got all those huge names listed above and Puscifer, Saxon, and VV to look forward to.
---
Supa Dupa Fly Santorini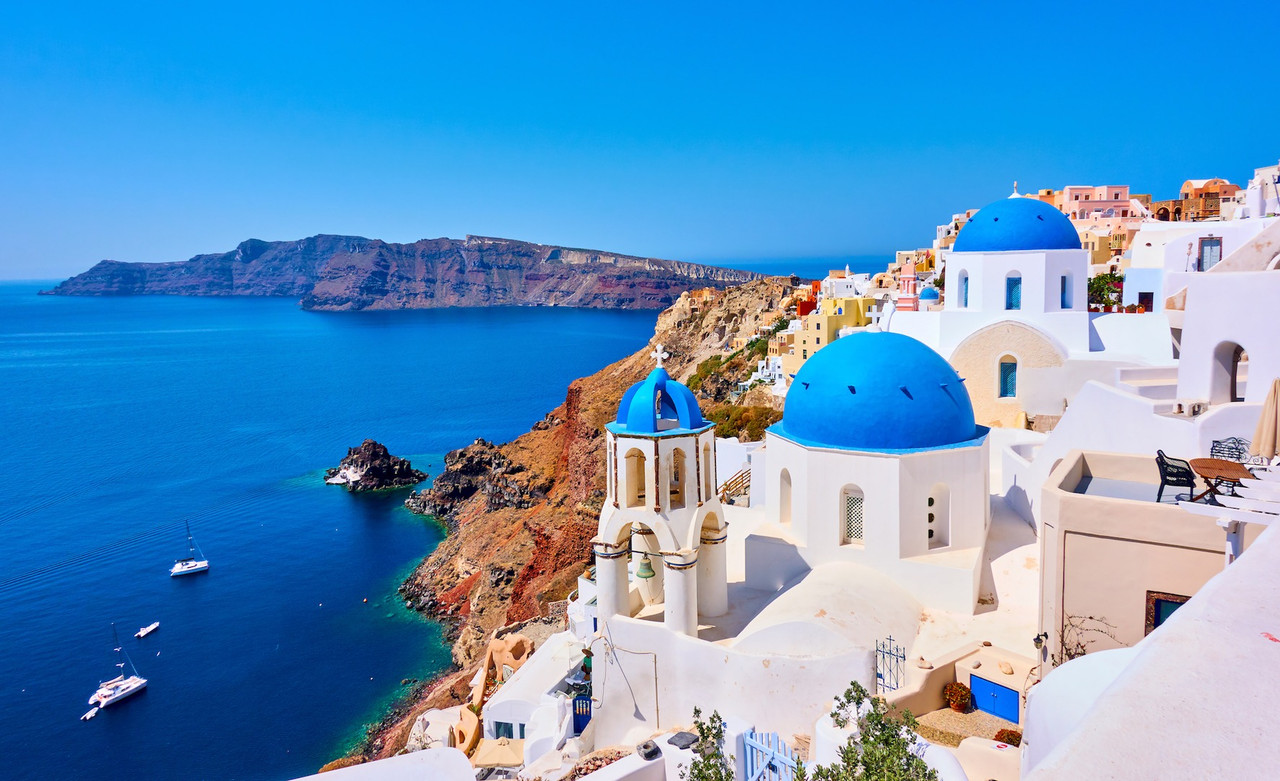 Photo: Supa Dupa Fly Santorini / Facebook.com
When: Friday 26th - Tuesday 30th May 2023 (bank holiday weekend)
Where: Santorini, Greece
2023 lineup: TBA
Does the name of this fest sound familiar? Supa Dupa Fly puts on cracking nights out in London, including bottomless brunches. Following the success of their various events, the crew behind Supa Dupa Fly took their top party-throwing skills to Santorini for, what will be, its 8th year in 2023. Alongside great, roof-raising DJs, ticketholders can enjoy a beach party, hip-hop yoga, a pool party, a rave in a cave, and a villa brunch for VIPs. If hip-hop, RnB and similar smooth genres are your jam, Supa Dupa Fly Santorini welcomes you to celebrate the 90s and 00s culture of these fantastic genres.
---
Take Off Festival
When: Tuesday 27th June - Monday 3rd July 2023
Where: Crete, Greece
2023 lineup: Arrdee, many more TBA
Another huge party, Take Off Festival offers great music and enough parties to leave you confined to your bed for a good week once you're home. Ticketholders can dive into pool parties, beach parties, boat parties, foam parties, and even paint parties. It's gonna be a mad one. So far, we know Arrdee is set to headline. We're waiting on further artist announcements, but last year's fest featured Nathan Dawe, Tom Zanetti, Yung Filly, and Central Cee, so we're certain 2023's lineup will be tasty and perfect for the beach party vibe.
---
Ejekt Festival
Photo: Ejekt Festival / Facebook.com
When: Sunday 2nd July 2023
Where: Plateia Nerou in Athens, Greece
2023 lineup: Florence + The Machine, many more TBA
Ejekt Festival tends to lean more towards guitar-focused genres, such as indie and rock, with some electronic artists splashed in. Florence + The Machine has been announced as the headliner for this year's event, which will surely be incredible. The day festival has seen some huge bands over the years, including Beastie Boys, Amy Winehouse, Pixies, Moby, and James, so only time will tell what other artists they'll announce for 2023.
---
Phaex Festival
When: TBA
Where: Corfu, Greece
2023 lineup: TBA
Over 40 artists are brought to partiers in Corfu for four days and nights of electronic tunes. Focusing on techno, 2022 saw 999999999, Autow Nite Superstore, CJ Jeff, Deborah De Luca, Mattik, Nastia and more tearing it up. Promising huge headliners, side activities, banging tunes, and killer energy, Phaex is the one for those who love forward-thinking techno and stunning landscapes.
---
Primer Music Festival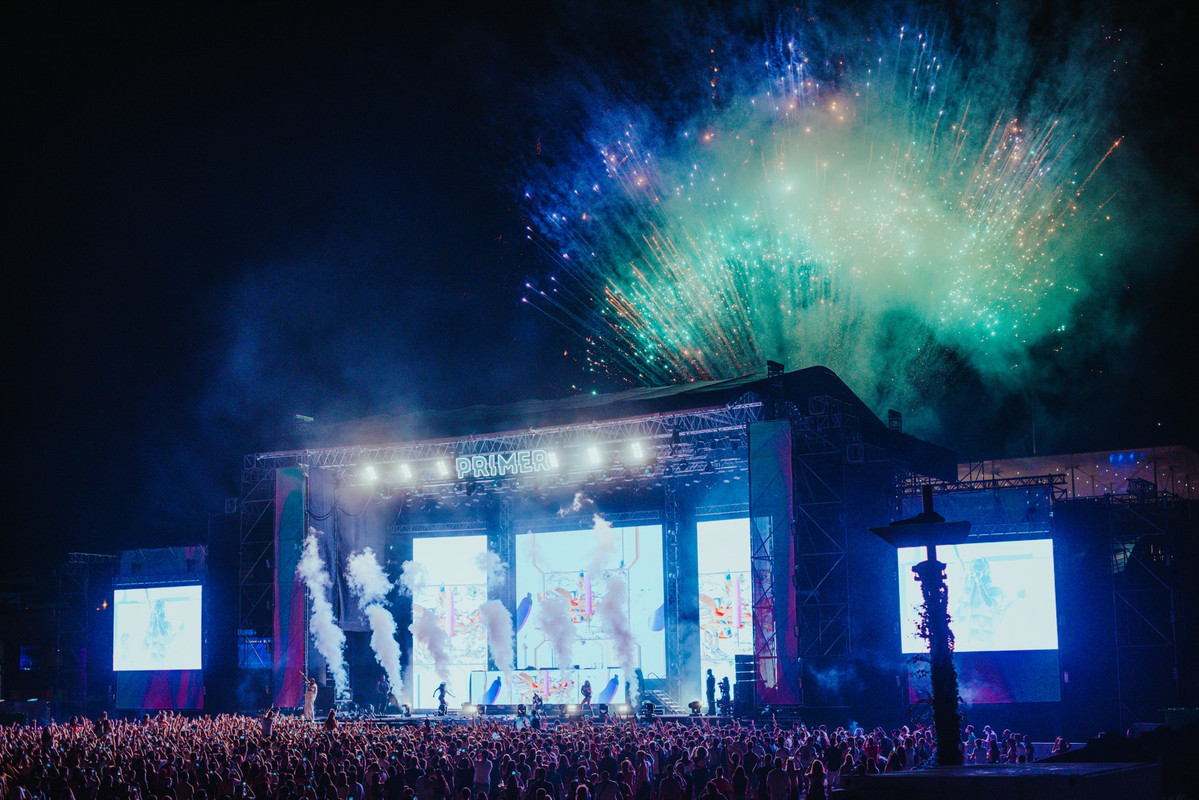 Photo: Primer Music Festival / Facebook.com
When: TBA
Where: TBA
2023 lineup: TBA
Primer fuses hip-hop and electronic music over two days. Last year's bash saw Tyga and Tiesto headlining with Sonny Fodera, Jan Blomqvist, Sin Boy & Tin, and more as support over a Friday and Saturday in July. It usually goes down at Plateia Nerou, just outside Athens. Usually full of wild partiers, head here if you're looking for a mad one!
---
Free Earth Festival
When: Wednesday 30th August - Sunday 3rd September 2023
Where: beach location in North Greece
2023 lineup: TBA
The trippiest of all Greek music festivals, Free Earth is a paradise for psytrance lovers. Dripping in psychedelic decor, Free Earth welcomes free spirits to enjoy five days of music and opening and closing parties. Set at a beachside venue beneath the upcoming supermoon, it aims to bring a loving, family vibe to the outdoor party scene. Here, there are lots of crazy visual experiences, music performances, illusions, art areas, and kid's areas to check out.
---
We hope we made the tough task of deciding which festival is right for you that bit easier. Greece music festivals are top tier. And as they span across multiple genres, you're sure to find the perfect festival for you and your crew. Happy festival season!
Search Skiddle now to find more incredible festivals UK-wide and beyond.
---
---
Check out our What's On Guide to discover even more rowdy raves and sweaty gigs taking place over the coming weeks and months. For festivals, lifestyle events and more, head on over to our Things To Do page or be inspired by the event selections on our Inspire Me page.


Header: Supa Dupa Fly Santorini / Facebook.com