Image: Laurent Garnier live at ADE
Contrary to what many would lead you believe (certainly DJ bios), most people's introduction to electronic music isn't one of discerning distinction. The vast majority of us didn't unearth a Kraftwerk vinyl in our dad's collection, get fed Surgeon mixtapes from an older sibling or have an in-the-know cousin sneak us into DMZ.
Nope, most of us get it through places like MTV Dance, mainstream radio or a well-known selector with a few charts hits behind them. My personal gateway was Ministry of Sound and Kiss FM compilations, stitched together DJ efforts from the likes of Brandon Block and Boy George. These would then soundtrack getting ready to Ritzys I'd then stride into with fake ID, pinstripe trousers and a poorly ironed Ben Sherman shirt.
By the time I did start going to proper clubs, it was the much-maligned big room sounds of trance, progressive house and hard dance which provided the aural backdrop for my evenings. It's an era I look back on with nostalgic fondness (particularly the time at Cream), but nothing that has any real musical pull to me in this day and age. The first person to truly do that was Laurent Garnier.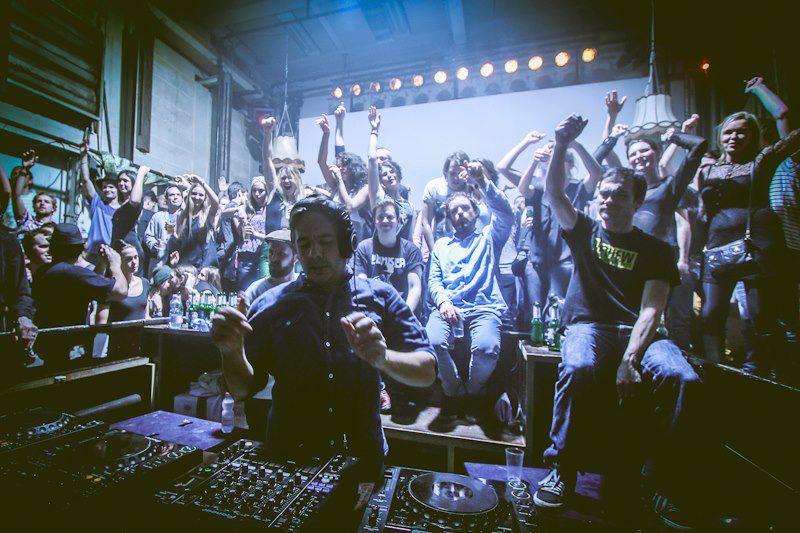 Image: Laurent Garnier DJing at Trouw
My epiphany moment came in the Annexe of Nation for Cream when they reopened post Christmas in January 2002, a brilliantly balanced offering which was unlike anything I'd ever heard before. The main room era was just starting to fall, and here was a DJ who managed to bring the same warped and twisted euphoria that defined it alongside more, with offbeat jazzy textures and disco licks among the new sounds I was hearing in a club setting for the first time.
It was somehow exotic yet familiar, a tour de force through a variety of aural soundscapes which quite literally blew my mind. Within months I was embroiled in a wider pit for dance music, mirrored by a clubland trend which was ripping up the rulebook, powered by 2ManyDJs' epic As heard on Radio Soulwax mix and clubs like Chibuku and Trash. Garnier, with his ability to move from gut-wrenching funk to trancey techno in an instance, seemed the perfect bridge between these two disparate worlds.
It was nearly 18 months until I saw him again, playing my favourite set of all time in what was undoubtedly my favourite ever rave. The Tribal Gathering warehouse party in Manchester 2003 acted as a precursor to the Warehouse Project, crammed with a litany of highlights across its huge line up.
A Guy Called Gerald playing 'Voodoo Ray' live to an adoring horde of ravers, DJ Sneak and Derrick Carter jacking back to back for four hours and a blistering performance of high octane D&B from DJ Marky was some of the brilliance on offer that night. Laurent, though, was the one.
He played for five hours, majestically cavorting through house, techno and pulsating acid grooves from 1am till close. I can remember as he entered the final hour of the night the music drifted into an endlessly arpeggiated breakdown, a beatless nirvana which seemed to be sapping the energy out of the diehards who'd stayed on.
This suddenly mutated into the trademark sounds of The Prodigy's 'Out of Space', the sped up Ultramagnetic MCs sample and cartoon hardcore synths causing ruptures on the floor. When that was swiftly followed with SL2's epochal 'On a Ragga tip' Garnier pulled everyone back from the abyss he had mischievously dumped them in, delivering pandemonium and a moment that still feels as vivid to my rave frazzled memory as it did nearly over fifteen years ago.
These curveballs are his trademarks, knowing that at any point he can and will switch it up. His debut for Circus in Liverpool - the first of many pilgrimages of mine to see him there and falling on the ten year anniversary of Kurt Cobain's suicide - is a case in point, dropping Nirvana's 'Lithium' and predictably causing mayhem. He consistently falls back on the various eras of his career that have earned him so much endearment, allowing time of historical reflection as opposed to purely slaving to the upfront like many of his peers.
His acid house renown is second to none, brilliantly exemplified by his now legendary closing set for Sonar in 2000 (recreated for his Excessive Baggage compilation), and he weaves his Hacienda history in too, regularly dropping Joy Division and New Order classics in his sets. And from that springs his connection to Detroit.
Tracks from the Belleville Three and Underground Resistance are frequent selections, as well an influence on his timeless productions like the sax soaked 'Man with the Red Face' and 'Gnanmankoudji'. This underpins his paradoxical quality - for all his unpredictability of mood he's reliably guaranteed to deliver.
Garnier acolytes will attest to this. You usually know an extended set will always pull a few LG cliches in; Phuture Phantasy Club's 'Dream Girl', Velvet Underground's 'I'm waiting for the Man' and Rolando's 'Knights of the Jaguar' among those previously mentioned, but you never know when they're coming. They'll also be accompanied by a whole new level of records you've never heard or forgotten about, all delivered with impeccable timing.
His consistency is second to none - no Villalobos-esque needing to catch him in the right mood, this is a DJ who delivers with the same intensity show after show as a Carl Cox or Green Velvet. Only this metronomic brilliance is bettered by a Mr Scruff esque flair for the eclectic, and his own patent flamboyance.
There are a million other reasons to love him as well, from his work doing National Service for dance music with F Com, his stunning productions, or his articulate dissection of dance music in interviews and alongside his Electrochoc book. These though are the icing on the cake of what he is as a DJ, a true master of the craft who can deliver every type of DJing his peers can offer, with effortless acumen and panache.
Over the years I've seen him close out the final hours of Sonar, a ministerial nine-hour shift at the now sadly departed The End, and clear a room full of tutting techno fiends when knocking out dubstep with his live band at Timewarp. Those who stayed for the musical shift were rewarded moments later with a relentless ten minute plus version of his rumbling techno masterpiece 'Crispy Bacon'.
Every set has either felt life-changing or, at the very least, considerably better than anything else at the time. And those aforementioned acolytes agree with me; they're also there punching their fist once more to his selections, the same sea of faces grinning amongst a glut of brand new converts every show you go to.
Perhaps the defining moment for my love affair was at Warehouse Project on Sunday 16th December 2012, a show that was announced as him manning a celebration of being a DJ for 25 years, close to seven hours of unadulterated Garnier in a vortex of adrenaline-drenched nostalgia.
Boiler Room broadcast the majority of the set live, an artefact of his greatness that never dims with each and every listen. The fact that he could grab a huge crowd by himself barely a week from Christmas on a Sunday night, as part of a heaving program of the biggest names in dance music, is testament alone to his talent. The 330 minutes of aural awesomeness hundreds of thousands have listened to since underlines and justifies that emphatically.
DJs are supposed to both educate and entertain us, and Garnier manages both sides of the spectrum easily, never letting one cloud the purpose of the other. This is someone who delivers the mercurial without sacrificing that constant need to keep people rooted to the dancefloor. There's a nickname another Frenchman with a fondness for Manchester has adopted over the years, but it feels much more fitting laid at Garnier's feet... Laurent is Le God.
Laurent Garnier plays all night long at Joshua Brooks on Friday 28th December - find Laurent Garnier Manchester tickets from the box below.
Find upcoming Laurent Garnier events.
Tickets are no longer available for this event