Here we stand, on the precipice of the return of normality (Forever, hopefully) and blimey, don't we know about it!
You should be unsurprised to hear that it's been a pretty wild and busy week here at Skiddle, what with Freedom Day (Take two) now just a few days away. We've been swamped by a deluge of extremely exciting and new events - from all-night raves and massive gigs to extraordinary music and comedy festivals - all offering some good old fashioned, non socially distanced fun!
Uh-huh, yep, you read that right! No seriously, read it again! Come this time next week, we could all find ourselves crammed into a hot and heavy venue once again, tunes blurring out, light shows overhead, laughing, joking, hugging... The long-awaited release. The Euphoria. All of the things we've so desperately missed, now within sight. It's been too long...
We really have been spoilt for choice this week! Don't believe us? Take a look for yourself!
Below, you'll find just ten of the countless new events that have popped up on Skiddle, with tickets now available to purchase.
Want our advice? Don't miss out on getting yourself a slice of the restriction-free action, and get your tickets now before it's too late!
(Click or tap on the artist, venue or event names below for tickets and more...)
HomoElectric Bank Holiday Showdown
When: Saturday 28th August 2021
Where: Hidden in Manchester
The organisers of one of Manchester's most fabled parties, HomoElectric are back at popular Manchester nightspot, Hidden over the August Bank Holiday weekend this year, hailing the return of their annual public holiday showdown.
Providing guests of the highly sought after and decadent nighttime event with an evening of 'Dark discotek for the heteros, homos, lesbo's and the don't knows', as self-described by the Homoelectric team, those present can expect to hear sets from resident DJ names the likes of Luke Unabomber, Gina Breeze, Jamie Bull, Will Tramp and Lukas and more very special guests, yet to be announced.
Find tickets for Homoelectric's Bank Holiday Showdown - here
-
---
When: September 2021 - January 2022
Where: The Depot (Mayfield) in Manchester
One of the UK's biggest seasonal clubbing brands, The Warehouse Project has recently announced its full programme of events running from September 2021 right through until the beginning of next year.
Amongst the hundreds of world-class performers set to light up the stage, in front of up to 10,000 avid music fans inside the enormous Depot (Mayfield) venue, are the likes of Grammy-award winner Megan Thee Stallion, rap group MIGOS, dance don Carl Cox, Chase & Status, Rudimental, Four Tet, Shygirl, Peggy Gou and so many more...
Tickets are flying out, as the date of the first event of the season fast approaches (Friday 10th September 2021). Grab yourself a ticket and savour a clubbing experience like no other in the UK.
Find tickets for The Warehouse Project '21 - here
-
---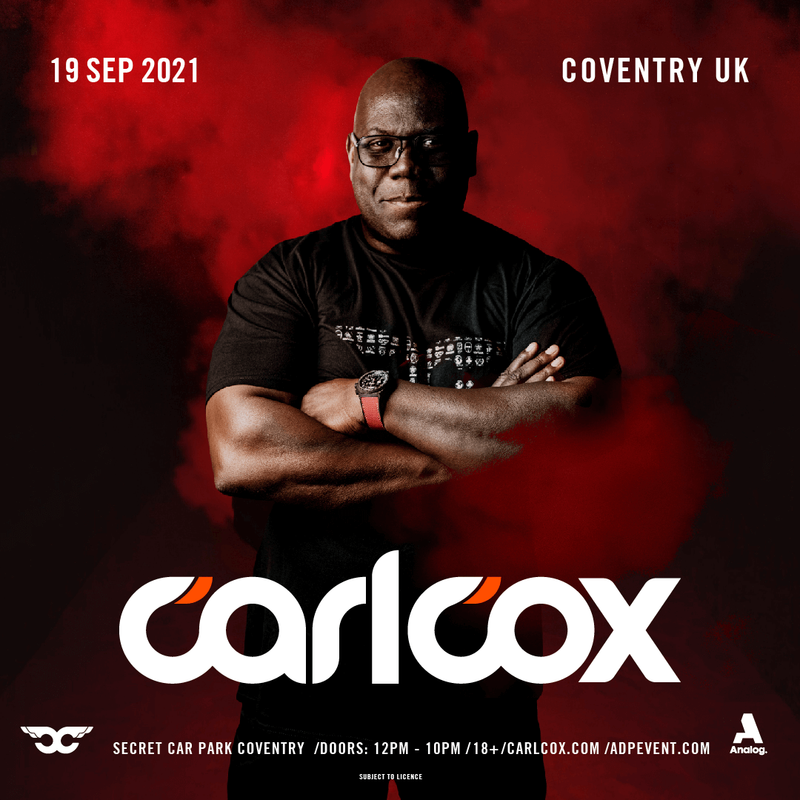 When: Sunday 19th September 2021
Where: Secret Location in Coventry, TBA
Techno overlord, Carl Cox heads to the Midlands this September for a very special performance at a yet to be disclosed, secret location.
Known by dance fans the world over, the legendary selector, pioneer and DJs DJ of choice, has been blowing live audiences away for the past three decades, regularly appearing in superclubs across Ibiza and at festivals such as Glastonbury and Creamfields.
The veteran mixmaster will be joined on stage by a stellar lineup of supporting acts, also yet to be announced, at what is said to be 'one of the most aesthetically exciting spaces' in the centre of Coventry. Watch this space for more details.
Find tickets for Carl Cox live in Coventry - here
-
---
The Brand New Heavies live in Cheshire
When: Saturday 17th July 2021
Where: Tatton Park in Cheshire
Trailblazing soul-funk and acid-jazz collective, The Brand New Heavies are set to bring their signature sun-drenched sound to the people of Northern England this summer, performing live at Cheshire's Tatton Park Pop Up Festival.
Residing over a stunning two-thousand-acre plot of Cheshire parkland, the pop-up festival has already begun showcasing its calendar of events, consisting of fifty-two shows over ten weeks.
Appearing stage on Saturday 17th July, the London-based trio will perform some of their best-known hits to huge crowds at the open-air event, such as 'You Are The Universe' and 'Dream On Dreamer' and 'Never Stop'.
Find tickets for The Brand New Heavies live in Cheshire - here
-
---
Groovebox presents Patrick Topping 'All Night'
When: Saturday 11th December 2021
Where: NG ONE in Nottingham
Global dance superstar and TRICK label head honcho, Patrick Topping will embark on his 'All Night Long' tour towards the end of the year, taking in dates across the UK, landing in Nottingham on Saturday 11th December 2021.
Bringing his usual bag of dancefloor destroying bangers, the award-winning DJ/producer will takeover the NG ONE live music venue, situated in the centre of the city, for a special eight and a half hour house music experience - running from 10 pm until sunrise at 6:30 am.
Witness one of the greatest and most relevant DJs in the game, alongside one-thousand-two-hundred fellow ravers, at this hard and heavy, all-out show.
Find tickets for Groovebox presents Patrick Topping 'All Night' - here
-
---
When: Saturday 28th August 2021
Where: Dutch Master Party Boat in London
Stanton Warriors, Bristol's Mark Yardley and Dominic Butler are preparing once more to board the Dutch Master on the River Thames in London, for another of their wild and infamous floating parties.
Having remixed for the likes of Daft Punk, Gorrilaz and Fatboy Slim, released on revered labels the likes of XL Records and Universal, and performed at festivals throughout their careers such as Burning Man and Glastonbury, the pair make up two of the most experienced, knowledgeable and respected names on the electronic scene.
Setting sail on Saturday 28th August, the Stanton Sessions Boat Party will see the undefinable dance duo performing a collection of some of their best-loved tracks - from 'Somali Funk' and 'Jump' to new single release, 'Down On' - with a few special guest appearances also rumoured to be on the cards.
Find tickets for Stanton Sessions Boat Party - here
-
---
ENRG Presents Mall Grab at IWF w/EFFY, Blehrin...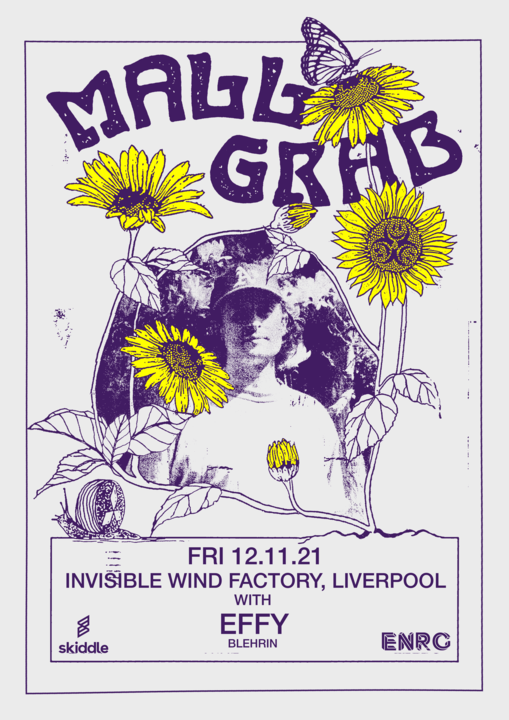 When: Friday 12th November 2021
Where: Invisible Wind Factory in Liverpool
The fervent team behind trusted dance party brand, ENRG are lining up some HUGE shows throughout the remainder of 2021. One of those shows in particular just happens to include one of the most exciting names in electronic music right now - Mall Grab.
The twenty-something-year-old, Australian house music specialist, who now calls London his home, made something of a scene on his arrival on the international stage back in 2016. Following a super quiet 18 months, felt by basically everyone in the music industry, he's now primed and ready to get back into the driver's seat, recently releasing brand new track 'FMG' with UK-based up and comer, EFFY.
Catch Mall Grab performing alongside EFFY and ENRG resident, Blehrin at Liverpool's Invisible Wind Factory this November!
Find tickets for Mall Grab at IWF w/EFFY, Blehrin - here
-
---
When: Saturday 25th September 2021
Where: Bygrave Wood in Hertfordshire
An all-new festival with a seriously impressive lineup is set to have Hertfordshire and the surrounding towns and cities rocking for eleven hours straight this September!
Situated amongst the mesmerisingly beautiful woodland of Bygrave Wood - just thirty minutes outside of London - Electric Woodlands will feel a million miles away from the bustling nature of the city. Boasting three bespoke stages, all armed to the teeth with world-class sound and lighting production, the inaugural festival event will welcome performances from some of the most renowned and respected names in dance.
Confirmed to take control of the ones and two's, ravers can expect to hear massive tracks from the likes of Chase & Status, Bou, Hybrid Minds and many more.
Find tickets for Electric Woodlands - here
-
---
The Giggling Goat & Just The Tonic presents the Festival of Comedy
When: Friday 13th August 2021
Where: Tredegar Park in Newport
There's no denying that the past 18 months have been hard on us all, and we reckon, quite rightly too, that we all deserve a proper good laugh. Especially now that normality looks set to return! If you, like us, agree, why not treat yourself to some belly-aching, eye-watering, laugh-a-minute fun!
From the people behind The Giggling Goat and Just The Tonic comedy club comes the Festival of Comedy.
Starring big names such as Strictly Come Dancing winner, musician, writer, author, director and presenter, Bill Bailey, as well as Gary Delaney and Reginald D Hunter, this all-out comedy show will have you forgetting about all the troubles of the world outside and instead in fits of laughter.
Find tickets for the Festival of Comedy - here
-
---
When: Friday 30th July - Sunday 1st August 2021
Where: Trinity Park in Ipswich
One for the grease monkeys amongst us...
The Festival of Wheels rolls into Ipswich's Trinity Park this month, providing those whose passion revolves around automobiles with a fun-fuelled weekend, packed with extreme stunt shows, off-road vehicles and low-rider demo's, monster truck shows and much more.
The festival, which takes place over three days, also boasts entertainment fit for the smaller members of your family - from kids stunt team shows and live wrestling, to the massive inflatable village and the big top circus.
Fancy making a holiday out of it? One day definitely isn't enough to take in all the festival has to offer, so why not make it a trip to remember, and camp under the stars for 3 nights.
Find tickets for The Festival of Wheels - here
-
---
---
Wait... Do you think that's all the new events we've got to shout about?! Oh no, no, no! You're sadly mistaken, dear friend.
Get a load of all the very latest festivals, raves and live gigs on Skiddle - and snag yourself a ticket or two whilst you can - on our What's On page and Things To Do page!