It's official - spooky season is here!
From here on out, it's horror movies, haunted houses, so many sweets our dentists will hate us, and planning for some killer Halloween raves, only taking breaks here and there to get stuck into some Oktoberfest parties.
This week, we've got more incredible new events including two festivals, Charlie Sparks' Scottish tour, Azyr in Liverpool, a Halloween bash at Birmingham's newest club, a family Christmas party, and more.
We're sure you're keen to see what's new so we'll leave you to scroll down and book your tickets for all these incredible events below!
A Weird & Wonderful Halloween 2023 w/ Hospitality & Jungle Cakes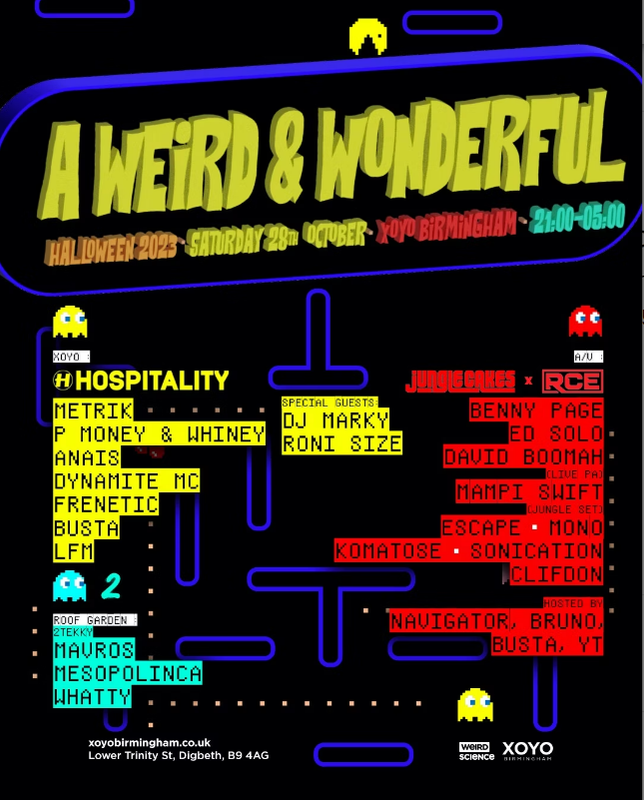 When: Saturday 28th October 2023
Where: XOYO Birmingham in Birmingham
A huge collab between Hospitality, Jungle Cakes, RCE, and Weird Science comes to Birmingham's newest club, XOYO, for a massive Halloween rave.
A seriously stacked lineup of house, UKG, DnB, bass music, and jungle will take over the 3,000 cap venue from 9pm - 5am this Halloween with massive names including Metrik, P Money & Whiney, Anaïs, DJ Marky, Roni Size, Frenetic, Dynamite MC, and many more.
As a brand new club, XOYO Brum boasts a stunning audio-visual spectacle, incredible sound systems with extra subs, a 360-degree laser system, and even hi-tech self-service bar machines that can serve double mixers in six seconds.
Tickets for A Weird & Wonderful Halloween 2023 w/ Hospitality & Jungle Cakes
---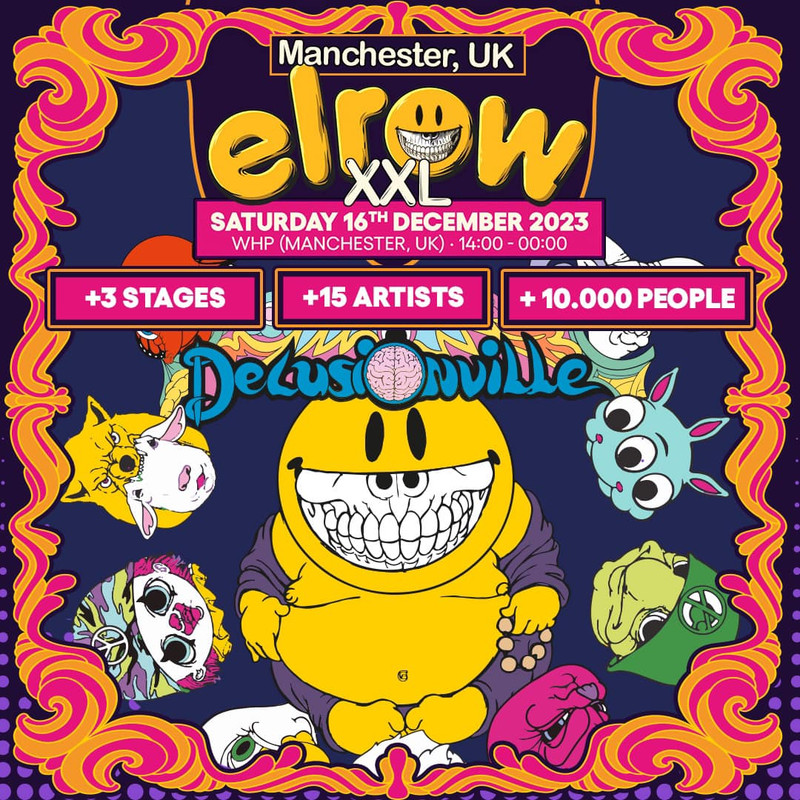 When: Saturday 16th December 2023
Where: Depot (Mayfield) in Manchester
Two iconic brands in the events space, Elrow and The Warehouse Project, link up for a colossal party this December.
Elrow was born when the founder, "realised people were looking for something special," saying that ravers don't just want to go to a club and just watch a DJ but be a part of the show, interact with their surroundings, and play games.
The theme for this big bash is called 'Delusionville', so it's about to get super trippy! With over fifteen artists spread across three stages and 10,000 ravers going from 2pm-12am, it's going to be a mad one. Well, they always are!
Click or tap here for Elrow tickets
---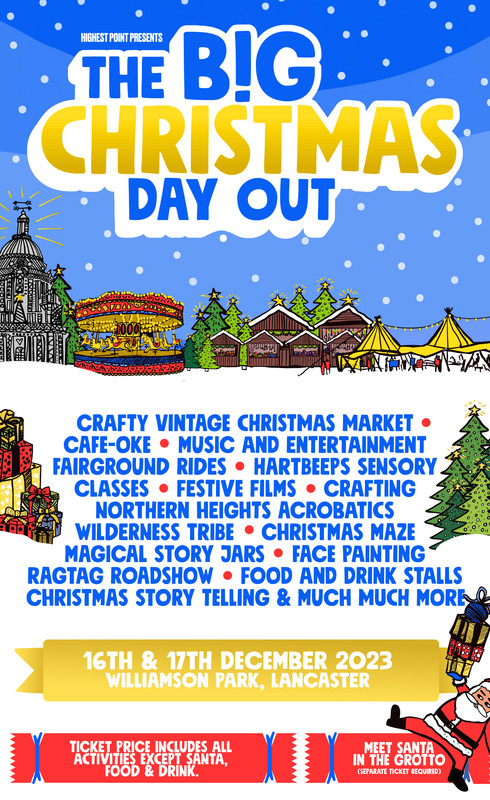 When: Saturday 16th and Sunday 17th December 2023
Where: Williamson Park in Lancaster
The team behind Lancaster's Highest Point Festival welcomes families to head over to Williamson Park for some wholesome Christmas fun!
Ticket prices include all activities (except food, drink, and meeting Santa) including Christmas crafts, fairground rides, face painting, the festive cinema, storytelling, café-oke, Hartbeeps multi-sensory musical experiences, and more.
There'll be music around the park including DJs, brass bands, and carol singers. If you get peckish, there'll be mince pies, Bavarian sausages, pick'n'mix, and much more from food stalls. Littluns can keep warm with hot chocolate, and adults can sip boozy hot chocolate!
The event runs on Saturday and Sunday, with two sessions each day - one from 9am - 1pm and another from 2:30pm - 6:30pm.
Click or tap here for The Big Christmas Day Out tickets
---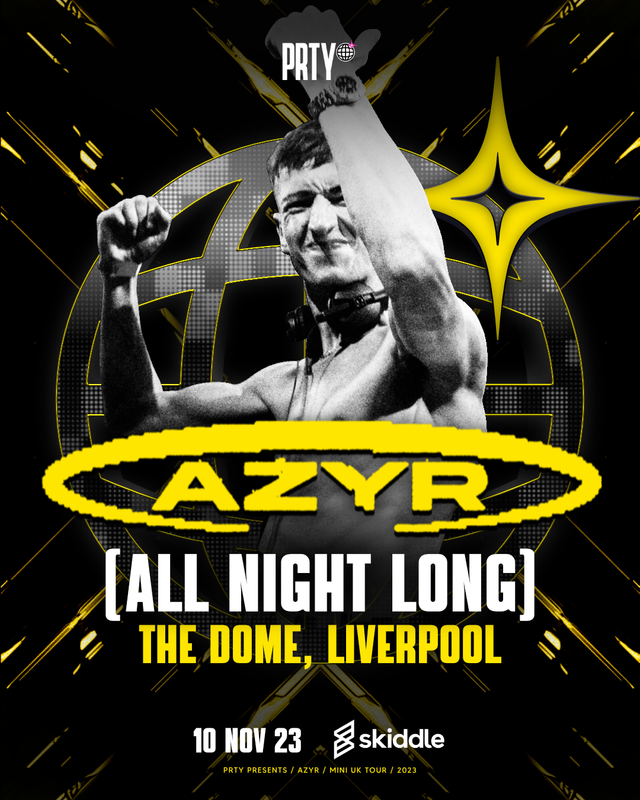 When: Friday 10th November 2023
Where: The Dome At Grand Central Hall in Liverpool
Hard techno DJ and producer Azyr comes to Liverpool in November. If you're keen to check him out, act fast as Edinburgh and Glasgow tickets have already sold out!
Known for delivering hard-hitting, high-energy sets, Azyr's selections dive in and out of a variety of sounds including hard dance, acid, schranz, rave, and psytrance, prioritising fast-paced tracks to keep ravers on their toes.
Relentless and intense, if the harder the tunes, the better, you'd better secure your tickets below before they're gone.
Tickets for Azyr All Night Long Liverpool
Ticket waiting list for AZYR [ALL NIGHT LONG] // Liverpool
Tickets you want not available? We know it's frustrating, but don't worry we've got your back. Join the waiting list below and we'll reserve you tickets if they become available.
---
Nightvision presents Charlie Sparks Scotland tour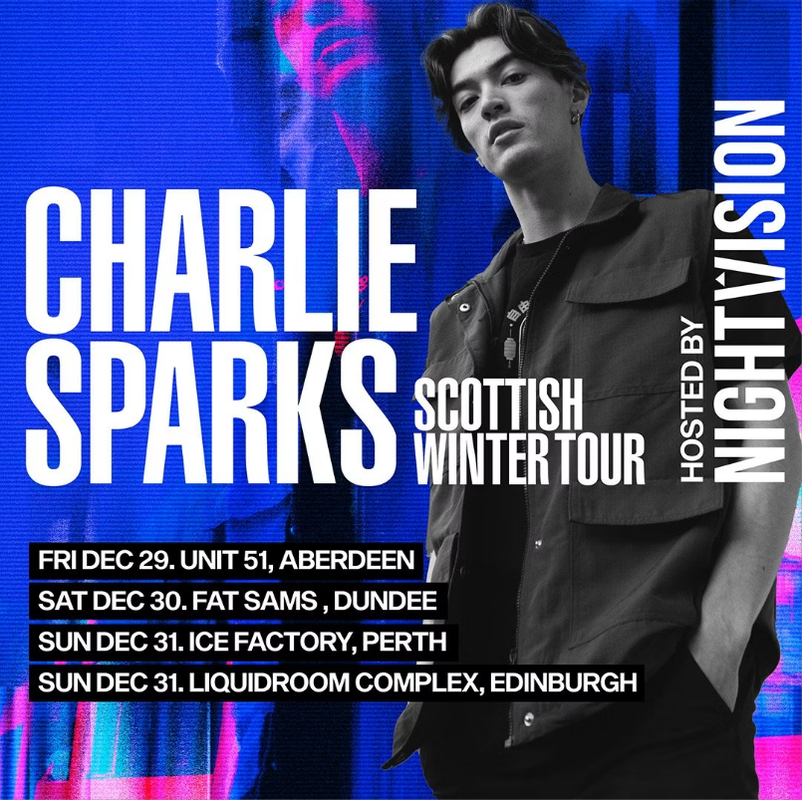 When: From Friday 29th - Sunday 31st December 2023
Where: Aberdeen, Dundee, Perth, and Edinburgh
Teletech resident, Charlie Sparks, brings hard techno over to Scotland for a winter tour, hitting Aberdeen, Dundee, Perth, and Edinburgh, in that order.
All about the energy, Sparks, who's currently looking forward to performances at The Warehouse Project's XXL and Ibiza's hard techno party Outset, brings a blend of acid, industrial, and psytrance-like grooves to the hardcore ravers of Scotland, including two NYE shows.
Receiving praise from Amelie Lens and 9x9, Sparks is a serious one to watch in the hard dance scene, especially after selling out multiple UK shows and wowing crowds all over the globe.
Click or tap here to find Charlie Sparks Scotland tickets
---
The National Drum & Bass Awards - 2024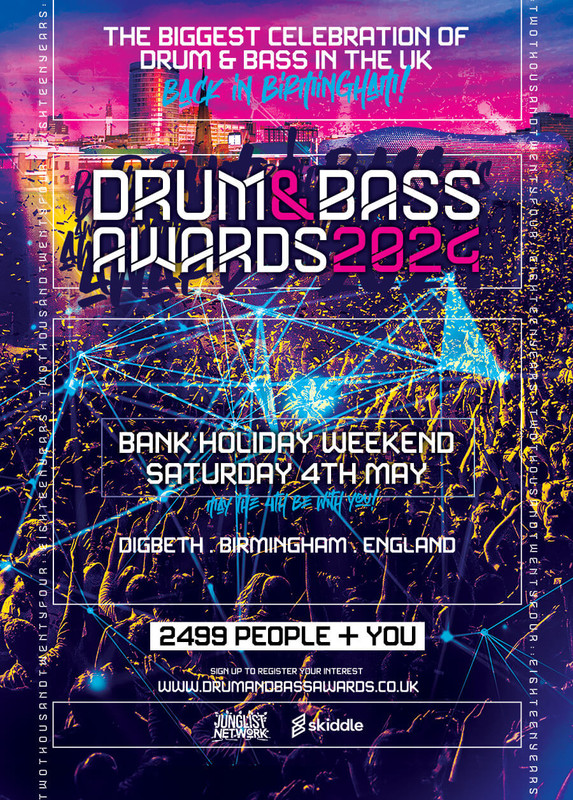 When: Saturday 4th May 2024
Where: Digbeth in Birmingham
The UK's biggest celebration of drum and bass returns to Birmingham in 2024 following a London edition in 2023. Running since 2007, the DnB Awards offers a space for passionate fans of the scene to rave to some of the best DJs on the scene before a short award ceremony.
Going down at Roller Jam, the largest venue for the event so far, with incredible laser shows, huge screens, and a booming Funktion-One Sound System, this is the place to be if you love DnB.
While we don't know who's performing yet, 2023's lineup featured Grooverider, Mollie Collins, Friction, Bladerunner, Charlie Tee, Nicky Blackmarket, and more, offering a mix of legends and up-and-comers. Secure your tickets now before the price increases!
Tickets for The National Drum & Bass Awards - 2024
---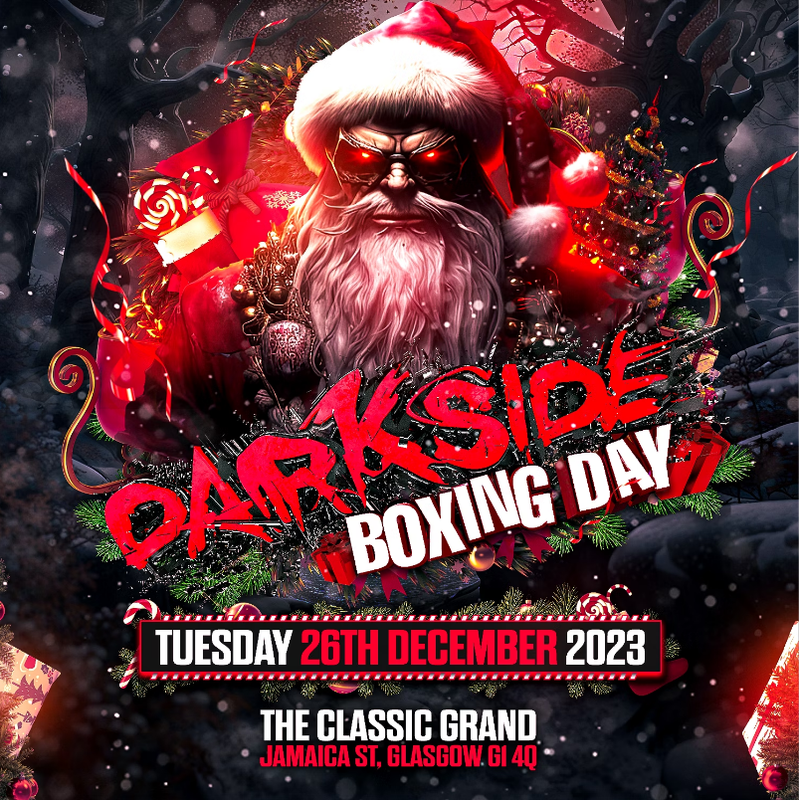 When: Tuesday 26th December 2023
Where: The Classic Grand in Glasgow
Darkside makes its annual Boxing Day return to The Classic Grand for another massive one with uptempo and hardcore tunes. As the UK's longest-running regular hardcore techno brand, throwing huge parties in the city of Glasgow and beyond, you can trust Darkside for a cracking night out.
This time around, they've got five international headliners who haven't been announced just yet. Raging on from 9pm - 4am, there's no better way to shake off the parents and in-laws once Christmas is over than by getting out and raving with your mates.
Tickets for Darkside: Boxing Day
---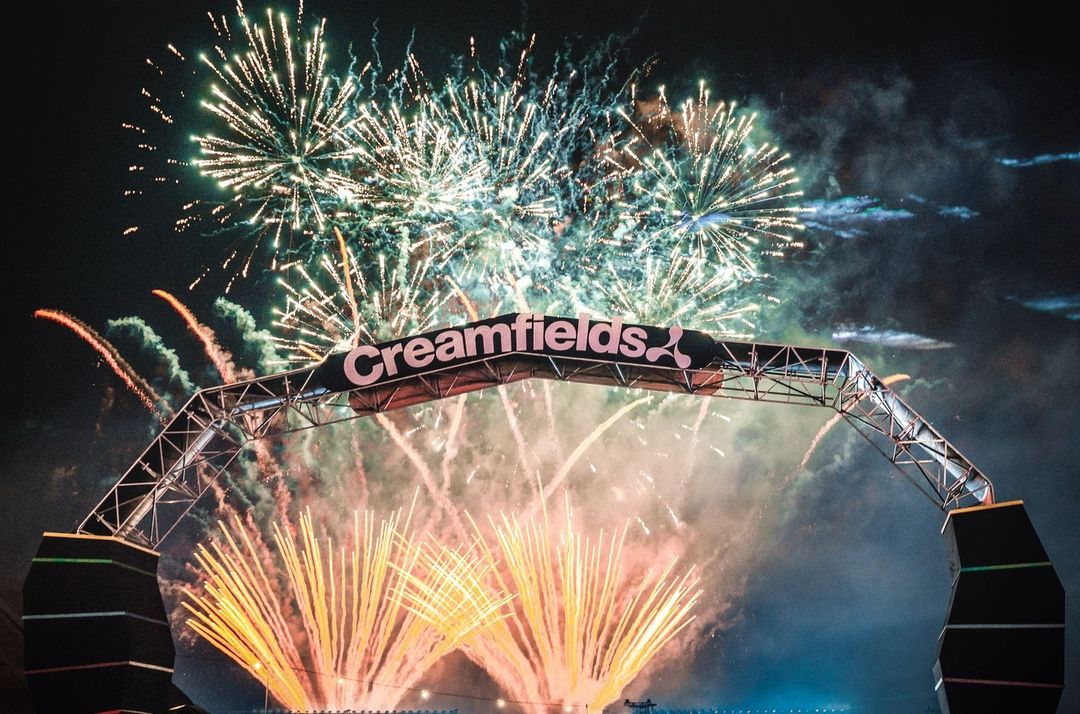 When: Thursday 22nd - Sunday 25th August 2024
Where: Daresbury in Cheshire
Creamfields returns next year for another long bank holiday weekend of house, techno, tech house, DnB, trance, EDM, and more.
The multi-award-winning festival attracts 70,000 ravers each year to enjoy awesome of the biggest names to ever come from electronic music alongside an army of tomorrow's legends. Bringing bangers to life with impeccable staging and insane production, Creamfields has solidified itself as one of the biggest and most in-demand fests in the UK.
Having sold out yet again in 2023, tickets are simply not going to last long. So if you're keen to spend a bank holiday weekend vibing to countless DJs, you know what to do…
Tickets for Creamfields 2024
Ticket waiting list for Creamfields 2024
Tickets you want not available? We know it's frustrating, but don't worry we've got your back. Join the waiting list below and we'll reserve you tickets if they become available.
---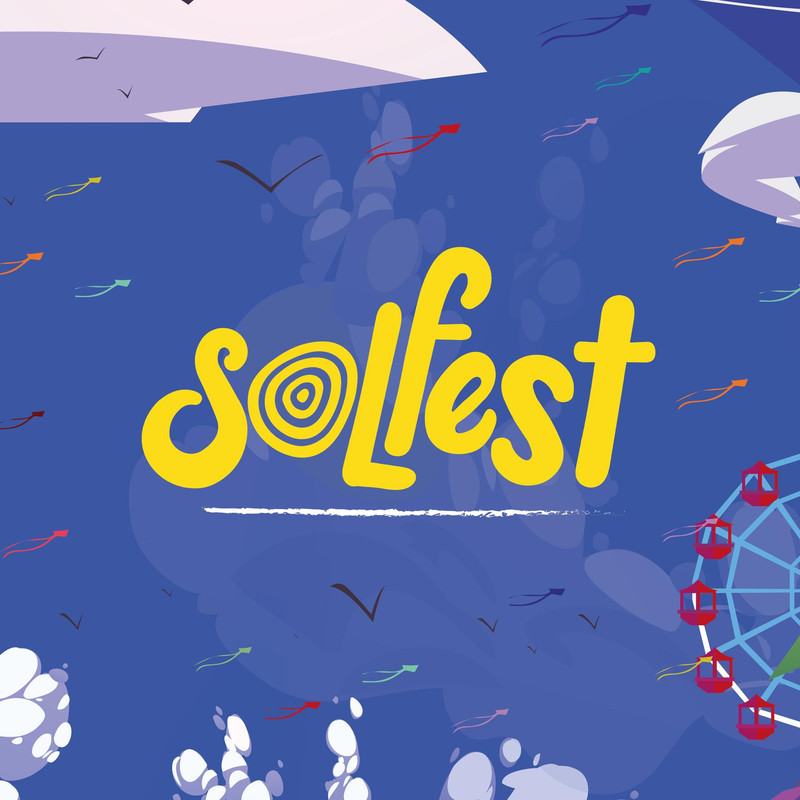 When: Thursday 22nd - Sunday 25th August 2024
Where: North Lakes Country Park in Silloth, Cumbria
Solfest is Cumbria's biggest celebration of music and arts. Independent, the fest is run by a dedicated team and passionate volunteers who bring artists from a variety of genres including indie, DnB, reggae, and more to music fans.
Solfest 2024 will be the 20th edition of the fest, so we're certain they'll be pulling out all the stops for this one. Packing lineups with huge names and rising stars from various scenes, no matter how diverse your friends or family's taste in music is, there's almost certain to be something there you'll all enjoy.
Secure your tickets now below!
Tickets for Solfest 2024
---
See what other incredible events are coming up here or by searching the Skiddle website now.
---
---
Check out our What's On Guide to discover even more rowdy raves and sweaty gigs taking place over the coming weeks and months. For festivals, lifestyle events and more, head on over to our Things To Do page or be inspired by the event selections on our Inspire Me page.


Header: elrow / Facebook.com