Ski festivals have surged in popularity over the past few years. When you think about it, it's not really surprising. We all wish festival season lasted a bit longer, and that's exactly what ski festivals do - extend the season.
And combining live entertainment, winter sports, and other fun activities was bound to go down a treat anyway. You can picture it now, spending all day on the slopes, then unwinding to your favourite tunes with a few drinks and then either spending the evening warming by the fire, or warming in the crowd at the late-night rave. It must really nourish the soul.
But as these festivals often last around seven days, you're going to want to make sure you choose the best. So we compiled all the best ski festivals any slope addict would drool over to help make it easier for you to decide. So let's dive straight in…
When: Saturday 16th - Saturday 23rd March 2024
Where: Avoriaz in France
2024 lineup: The Streets, Ben Hemsley, Joy (Anonymous), Netsky, Nia Archives, Rudimental, TSHA, Becky Hill, Danny Howard, Denis Sulta, Gok Wan, Girls Don't Sync, Goddard, Charlie Tee, Nathan X, and more
This seven-day long fest is all about hitting the slopes and then letting loose by raving to the best electronic artists and DJs up in the snowy French mountain resort, Avoriaz. Perfect for rookies and pros alike, there are simple slopes and much more challenging ones to tackle. If that wasn't enough, there's plenty more, including bottomless brunch, comedy, igloo parties, spa sessions and more. Snowboxx is the fest we all want and deserve.
Plus, their lineups are absolutely massive (as you can see from the above) so you can be assured that even if your skills on the slopes aren't the best, the music will more than makeup for it.
---
Photo: Tomorrowland Winter / Facebook.com
When: Saturday 16th - Saturday 23rd March 2024
Where: Alpe d'Huez in France
2024 lineup: Afrojack, Andromedik, Armin Van Buuren, Dimitri Vegas & Like Mike, Kevin De Vries, Kolsch, Netsky, Steve Aoki, Yves V , and many more
Another boujee do, Tomorrowland Winter is for those who want to combine great music and skiing while treating themselves. Indulge in lush raclette and smoky barbecued dishes while sipping on a bubbly prosecco. Party through the entire day until the sunset burns a fiery orange and then set off on a relaxed dogsled ride. And, of course, you'll revel in the sounds of Europe's biggest electronic music artists. Finally, for those who like a challenge, the site is home to the entry point of the longest black run on the Alps, the Sarenne run.
It's a Tomorrowland do, so you just know the production is going to be out of this world as well. Keep an eye out for more announcements, but if it's taking your fancy then make sure to secure your tickets, this one will be seeing out quickly.
---
Photo: Snowbombing / Facebook.com
When: Monday 8th - Saturday 13th April 2024
Where: Mayrhofen in Austria
2024 lineup: Bicep, Fatboy Slim, Andy C, Bou, Chris Stussy, Confidence Man, Ewan McVicar, HAAi, Hedex, Hybrid Minds, Jayda G, Chloe Caillet, Joy Orbison, and many more...
Wondering what seven days at Snowbombing looks like? Anything could happen! You might discover your new favourite DJ, then laugh like a seal to some of the best comedians on the circuit before finding your zen at mountaintop yoga and meditation. There's the silent disco, UKG brunches, Bongo's Bingo, and so much more to discover. Then, as the fest comes to a close, you'll unwind in the hot tubs, saunas, and steam baths. Oh, and a live waterfall will be within earshot.
---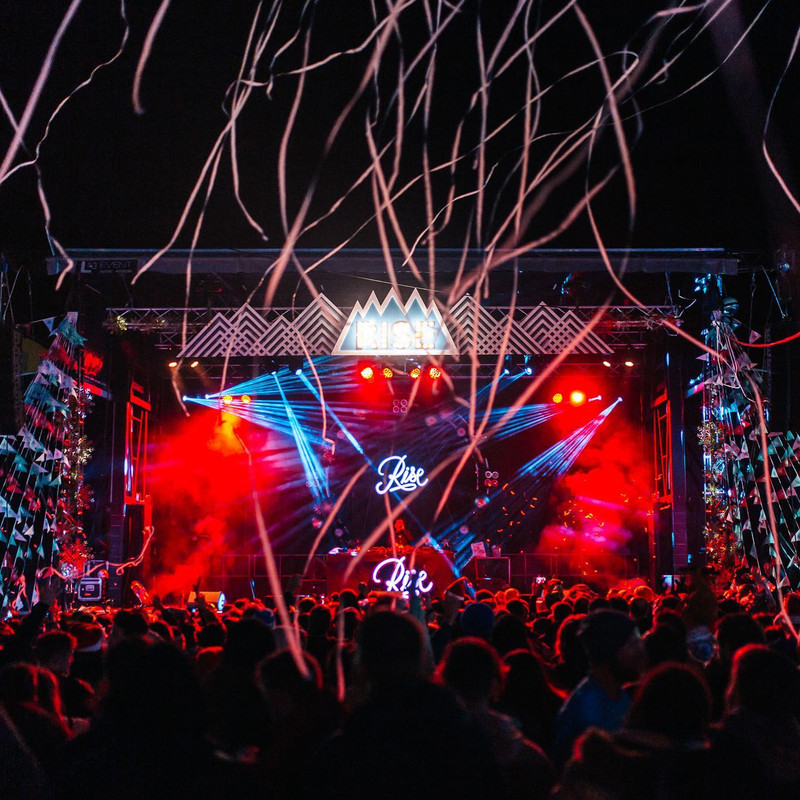 Photo: Rise Festival / Facebook.com
When: Saturday 7th - Saturday 14th December 2024
Where: Les Deux Alpes in France
2024 lineup: TBA
House, garage, drum and bass paired with skiing and wellness activities? Don't mind if we do. Rise Festival is the place to be in December if having an unforgettably brilliant time at a "Party on top of the world" is on your to-do list.
Ticketholders can catch breathtaking views of the resort on alpine helicopter rides and then kick back in a heated outdoor pool. With an emphasis on wellbeing, there's plenty to do in the way of yoga, meditation and spa retreats to recuperate in between parties. Plus, the skank-fuelled aves
---
Zermatt Unplugged
Photo: Zermatt Unplugged / Facebook.com
When: Tuesday 9th - Saturday 13th April 2023
Where: Zermatt in Switzerland
2024 lineup: TBA
All these ski festivals seem amazing. But not everyone likes electronic music. And some might find seven days is a bit too long for a festival. Well, Zermatt Unplugged, an acoustic music festival that will see performances from an array of acts - which last year included the likes of Patent Ochsner, Passenger, Of Monsters And Men, Peter Maffay, Calum Scott, and more - might be the one for you.
Set between 38 four-thousand-meter peaks and at the foot of the world-famous, pyramid-shaped Matterhorn, lies the small, idyllic community of Zermatt. The reclusive Swiss village offers an intimate setting for live music, allowing fans to experience their favourite songs in their purest, stripped-back forms. Witnessing your favourite artists performing acoustic sets is an opportunity too good to miss. Paired with skiing and the gorgeous sights? We're sold.
---
Photo: Altitude Comedy Festival / Facebook.com
When: Monday 1st - Friday 5th April 2023
Where: Mayrhofen in Austria
2024 lineup: Dara O'Brien, Daniel Sloss, Paul Smith, Maisie Adam, Zoe Lyons, Andrew Maxwell, Marcus Brigstocke, Mark Nelson, Emmanuel Sonubi, Kai Humphries, Scott Bennett, and so many more...
If you've got loads of music festivals already booked, you might be looking for something a bit different. Altitude Comedy Festival, winner of Best Overseas Festival at the 2022 UK Festival Awards, brings some of the most talented comics on the planet to one of the best ski resorts in Europe.
Not much can top hitting the slopes in the day and laughing so hard you go mute and start slapping your thighs in the evening. Plus, the sheer amount of talent on the lineup is insane. From some of the biggest names in the biz to some of the brightest up-and-comers, there are few comedy festivals around that produce such a range of laughs, one that comedy fans cant miss out on...
---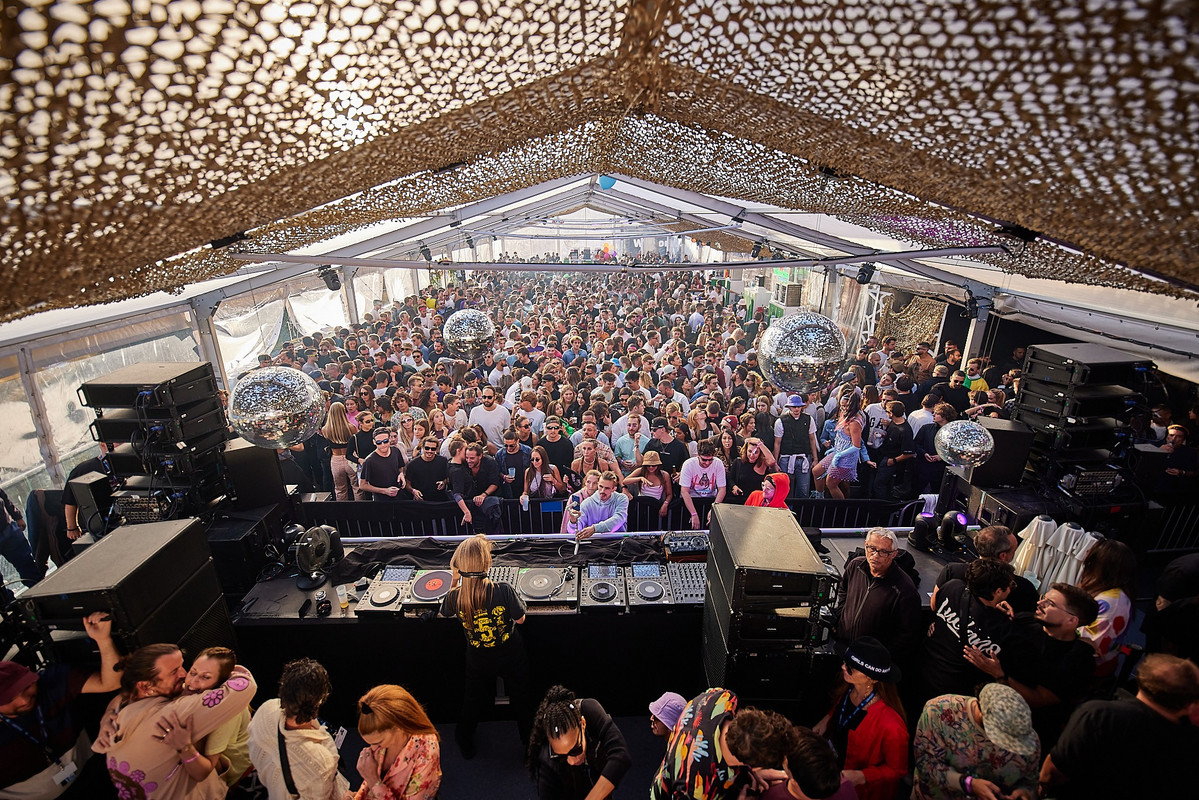 Photo: Caprices / Facebook.com
When: Friday 29th - Sunday 31st March & Friday 5th - Sunday 7th April 2024
Where: Crans-Montana in Switzerland.
2024 lineup: TBA
Taking place over two April weekends, the Caprices Festival brings the best electronic music to the slopes. Last year saw crazy tunes from the likes of Jamie XX, Black Coffee, Fatboy Slim, and more over five stages, with unreal views and plenty of parties in the clubs around the town and the MDRNTY stage after. Oh, and, of course, the skiing; Caprices Fest is basically music and wintersports heaven.
The lineup hasn't been announced yet for this one, but, with the strength of previous years, we reckon there's no need to worry.
---
Electric Mountain Festival
Photo: Electric Mountain Festival / Facebook.com
When: Monday 8th - Friday 12th April 2024
Where: Sölden Ski Resort in Switzerland
2024 lineup: Dimitri Vegas & Like Mike, John Newman, MATTN, with many more to be announced...
Set upon the Ötztal Alps in Switzerland, at an altitude of over 2300m, the Electric Mountain Festival is one of the highlights of the year at the Sölden Ski Resort, bringing a slew of top DJs and electronic acts to the breathtaking location, where attendees can Two-strep and ski until their heart's content.
With Dimitri Vegas & Like Mike, John Newman, MATTN, already announced, and a huge range of other acts on the way, this year is already setting up to be an epic week-long shindig, that'll chairlift your spirits and leave you never wanting it to end.
---
We hope we made it easier for you to choose between these breathtakingly amazing fests, although we're aware we might've just made it harder. Each of these festivals provides the smoothest slopes in the world, exceptional entertainment, inspiring activities, and sublime dining experiences. If you can't help yourself and want to go to them all, we don't blame you. And if your body can handle the session and the slopes, hats off to you!
---
---
Check out our What's On Guide to discover even more rowdy raves and sweaty gigs taking place over the coming weeks and months. For festivals, lifestyle events and more, head on over to our Things To Do page or be inspired by the event selections on our Inspire Me page.


Header: Snowboxx / Facebook.com