Find your perfect festival with our festival guide.
For first time festival-goers or those doing a last minute inventory before heading off to their festival of choice, this essential items checklist will come in rather handy.
We've been to an awful lot of festivals over the last few years but we're still constantly discovering new things to take with us that make our festival experiences that bit better. Attending festivals, like life, is a learning process, except it's a lot muddier, messier, musical, mind-blowing and memorable. Now that the letter 'M' is covered, let's delve into the rest of the alphabet and find out what to take to a festival.
Photo: Leeds Festival Find Leeds Festival tickets
A – Alcohol
Not the kind of alphabet learning process we'd expect Sesame Street to be teaching, but alcohol is an essential part of many adult's alphabets, especially at festivals.
Most festivals will allow you to bring your own booze but there will be limits, so make sure you check how much you're allowed to take in with you before you get to the entrance and they confiscate it. Some festivals only allow soft drinks to be taken onsite so make sure you find out beforehand.
You won't believe how many forlorn faces we've seen as people are forced to pour away some of their favourite tipples before they've even set up their tent. Honestly, it's like watching someone scatter a loved one's ashes – not the best way to start your festival and a complete waste of your hard earned cash.
B – Baby Wipes
For girls this is a tick on the old check list of items packed, but not for all the macho men out there. Baby wipes?! Yes gents, wet wipes usually used for the buttocks of an infant are brilliant for cleaning away the grime and dried mud you'll find caked on your skin after several days.
After the first day or two you may still be shouting out 'baby wipes!' with a disapproving shake of the head, but guaranteed come day three you'll be gripping the shirt fronts of your girlfriend or female chums and begging for them.
C - Camping Gear
Tent, check. Sleeping bag, check. Pillow, check. Ground sheet, check. Air bed, check. Chairs, check. Enough tent pegs or even the right sized tent poles... d'oh! That's right folks, speaking from experience it's always a good idea to make sure you've packed the right poles for your tent before you get there.
As for tent pegs, you do lose some so invest in more. Also, when buying a new tent, try to purchase one that is slightly bigger; for example if there's two of you then aim for a four-man tent. Trust us, with all your rucksacks, equipment and everything else squeezed in as well you will be grateful for that space. There's no camping at inner city festivals so make sure you've booked a hotel room, or a space on your mate's sofa.
D – Drinking Games
What a lovely pastime in the build up to the evening's bacchanal fun. You will definitely need to remember to pack a deck of playing cards before you sit down in a circle with your mates and look round at each other gormlessly asking, "I thought you had them?"
Drinking games can also be a superb ice breaker with your neighbours so invite them over to join you, remind them to bring their cider with them and then sit back and get as drunk as Oliver Reed was by midday.
E – Entry Ticket
No ticket, no entry – capiche? Forgetting your festival ticket could probably be the silliest thing you could manage. Picture the scene: you get to the entrance, your heart's fluttering like an excited youth about to ride the world's fastest rollercoaster, the banter is non-stop with your mates, security ask to see your tickets.
You partner turns to you expecting you to have them ready in hand. You pat your pockets and your heart begins to palpitate. Your partner scarily asks "Where are the tickets?" and a look of horror descends upon your face. Even the people pouring their drinks away will be laughing at you.
What if you can't make it? There's bound to be someone else out there that would love to take your place at a festival, and you can now resell your tickets through Skiddle's new ticket exchange platform.
Photo: Kendal Calling Find: Kendal Calling tickets
F – Fancy Dress
Most festivals nowadays are starting to incorporate a fancy dress theme – Kendal Calling being the perfect example. Get involved with the fun and dress up like a pillock. It's a few days away from the normality of everyday life so go crazy and let yourself go.
G – Grub
Pack your own food otherwise it can end up being rather expensive. Stodgy dry food is going to be ideal, like a fruit cake or bread. Dried fruit and nuts are perfect providers for energy and proteins, while clementines are excellent for getting some vital vitamins into your system.
Things like Pringles and biscuits will also make for great munchies. If someone in the group can take a gas stove then you're laughing. Pot noodles galore! Same goes for disposable BBQs, provided you are allowed to take them. Check the festival website or contact them to be on the safe side.
H – Hand Sanitiser
Hygiene is so important at festivals, simply because there will be such a lack of it. Make sure to get one of those little hand sanitisers that you can carry around with you and remember to keep it on your person at all times. Using some God-awful portaloos will make you scream blue murder and shake your fist to the sky if the sinks are just as filthy and you cannot wash your hands. Sanitise those dirty hands regularly.
I – Ibuprofen
Waking up with a banging headache or acquiring a dodgy gut from one of the food stalls can happen. Ibuprofen can cover all bases and help alleviate those aches and pains.
J – Jumpers
It sure can get nippy in the evenings even if it had been a bright, sunshiny day. Packing a thick, warm jumper or two will be a stroke of genius. Jackets, rainproof essentially, will be a second stroke of genius that even Einstein would have marvelled at.
K – King Size Blanket
If you have remembered the deck of cards for your drinking games and are ready to get crunked up then whatever will you sit on? An enormous picnic blanket will come in handy for sitting on and playing with your cards, whilst providing added space for your drinks, snacks and neighbours too.
L – Loo Roll
It's bad enough using a portaloo and forgetting the hand sanitizer, but underestimating the amount of paper left on the roll when in desperate need will be a nightmare. Or looking round when you have finished and noticing that the loo roll is sat cosily in the man wee and black sludge that decorates the floor. Not good. Therefore taking your own is always a good idea. You'll be clinging on to it for dear life.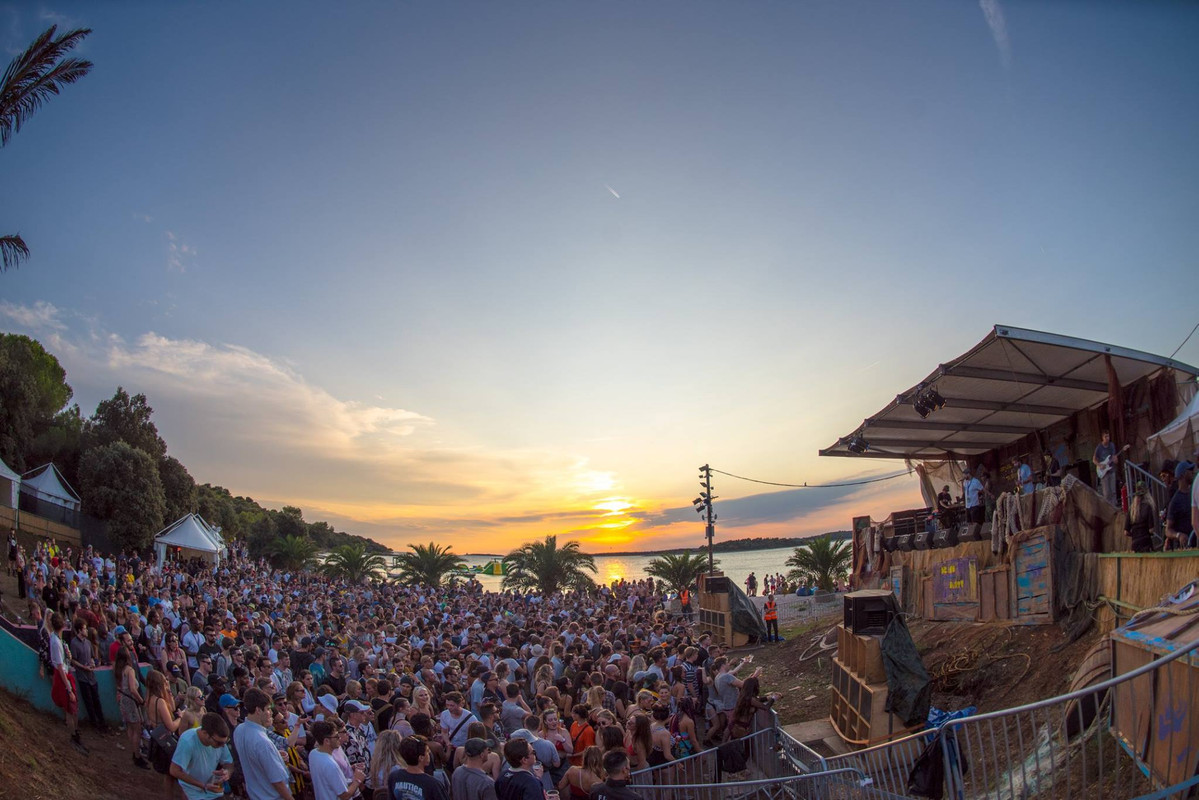 Photo: Outlook Festival Croatia by Samuel-Kirby Find: Outlook Festival tickets
M – Money
Try and work out how much money you'll need for the duration of the time at the festival because you won't want to be carrying around too much. Always carry your cash in your wallet or if you really must in a zipped pocket because it can easily get lost or stolen. If you're going to Croatia Music Adventures, Fresh Island Festival or any other festivals abroad then for goodness sake make sure you nip down the post office and get your pounds exchanged!
N – Night Light
A torch will prove invaluable in helping you spot your tent in the dark and generally just find your way around the festival site. A good tip: get a flag for your tent or some kind of mascot to guard it (that hopefully won't get nicked either) which will also make finding your tent an easier task.
O – Old Phone
Again speaking from experience here, remember to take an old, spare mobile phone with you instead of your plush, fancy gadget, because it'll probably end up in a less than perfect state.
P – Protection
This covers all manner of bases. Condoms are a must for any festival romances whilst sun cream is essential on the off chance that it isn't pouring down for the majority of your weekend. As well as those you'll also need suncream to avoid nasty burnt skin and last but not least, you'll need earplugs if you're hoping to leave the event with your eardrums intact. This applies to both adults and children so don't leave yourself short.
Q – Quickies
Two varying terms for this word: the first being the obvious. If you do find some time to pull whilst you are there then be sensible and remember the condoms before you invite your new found friend back to your sleeping bag. The second thing worth looking into is the TravelJohn Disposable Unisex Urinal. Look it up – might be worth it if you end up busting to use the loo at 4am when the portaloos are miles away and it's raining outside.
R – Rubbish Bags
You wouldn't leave your rubbish lying around your house now would you?
Photo: Latitude Festival- Find Latitude tickets
S – Sun
Just remember the sun's three S's - sun cream, sun hat and sun glasses. You do not want to be contracting a case of sun stroke now, so slap that sun lotion on. Your hat can also come in handy for covering up that wild mop of hair you'll have going on after a few days, while the shades can cover up those tired eyes if you've really been raving! Check this guy out from Latitude festival last year, stylish and sensible.
T – Toiletries
If manning up for the showers is not an option then at least brush your teeth - there'll be no excuses there. Remember that 'baby wipes!' are there as an alternative as well, while you'll feel a love for your deodorant that you never knew was possible.
U – Underwear
Discovering that your underwear is damp from the rain and has been garnished with flecks of mud you'll need to obviously change them so pack spares. The same goes for socks too.
V – Vitamins
Optional because you are only away for a few days but let's face it, none of us are Bear Grylls. The amount of alcohol and other substances in our systems over the course of a few days though is no doubt going to slow our bodies down so stocking up on the required vitamins is not a bad thing.
W – Weather
You'll need to check the weather forecast before departing on your festival adventures so you know whether to pack wellies, windbreakers or waterproofs.
X – Xtra Chewing Gum
OK so X was a difficult one to come up with and we may have cheated slightly but keeping that breath fresh after all the fags and booze will make a massive difference. You don't want to be labelled ash tray mouth now do you?
Y – Your Own Music
Travelling by car will require music for the journey but playing your own music when sat around your campsite with your group can be just as memorable as watching your favourite bands on stage. Check out our Festival Roadtrip playlist and become a passenger seat DJ don.
Z – ZZZs
Catching some ZZZs whenever you can is important so that your body can have time to re-energise and prepare you for the next day. It might be difficult getting some sleep at night if you're off your face, which is why power napping in the afternoons can make a huge difference; if it was favoured by Winston Churchill then it can be favoured by festival-goers too.
More like this? Read our Ultimate Festival Checklist.
Head here to check out our complete Festival Guide.