Welcome to week nine of the Skiddle Record Club - a place for the people behind the scenes at Skiddle to share the music they love, firstly with their colleagues and then with you, the reader.
Well, it finally happened last week. After 6 weeks sitting upon its throne, just as it got used to the cold, metallic crown sat upon its dome, Grouper - Draggin a Dead Deer Up a Hill has been dethroned by the Kingslayer. A knife in the back, delivered by Rory of Account Support in the form of Kendrick Lamar - Good Kid, m.A.A.d City, an album which was universally loved by the Skiddle crew, not to mention the music press of the world, who mutually piled praise upon this album by the bucket load. It was without fault for many of our listeners - "Love it, it's a classic and one of my favorite albums of all time, takes you on a journey. I can't fault it." It was without negative comment from a lot of our listeners, who, in the field which states "What didn't you like about the album" on our feedback form, just wrote "nothing", which is a first for the record club. So I guess, with an album such as that, a new frontrunner for the Record Club was inevitable. Read all about the record that left one listener saying "It's an absolute beast of an album, incredible beats, more soul than your grannys shoes" HERE!
But how long can Kendrick/Rory keep the throne before someone flys in on a dragon and burns everything and ruins the whole show for everyone who enjoyed it and committed so much time to it over the years? Who knows... But without further ado, let's crack on with week 9...
Week 9 - Tom, Account Support
Album: Sleep Token -Sundowning
Rate Your Music Score: 3.28/5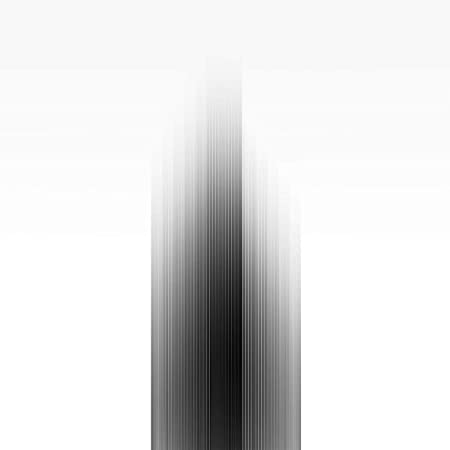 So who is Sleep Token? Well, the short answer is, no one really knows. But this is an article, and I can't leave it there. But seriously, nobody knows who the members of Sleep Token are; they're the latest "mystery" band, hiding behind masks and makeup, never revealing the true identity of the musicians involved. Instead, all we know is that the singer is identified by the name "Vessel" and that the members worship an ancient deity called "Sleep", which apparently revealed itself to the frontman in a dream... Cool. The band play a blend of pop-rock and alternative metal, with djent influences and 8 string guitars aplenty. They attempt to lull the audience into a false sense of security, with Vessel adopting a modern pop vocal style, floating atop atmospheric, radio-friendly, ballad-y, electronic-infused backdrops, before unleashing heavy, djent breakdowns/crescendos. It's an interesting blend that has captivated audiences live and fully cemented Sleep Token as one of the UK's most talked of alternative metal outfits.
Following a series of EP releases, Sleep Token released their debut album 'Sundowning' on November 21st 2019. While it failed to chart on the UK album charts, it certainly made an impression in the UK rock music rags. RiffMagazine called the album "an important record for the modern rock landscape," calling the band "One of a kind". Kerrang! gave the album a 4/5 in their review, highlighting that Sleep Token may appear to share similar aesthetics with some of the darker, heavier realms of metal, but that their music has more in common with more accessible rock/alternative bands. And that certainly shows, as their music earned Radio 1 playlist status and their live shows, or "gatherings" as they are referred to by both the band and their legions of fans alike, where never a more diverse crowd of people can be found; metalheads, emos, pop music fans, mums and dads - the fact that Sleep Token straddles the line between metal and pop may see them serve as a gateway to heavy music in the future.
"It's an album that I thoroughly enjoyed when it was released," says Tom, when asked he selected this album for the club. He goes on to say "I had been keeping an eye on these since I saw them in a support slot at Star and Garter and they've been blowing up since. Their sound and performance are pretty unique, I think there's something in there for the James Arthur crowd as well as the Perfect Circle crowd. I'm always interested to know what people think of this band and if the ambient pop to crushing 8 string combo will be a hit or a miss". So was it a hit or a miss? Let's take a look.
(Click the link below to listen to 'The Night Does not Belong to God')
So, what does the rest of the Skiddle team think?
Skiddle Record Club Score: 3/5 (Highest: 4.5, Lowest: 1)
When asked if participants would listen again, 70% said yes, while only 30% said no. But why is this the case?
The Bad
The most common complaint from our team for Sleep Token was the vocals - they were just a little too clean and poppy for some Skiddlers! One listener, for instance, had this to say: "The vocals make me feel really queezy. It's like Bastille, except they have "heavy" bits." Another echoed these sentiments: "With the same arrangements and different melodies and a different vocalist I might have been more taken to it, but it wasn't really for me. Unfortunately, I'm massively prejudiced against this kind of emo vocals - it doesn't matter what they're singing over." Another claimed that the vocalist reminded them of You Me At Six. Now that is some serious shade right there...
Another repeat offender for our listeners was that the blend between poppy rock songs and metal breakdowns just wasn't executed greatly. "Just a pop band that wants to appeal to an "alternative audience" by occasionally screaming something, having breakdowns and being weird and mysterious. Take those elements away and you have some truly awful Radio 1 pop rock." Safe to say they aren't a fan. Another reiterated this by saying "If it had been all heavy I would have preferred it, or all electronic, but the two didn't seem to work comfortably together on this somehow," when referring to Sleep Tokens merging of genres.
"Really wish I had spent my time better and listened to something else. "
"The band have a confusing sound as it sounds like rock in some parts but then gets very poppy and sounded like a different band!"
"Sorry, Tom, I love you, but I hate this."
"Some songs don't have much about them and go on for too long"
The Good
But, not everyone hated the vocals. In fact, for some listeners, it was the highlight of the album! "A lot different than I expected, but the production, the vocals are just incredible." Incredible! I guess it all comes down to taste, with such an affected vocal style. "Like the dude's vocals too. Gives me Funeral for a Friend vibes", one listener claims, being taken back to maybe some emo-tinged earlier years? "The vocals are just incredible." There's that word, again!
It's safe to say that a main feature of Sleep Token is their ability to appeal to both metal fans and pop music fans, and that certainly won some listeners over; the fact it wasn't all in your face metal won some fans at Skiddle: "Brilliantly atmospheric. I liked how tracks often started with lovely reverb-y vocals paired nicely with calm piano/guitar to then finished on something more powerful." They went on to compare the experience as a journey. "This album is confusing as it is heavy in some places and then quite melodic in others. But I enjoyed the contrast of this." It's quite interesting in that what some people called out as the things they disliked about the album is exactly what others enjoyed about it. Different strokes, and all that.
"Pleasantly surprised, I know what you account support lads are like so I was expecting some dark metal noise." Now hold on, this comment I take issue with. Let's just recap Account Supports picks so far:
Grouper - Dragging a Dead Deer Up a Hill: Lo-fi, folk, acoustic, dream pop
Swans - The Great Annihilator: Alternative, post-rock, neo-folk
Kendrick Lamar - Good Kid, m.A.A.d City: West Coast Hip Hop
So... Not a single metal album! Maybe they mean we have a reputation in the office? Well, we're just rebels aren't we? Don't play by the rulebook. In fact, we tear up the rule book. 'Ard as. Don't mess.
"Some of the breakdowns sound good, despite the fact they are massively predictable."
"I liked the contrast of it being sad lyrics with a nice beat."
"Sleep Token are a band that I've heard a lot about recently with rave reviews and this album didn't disappoint."
"Straight in, the first track sounds like Bon Iver / Biffy Clyro / screamy-metal bands from the early 2000s which I very much enjoy"
Leaderboard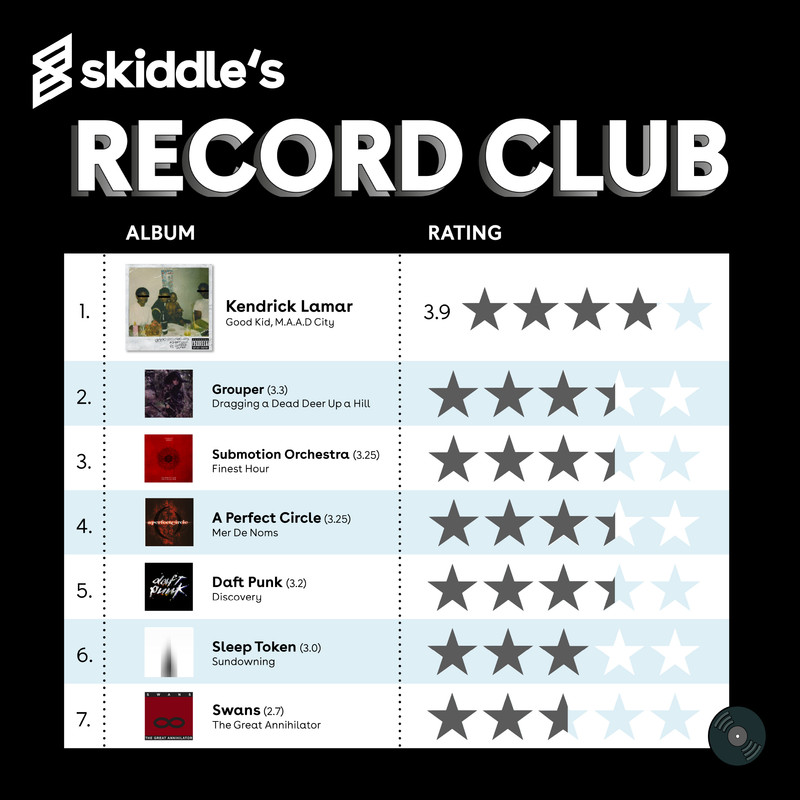 And there you have it, Sleep Token takes the 6th position, pushing Swans down to 7 (whatever, I'm not even bothered anyway, shut up), and Calvin Harris off our current leaderboard. And so Kendrick begins his second week as king of the castle. I'm sure being sat atop the leaderboard is the proudest achievement of his career so far. Forget the Pulitzer. But in all seriousness, Rory is as smug as I knew he would be, so let's hope something can storm in here soon...
Next week's record choice comes courtesy of Clare from our Customer Support team!
---
---
Discover even more tours and one-off live shows happening where are you by heading over to our Gigs page! Just click or tap - here