Welcome to week eight of the Skiddle Record Club - a place for the people behind the scenes at Skiddle to share the music they love, firstly with their colleagues and then with you, the reader.
After a much-needed break over Christmas and New Year, week 8 follows on from our last choice, provided by Michelle, one of our account managers, whose choice of Submotion Orchestra scored her second place on our Record Club leaderboard, pushing A Perfect Circle to number 3, but meaning Grouper continues its winning streak. 'Finest Hour' by Submotion Orchestra was a treat to the club, something entirely different to all other choices so far, introducing jazz, dub, lounge, and even ambient elements; and they were met with many appraisals: "The tracks flow between some interesting atmospheric soundscapes into music you can definitely dance to with great phrasing and melodies, particularly in the keys and vocal parts," said one particularly glowing review. The vocals of singer Ruby Wood soothed our listeners; "Her beautifully soft vocals spoke to me in unimaginable ways," and transported others to smoky jazz lounges. Read all about the album that had one listener stating "I feel like I'm in James bond sex scene with this music on" - HERE!
So now that we're finally back with week 8, Rory of the Account Support team thinks he's finally got a chance to knock our front runner from the top spot by introducing our first Hip Hop record into the club; and maybe he stands a chance, considering the artist he has picked is one of the most critically acclaimed of the last decade!
Week 8 - Rory, Account Support
Album: Kendrick Lamar - Good Kid, m.A.A.d City
Rate Your Music Score: 4.21/5
Kendrick Lamar has rightfully earned his place in the pantheon of the greats of Hip Hop since his emergence in 2004. Born and raised in Compton, California in 1987, he first amassed legions of fans online, releasing his first full project in 2004 aged just 16 years old. Kendrick spent the next 6/7 years appearing alongside fellow west coast rappers and on numerous different releases, before releasing his debut solo album, Section.80 in 2011. The album was received very well by critics and put Kendrick on the radar for hip-hop fans worldwide. Following his early successes, Kendrick's rise to the top has been meteoric: he has released 3 more solo albums, all of which have been critical behemoths, earning Kendrick his rightful title as one of the most prominent hip hop performers of the last decade. He has won 13 Grammys, appeared in Time magazines list of most influential people in 2016, received honors in his hometown, and achieved something few people have in the history of music - a Pulitzer prize for music, making Kendrick the first non-jazz or classical musician to ever achieve the award. Not bad going, really.
His follow-up to Section.80 came in the form of 'good kid, m.A.A.d city', his major label debut. The album saw Kendrick working alongside a plethora of incredible Hip hop producers including the likes of Dr. Dre, Pharrell Williams, and Hit-Boy, among others. Lyrically, the album tells stories from Kendrick's past, growing up in Compton, and the struggles faced in such a place: Gangs, violence, and poverty. The record is interlaced with story elements, delivered by a cast of fictitious characters which, alongside Kendrick's conscious lyrics, explore the effects of living in such a neighborhood has upon its residents. Critically, the album was a powerhouse. The notoriously hard-to-please Pitchfork gave the album a 9.5/10, stating "The miracle of this album is how it ties straightforward rap thrills--dazzling lyrical virtuosity, slick quotables, pulverizing beats, star turns from guest rappers--directly to its narrative." And they weren't alone in their praise; The Los Angeles Times called the album a "masterpiece" in their 8.8/10 review. And, as in tradition round these parts, you only need to look at the praise it receives on user-review site Rate Your Music to see this album struck one or two chords; it currently has an average score of 4.21/5, making it the highest-rated album of 2012 on the site.
"Without doubt my favourite hip hop album. In fact, probably my most listened to album ever. I love the journey Kendrick takes you on with his amazing storytelling abilities, coupled with the ever-changing production which can switch from chilled flows to heavy jarring bass," says Rory, when asked why she chose this record. "There are so many sick features in this album and it's so easy to just get lost in it while Kendrick narrates what his life was like growing up in Compton. Reminds me a lot of my upbringing in Tarleton..." Always the joker, that Rory.
(Click the link below to listen to the album in full below)
So, what does the rest of the Skiddle team think?
Skiddle Record Club Score: 3.9/5 (Highest: 4.5, Lowest: 2.5)
When asked if participants would listen again, 83% said yes, while only 17% said no. But why is this the case?
The Bad
I'm going to cut straight to the chase, our listeners found very little to say that was "bad" about this album. It was fairly universally loved, more so than any record of the club so far. When our listeners have finished listening to the record, they're presented with a feedback form where there is a field that says "what did you like about the album?" and "what didn't you like about the album". The most common response to the latter on this particular record was "nothing." So that leaves me in a bit of a pickle since I need to fill out this "The Bad" section... Hmm...
Well, not everyone was completely enamored that they found the record flawless. Of the few lower scores the record received, one listener said "It's just not my thing. No matter how hard I try, I can't get into hip hop." They went on to say that "I appreciate enormously the talent that goes into writing and recording something like this, I just don't get enjoyment out of listening to it," which I guess is always going to be the stumbling block of a record club; everyone has different tastes! In much the same way Swans and A Perfect Circle didn't tick the boxes of many of our listeners, Kendrick and Hip-hop also isn't for everyone: "This album didn't jump out at me at all. Didn't even find myself paying attention to the lyrics, which might be good but I wouldn't know. Not for me."
Others took the "didn't like" field a little more liberally: "This is the second time in record club that somebody has made me listen to ominous baby crying I swear if somebody has me on Dying Fetus or equivalent next then I quit." Let that be a lesson to you, Skiddle staff. No more samples of babies crying, please. Another listener took the chance to compare the record to Kendricks third, and highest-rated album - "It's very difficult to see which album is best. Good Kid M.A.A.D City vs To Pimp A Butterfly. Hard contest," probably not a bad record when one of the only complaints is whether its better than its sequel or not.
"Honestly, I don't have many bad words to say about this album, will be something I listen to again!"
"I prefer later generation Kendrick... but this album is still bloody good."
"'Bitch, Don't Kill My Vibe' is a little more misogynistic than the music I usually listen to (just jokes, I love misogyny)" - Just jokes, they don't really.
"I feel like I've heard that phrase bitch don't kill my vibe quite a bit though in like other tracks and on iPhone cases and stuff. Maybe this is where it comes from, call me uncultured or say something else, Mr. Lamar"
The Good
So... If they didn't have anything bad to say (for the most part), surely they had lots of good to say? Well, yes. Yes, they did. "It's good. Like, really good." And this listener wasn't the only one who thought that; "Love it, its a classic and one of my favorite albums of all time, takes you on a journey. I can't fault it." Looks like some people may have already been fans of this one - I guess Kendrick has been hard to escape for the last 10 years! "Classic Kendrick singles such as Swimming Pools on this album, great production and just sounds flawless overall." Flawless! High praise for this one! Another fan states "Being a fan of his later album 'To Pimp A Butterfly', it's not hard to see just how good Kendrick's music and rapping is. You could claim that Dr. Dre being the producer on the album put him at an unfair advantage but it doesn't take away how his voice compliments the music so well."
One listener brought my Grandma into this: "It's an absolute beast of an album, incredible beats, more soul than your grannys shoes." How do you know how big my Grannys shoes are?! Aside from trying to start beef, they also claimed that "It is a seminal album!"
More so than ever, people were keen to call out their favourite tracks with this one, so let's take a look at listeners highlights:
"Recognised more songs than I thought. Personal fave - bitch, don't kill my vibe"
"M.a.a.d city is my favourite song when at the gym as it is very upbeat and gives good energy."
"Great atmosphere of The Art of Peer Pressure, lovely synths used. And 'good Kid' is another highlight, excellent musicality, I can hear bits of blues and even orchestral stuff, it's a really intriguing and well-crafted combination"
"Preferred the more upbeat songs like Compton."
"While this album doesn't quite hit the track-for-track bangerness of To Pimp A Butterfly, it is still peppered with absolute jams such as Bitch Don't Kill My Vibe and Poetic Justice. "
Leaderboard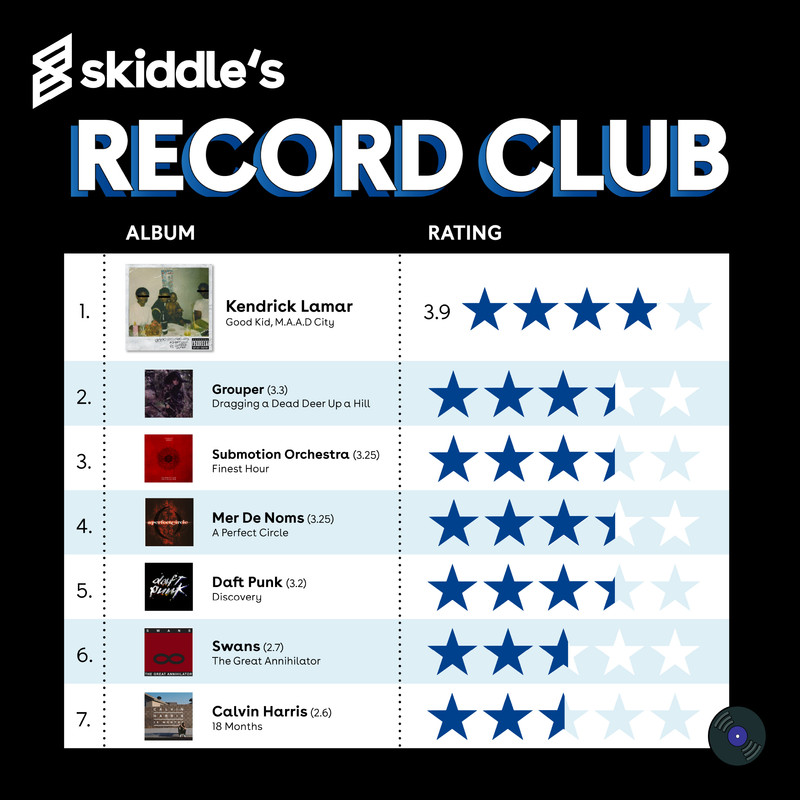 Well, it's happened. It had a good run and I'm sad to see this day arrive, especially given that I'll have to sit across from Rory's smug grin, but Grouper has sadly been knocked from its top spot. Kendrick Lamar takes the crown with an incredible 3.9/5. I mean, that's not even close is it? That's a clear victory... Damn (get it, eh?) The question is now, can it beat Groupers 6 week streak, or will something come along and take its place? Only time will tell!
Next week's record choice comes courtesy of Tom Clarke, also of Account Support!
---
---
Discover even more tours and one-off live shows happening where are you by heading over to our Gigs page! Just click or tap - here