It's been yet another hard week for the music industry. The announcement from Downing Street on Monday evening left event organisers around the UK in a state of despair, as the continuation of the current COVID restrictions means gigs, raves, festivals and plenty of other cultural occasions have to be postponed. A somewhat irresponsible move from the government that will surely spell the end for many of Britain's best party-throwing collectives.
We're urging all our loyal customers who've recently bought tickets for shows scheduled to take place in the coming weeks to hold onto them if at all possible, in support of the industry and the scores of teams who bring together some of our favourite live events.
It's not all doom and gloom, however... There's still a plethora of new events popping up on a daily basis, set to run from our new date of freedom, Monday 19th July, throughout the summer, and into the autumn and beyond.
So, if you haven't already started thinking about what events you'll be present at when we reach Step Four in the Roadmap out of Lockdown, now is most definitely the time!
Browse some of the excellent events added to Skiddle this week, and treat yourself to tickets for a few restriction-free parties in 2021.
(Click or tap on the events, artist names and venues below, for tickets and more...)
When: Saturday 30th October 2021
Where: Loughborough Students Union in Loughborough
Roll up, roll up - The Circus is back and rolling into a town near you!
Heading to Loughborough's Student Union for an evening of unrestrained fun this October, the limited capacity event will welcome no more than a thousand eager revellers through its doors on Saturday 30th October.
Boasting two rooms of live dance music, featuring an exciting lineup of renowned DJ names, impressive decor installations, performers and more - there's bound to be something to satisfy your every need at this magical Cirque Du Soul event.
More details to be announced soon - watch this space.
Find tickets for The Summer Showdown - here
---
CIRCUS Presents Laurent Garnier & Lewis Boardman
When: Saturday 28th August 2021
Where: Invisible Wind Factory in Liverpool
One of the best in the business, seminal DJ and electronic music producer, Laurent Garnier returns to Liverpool this August, for a huge performance at the Invisible Wind Factory on Saturday 28th August.
Appearing on behalf of respected dance brand, CIRCUS, the legendary French selector will perform a deftly assembled set comprised of some of his biggest club hits - the likes of 'The Man With The Red Face' and 'Acid Eiffel'.
Joining him on stage, rising star Lewis Boardman will also take over the ones and two's, playing out his usual storming house music set.
Don't miss your chance to witness a legend of the scene live in the North of England this summer.
Find tickets for Laurent Garnier & Lewis Boardman live - here
---
JBM Music & Unity radio Presents Arrested Development
When: Wednesday 1st September 2021
Where: Gorilla in Manchester
Acclaimed Atlanta-born rap group, Arrested Development land in the UK this September for a very special live performance in Manchester.
The trailblazing, Grammy-award-winning hip hop collective will take to the stage at independent music venue, Gorilla orchestrating a setlist packed with a selection of their biggest chart-topping hits - including '90s anthems 'Tennessee', 'Mr Wendal' and 'People Everyday'.
Catch OG founding member and lead vocalist, Speech alongside Jason "JJ Boogie" Reichert, One Love, Fareedah Aleem and Tasha Larae bringing positive vibes to the people of Manchester this autumn.
Find tickets for Arrested Development live - here
---
XXL Presents Charlotte De Witte, LSDXOXO & Wallis
When: Saturday 31st July 2021
Where: Motion in Bristol
International techno superstar, Charlotte De Witte returns to the South of the UK this summer for another dark and heavy, all-out rave experience.
The multi-faceted producer, talented DJ and savvy entrepreneur, who recently got engaged to partner and fellow techno producer, Enrico Sangiuliano, will showcase exactly why and how she's earned her 'superstar' title with a blinding set full of some of her biggest club bangers.
Support on the night of the event, which runs from 11 pm until the sun rises at 5 am on Sunday 1st August, comes from energetic DJ, LSDXOXO and up and comer, Wallis.
Find tickets for Charlotte De Witte, LSDXOXO & Wallis live - here
---
Wolves Food Fest X Digbeth Dining Club present Summer In The Park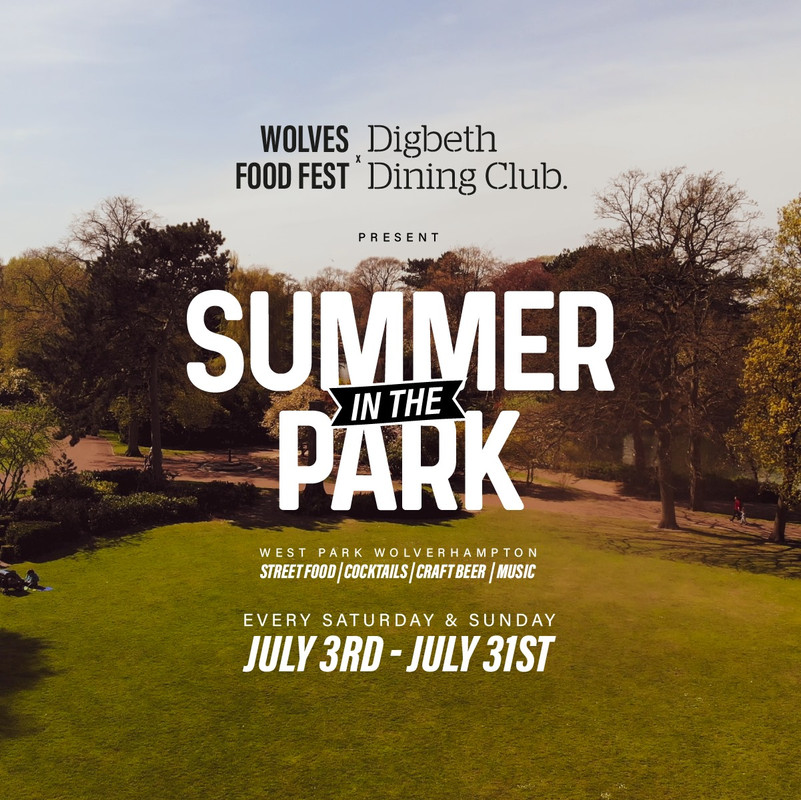 When: Saturday 3rd July - Sunday 31st August 2021
Where: West Park Wolverhampton in Wolverhampton
The team behind the critically acclaimed street food event, Birmingham's Digbeth Dining Club have teamed up with the operators of Wolves Food Fest to bring a month-long series of flavoursome events to the fields of Wolverhampton this summer.
'Summer In The Park' will see Wolverhampton's West Park being taken over by a long list of lauded street food vendors, cocktail shakers and craft beer makers, offering those present an array of divine treats in addition to live music and more.
Taking place every Saturday and Sunday from July 3rd to July 31st, these events provide the perfect antidote to cure your boredom in the lead up to the newly announced day of freedom - Monday 19th July.
Find tickets for Summer In The Park - here
---
When: Saturday 28th August 2021
Where: The Boneyard in Derry
Northern Irish party collective, Jika Jika are preparing for their biggest and most impressive techno event to date, at The Boneyard live music venue in Derry.
Presenting sought-after names from one of the world's most successful techno brands, Drumcode, those lucky few who manage to acquire entrance to this mind-blowing 9-hour experience can expect to be mesmerised by the hypnotic sounds of Drumcode founder Adam Beyer and Joseph Capriati, as well as Irishman Rebuke and Yazmin Cardezi.
Tickets are limited for this one and in extremely high demand! Act fast and secure yours now.
Find tickets for Jika Jika Presents Drumcode - here
---
Shindig Presents Carl Cox, Adam Beyer & more
When: Saturday 7th August 2021
Where: Times Square in Newcastle
The undisputed champion of dance music, globally renowned DJ mastermind and techno maestro, Carl Cox heads back to the capital of the North East this summer.
Arriving at Newcastle's Times Square on Saturday 7th August, the seasoned pro will unleash an arsenal of heavy techno tracks alongside Drumcode custodian and dance music devotee, Adam Beyer.
Also appearing on stage, revellers can expect to hear the best in everything from acid house, tech house and deep house, from upcoming talents the likes of Anfisa Letyago, Anna Our and DJ duo, People Get Real.
Find tickets for Shindig Presents Carl Cox, Adam Beyer & more - here
---
Escape To Freight Island Presents... A Hip Hop DJ and AV Show by DJ Yoda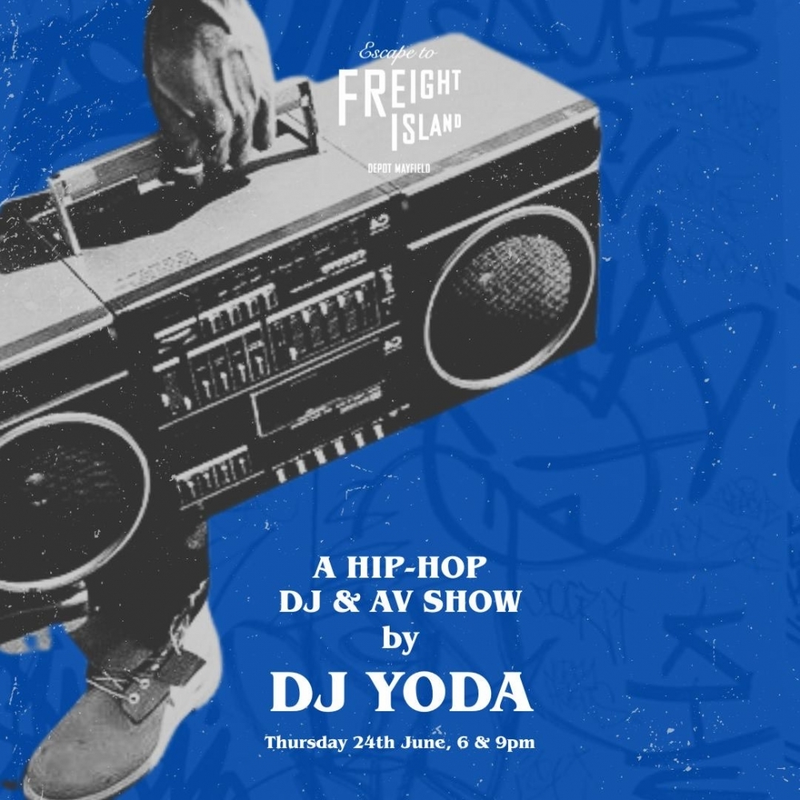 Where: Escape To Freight Island in Manchester
When: Thursday 24th June 2021
Socially distanced venue, Manchester's Escape To Freight Island will see an esteemed hero of the British hip hop scene, DJ Yoda performing his new audio-visual show live on Thursday 24th June, as part of his ongoing residency at the newly opened events space.
Set to 'stimulate the eyes and ears' of all present, the award-winning producer and DJ will spin some of his greatest sample amalgamations, in addition to tracks from his latest LP, 2019's Home Cooking.
Witness a master at work in Manchester this June.
Find tickets for Escape To Freight Island Presents DJ Yoda - here
---
MK at Bramley Moore Dock, Liverpool
When: Saturday 6th November 2021
Where: Bramley Moore Dock in Liverpool
Marc Kinchen AKA world-conquering producer and dexterous DJ, MK will set the tone at Liverpool's huge Bramley Moore Dock warehouse complex on Saturday 6th November, on what promises to be one of the city's biggest dance events of the year.
Renowned for his classic, '90s style production and crossover dance sound, the Detroit native is a favourite amongst his DJ peers with the likes of Todd Terry, the Godfather of Garage, citing him as one of his biggest influences.
Also recognised for his talents in songwriting, Kinchen has worked with megastars the likes of Rhianna, Jay-Z, Snoop Dogg and more, and has remixed tracks on behalf of over 200 artists, including Blondie and British house music outfit, John Reid's Nightcrawlers.
Tickets for this event are selling fast! Make sure you get yours before it's too late.
Find tickets for MK at Bramley Moore Dock - here
---
When: Saturday 23rd October 2021
Where: The Ferret in Preston
Sheffield-based rock n roll band, The Sherlocks bring their anthemic sound to Preston music venue, The Ferret this October.
Establishing a name for themselves back in 2017 with the release of their debut effort Live For The Moment, the quartet has since become a permanent fixture on the British indie scene, releasing their scintillating follow up Under Your Sky, recorded with James Skelly of The Coral, back in 2019.
Primed for a return to the stage in 2021, The Sherlocks will head out on their 'KEEP OUR INDEPENDENT VENUES ALIVE' tour throughout October, arriving at the iconic Preston venue on Saturday 23rd.
Find tickets for The Sherlocks live in Preston - here
---
---
For more excellent events - including non-socially distanced music festivals, live theatre shows, mouthwatering food fiesta's and more - head on over to our What's On page or make use of Festival Finder Tool