Glaswegian Jack Revill is an unprecedented party starter and above all, a knowledgeable selector. Instinctive and unpredictable in his approach, Jackmaster is the answer a lot of ravers will give when asked who their favourite DJ is.
Starting work at his hometown's Rubadub record shop when he was 14, Jack extended his record collection immensely before he could even legally go out and enjoy the tracks on a dancefloor. His job was an essential stepping stone towards the career he has today, giving him the opportunity to absorb everything from disco to techno, house to bass - not only growing in wax but growing in musical understanding.
With DJ sets in full swing around Glasgow's clubs, Jack was also running labels Dress 2 Sweat and Wireblock with his group of friends, a focus which eventually transformed into one Numbers label, which he founded with his friend Spencer. The label continues to release brilliant tunes, including standout stuff from Denis Sulta, Jamie xx and Adesse Versions.
His popularity has exploded over the past five years or so, and it's down to his wide-ranging taste, confidence and ability to surprise. Jackmaster doesn't focus on the genres, he focuses on the energy levels. See him one month, then see him the following and expect a totally different musical experience.
It's worth mentioning that he's one of the few DJs in international scene who has remained at the top without the need to produce or remix, relying almost exclusively on his skills behind the decks. Something which has been harvested for his yearly Mastermix, Essential Mix and disco/cheese filled Tweak-A-Holic series.
We caught up with Jack at Circus' elrow party in Liverpool to talk about chafing in Ibiza, his imminent DJ-Kicks mix and his many back to backs ahead of his summer gigs (check out upcoming Jackmaster events).
Etched in my mind is that picture of you in the Posh Spice-esque lycra in Ibiza. How and why did that end up happening?
[Laughs] Well we'd been at DC10 and by this time it was the Tuesday night, and DC10 was on the Monday, but there was an after party and all that up in this villa and then Seth (Troxler) had people round to his and I just walked in and there was a bunch of them dressed up as women.


And you felt left out?
Aye I felt left out and I was like, "I'll get dressed up too" or whatever and then one of the girls pulled out a PVC catsuit and that was that.
And it fit? No friction in weird places?
Yeah it did fit. Well, you know what, there were a few moments were I felt like... have you seen that scene in friends where Ross wears the leather pants? It was a bit like that. I was asking for talc at one point. I felt quite at home in it actually.
But yeah anyway we went to Pacha to Maceo Plex's new night, me and Seth went, dressed up in drag. So that's the story behind that.
Are you living in Ibiza again this year?
Yeah I'm living there, I've done the same for the past two seasons, I'm there until October. I was looking at my calendar today and I've paid all this money for a really nice apartment there and I'm hardly there.
I've got seven or eight dates for Circo Loco a year but I'm only there for two or three days at a time. I've done myself out a bit.
So what normally happens in between?
I just carry this massive bag around [points to a giant metal suitcase on the other side of the room]
Yeah what is in that?
It's just clothes, I'm going back to Glasgow. So it's only half full because I'll be back there tomorrow so I can fill it up with more clothes and take them back to Ibiza. Just now, in the summer, it's usually like at weekends I'll do four or five shows at a time and it's pretty crazy.
Are you living with Jasper (James) again in Ibiza?
Aye I live with Jasper, Richy Ahmed and Alex Perez who is Seth Troxler's tour manager.
Is it party central?
Well we had this deal that there would be no parties but then went I went back after DC10 there was ten random Spanish people there...
What sort of deal is a no party deal in Ibiza?
I'm getting old man, I'm 30 now. I'm just drinking water [holds bottle of water up] I'm off it. Every year you say your house is gonna be a no party gaff and by the end of the season it's fucked and there's marks all over the walls.
I don't even wanna know what marks we're talking about. When you're over there, how much partying do you get to do yourself? Do you go to many different nights?
[Laughs] I usually only get to go Circo Loco on a Monday and Paradise on a Wednesday. DC10 is my favourite club, sometimes I go to Cocoon after DC10 if there's no after party but not as much as I would like.
It's not the same, when I used to go there as a tourist it was a completely different experience, you weren't hanging around backstage or whatever, you were just on the Terrace dancing, but now it's completely different because I'm a resident.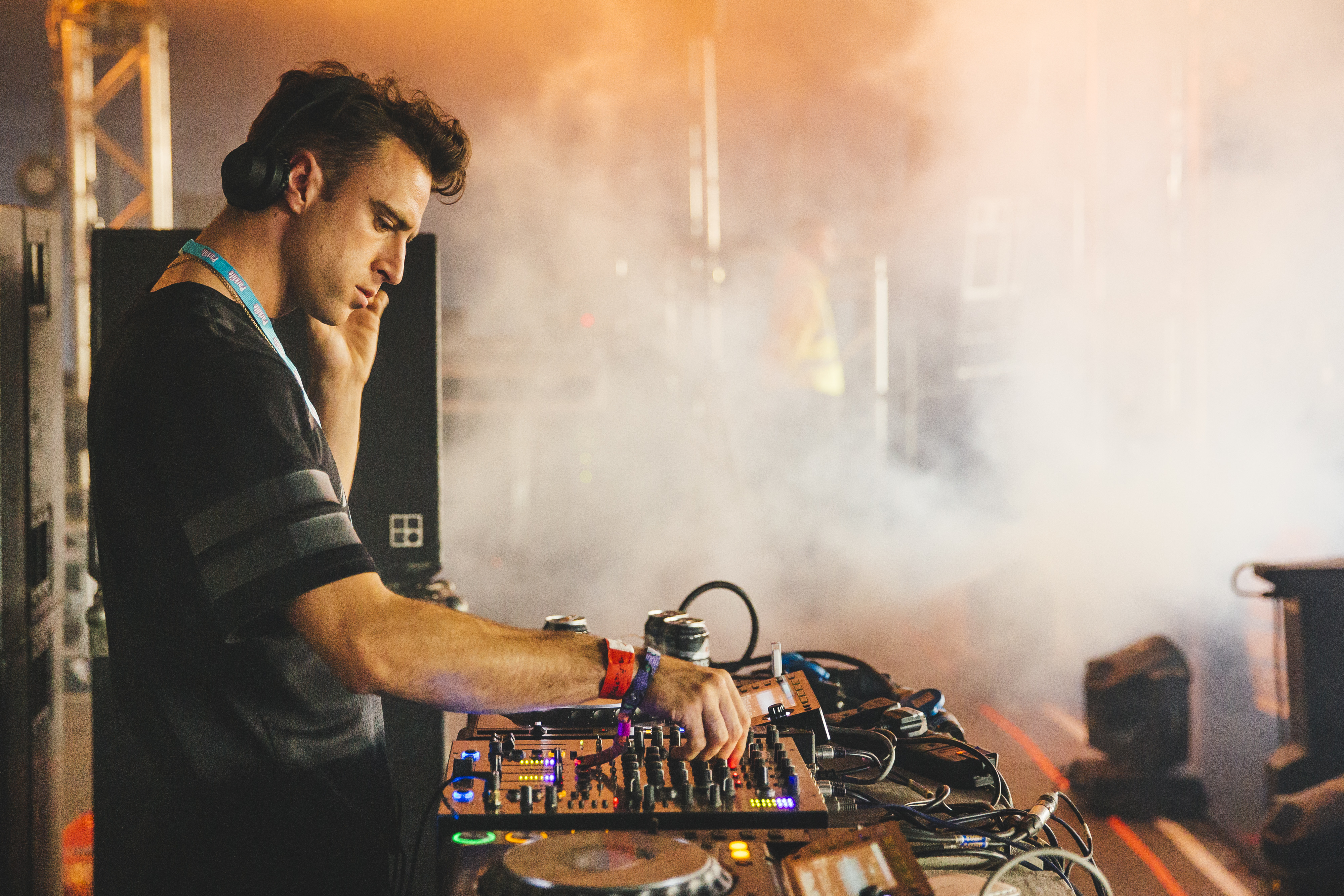 Credit: Richard Johnson

I wanted to ask about elrow, because we're at an elrow party now. Why do you think that these concept parties are so popular now? Do you think that people are getting a bit bored of the standard warehouse set up?
I think there's a bit of a problem with people who say they're into dance music who aren't really into dance music, but they're in it for the scene sort of thing. There are a lot of parties where people just go because of the brand and I think elrow has a really strong brand but luckily it's backed up by really good music and really good DJs - and everyone wants to play elrow.
That's something I was discussing the other day with Jasper, that I see a lot of kids going to clubs just to say they were there, and they're not really that into it, whereas elrow is just a crazy party.
Whenever I play elrow in any town it always goes off, whether I've got an early set or if I'm closing it's always wicked.
You've got back to backs appearing left, right and centre. Laurent Garnier the other month most notably, how did that come about?
Well the thing is, I do a lot of back to backs and actually a lot of the time I enjoy playing back to back more than playing alone. I'm into such a diverse range of dance music, so it means that I can exercise all the different genres that I like. Some people see house as one genre but there's so many shades of house that I collect and that I'm into.
So, for example with someone like Laurent Garnier, I'd never properly spent time with him, he just emailed and asked if I wanted to play at Nuits Sonores. He was just smashing out the techno so I got to play loads of techno that day. Whereas when I play with someone like Jamie Jones in Miami I just played straight up house.
It just means I can exercise the stuff I'm into. I'd try doing a back to back with anyone, well, not anyone but within reason, you know I wouldn't do it with David Guetta. I will try it, if it doesn't work then I won't do it again, but then take someone like Armand Van Helden, it really worked for the Boiler Room and we've done a couple of shows since then.
How did it work with Armand Van Helden then, did you speak beforehand?
We spoke and we traded some tunes online and we had a kind of agreement that we would only play music from a certain era. I'd never met him before and he was backstage, I was so scared to talk to him because he's my hero and I spoke to him and he was the nicest guy ever - so fucking sound.
But it's still really intimidating to meet someone that you look up to that much. I clammed up a little bit. The vibe though was really good and I was like, "Let's do this again man." He was right up for it.
What would be your ultimate B2B then? Or would you say you've already done it?
Hmm, well I'd always say someone like Jeff Mills or Robert Hood or something, but they are artists who have such a strong vision that if someone else was to jump on that then it would be compromising what they do. I admire Jeff so much because of his vision and his musical path and refusal to bend on that. I would probably ruin it, I'd maybe rather be on the dancefloor instead.
But Armand was a dream and it was Boiler Room who came up with the idea and put it to me and I said, "He'll never do that." But they managed to do it. Smashed it.
Proper smashed it. Tell me about your DJ-Kicks mix then, that's a big one...
I was on that thing, you know Holy Ship? It starts in Miami and goes to the Caribbean and there's no internet, well there is internet but it's $100 per hour so your internet time was really valuable and I got a phone call from my manager.
I was already lined up to do a DJ-Kicks but it was going to be next year or something, and they said, "Someone's pulled out, they can schedule you in and it will come out in summer."
But I had to submit the tracklist in a month and you have to record the mix in two months, and I'm on this cruise and I didn't have any option to send a tracklist or even practice anything so I was really tight for time. I ended up doing it in two weeks or so, and normally these things take much longer.
It's a house and techno thing, it's probably different to what people expect. I mean some people think I was a dubstep DJ, I dunno why, or they just think I play Fleetwood Mac. There's elements of both that are true and I like to mix things up but the this mix came out quite straight.
The first track is an eight minute ambient track. It's to set the record straight sort of thing. I didn't intend for it to be like that, I tried to be honest with it, it came out as a reflection of what I'm playing at the moment.
You put out mixes with longevity, so many people return to your Mastermixes, Essential Mix, Tweak-A-Holics or whatever. Do you think that there's additional pressure to get them so spot on because you're purely a selector and not a producer?
I do get asked a lot to do mixes and I turn pretty much everything down, there's only a few things I would do like my Mastermix each year. When I'm in Ibiza I can't really work on anything.
Some people record mixes and they turn on the decks and just DJ but for me if I'm doing a mix I'm working on it for a month every night, recording versions of it, listening to it, taking stuff out. If I get sent a new tune that I really like then I'll go and record the whole thing again.
If I'm a DJ, I should be a specialist in my craft. If you make an album as a producer you want people to be listening to that album five years later. I want to be doing the same with my mixes.
Thankfully I've done some where I get people hitting me up on Twitter saying that they listen to it every Friday before they go out or whatever, and it's a mix from two or three years ago and to me that's the biggest compliment I can get. I spent a lot of time on these things, so to get asked to do something like DJ Kicks and then to do it in a short space of time, that was a big challenge.
Do you still think there's still as much pressure for artists to be able to both produce and DJ?
I mean I've dabbled in the studio with people and I'm really impatient, I've never got anything I was happy with. I put a thing on Facebook saying I'm in the studio with San Proper in Amsterdam and a couple of people started moaning at me saying, "Oh I thought you were purely a DJ." So you can't really win.
Right, I wanted to finish off with a quick game of word association.
[Laughs] Right ok go on.
Ibiza...
DC10.
Festivals...
Booze.
Jasper James...
Prick, wait, can you put wee prick?
Buckfast...
Glasgow.
elrow...
Party.
Back to backs...
Armand Van Helden.
Best DJ...
I'm my own favourite DJ [Laughs] But if I had to pick someone else then Jeff Mills or EZ.
Numbers...
Family.
Jeans & Sheux...
Arrr Jeans & Sheux. Genius. Funniest fucking thing ever. He tweeted Midland asking for guestlist for Panorama Bar and I was like, "Why didn't you tweet me?!" Some people think that it's me behind that account. I'm not nearly funny enough to be him.
Last one, Jackmaster...
Hmmm...
Wee prick?
Big prick.
Tickets for Jackmaster's Mixmag Live gig in Glasgow are available from the box below.
See Jackmaster's upcoming gigs and find tickets.
Read more: Jackmaster next up to release DJ-Kicks mix
Tickets are no longer available for this event