Welcome to week seven of the Skiddle Record Club - a place for the people behind the scenes at Skiddle to share the music they love, firstly with their colleagues and then with you, the reader.
Last week, Murph from ops treat the club to some tasty riffs in the form of A Perfect Circle, an album that was polarising for the club, but thanks to some sweaty moshers in the gang (I remember a kid on a bike once shouting at me "mosha get a washa" when I was about 14, lol), the record took the number 2 spot, slipping in just behind our undefeated champ, Grouper, as chosen by Mike of the Account Support team. "The choruses soar, especially on the tracks "Orestes" and "3 Libras", which, for me are the highlights of the album," said one glowing review, echoed by numerous club members, who, in some cases, were surprised to like the record as much as they did. Others, on the other hand, were a little put off by the heaviness of the album (pfft) and therefore didn't quite get on board... One review simply said "Woahhh no, just nope. Personally not a vibe." But, ya know, different strokes, different folks and all that jazz. Read all about the album that had one person saying "Has the hallmark of an album that will continue to reveal itself after multiple listens" HERE!
Moving on to week 7, Michelle, one of our Account Managers takes us to a place not yet visited in the Record Club; one of jazzy chords, dub grooves, electronic pulses and serene vocals. Did it serve as a refreshing palette cleanser after last weeks choice, or was it a little too subdued for our listeners?
Week 7 - Michelle, Account Manager
Album: Submotion Orchestra - Finest Hour
Rate Your Music Score: 3.46/5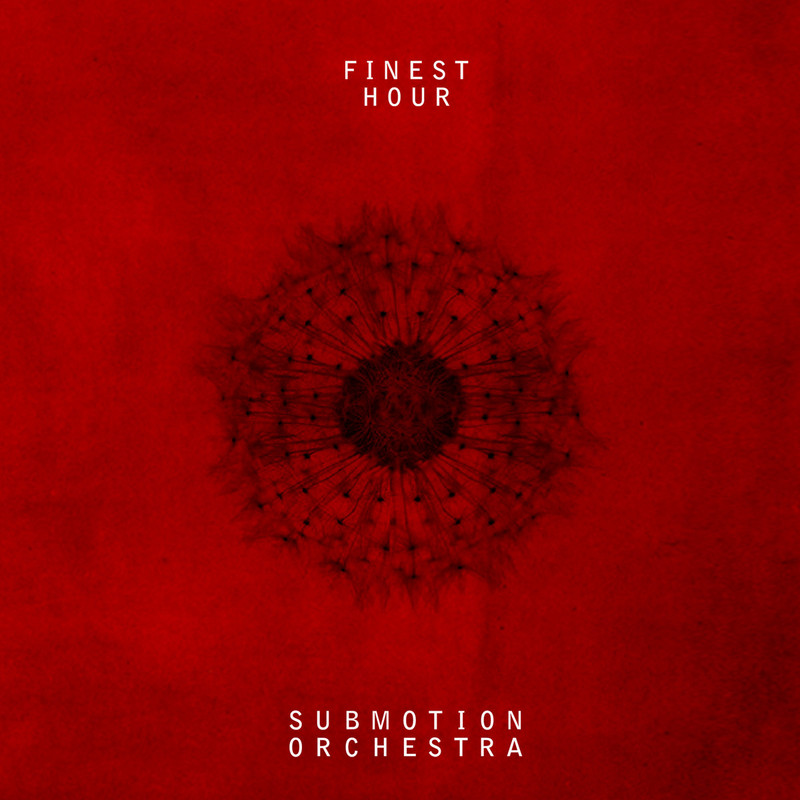 Hailing from Leeds (YORKSHIRE, YORKSHIRE, YORKSHIRE!), Submotion Orchestra have been on their genre-crossing journey since 2009. Their debut EP caught the attention of DJ, Record Label owner and all-around legend of electronic music, Giles Peterson, who invited the band to perform a live session for Radio 1; not bad for a band who hadn't released an album at the time! Their music has been described as Jazz, Soul, Dub, Electronica, Ambient and all of the above at once. They shift from quiet Parisian lounges to arena-rattling soundscapes with grace and nuance. The music serves as the perfect backdrop for the soothing vocals of Ruby Wood. The music and the vocals serve each other, each knowing when to let the other take the centre stage, flexing the musical muscles of all involved.
Their debut full length, 'Finest Hour', released in 2011 refined their early releases, earning them new fans in the form of MistaJam and Trevor Nelson, who continued their radio career with heavy rotation on BBC Radio Stations. Critics were mixed on the album, with some praising their downtempo, chilled out aura, and others labelling them as a '90s throwback; but not a good one. Clash gave the album a rather scathing 4/10 review, claiming "Submotion Orchestra - a band who sound exactly as their name suggests - reawaken the rotting corpse of '90s coffee-table chillout, issuing a mild dubstep sedative and putting it straight back to sleep." The Guardian, who were slightly more in favour of the album had similar if a little nicer, words to say; "while it's hard to shake off the feeling that there was a lot of this stuff in the 1990s, they won't be short of admirers." And right they were. Despite some harsh critics, the album sold well and saw the band take to the stages of some of the biggest Electronic music festivals the World has to offer. Fan review site Rate Your Music currently has the record at a very respectable 3.46/5!
"I'm not the kind of person to listen to albums since I find it rare for me to enjoy every song without skipping ahead, so I tend to listen to sets, mixes or singles. However, Finest Hour is one of the few albums I can listen from start to finish on repeat and can never get tired of listening to each song," says Michelle, when asked why she chose this record. "Ruby's sultry voice blended with the dub, electronic and jazz elements just pulls at my heartstrings but more importantly, this album has gotten me through a lot of tough hangovers which I will forever be grateful for."
(Click the link below to listen to the album in full below)
So, what does the rest of the Skiddle team think?
Skiddle Record Club Score: 3.25/5 (Highest: 4.5, Lowest: 2.5)
When asked if participants would listen again, 77% said yes, while only 23% said no. But why is this the case?
The Bad
So after last weeks mosh pit, what did the record club make of this change of pace? One listener simply said "Moany jazz music," which, I think means they weren't into it? I could be wrong, like. The biggest negative for most listeners was that the album didn't really offer anything to blow them away, as such. "Some tracks lacked a bit of POW and I found myself disengaged from them," "It was a solid album but nothing really grabbed me and held my attention, not that that's a bad thing by any stretch, but while I enjoyed it it didn't really blow me away," "After 4 or 5 tracks, I started to get a bit bored." Evidently, it's not necessarily a bad thing to not have bombastic moments, you only need to take one listen to our current leaderboard topper to know that, but perhaps when a record attempts to blend genres as this one does, one may expect the highs and lows of each sound?
"I've tried to be a fan of SubMo for many years as there's nothing intrinsically wrong with the music and it's in a similar vein of other things I am a great fan of like Cinematic Orchestra or Phaeleh from that era. So I thought this was the perfect chance to delve into the back catalogue and see if they're an acquired taste, like mushrooms, but alas no... I still find them as boring as I did back then. I do now however like mushrooms though." I had a similar journey with mushrooms. It was only really in lockdown that I started to enjoy them in a nice spag bol or on a pizza or whatever.
"Dub is not my thing, and although there was enough going stylistically to draw away from that, it stopped me from fully enjoying the record."
"I feel like I know of plenty of wonderful ambient jazz records that don't have dub elements that I enjoy a lot more."
"I found parts quite boring with no real hook/kick to grab my attention again."
"The dub-influenced delays and rhythms did wear a little thin for me in some instances where they'd been going for five minutes."
"Some tracks wear a little too long for my liking and I lost interest in those tracks."
The Good
Not everyone echoed Clash with their reviews, however! Others were happy to bask in the chilled soundscapes on offer. "The tracks flow between some interesting atmospheric soundscapes into music you can definitely dance to with great phrasing and melodies, particularly in the keys and vocal parts." "It reminded me of '90s trip hop and the chillout albums of that era that I remember fondly," said one listener, basking in the records nostalgic embrace. It sent a couple of listeners to unexpected places "Her beautifully soft vocals spoke to me in unimaginable ways," "Makes me want to sit in a smoky jazz club and drink whisky."
One listener was particularly fond of the albums genre-fusing style - "They pull the best bits from a lot of genres into this album, taking notes from ambient, dub, soul fusing it into their own." A few were happy to have something entirely different to what we've heard in the club so far; "I liked that I've never heard this album before or any of the songs so it was something completely new" echoed by a few listeners who's ears were still ringing from last week "Makes a lovely change to the heaviness of the previous album."
"I feel like I'm in James bond sex scene with this music on "
"Not what I expected at all - very relaxing music and really enjoyed the track 'All yours' especially the vocals and sax!"
"It reminded of Swedish porn films I used to watch in VHS in the mid-nineties. Or perhaps getting stuck in a lift in Debenhams "
"This was a really enjoyable, relaxed album of laid back jazzy flavours and lounge vibes."
"The mix of jazz, ambient, all sorts of strange sounds that were married together with the constant drifting music."
Leaderboard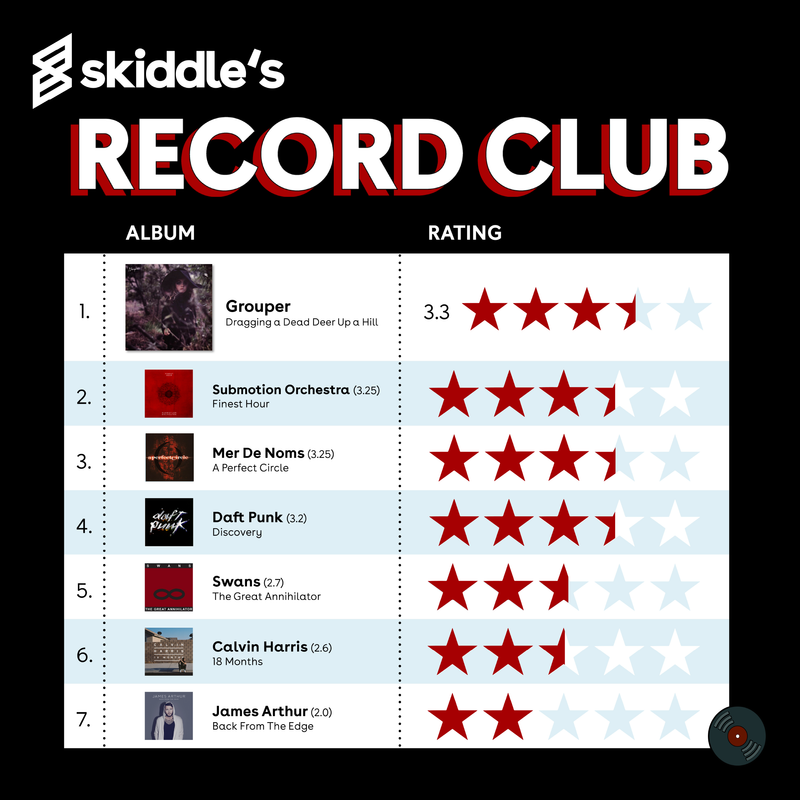 And there we have it! Despite some lovely words from most of our listeners, Submotion Orchestra, like 5 records before it, fails to dethrone our 6 WEEK leader, Grouper! Scoring 3.25, the same as last weeks choice, scores Submotion the silver medal spot. Mike is a happy boy.
Next week's record choice comes courtesy of Rory Bramford, of Account Support.
---
---
Discover even more tours and one-off live shows happening where are you by heading over to our Gigs page! Just click or tap - here