As the festival season comes into its last lap, and all of us are as knackered as whatever sprinter we're trying to do this analogy with, we think that a few days are rest enough, and whatever your plans in September you need to reconsider them and head down to one of the fantastic range of events on sale on Skiddle this month!
Just because it's September doesn't mean that all festivals are done with, as we still have a number throughout the month, including a particularly special affair at Gunnersby Park with DnB Allstars, as well as a huge Fall Edition of one of Scotland's very best two-stepping spectacles in Cultivate Festival. Elsewhere, Bristols Beyond Submergence enters its last month, a must-see audio/visual exhibit. Plus, if you're quick, Warwick Castle is welcoming some of the biggest best comedians in the game all of this! Basically, there's a whole range of things for you to be doing this month.
Don't let September pass you by without some unforgettable memories. Check out the list below and secure your tickets for these amazing events, all available for purchase on Skiddle!
When: Thursday 14th - Saturday 16th September 2023
Where: Warwick Castle in Warwick
Set against the picturesque backdrop of Warwick Castle, the incredible team at Closeup Comedy brings you this brand new 3-day open-air comedy festival, aptly named 'Comedy at the Castle.' Steeped in history and grandeur, the Castle will play host to some of the biggest names in the world of comedy, all of who will have your funny bone tickled like never before.
Not only that but alongside the funny festivities will be a sprawling selection of street food offerings, courtesy of Digbeth Dining Club, that will tantalize your taste buds and satisfy any cravings. From mouthwatering delicacies to irresistible treats, the festival promises a culinary journey that will complement the comedy experience perfectly.
Thursday will see Troy Hawke, Shappi Khorsandi and more; Friday hosts Dylan Moran, Paul Sinha and more; Saturday welcomes Milton Jones, Zoe Lyons and more. Click on each of the days listed below for more information on each day, and grab your tickets in the boxes provided!
Tickets for Comedy At The Castle - Thursday
Tickets for Comedy At The Castle - Friday
Tickets for Comedy At The Castle - Saturday
---
When: Saturday 23rd September 2023
Where: Eventim Olympia in Liverpool
The Reytons have revealed their biggest-ever tour, alongside an intense announcement video featuring boxing royalty John Fury. Adding to their landmark headline at Sheffield's Utilita Arena, these latest dates up and down the UK open up the band's high-energy live show to over 40,000 people this autumn.
Born from the streets of South Yorkshire, The Reytons have risen through the ranks to become one of the UK's most exciting indie acts, with an official number-one album and an all-but-sold-out arena headline under their arm. They're also coming to the Olympia in Liverpool, so get yourself down and get in the pits.
Tickets for The Reytons at Eventim Olympia
---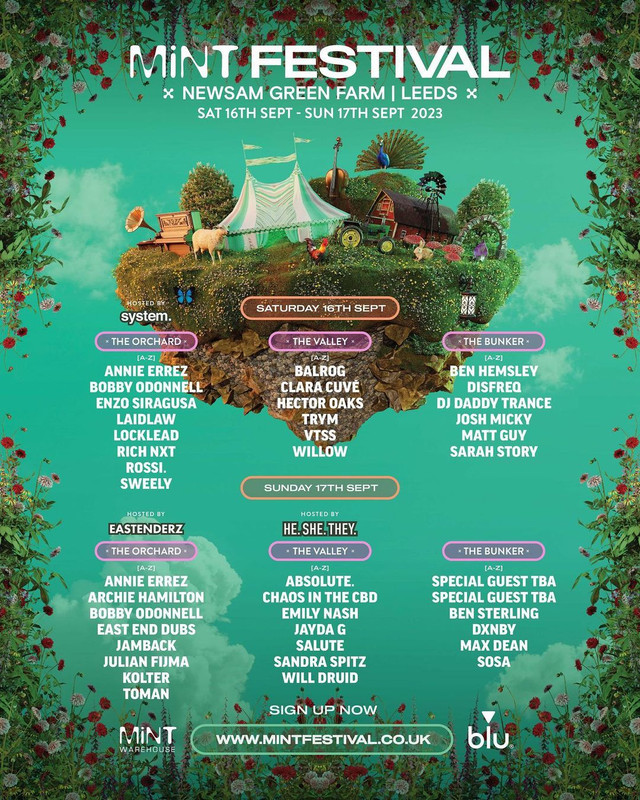 When: Saturday 16th - Sunday 17th September 2023
Where: Newsam Green Farm in Leeds
Mint Festival returns to Leeds in September to bring the hottest house, techno, deep house, tech house, and bass music to passionate ravers.
The epic lineup includes the likes of Ben Hemsley, (who we recently interviewed about his debut Ibiza residency - here), HE.SHE.THEY., Chaos in the CBD, Jayda G, East End Dubs, Hector Oaks, VTSS, Enzo Siragusa, TRYM, DJ Daddy Trance, and more.
Mint is spread out over two days and six intimate stages, introducing the new techno stage, The Valley. One of the biggest electronic events in Leeds, it's on many raving northerners' calendars this September
Tickets for Mint Festival
---
When: Most days in September; Just book a time slot
With dates extended into September due to popular demand, you better get yourself down to Propyard if you can this month, as it looks like it may be the last we see of Squidsoups Beyond Submergence exhibit for now.
The exhibition is an immersive walkthrough experience which uses thousands of individual points of suspended light to create feelings of presence and movement within a physical space, creating an abstract narrative, and a gradual increase in tension which culminates in a natural climax. A mesmeric display that cannot be missed, book your tickets in the link below!
Find times and tickets for Beyond Submergence - HERE
---
DnB Allstars Festival
When: Sunday 17 September 2023
Where: Gunnersbury Park in London
We think it goes without saying that any event, never mind a festival, put on by the legends at DnB Allstars is going to be an absolute belter of a day. But this month, the crew are putting on a massive day festival in London with over 100 mind-blowing artists on the decks! The likes of Sub Focus, Hedex B2B Bou, Goldie, Gardna, S.P.Y, Culture Shock, K Motionz, Turno, Problem Central, Hazard, DJ Hype, and Fabio & Grooverider are those on display, among many more, so basically, you should have absolutely zero worries.
Tickets have all sold out, but they have just released the last few resale tickets, which are currently running low on Skiddle, so make sure to secure them below if you want to add some last-minute skanking to your September agenda.
Tickets for DnB Allstars Festival
---
When: Saturday 23rd September 2023
Where: Bantock Park Gardens in Wolverhampton
Celebrating another year of existence, Digbeth Dinig Club have been heading out on a tour of the Midlands, hitting over 15 spots to show you their skills; and at the end of the month, they will be dropping into Wolverhampton!
Mark your calendars for September 23rd, as that's when they'll be back at the charming Bantock Park, bringing with them an array of award-winning street food, specialist bars, and top-notch entertainment for all the family. Tunes are constantly being spun, and the vibes are always immaculate, plus you can bring your dog! What's not to love? Grab your tickets now!
Tickets for Wolverhampton Dining Club
---
Cultivate Festival: Fall Edition
When: Saturday 23rd - Sunday 24th September 2023
Scotlands Cultivate Festival returns this September Bank Holiday for their fall edition, which features two days of the best electronic acts in the world set in their mesmerising venue on the beautiful shores of Aberdeen Beach. With the likes of Ben Hemsley and BLK. headlining, as well as D.O.D., Christian Rogers, Creeds, GhstGhstGhst, and Girls Don't Sync also behind the decks, there isn't going to be a second all weekend when you're not moving and grooving.
Fancy some last-minute boogy in a venue tucked away in a special venue in a beautiful part of the Scottish highlands? Get yourself tickets booked to Cultivate: Fall Edition!
Tickets for Cultivate Festival: Fall Edition
---
Second Speed: 999999999, Charlie Sparks, Jason Cluff & Prydie
When: Friday 15th September 2023
Where: O2 Academy in Liverpool
This monster Trance and Techno rave right in the heart of Liverpool is one that Scousers and North West Trance/Tech fans alike simply cannot be missing. Ran by the maestros over at Second Speed, this night features the likes of 999999999, Charlie Sparks, Jason Cluff & Prydie, who will all be guaranteed to be turning the trippiness and groove up to the MAX.
This one's on its final release, so if it's looking like a bit of you, then make sure to grab your tickets asap!
Tickets for Second Speed: 999999999, Charlie Sparks, Jason Cluff & Prydie
---
When: Tuesday 26th September 2023
Where: Canvas in Manchester
Seductive and hypnotic, London Puma Blue is a truly underappreciated artist whose raw and compelling lo-fi RnB is equal parts beautiful and tortured. Canvas is a truly excellent venue to be seeing him in when he makes his way up north on this tour too, and we simply can't wait to open our ears to his fragile soul. A true modern RnB artist for the connoisseurs, make sure to be there for this one all-you Mancuinan RnB lovers.
Tickets for Puma Blue at Canvas
---
Musica presents Marco Carola at The Asylum
When: Saturday 30th September 2023
Where: Newsham Park Orphanage And Asylum in Liverpool
An electrifying daytime dancing experience awaits you in Liverpool as Musica presents the legendary Marco Carola at the grounds of Liverpool's scariest Haunted House in the run-up to Halloween, The Asylum at Newsham Park. From 2 pm to 10 pm, immerse yourself in the pulsating rhythms of Marco Carola, accompanied by an impressive lineup featuring Franky Rizardo, Mason Collective, Melanie Ribbe, Saigon, and Candidate.
It's a groovy techno extravaganza that will give you a cold introduction to the spooky season, as well as mark Musica's daytime debut in the heart of Liverpool. Grab your tickets now!
Tickets for Musica presents Marco Carola at The Asylum
---
When: Saturday 23rd September 2023
On Saturday, September 23rd, 2023, Cardiff's legendary club night, Enter the Dragon, will make a triumphant return with a massive event, featuring some of the DJs responsible for the brand's most iconic parties before the club closed in 2003.
Enter the Dragon will proudly present a night of legends, celebrating the unforgettable Friday nights at Vision 2k. The lineup will feature two extraordinary headline DJs, both making their long-awaited return to Cardiff after two decades: Mauro Picotto of Meganite and techno fame (you can read our recent interview with Mauro Picotto - here), and Fergie, who will deliver an exclusive vinyl set. Additionally, Jimpy will take the stage with an Enter the Dragon Trance classics set on vinyl, promising a nostalgic journey through the past. This Culture and Richie Knight will also be part of the night's incredible musical journey.
A must-visit for the old-school ravers in Cardiff, and an essential education in all things rave for the younger ones, secure your tickets now!
Tickets for Enter The Dragon
---
---
Check out our What's On Guide to discover even more rowdy raves and sweaty gigs taking place over the coming weeks and months. For festivals, lifestyle events and more, head on over to our Things To Do page or be inspired by the event selections on our Inspire Me page.