For Ben Hemsley, 2022 was a big year. With one of the most acclaimed sets at Creamfields, he had a huge tour that included shows at Liverpool Blackstone Street Warehouse and London's Printworks, as he quickly rose in popularity. Now, he sat down on video call for a chat with Skiddle on the back of a weekend that saw him play to even more ravers at this year's edition of Creamfields.
"The past two years there have been quite important but this year was unbelievable," Hemsley says. Over the past couple of years, it seems as though those unbelievable moments have become a frequent occurrence and one of the crowning moments has been his residency at Ibiza Rocks, a dream achieved in a relatively short time for a DJ who has blown up recently.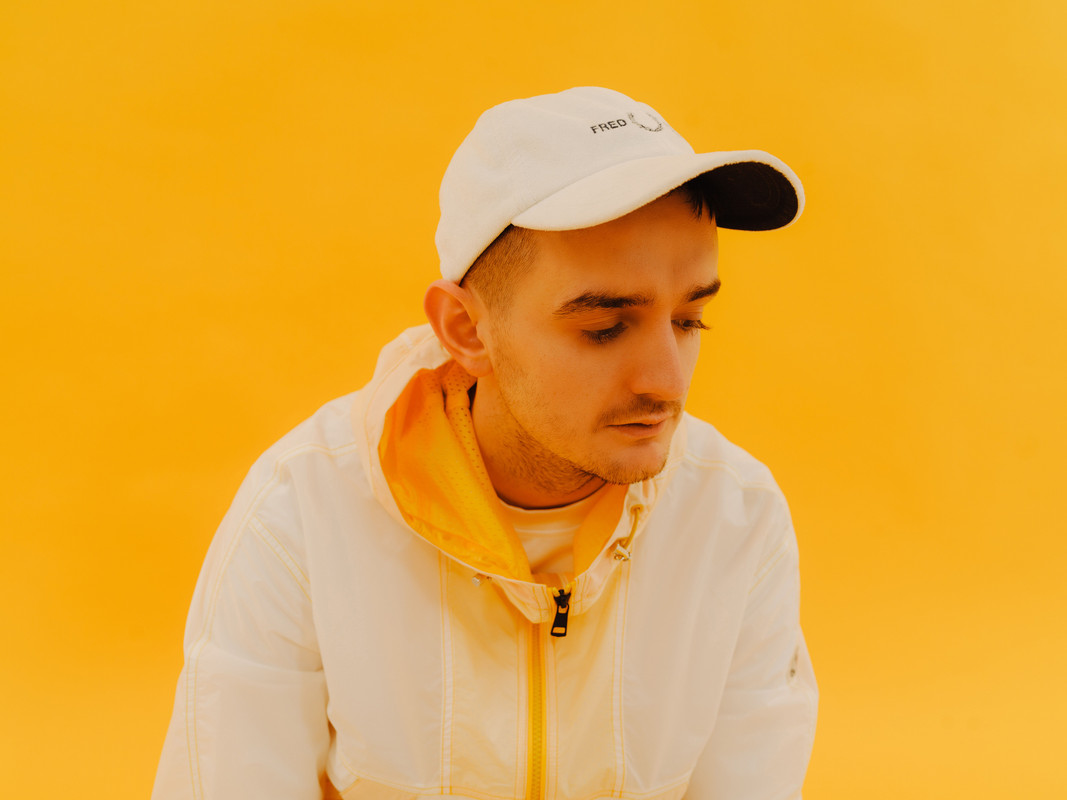 Hemsley's love for the island always seemed like an inevitability. His earliest memories involved dance music, with that influence on his life mostly encouraged by his mother. Since childhood, his connection only grew and as soon as he could get over to Ibiza he naturally found himself right at home. "The reason I ended up being obsessed with this place, why I was spending a season over here, was the way of life here," he says.
Not one to adhere to the typical nine to five (with a couple of short-lived attempts at working in retail), Hemsley has always followed his instincts, which led him to make music. "It's a free way of living (In Ibiza), I was having a conversation with a hotel cleaner, I asked her what she was up to today and she said, 'I'll finish at three and then me and my family will go to the beach and we'll go to someone else's house for dinner, every single night of the week'. You don't see that in the UK, they may not have as much money as us on these islands but the way of life is a lot happier. I became obsessed with the freedom over here and that's why I fell in love with the place".
Hemsley's links with Ibiza are so strong that he excitedly mentions attempting to move there permanently in the future. For now, in between other live appearances, he is well into his Ibiza Rocks residency which started on August 6th and will have its closing party on Sunday 24th September. It has already given him countless memories and the opening party was an emotional one, "I nearly cried" he admits.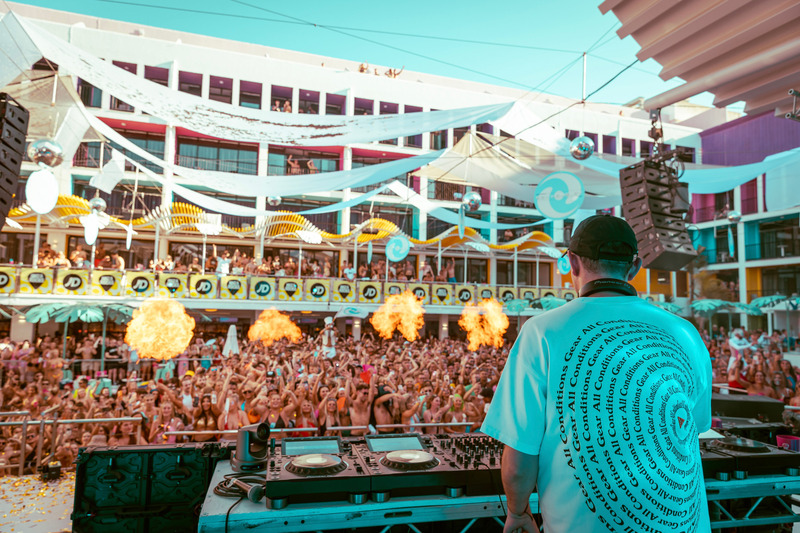 "In the headliner dressing room, you can see all the crowd. My tour manager and my videographer are two of my best friends and they always take the piss, even though I am a happy person, I don't smile. But, they were pointing out the fact that I literally could not wipe the smile off my face. I'm just really proud that I created a good party and of the energy that it gives other people" Hemsley says.
The opening party also saw the likes of Ewan McVicar and Hannah Laing play sets of their own, with the former being a replacement for Kettama who had been caught up in flight logistics. Hemsley not only describes McVicar as a peer, but he counts him as one of his close friends too, which has coincided with both of them having a sharp rise in popularity over the past couple of years. "Ewan's one of my good friends, I rate him not just as a musician but outside the music, he's someone I've come up with, he's always looked out for me and I've looked out for him".
There was a mad dash to get McVicar ready at short notice, which involved a 45-minute drive across the island to pick up a USB stick so he could perform, but it was all worth it to keep the party going. The other name on the lineup, Hannah Laing has been a fixture of the residency and Hemsley is massively proud of her achievements.
"I met Hannah last year in Scotland and she was my warm-up act and I was blown away by her set. To watch her grow and see what she's doing now, she's just had a UK top ten single and still being humble enough to play my party is class." Describing his residency as "free of ego", Hemsley sees it as a place where individuality is championed. "We've got so many varied artists, it goes from really high-paced 150 Trance to chill Trance to Todd Terry who's a classic House artist. There's no rules, it's just good music."
When the residency was first announced, Hemsley took to Instagram to describe how much of a dream it was to see his face on billboards across the island. Now somewhat of an expert when it comes to all things Balearic, his tips for those who are venturing out to Ibiza include not missing the Sunday morning drum circles by Cala Benirras, the hidden gem that is Golden Buddha but most importantly not to go all out. "Don't go out every night, go and see the island for how beautiful it is because there's such a different side to it that you can get into".
His most recent single 'Ibiza', is unsurprisingly a tribute to Hemsley's second home and it takes his sound to its most nostalgic potential. Written during his "seasonal depression", it is purposely anthemic, crafted to rile up the crowds in Ibiza during the season and to have you pining for the warm embrace of the summer sun when you find yourself stuck at home during a miserable winter day.
"It's very nostalgic, I've changed from tech house to mostly trance and techno and this represents what I'm going to do in the future. Don't get me wrong, 'I-B-I-Z-A' is 100% a little bit cheesy but it's fun! It's had a good reaction, it's more the instrumentals, that's going to be my sound for quite a while I think" Hemsley says. Away from Ibiza, there's plenty more to come for the DJ in 2023.
For a start, there's his huge Connection tour, which will see him headline Manchester's Warehouse Project as well as a huge headline show at Terminal V and a homecoming show at Newcastle's Utilita Arena, which has given him mixed feelings. "I'm very excited but nervous as well, I NEVER thought I'd be doing something there." When looking further afield to 2024, Hemsley is going to be doing things a little bit differently.
With his schedule being so hectic recently, there's little surprise that a toll has been taken on his mental health. Being open with his fans online, he had to make some cancellations in 2022 in order to protect his mental health. The lifestyle wasn't working for him, the partying was too frequent and changes had to be made. "I've learned my lesson, If I tried to do this year, last year with the way I was partying I would not have been able to handle it."
Now, 2024 is a chance to have a breather and reset. It's important to recognise when touring is too much, there are highs and lows to it which you can see in the YouTube video above of Hemsley on his travels. Being open with his audience when he's feeling low is refreshing to see and can hopefully help to normalise that it's okay to be a touring DJ and not feel guilty about needing some time off to focus on your mental health.
With studio time planned, he can focus on writing more new tunes. Being at home is a key part of his creative process as he looks to not only record his new material but focus on his own label Bebe Recordings, which is much harder to do whilst flying across the world. His plans for Bebe in 2024 include expanding his roster. "My sets are quite varied, which makes the label quite free and fun and I don't really want to have any big names on it. I think my approach to DJing and production is quite new and I want that for the label too".
He emphasises that 2024 is all about writing new tunes, but he won't be a complete anomaly and you should still expect to find him on the UK festival circuit. A huge signifier of his recent rise is the fact that Hemsley has gotten the attention of DJ royalty Calvin Harris, who has been supportive in his journey so far. "He's just a really good person, you meet a lot of people in the industry who just don't even feel like humans and he's such a nice bloke. His tune 'Miracle' was inspired by what I do, he said that on Radio 1 and that blows my mind".
It has been a hugely successful couple of years for Ben Hemsley and 2023 has seen him tick more bucket-list achievements off of his list. Even more impressive is the fact that he seems to have remained humble throughout his rapid rise and is pushing himself forward with a sheer sense of desire to create new music on an instinctual basis. His residency at Ibiza Rocks still has a few weeks left and they are the parties you can't miss during this season in Ibiza.
You can find tickets for Ben Hemsley's closing party at Ibiza Rocks towards the bottom of the page. For tickets to his next residency show on Sunday 10th September find them here.
Ticket waiting list for Ben Hemsley Ibiza
Tickets you want not available? We know it's frustrating, but don't worry we've got your back. Join the waiting list below and we'll reserve you tickets if they become available.
Tickets for Sunday 17th September:
Ticket waiting list for Ben Hemsley Ibiza
Tickets you want not available? We know it's frustrating, but don't worry we've got your back. Join the waiting list below and we'll reserve you tickets if they become available.
---
---
Check out our What's On Guide to discover even more rowdy raves and sweaty gigs taking place over the coming weeks and months. For festivals, lifestyle events and more, head on over to our Things To Do page or be inspired by the event selections on our Inspire Me page.


Tickets are no longer available for this event