For a dance music legend to take the time to personally welcome their rave-ready following is almost unheard of, but such a community-building ethos is intrinsic to All Back To Minehead's unique, unifying spirit. Returning for its second year, the Fatboy Slim-helmed long weekender sees thousands of youth-reliving and new-school revellers make the pilgrimage (mostly from Brighton, Wales and Bristol) to an out-of-season Butlin's holiday camp for a three-day escape from reality.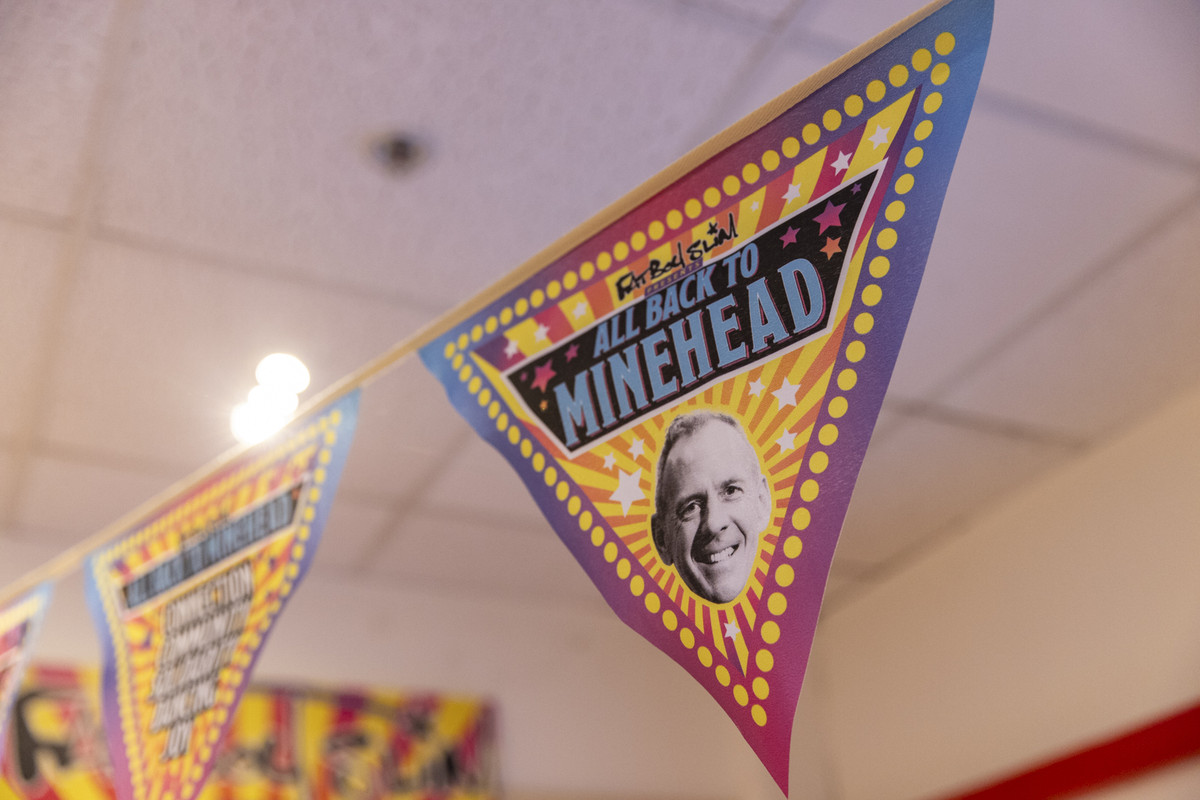 Recalling the heyday of Bugged Out and catering to an all-embracing crowd of hen dos, stag dos and parents making the most of their time away from the kids, by Friday evening the holiday park is a sea of shiny outfits, sparkling tiaras, face paint, acid smiley bucket hats, glowsticks and fancy dress (shout out to the beer-slugging 'grannies', bolly-carrying AbFab trio and the octogenarian dancing couple). It quickly becomes clear that everyone here feels free to be themselves and nobody feels out of place. And, crucially, there is no judgement.
Not that encouragement is needed, but banners hanging above each stage further set out this utopian vision, with the mantra-like words 'connection, community, solidarity, dancing, joy' resonating strongly. During spaceman Slim's Saturday night in-the-round set on rotating stage Skyline, the words 'Only Love Can Conquer Hate' flash up on screen' – a poignant message that's needed now more than ever…
Across the weekend, man-of-the-people Slim (aka Norman Cook) is everywhere: alongside a meet and greet, Q&A and signing merch, Skiddle loses count of how many DJ sets he plays under secret names and well-known aliases; Sunday's Pizzaman pool party is unforgettable – like aqua aerobics but with inflatable unicorns, tunes pumping out of towered speakers, a whole lot of splashing and dancing lifeguards… even when the music cuts out, there's no bad energy – just a mass chant of 'Norman We Love You!' Later that evening, a surprise set at tiny pub Inn On The Green after Massive Attack's Daddy G causes a mile-long queue.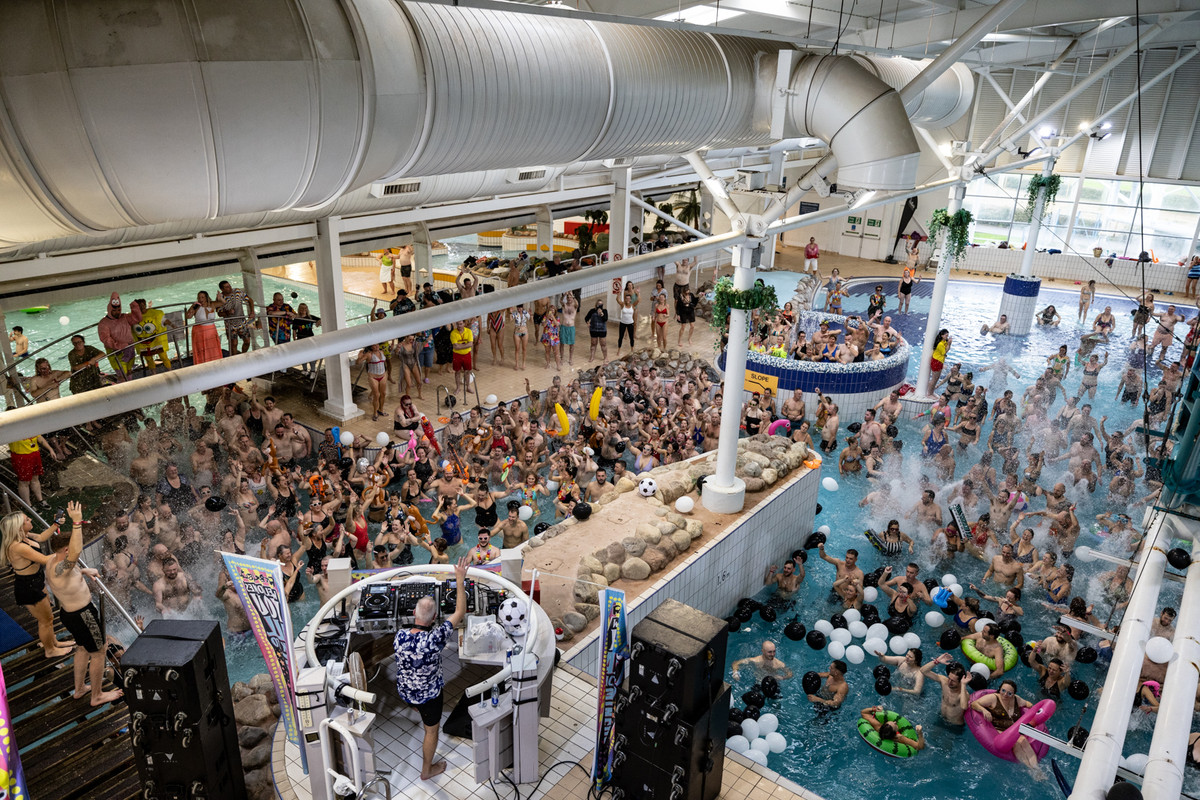 All Back To Minehead is anything but The Fatboy Slim Show, however. While it's the four-time Guinness World Records winner who has brought this generation-spanning crowd together, the entire DJ line-up is top-tier and split equally between household names (Fat Tony, Marshall Jefferson), underground favourites (Shanti Celeste, Sally C, Mella Dee) and rising stars including his son, Woody, who bounces around the stage in a dressing gown while dropping the 'EastEnders' theme tune, naturally.
Elsewhere, Southern Fried Records signings Sam Girling and Van Damn bring slick sets to a sticky-floored pub/restaurant, Lizzie Curious and Sally C pack Centre Stage, Saoirse's piano-house and punchy tech heaters turn kids entertainment venue Reds into a proper club, and Idris Elba-collaborator Sasha GiGi's pumping tech house and diva house classics go down a real treat.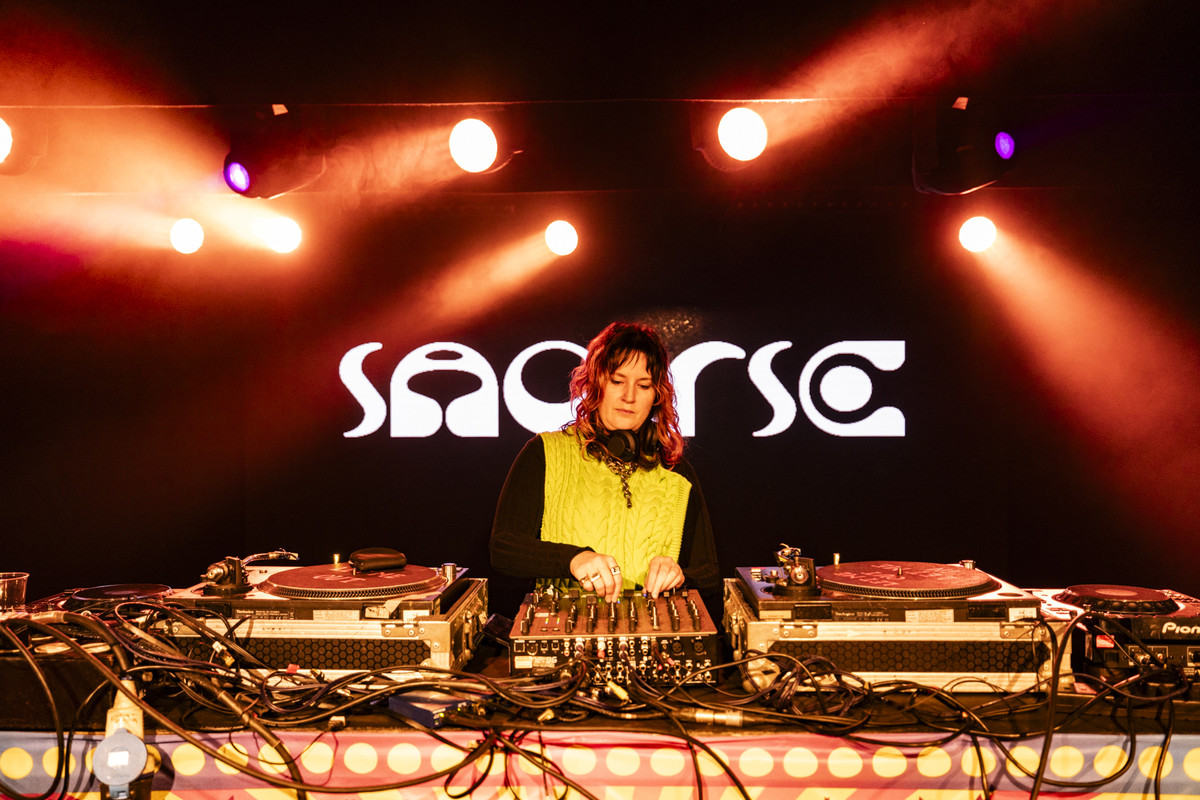 Photo credit: Dan Reid
The musical highlight of the weekend, though, is seeing South Africa-born Scotland-raised London-based DJ and producer Kilimanjaro in action. Wasting no time in demonstrating why he's the man of the moment right now, his energy and dance moves behind and in front of the decks are next level, as are his tune selections (the Cardi-sampling 'Moxy Edits 001', The Martinez Brothers remix of Lil Yachty, Tessela's iconic underground hit 'Hackney Parrot'). Though initially wearing a long puffer jacket, he's topless and sweating it out by the halfway point when his own roller 'Hit Em With It' goes off. It's easy to see how he recently toured with Swedish House Mafia and later sold out Village Underground in London… a real name to watch.
Music is only the tip of the iceberg at ABTM, however, thanks to an impressive range of on-site extracurricular activities. Alongside Engage's mind-bending virtual reality trip inside Cook's brain ("it's like doing acid at a silent disco in my head", Cook says), there's brilliantly-bonkers Bango Bingo, mind-clearing morning yoga, live art, a 1970s disco dancing class and even a choir workshop.
After three days and nights of carefree frivolity, it's clear that All Back To Minehead is unlike anything else and, thanks to its nostalgia-inducing setting, a wild weekend at Butlin's is the perfect way to banish the winter blues. "Everyone who came last year left with a smile on their face," one raver enthuses to Skiddle upon departure. Another says "this is now a ritual for my friends and I; we've come back because everyone is so lovely and welcoming".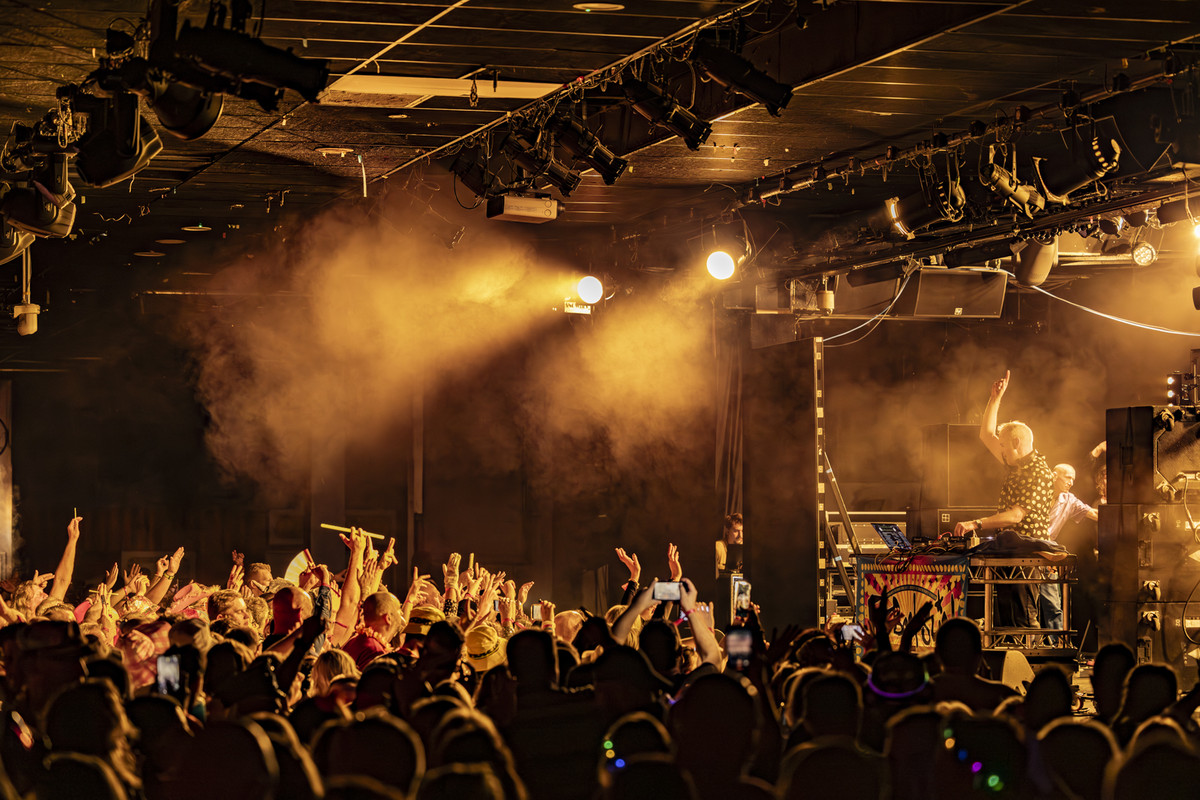 Photo credit: Dan Reid
Much like everyone else here, we can't wait to come back next year, but we'll leave the final word to Slim himself: "I would Like to thank everyone for coming and being fun and silly. This whole event wouldn't be anything without our amazing audience. Honestly, I really love you - thank you! See you in 2024."
---
---
Check out our What's On Guide to discover even more rowdy raves and sweaty gigs taking place over the coming weeks and months. For festivals, lifestyle events and more, head on over to our Things To Do page or be inspired by the event selections on our Inspire Me page.