The UK's biggest celebration of DnB returns on Saturday 4th May 2024 to Roller Jam, Digbeth in Birmingham. Sign up for tickets now!
The National Drum and Bass Awards has been running since 2007. Maintaining its brilliant format of uniting ravers to enjoy their favourite DnB artists before a short awards ceremony in the evening, this year, the event comes to Roller Jam, the city's first roller disco in the heart of Digbeth and the event's largest venue to date.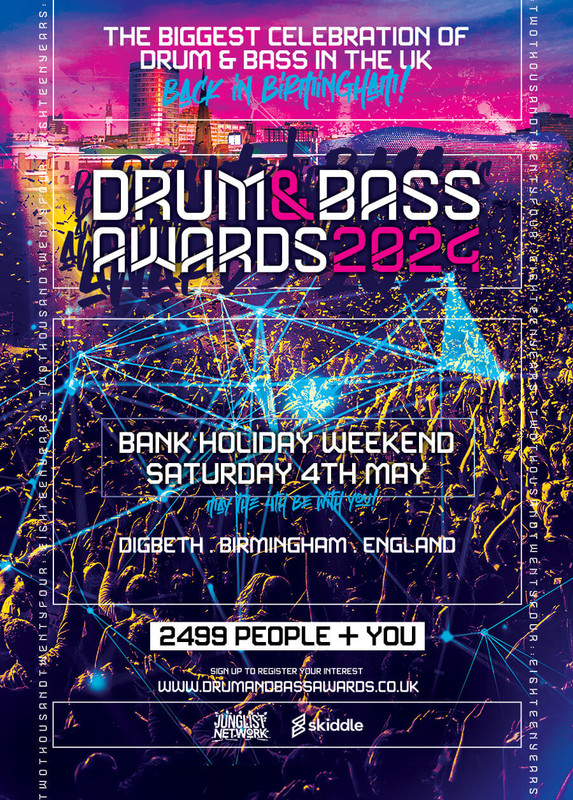 Following its 2023 edition in London, the rave returns to Birmingham, where it all began.
Roller Jam boasts incredible light and laser shows, huge screens, and a booming Funktion-One Sound System. Grab a cocktail and be mesmerized by the best DJs in the game before watching your favourites receive their flowers with awards like best DJ, producer, label, event, track, album, and MC.
To give you a little taste of what to expect, last year's lineup featured Friction, Bladerunner, TNA, Danny Byrd, Mollie Collins, Grooverider, Nicky Blackmarket, Charlie Tee, Amplify, and more. So you can expect a diverse lineup packed with new and legendary talents.
This year, the DnB Awards is partnering with KISS FM, meaning the highlights will be aired on the station.
The jewel in the crown of the drum and bass scene for almost two decades, sign up for tickets now at the bottom of this page to celebrate the genre you love with the best DJs and 2,499 of the most passionate ravers.
---
Check out our What's On Guide to discover more rowdy raves and sweaty gigs taking place over the coming weeks and months. For festivals, lifestyle events and more, head on over to our Things To Do page or be inspired by the event selections on our Inspire Me page.


Header image credit: Drum and Bass Awards / Facebook.com