A proper nightclub experience is truly unbeatable. Everything from getting ready, the predrinks, sneaking your drink in the Uber, necking it in the line, and then heading in to sing and dance the pains, frustrations, and general annoyances of the week away is a beautiful experience. It's basically a rebirth. But achieving this cleansing rebirth can only be done at the best nightclubs.
And Cardiff is one of the best cities for it thanks to the huge variety of clubs, all with different themes, vibes, and crowds. No matter what scene you're in and no matter what kind of music does it for you, there's a club in Cardiff that has the power to become your personal weekend mecca. Here are the best clubs in Cardiff.
Image: Depot on Facebook
Where: Industrial Estate, DEPOT, Unit 8 Curran Rd, Cardiff CF10 5DF
We're starting off with Cardiff's ultimate warehouse and club space, Depot. The guys here have been putting on some of the city's most creative and wild pop-up events since their inception in 2015, with events like huge drag brunches, Oktoberfest beer gardens, warehouse raves, and their most recognisable and iconic night, Bingo Lingo, that happens every Friday; there's little that this awesome club space can't put on.
So make sure if you're coming to Cardiff, or if you're a local who hasn't made their way over yet, to check out the awesome events at Depot, especially bingo Lingo, there are few nights like the chaos that ensues during that!
Find tickets for events at Depot, Cardiff - here
---
Image: District on Facebook
Where: 2 Greyfriars Rd, Cardiff CF10 3AD
District is fairly new to Cardiff's clubbing scene, opening in 2022, but by no means does its youth mean it has things to learn, as the people behind the club are putting on some of the biggest raves in the whole city at the minute. With a surprisingly low ceiling that keeps the high energy contained and bubbling, the club is quickly becoming one of the prime spots for Cardiff's ravers to come for a boogie.
With a range of superstar DJs, as well as super cheap student nights, the club quite literally has a night for everyone, but we would be lying if we didn't say it was the proper raves that earn it a spot on this list, and long may they continue to tear up the Welsh capital
Find tickets for events at District, Cardiff - here
---
Image: Tramshed on Facebook
Where: Clare Rd, Cardiff CF11 6QP
The go-to venue for live music in the Welsh Capital, also, as many aren't as aware as they should be, can double up as a club on the weekend. You can go from seeing some of the biggest touring acts to boogying along to the same tunes at 3 in the morning in this cult Cardiff venue. Set within a historical building of cultural significance, the venue is the centrepiece of the creative hub in the city centre, and when you can party this hard in a building this cool, you can't really ask for much more, can you?
Find tickets for events at Tramshed, Cardiff - here
---
Image: Vaults
Where: 113-116 Bute St, Cardiff CF10 5EQ
This one here is quite a special one. Housed in an old underground Bank Vault in Cardiff Bay, Vaults is a one-of-a-kind venue in the Cardiff scene and has character oozing out of its historic walls. But, whilst this may have once been a classy establishment, it now channels a more hedonistic energy; with hundreds of Cardiff's most dedicated ravers heading down to two-step and groove in the underground club on a regular basis.
This is all thanks to just how many wicked raves they put on and, despite closing for a bit a few years ago, it is quite simply the coolest club in the whole city. Plus, for those of you who are not yet 18, and want to get a taste of the clubbing experience, they put on a regular 16+ rave night featuring some absolutely mega talent. A must-visit if you like your club nights laser soaked and sountracked by some of the best DJs about.
Find tickets for events at The Vaults, Cardiff - here
---
Image: Clwb Ifor Bach on Facebook
Where: 11 Womanby St, Cardiff CF10 1BR
Although Clwb Ifor Bach in Cardiff is more known for live music, especially in the alternative music scene, the club has three floors to enjoy music across. And the events are always diverse; no matter what you're into, Clwb Ifor Bach will have a night to suit your tastes. To highlight the variety, in the past year, the club have put on everything from a breaks, house and techno night, a One Direction night, and a pre-party before My Chemical Romance's gig at Sophia Gardens. What's even better is, the drinks are pretty cheap too!
Find tickets for events at Clwb Ifor Bach - here
---
Image: Walkabout Cardiff on Facebook
Where: 65-74 St Mary St, Cardiff CF10 1FA
Australian-themed sports bar and club Walkabout Cardiff might be the best venue in Cardiff for those who don't know what they want. You can relax with a pint and watch a match, dance all night long, demolish a personalised burger, or hang out in the outdoor section - honestly, we're ready to move in. Walkabout's student nights are pretty legendary too, with their TNT Thursdays being Cardiff's longest-running night. On those nights, you can expect free doughnuts, £2 drinks, a 2 am rave, midnight singalongs and more.
Find tickets for events at Walkabout - here
---
Image: Pryzm Cardiff on Facebook
Where: Greyfriars Rd, Cardiff CF10 3DP
Pryzm has held the title as one of the biggest, best clubs in Cardiff for some time now. Another popular one among students and young people, Pryzm is a massive club with three bars, three rooms of music, and some cracking student nights such as Fix Friday's and Quids In. Expect Co2 cannons, hip hop, RnB, pop, dance tunes, DnB, house, bassline, and around 2,000 other people having a banging time. So book a ticket for Fix Fridays, stick on your best outfit, and dominate the Pryzm dancefloor!
Find tickets for events at Pryzm Cardiff - here
---
Metros Cardiff
Image: Metros Cardiff on Facebook
Where: Bakers Row, Cardiff CF10 1AL
Metros in Cardiff is the place to go for drinks with inoffensive price tags and alternative music such as Nirvana, Deftones, Paramore, and Nova Twins, alongside some indie and pop. Established in 1992, Metros has been the go-to for alt, indie, metal, and punk kids since its inception. And if that wasn't enough to win you over, nights rage on until 4 am, and you can get cocktail buckets (yes, buckets) for just £6.50 all night long. Gorgeous.
---
Image: Mary's on Facebook
Where: 89 St Mary St, Cardiff CF10 1DW
Mary's is Cardiff's favourite gay bar where you can find drag queens, cocktails, all the gin your heart desires, and wild cabaret performances. And it's open seven days a week so, no matter what your schedule is, you can get your sass on! With a lovely, inviting atmosphere, around-the-clock entertainment, great customer service, and a focus on fun, Mary's in Cardiff is a banging choice for any happy party-goer.
---
Image: Popworld Cardiff on Facebook
Where: 96 St Mary St, Cardiff CF10 1DX
It's no fun taking yourself so seriously all the time. It's a good laugh to just act a bit daft every now and then. And Popworld Cardiff might be the best place for it. With the theme being "cheesy", nights such as Karaoke Tuesdays, and 90s tunes bumping until the early hours, we can't find a better club to let loose and unleash your inner child in. Not to mention there are bar tabs and prizes to be won, 50% off drinks between 3 and 6 on a Saturday, and live DJs.
---
Image: Coyote Ugly Cardiff on Facebook
Where: 78 St Mary St, Cardiff CF10 1FA
Coyote Ugly is a bar that began in the United States before opening 12 other locations and expanding across the globe to the UK and other countries. Open seven days a week, Coyote Ugly is all about partying with the bartenders singing and dancing on the bar tops or heckling the crowd to drink up. If you head down earlier, you can tuck into some bar snacks such as pizza, wings, loaded fries, and burgers, play some pool, and have a whirl at some karaoke.
---
Image: Y Plas on Facebook
Where: Cardiff University Students' Union Park Place, Cardiff CF10 3QN
Y Plas is a strictly student-only nightclub with a huge reputation after rapidly becoming one of the best nightclubs in Cardiff. Insanely impressive for a student bar, the club features a glass ceiling, a balcony, regular club nights with light shows, and even hosts live music gigs, too. Oh, and a quick note: if you're planning to visit Y Plas, don't wear your favourite, most expensive clobber. Wear something you don't care too much about and be prepared to be drenched in VK.
---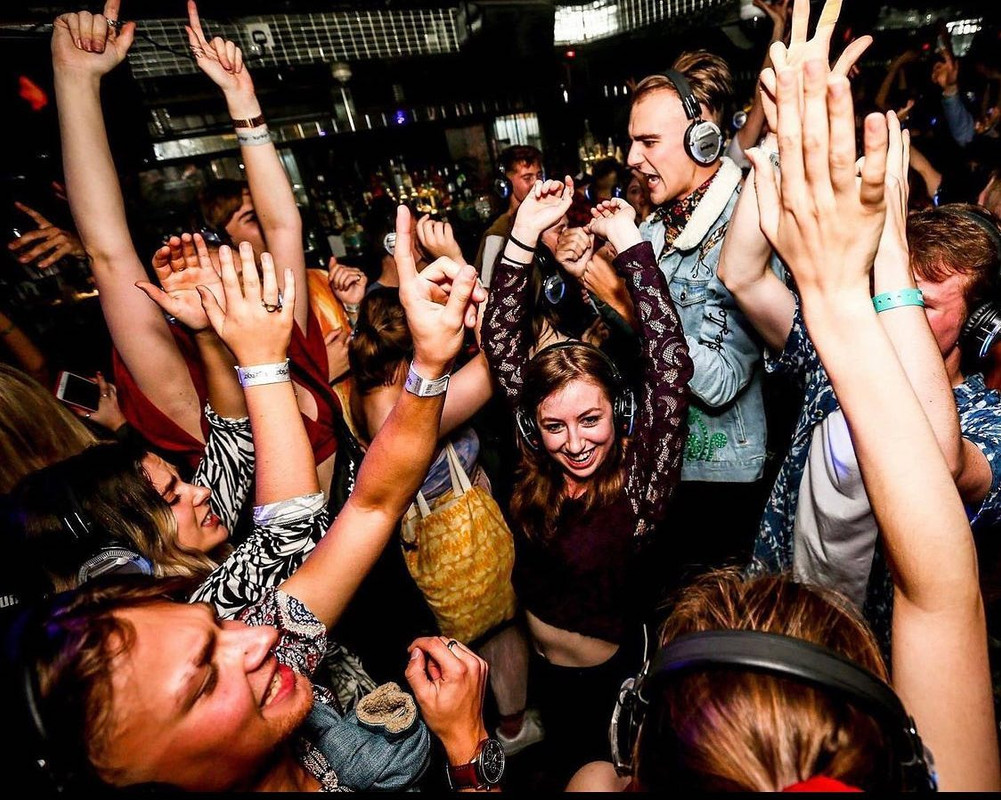 Image: Tiger Tiger Cardiff on Facebook
Where: Greyfriars Rd, Cardiff CF10 3AE
Arguably one of the best student clubs in the UK, Tiger Tiger has Hashtag parties every day of every week, so no matter what your schedule is, you can always squeeze in a visit to Tiger Tiger. The club tends to play hip hop, house, club anthems, afrobeats, and bashment tunes. And with professional photographers, videographers and content creators on-site, you can relive your night out in pictures and videos without having to capture these moments yourself.
Find tickets for events at Tiger Tiger Cardiff - here
---
---
These clubs know how to start a party, keep it going, and leave a bunch of tired party-goers eager for more before the lights even go up. If you're looking to leave your troubles behind, be engulfed by the music, and just have a cracking time with your pals, check out any of our best nightclubs in Cardiff. You'll have a blast.
if you would like to see a curated list of all the very best raves in Cardiff, held at many of the clubs listed in this piece, then you will be able to find all that and more by clicking, or tapping - HERE
---
Check out our What's On Guide to discover even more rowdy raves and sweaty gigs taking place over the coming weeks and months. For festivals, lifestyle events and more, head on over to our Things To Do page or be inspired by the event selections on our Inspire Me page.


Header image: Pryzm on Facebook