Teletech was born in 2017 in Fallowfield, Manchester. It started as a resident's party before the brand begun booking artists and found a home in Manchester's Hidden. With the goal of bringing new and interesting artists to various cities, Teletech quickly built a loyal following, with supporters amazed at the quality of the events and the new talent they showcased.
So when we, and hundreds of other techno fans, saw the announcement of the festival's second edition, it was a no-brainer.
Standing in line for the fest was intense, solely because everyone was so eager to get in. On the walk up to the venue, people were chatting to strangers, asking where they came from and who they wanted to see. This camaraderie continued through the day and into the night.
Not long after, we had passed the gates and arrived in hard techno heaven.
Bar service was rapid and drinks were decently priced - £6 for cans and £2 for a bottle of water. Solid.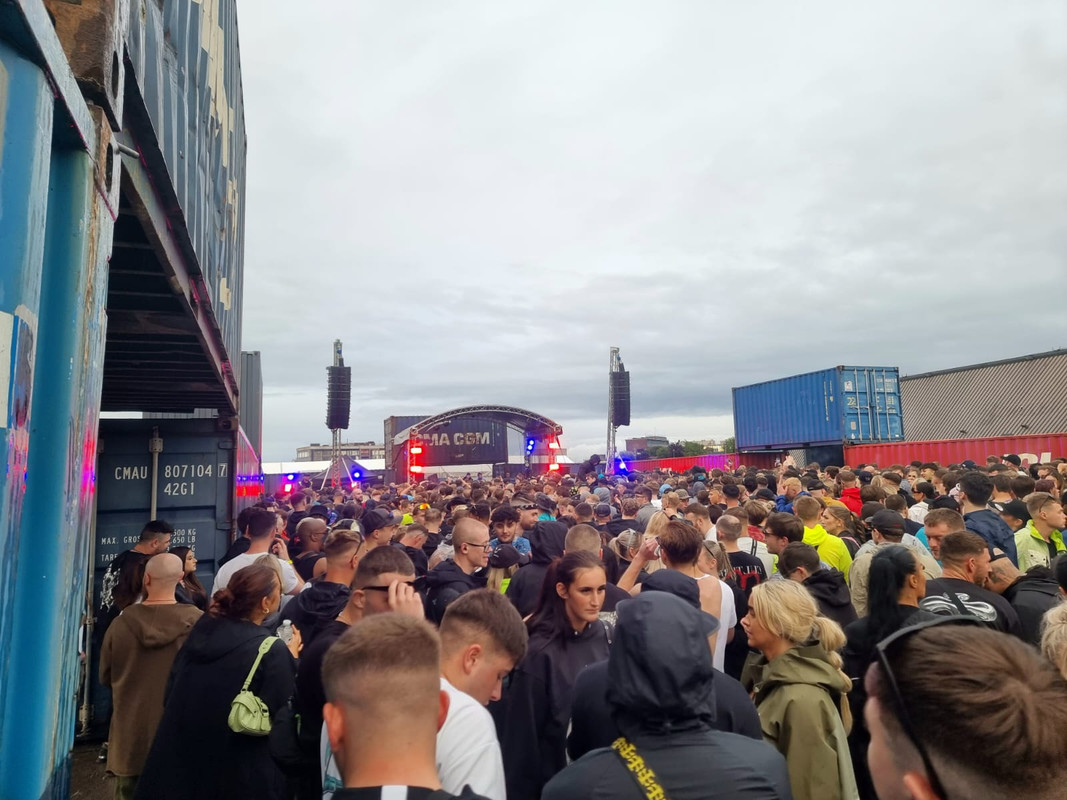 The Shipping Yard stage
Can in hand, we stopped by Funk Tribu at The Shipping Yard stage, an area surrounded by stacked shipping containers in the shape of archways to keep the sound in. It worked perfectly. Every stage at the venue had insane, chest-thumping bass with crystal-clear treble. You could even feel the hairs on your arms vibrate in time with the music.
Now, sadly, we're all familiar with Manchester's unpredictable weather. After checking the weather countless times and feeling confident it wouldn't rain much… it did. But this didn't deter a single raver. People held their umbrellas high and pumped them along to the beat - a pretty heartwarming display of how nothing could get in the way of our enjoyment of music.
Funk Tribu warmed us up brilliantly, playing softer tunes in comparison to the absolute carnage Azyr blasted later at the Boiler Room stage. Proper popping off, someone on stage launched t-shirts into the crowd, and everyone collectively lost it. He certainly proved why he's on just about every huge techno lineup right now.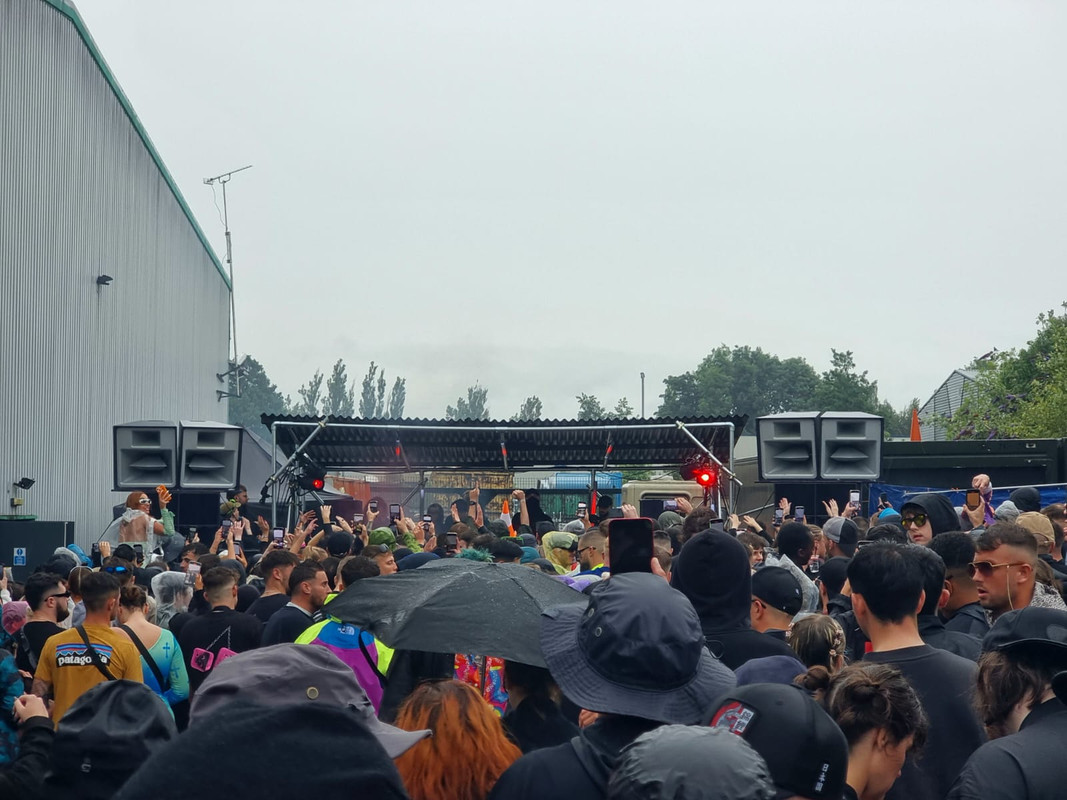 The Serpent stage
European powerhouses OTTA and Bours? went B2B on the Serpent stage. At this point, the rain was picking up but it was clear not a single soul gave a shit. After a fierce set from OTTA and Bours?, the queue for Lessss at the Boiler Room was crazy. This wasn't the only time there was a queue to get into that stage. You needed half an hour or so to get into Sara Landry's set later that day. Both artists would've smashed it on a bigger stage.
At this point, everyone had fully loosened up. Chatting about, it became clear people had travelled in from all over to attend - Belfast, Glasgow, Newcastle, Belgium, Poland, and Spain. Another thing that couldn't go unnoticed was a good 40% of the ravers there had taken advantage of the free temporary Teletech logo tattoos. People donned their fake ink on their chests, foreheads, arms, necks - basically any bit of exposed skin they had.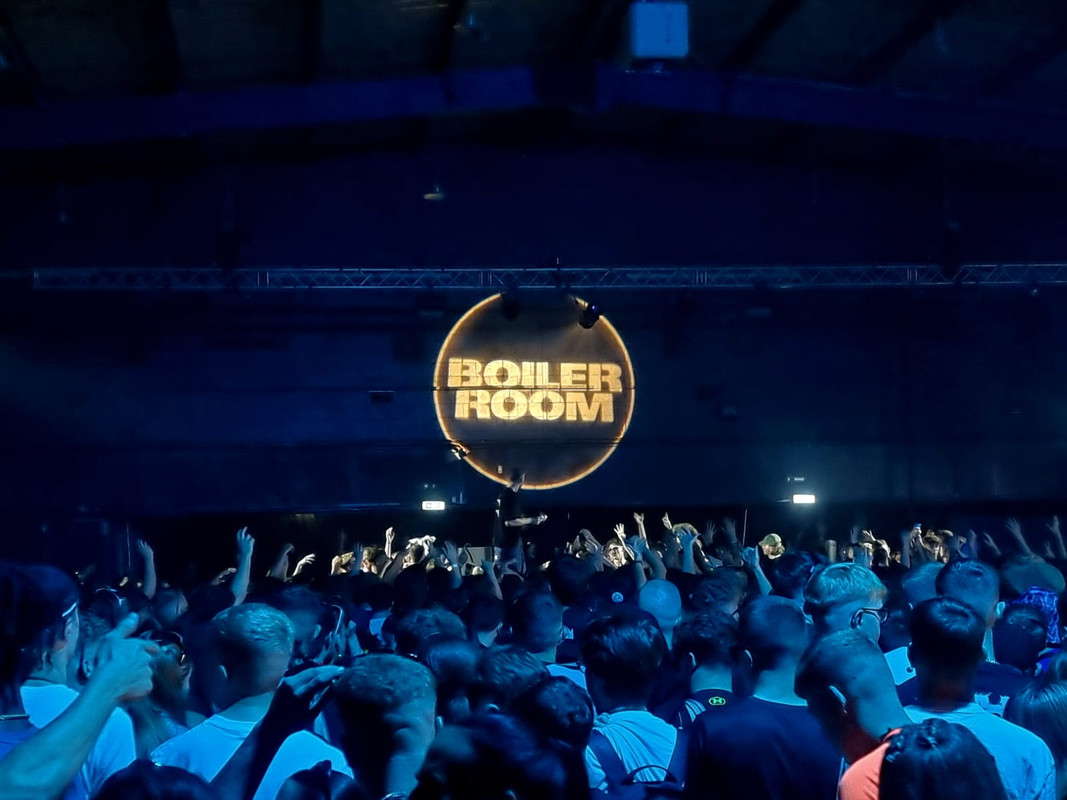 The Boiler Room stage
Pawlowski took over from OTTA and Bours?, mixing in loads of different sounds in his set including acid, hardcore, and a splash of DnB. After Sara Landry's absolutely mental, insanely sweaty set at the Boiler Room stage during which she remixed massive pop songs and had people screaming from start to finish, it was time for Alignment to open the Warehouse stage.
Certainly the best stage with a huge video screen, impeccable sound, and the benefit of lighting without interference from daylight, Warehouse was sweaty sweaty. Alignment chose perfect selections including a remix of Kasabian's Club Foot (obviously perfect for a mostly English crowd), Kendrick's HUMBLE, Hot by Inna, Jerk it Out by Caesars Palace, and Freed From Desire.
People poured outside for some fresh air and to cool down from the Warehouse that was so humid it was literally dripping and the walls were soaked.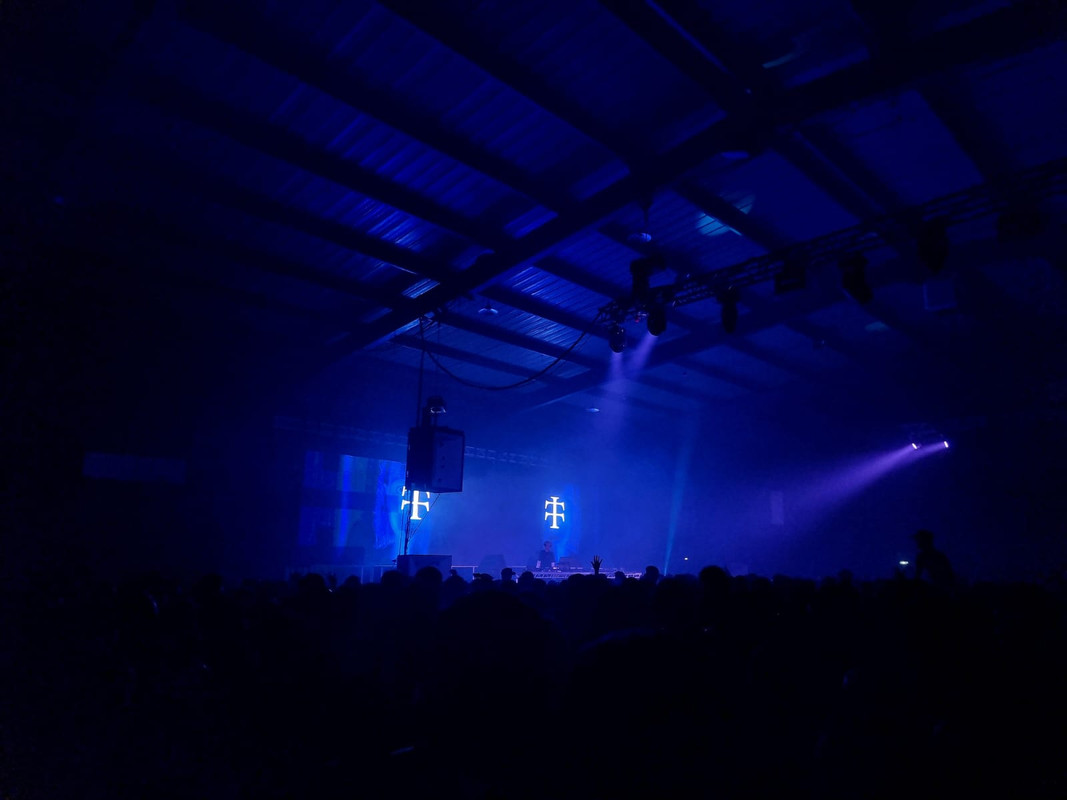 The Warehouse stage
Azyr B2B Lessss, the set that replaced Teletech resident Charlie Sparks' (whose flight got cancelled), got dark quickly. Their set showcased the scarier side of techno amplified by the creepy imagery on the video screens so far, showing all sorts from what looked like waterboarding to blood-stained, limp bodies.
blk. ended the night. The crowd had fizzled out somewhat, with many having been there since doors opened at 1 pm. Now around 3 or 4 am, most would have been pretty knackered, so we'll let them off. blk. continued with slightly less creepy vibes as fans hopped on shoulders and ooo-ed at every single drop. They probably would've been happy for him to carry on playing until Monday morning.
As much as we didn't want to, we tapped out at 4:20 am. While hard to leave, the urge to sleep or, at the very least, have a lie down was immense. God knows how some ravers continued with the afterparty that raged on until 10 am.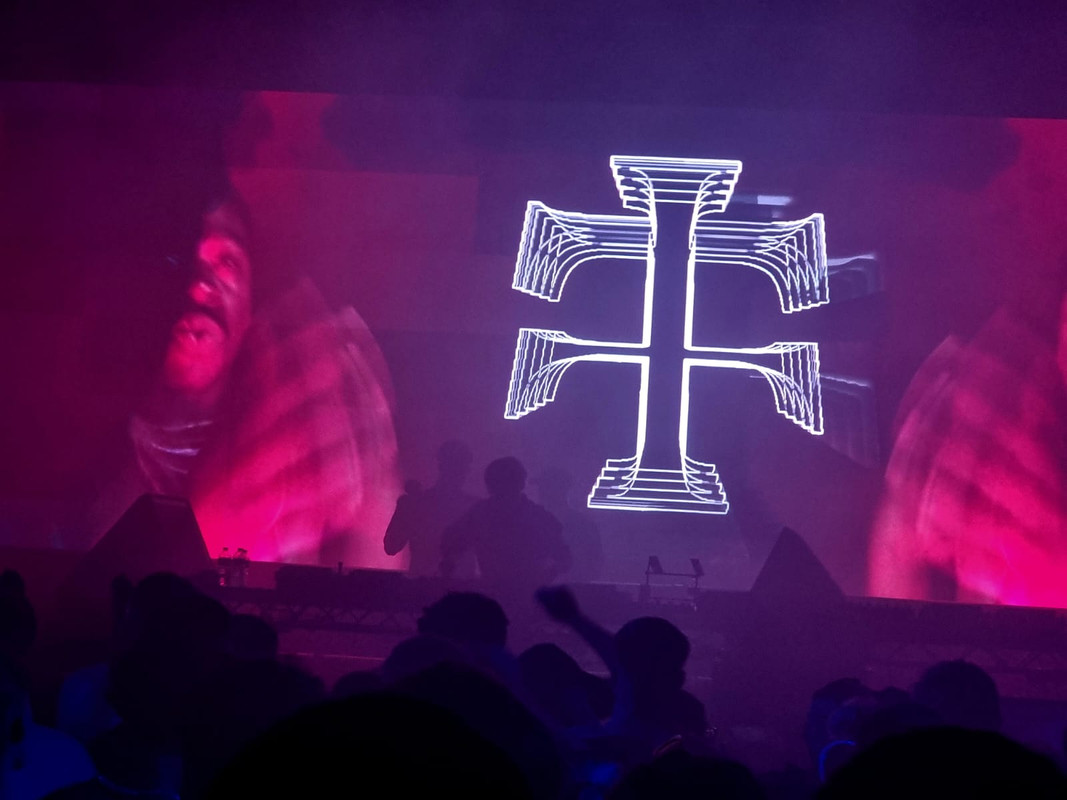 The Warehouse stage
The only "problems" we encountered at Teletech Festival were minor. There was of course the dodgy weather (but what can you do?), the cancellations of Charlie Sparks and Horsegirl's sets (again, unfortunate, but what can you do?), and the noise complaints about the outdoor stages which resulted in the music being turned down in the evening. At the end of the day, as an organiser or an attendee, these "problems" are nothing. Although a few water taps here and there wouldn't have hurt.
We would also love to see a Teletech app - one place to find FAQs, set times, updates, maps, and more. But with this once-small techno brand taking off with upcoming events in Berlin and Amsterdam, we think a Teletech app, along with the brand's world domination, is right around the corner.
Secure your tickets for Teletech Festival 2024 at the very bottom of this page.
---
---
Check out our What's On Guide to discover even more rowdy raves and sweaty gigs taking place over the coming weeks and months. For festivals, lifestyle events and more, head on over to our Things To Do page or be inspired by the event selections on our Inspire Me page.