Misfits Indoor Festival comes to Motion in Bristol on Friday the 20th of October, with Ben Nicky, Billy Gillies, David Rust, DJ ISMC, Hixxy, Brad Pickle, and more. Tickets on sale at 6 pm - less than 15 minutes!
The hardstyle, trance, psytrance, techno, and hard house event comes to Motion, regularly voted as one of the best clubs in the world, this October with a hard-hitting, energy-packed lineup that'll have ravers leaving exhausted with huge smiles on their faces.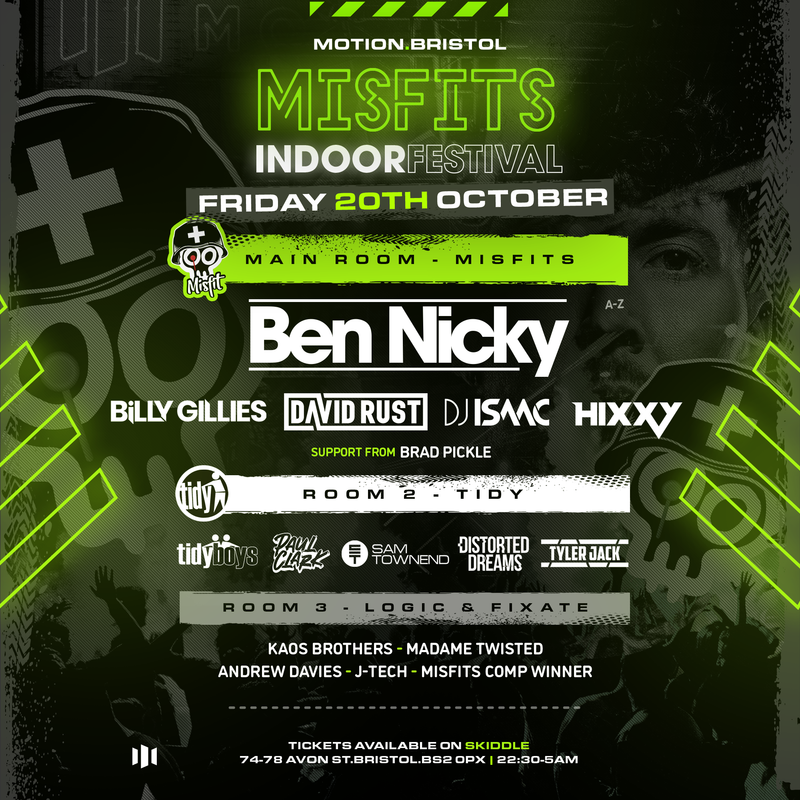 Room two will be taken over by Tidy, a hard house record label with a performance from the Tidy Boys themselves. Joining them in the second room are Paul Clark, Sam Townend, Distorted Dreams, and Tyler Jack. There's also the third room with Kaos Brothers, Madame Twisted, and more. It's going to be wild.
Tickets have just gone on sale! Secure yours now below to ensure your place at this massive, thumping rave.
---
Check out our What's On Guide to discover more rowdy raves and sweaty gigs taking place over the coming weeks and months. For festivals, lifestyle events and more, head on over to our Things To Do page or be inspired by the event selections on our Inspire Me page.


Header image credit: Motion Bristol / Facebook.com
Tickets for Misfits Indoor Festival | Motion in Bristol | Friday 20th October 2023
Tickets are no longer available for this event