It seems so long since any of us have been able to pay a visit to our favourite restaurants and watering holes. Almost half a year has passed in fact since we were legally allowed to enter such premises, and boy oh boy are we ready for them to reopen once more!
Although there's still a little way to go before pubs and eateries can begin serving punters once more, there are some other, COVID safe and crucially law abiding options out there, where you can most certainly get your fix of food, ale and atmosphere.
As the date of the next pivotal checkpoint in the government's roadmap out of lockdown gets closer - Monday 12th April - we turn our gaze to some of the many fantastic, socially distant food and drink events set to welcome keyed up punters across the UK, throughout the spring, summer and beyond.
If the idea of eating some flavoursome snacks, whilst also enjoying a lavish cocktail or a cold craft lager, surrounded by others dancing to live entertainment sounds good, you may want to think about attending one of the ten listed events below.
Click or tap on the event titles for tickets and more...
---
The Open Arms | Warwick Castle, Warwick
When: Thursday 6th May - Monday 31st May 2021
Where: Warwick Castle, Warwick
Enjoy a feast of mouthwatering cuisines and refreshments, at the UK's largest outdoor beer garden and street food market - The Open Arms.
Set upon the picturesque grounds of one of England's oldest and most historic fortresses, Warwick Castle, this finger-licking event offers punters a wide choice of exciting flavours from a number of award-winning vendors, all within a COVID secure and spacious outdoor arena.
Dine like the Kings and Queens who once presided over this stunning English landmark, throughout the spring and summer season in 2021.
Find tickets for The Open Arms at Warwick castle here
-
---
Official Manchester Rum festival | Manchester
When: Saturday 17th April 2021
Where: Viadux in Manchester
Manchesters first and only dedicated Rum Festival is set to take place this April, taking over the unique Viadux venue in the heart of the city centre.
Join thousands of other rum enthusiasts in sampling a variety of over 50 different rums from across the globe, including Chairman's Reserve distilled in St Lucia, Pusser's Rum, blended and bottled in the British Virgin Islands, and Diablesse Rum, produced in the Caribbean.
You'll undoubtedly need to make a quick pit stop for some food at one point during the day, to soak up all the rum. Luckily, the festivals forward thinking organisers have got your back. Official food providers of the event, Revolucion de Cuba will be in attendance to help you offset the inevitable intoxication, with their popular Cuban Sandwich Truck.
Also featuring 5 free-to-attend seminars throughout the day, where ticket holders can chat to distillers and business owners, there's plenty to get involved with at this heady drinking festival.
Find tickets for the Official Manchester Rum festival here
-
---
Sixways Dining Club | Worcester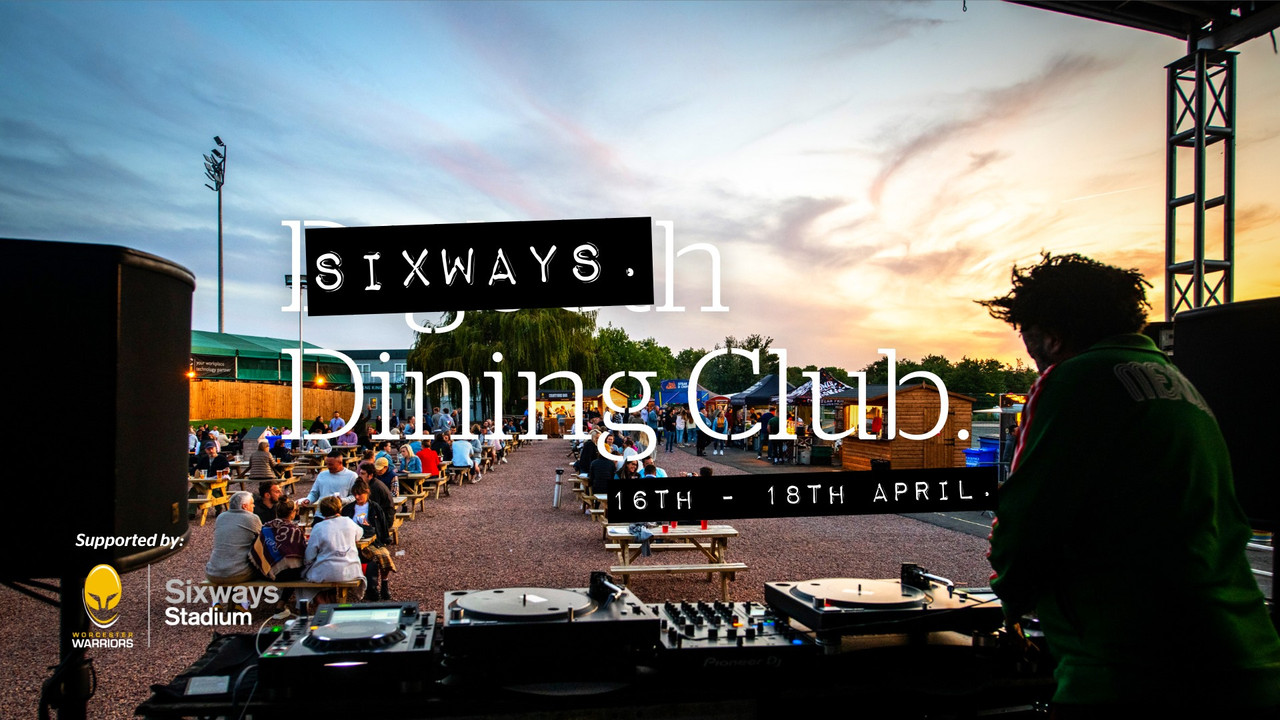 When: Sunday 18th April 2021
Where: Worcester Warriors Sixways Stadium in Worcester
Birmingham's multi award-winning Digbeth Dining Club is set to showcase what it does best this April, at the Sixways Stadium in Worcester.
Voted Britain's Best Street Food Event, the acclaimed outdoor dining experience brings together some of the best chefs, producers and vendors the UK has to offer, for a fancy-free event where the food does all of the talking.
In addition to a diverse selection of next level food options, those in attendance can also test out a range of excessive cocktails and artisan craft beers, whilst entertained by live music and DJ sets throughout the day.
The lineup of vendors due to appear at this in-demand event are scheduled to be announced in the coming days. watch this space...
Find tickets for Sixways Dining Club in Worcester here
-
---
Wicked live (with free afternoon tea and more...) | London
When: May - September 2021
Where: Apollo Victoria Theatre in London
For those of you unaware of Broadway musical Wicked, heres a few statistics...
It's been staged across the globe for over 15 years, broken West End records for grossing more than £1 million in a single week, collected over 100 awards worldwide, and the shows hit number 'Defying Gravity' is used as a wake-up call for NASA astronauts, currently floating around in space. Come on, that's impressive. You don't come by accolades like these for being a run of the mill live theatre show.
Why not experience this critically acclaimed wonder of the stage, accompanied by a trip to Cafe Rouge in 2021. Enjoy an indulgent afternoon tea with a complimentray glass of proseco with your nearest and dearest before heading to the Apollo Theatre on London's West End.
Find tickets for Wicked live here
-
---
Jerk Festival - Jamaica Independence | Birmingham
When: Saturday 7th August 2021
Where: Quantum Event Centre in Birmingham
Celebrate 57 years of Jamaican independence in Birmingham this August, at the Digbeth's biggest music and street food party - Jerk Festival - Jamaica Independence,
Bringing Caribbean carnival vibes to the UK's second largest metropolis, the day-to-night Jamaican food event will provide those present with a variety of exotic flavours, served by the finest traditional craft makers.
Treat your taste buds to some succulent Jerk BBQ, wash it down with a few potent rum cocktails or dabble with the rum and Guinness punch. Sway and swagger your way through the day, to the festivals reggae soundtrack blasted through huge sound system setups. Headline acts for the event have yet to be announced.
In addition to a score of authentic live entertainers, performing everything from hip-hop to afrobeat, swingbeat, dub reggae, roots rock, ragga, calypso, R'n'B and more, punters can also take advantage of the numerous activities and experiences on offer. Get the kids faces painted, get sidetracked by the free 80's retro arcade games and, if you're 18 and over, see out the festival at a special closing club night.
Find tickets for Jerk Festival in Birmingham here
-
---
When: Sunday 9th May 2021 (More dates here)
Where: Embankment Pier Victoria Embankment London WC2N in London
Esteemed London club brand and record label, Kinky Malinki will throw a series of parties upon the river Thames this May, combining tasty grub with alcoholic refreshments, stunning views and the very best in house music.
Taking place on the rooftop of a luxury cruise boat, attendees of the unique floating events can quite literally dance their way through the centre of the English capital, with a first-rate soundtrack provided by the Vocal House Brunch resident artists.
Each ticket will gain revellers access to 1 hours worth of bottomless Prosecco, as well as a 1 course meal.
Experience over 5 hours of vocal house classics, whilst surrounded by the breathtaking scene's of London's iconic landmarks this summer.
Find tickets for Vocal House Brunch in London here
-
---
When: Saturday 3rd July 2021
Where: The Warehouse in Leeds
People of the North, prepare yourself for one of the UK's most notoriously raucous brunch events - Trigger fingers at the ready, the UKG Brunch is coming to Leeds this summer.
Bringing together a combination of the finer things in life, the brunch event will provide party goers with a whole lot of finger-licking food and mouthwatering refreshments, including some formidable rum cocktails, alongside the biggest tracks from some of the most renowned UKG names in the UK.
Amongst the headline acts confirmed for the upcoming event are garage legends Sweet Female Attitude and DJ Pied Piper, with MCs Creed, DT, Rankin and Spin E.B.
Each ticket holder will be offered 60 minutes of bottomless chicken and bottomless cocktails (veggie & vegan option available).
Find tickets for UKG Brunch in Leeds here
-
---
When: Friday 15th - Saturday 16th October 2021
Where: The Hangar in Wolverhampton
Oktoberfest - one of our favourite annual food and drink events - is a German festival which celebrates traditional cuisines and some rather dangerous beers - from Vienna Wurstl sausage and Brezen or Pretzels, to strong beers such as Hofbräu beer, which clocks in at 6.3% ABV. Dang.
Ask yourself, who doesn't like a nice big sausage and a stein full of beer here in the UK? The answer, we think you'll find, is 'not many'. So it makes sense then that this long-established, indulgent German food festival should make its way to UK shores.
Arriving in Wolverhampton this autumn, Oktoberfest will take residence of one of the city's largest warehouse venues - The Hangar, for an excessive evening event - running from 5pm until 11.30pm. Get stuck into some Bavarian treats and sample the many different beers whilst being entertained by live DJs and fantastic Oompah bands.
Find Tickets for Oktoberfest Wolverhampton here
-
---
When: Saturday 8th May 2021
Where: The Cause Ashley House in London
Soak up the summer sun at the roof top BBQ and drum n bass bonanza, the DNB BIG BBQ this May.
Making their long-awaited return to the canopy of London, the team behind the socially distanced outdoor event will welcome a host of highly-regarded bass music names to takeover soundtrack curation duties throughout the day.
Entertaining the lucky few who mange to grab a ticket for this sought-after gathering, legends of the scene Technimatic, Fabio, Artificial Intelligence and more, are all confirmed to make an appearance at the first comeback party.
Promising a fun filled day of sunshine (hopefully), cocktails, good vibes and some enticing BBQ delights - the DNB BIG BBQ is the perfect way to spend a day out in the capital this Summer.
Find Tickets for DNB BIG BBQ London here
-
---
Brunch'n Hip-Hop Outdoor BBQ Party | Birmingham
When: Saturday 10th July 2021 (more dates here)
Where: Secret Location in Birmingham
The West Midlands biggest and best-loved '90s hip hop event, the Brunch'n Hip-Hop Outdoor BBQ party is back!
Established in 2017, the long-running, monthly daytime event is set to return to Digbeth this July, for a series of exclusive socially distant gatherings at a secret location.
Featuring a setlist stocked full of new skool and old-skool hip hop bangers, selected and played by some of the industries finest DJs, paired with exceptional street food, bottomless cocktails, craft beers and so much more, the popular event boasts a unique carnival-esque atmosphere, with plenty to appease the needs of all.
Find Tickets for the Brunch 'n Hip-Hop Outdoor BBQ Party here
-
---
To find more fantastic food and drink events happening where you are, head over to our Things To Do page
Header image: Daisy Denham / Digbeth Dining Club