Welcome to Newcastle! You've made an excellent choice when it comes to student life, and we're not just talking about the quality of education. Set above the Tyne, Newcastle is a cultural magnet crammed with music venues, galleries, shops, bars, restaurants and everything in between with one of the best nightlife experiences in the UK.
And it's no wonder with not one, but two universities to feed in this buzzing, picturesque city, so as you can imagine there's a lot going on, not just throughout Freshers week but spanning the whole year. Keep tabs on what's happening by using our Newcastle What's On Guide here.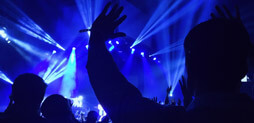 nightlife
As far as student life goes it doesn't get much better than in Newcastle, you can pretty much go out on any night of the week and there'll be plenty going on. Whether you're planning to ditch pre-drinks for a few beers in a back street drinking hole or let rip on the Bigg Market, you're bound t…
nightlife
Popular Newcastle upon Tyne venues - find out what's on where
Whether you're an avid underground clubber, fashionable funky house head or prefer your live music, check these popular Newcastle upon Tyne venues for upcoming events, or view our full what's on guide for loads more...
Get personalised events straight to your inbox
Want to be kept bang up-to-date with what's going on near you? Skiddle's got you covered. Simply click the button below to sign up and every week we'll send you our newsletter packed with events we think you'll like.
Newcastle upon Tyne Freshers News
Keep up to date with what's happening your new city. With all the latest tour annoucements and clubbing line ups, our Newcastle upon Tyne news has you covered.
Other places near Newcastle upon Tyne
Browse Freshers Guides for these nearby places.