Glasgow's hard techno PRTY Festival makes its debut on Saturday the 10th of June this year at Braehead Arena and Waterfront. The team behind it just announced blk. as a headliner.
PRTY Festival is the first hard techno party to be held at Braehead Arena and Waterfront and with blk. headlining, it's going to be crazy.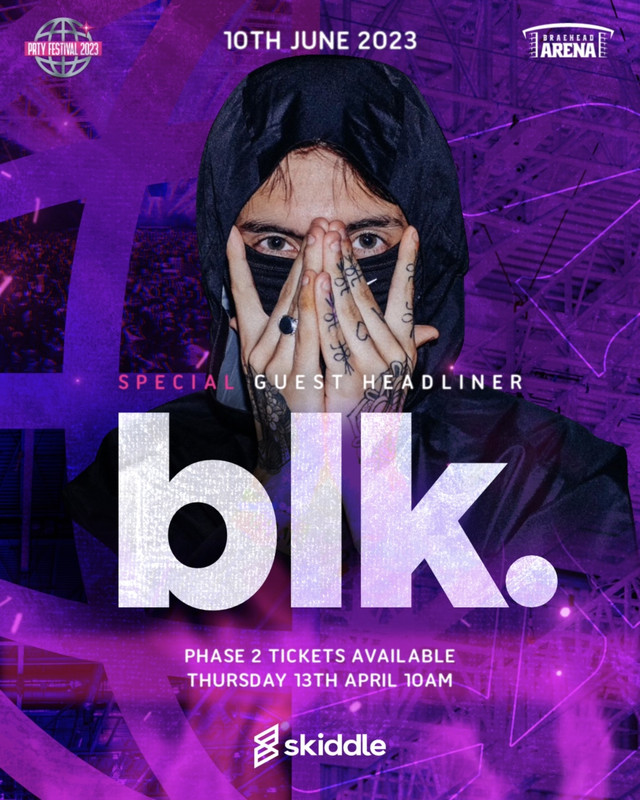 The DJ has rightfully gained a lot of attention these past few years, becoming one of the most searched artists on Skiddle in 2022 after releasing his album Enter The Dragon in 2021. Later this year, he's set to perform a Boiler Room Berlin set and headline a handful of festivals.
Alongside him at PRTY will be Pawlowski, Fatima Hajji, Azyr, Angy Kore & Gabriel Padrevita, Aisha, Franck, Indecorum, Jezza & Jod, Sikoti B2B A-05, and more.
While the festival is making its debut this year, PRTY Events have been blowing minds for some time now in Ibiza, Croatia, and across the UK. Tried, trusted, and confirmed, you can believe us when we say it'll be wild.
Spread across three stages, ravers will be treated to ten hours of techno bangers from over 30 artists. And you could be one of them!
Set your alarms as tickets go back on sale this Thursday (13th April) at 10 am. Scroll to the bottom of this page and enter your details to be the first in the queue for tickets.
---
Check out our What's On Guide to discover more rowdy raves and sweaty gigs taking place over the coming weeks and months. For festivals, lifestyle events and more, head on over to our Things To Do page or be inspired by the event selections on our Inspire Me page.


Header: blk. / Instagram.com
Tickets for PRTY Festival | Saturday 10th June 2023 | Braehead Arena in Glasgow
Tickets are no longer available for this event