Glasgow's Riverside Festival has announced the artists who'll perform at the festival's official Riverside By Night afterparties at SWG3 Studio Warehouse on Saturday the 3rd and Sunday the 4th of June. Slam, Patrick Mason, SOSA, and Eclair Fifi are among those set to perform. Tickets on sale now!
Celebrating its 10th anniversary this year, Riverside Festival has secured an incredible house, techno, and electronic lineup for its 2023 bash in June, which you can see below or read here.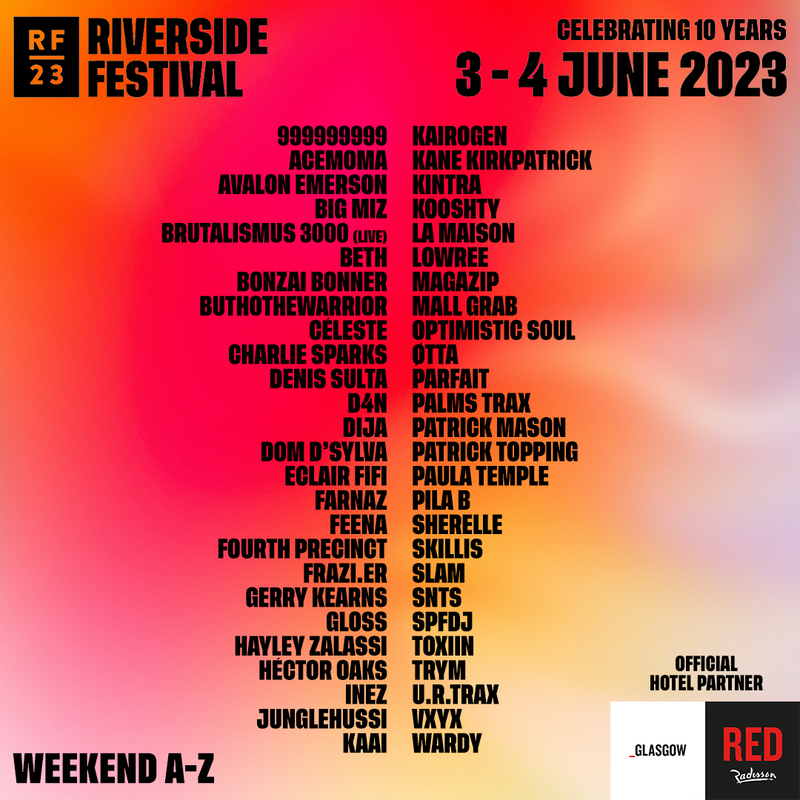 For those who want to keep the party going strong well into the night, the fest has Riverside By Night afterparties on both evenings of the festival with some brilliant artists set to perform. And they're going down literally right across the road from the festival site.
Saturday the 3rd of June at SWG3 Studio Warehouse will see performances from SOSA with vibrant, groovy selections alongside Scotland's own Eclair Fifi, DJ collective All U Need, upcoming Glasgow-based Plantainchipps, and a secret special guest.
Sunday the 4th at the same venue will see Glasgow techno duo Slam joined by Berlin-based house and techno talent Patrick Mason, the incredible TAAHLIAH, Spanish techno titan Vendex, Glasgow's groovy techno collective Outflight, and Neoma, a local rising star in the scene.
Secure your Riverside By Night afterparty tickets now at the bottom of this page. Or click or tap here for more info.
If you haven't secured your place at Riverside Festival yet, scroll to the bottom of this page and do so now for an unforgettable weekend at one of Glasgow's best festivals.
---
Check out our What's On Guide to discover more rowdy raves and sweaty gigs taking place over the coming weeks and months. For festivals, lifestyle events and more, head on over to our Things To Do page or be inspired by the event selections on our Inspire Me page.


Tickets for Riverside By Night afterparties | Saturday 3rd - Sunday 4th June 2023 | SWG3 Studio Warehouse
Tickets for Riverside Festival | Saturday 3rd - Sunday 4th June | Riverside Museum in Glasgow
Tickets are no longer available for this event