We are in the full swing of summer at the moment and nothing says summer quite like getting yourself to a rooftop bar. A cocktail, beer, cider or soft drink in the shade can be absolutely heavenly on a warm day. London has no shortage of such spaces, so we thought we'd narrow things down for you.
Here are the best rooftop bars in London that you should visit at least once, one may even become your regular.
Bussey Rooftop Bar
You'll find this oasis in Peckham, with views of central London straight in front of you. Take pleasure from the fact that you're not in the middle of a heaving crowd right now and get some refreshing drinks down you. There's a complete 360 view to be had and you can see for miles, it's quite something.
---
The Abbey Tavern
One of London's most beloved pubs in the north, you'll find The Abbey Tavern in Kentish Town and it has a huge outdoor space for you to enjoy. It's also the perfect place to have a drink at before heading to a gig, as they also have live music on and artists often play acoustic sets here.
They've had James Bay play a set recently. Why don't you grab a bench with some friends and catch up together?
---
One Hundred Shoreditch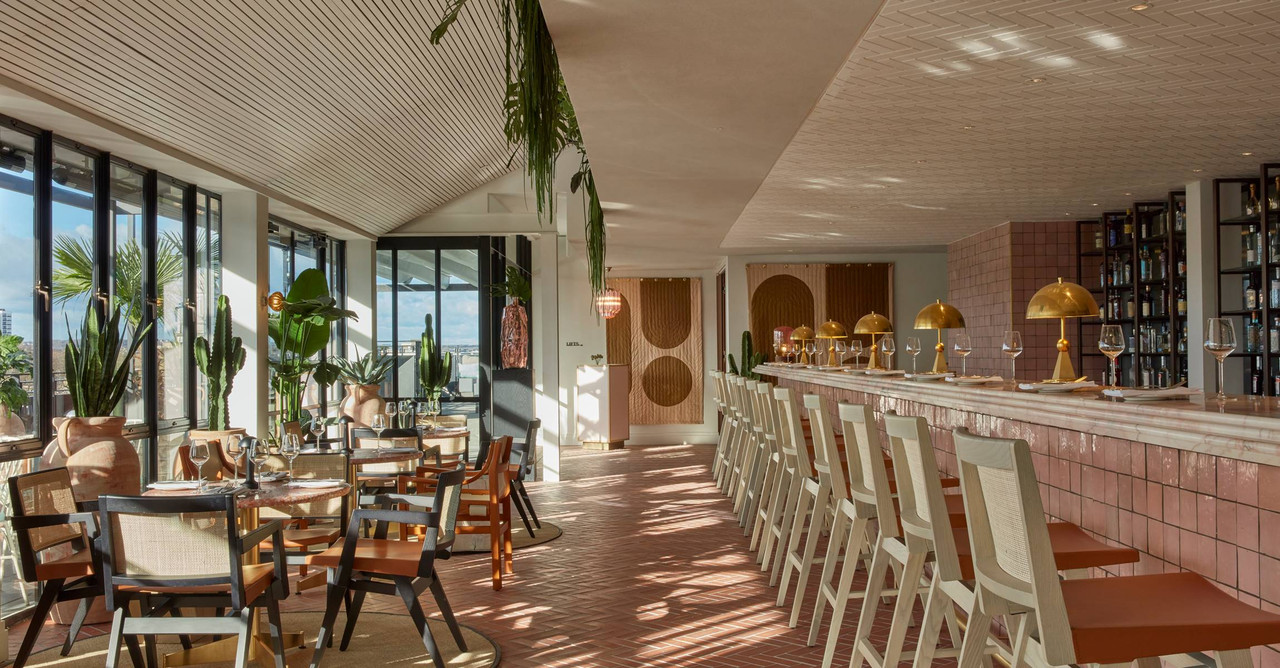 Image credit: One Hundred Shoreditch
Located at the top of the One Hundred Shoreditch you'll find one of the most beautiful rooftop terraces in all of London. The decor is immaculate, the views are stunning and so are the drinks. It takes inspiration from Palm Springs and is only available on a first come served basis, so hopefully, when you turn up you'll be in luck.
---
The Queen of Hoxton
There is never a dull moment at The Queen of Hoxton. The perfect place to blow off some steam, it hosts bottomless brunches and club nights. You can also find your way up to the rooftop terrace which currently has a cherry blossom garden theme. It looks particularly fantastic at night and you'll be coming back for more.
---
Aqua Spirit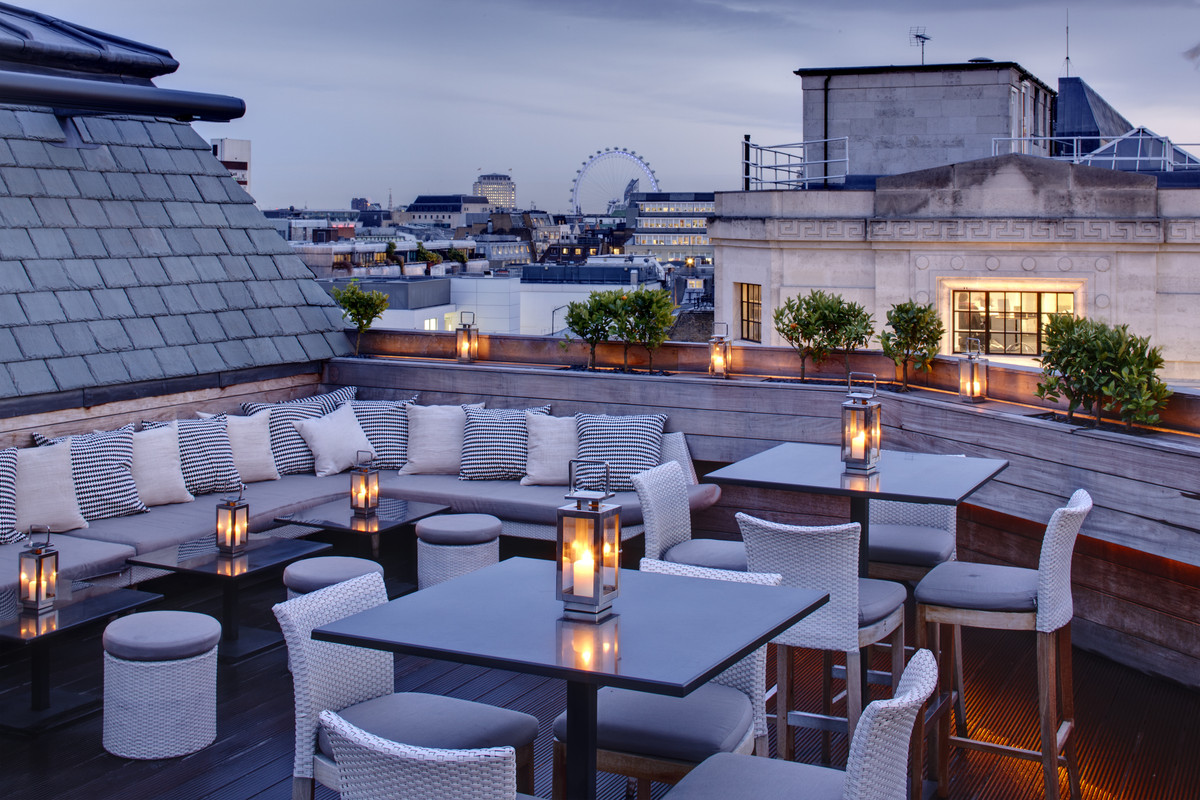 Image credit: Aqua Spirit
Located in the West End, Aqua Spirit opened 18 years ago and has been a beacon of sophistication ever since. Serving some of the most beautiful cocktails that you'll ever see, everything about this bar feels finely tuned. The views you get of London landmarks are simply staggering.
---
Dalston Roofpark
Dalston Roofpark is the perfect place to go and socialise, the large open space that is filled with benches is the perfect space for a group to go to. The only rooftop bar in the Dalston area, it recently opened up again in June and has seen a slew of happy faces and regular customers return.
---
Skylight Tobacco Dock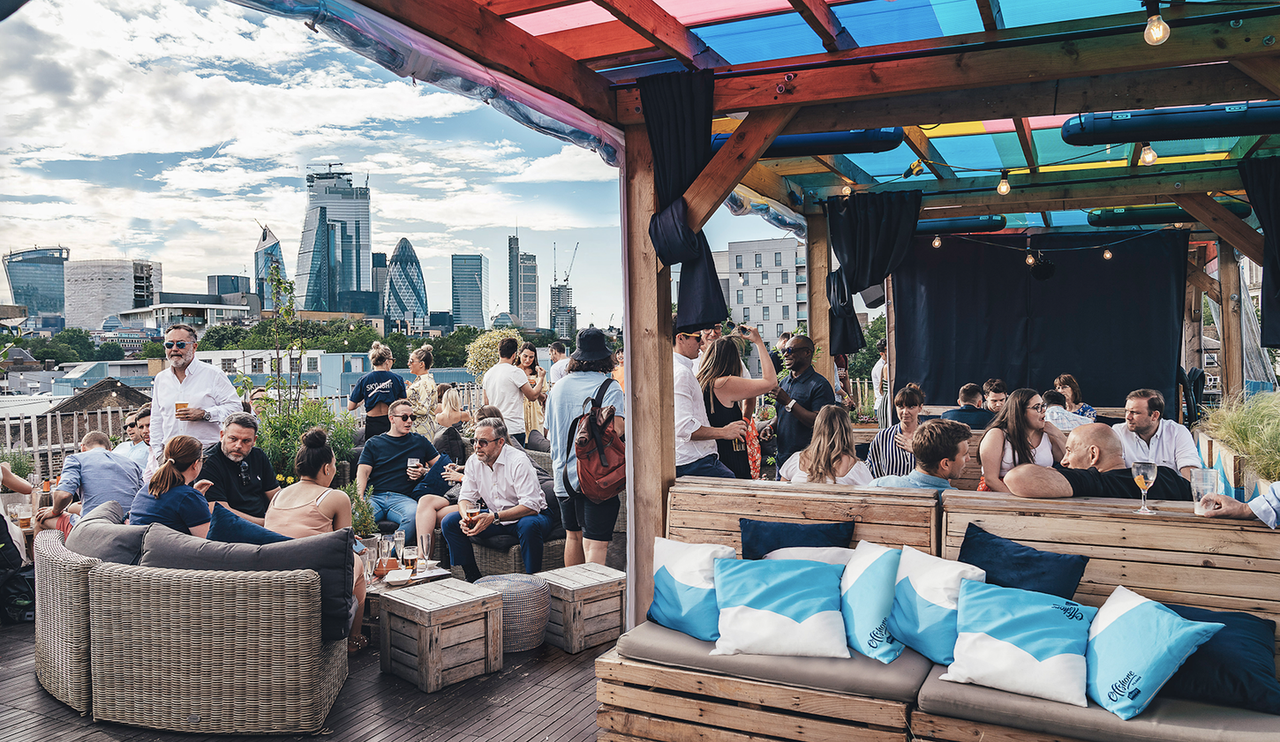 Image credit: Skylight Bars
An emphasis on fun is what you'll find at Skylight Tobacco Dock in East London. What they have is a bunch of outdoor games for you to play, so not only can you take in the stunning views and amazing drinks but you'll also be able to play ping pong, shuffleboard, croquet and more. It sounds like a memorable day out.
---
Seabird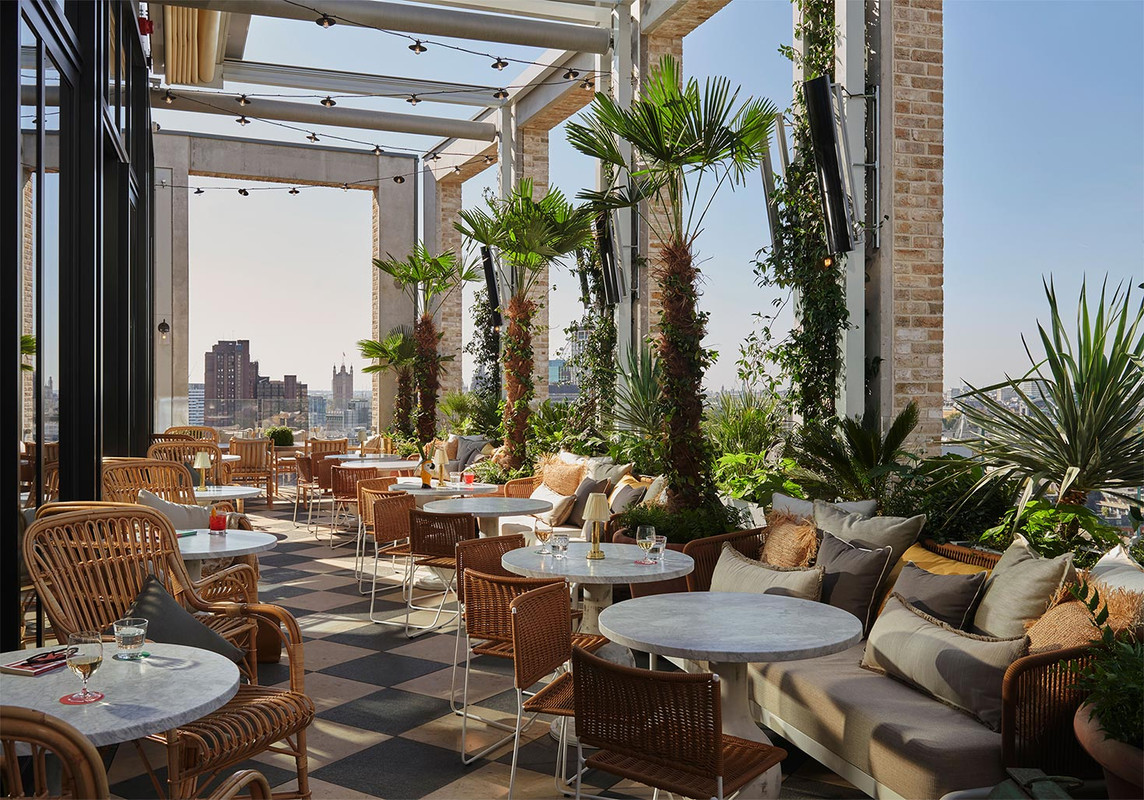 Image credit: Seabird London
Just one look at Seabird's rooftop bar and you'll fall completely in love with it. The perfect place to experience a chilled-out atmosphere, the Southwark bar also offers some very tempting seafood too. Take a trip here during the day to see as much of London as possible and soak in the views.
---
Roof East
This converted car park is now an open-air bar that has immaculate vibes. They always have something going on, you can catch movie screenings here and its Stratford location means that you can see right over into the Olympic Park. It's a fantastic cultural space that sticks out in the area.
---
Faltering Fullback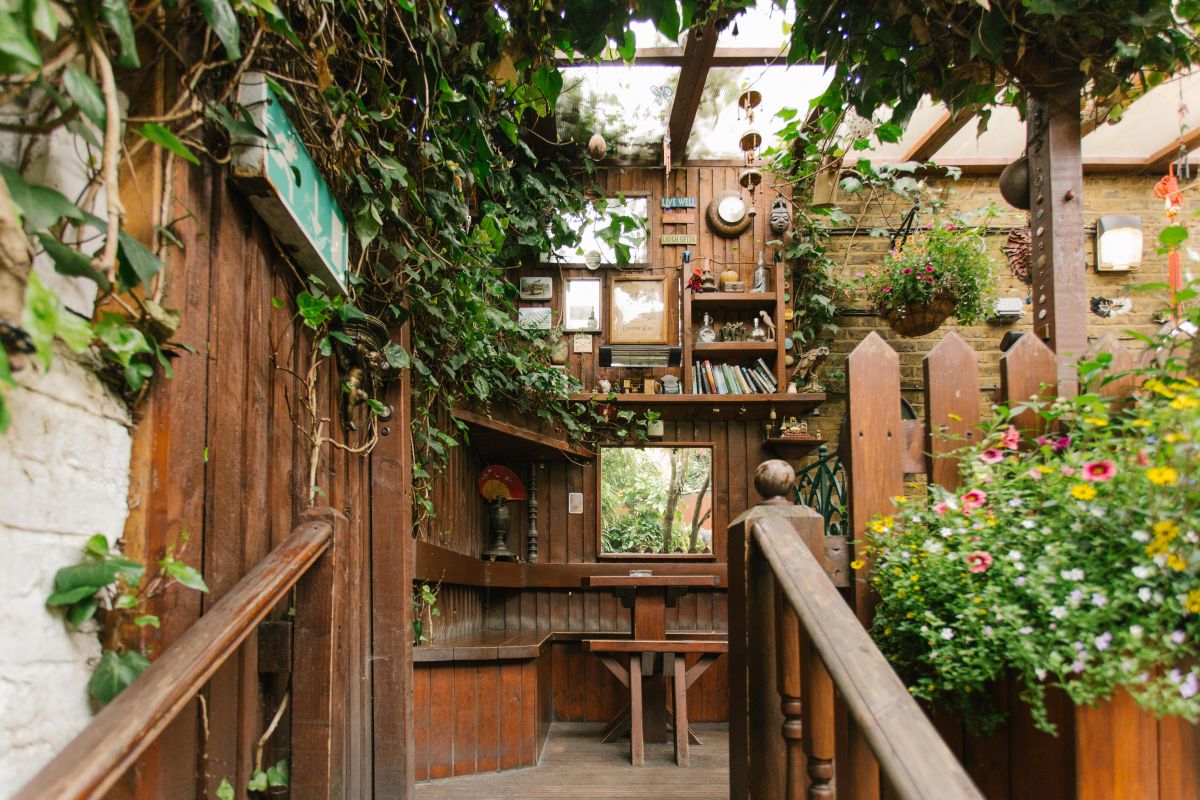 Image credit: Faltering Fullback
The Faltering Fullback is a Finsbury Park institution. The bar is much bigger on the inside than how it looks from the inside and once you get up to the rooftop you'll find a pleasantly intimate vibe. There's always a friendly atmosphere here, found just off Stroud Green Road, it is a special find.
---
Sky Pod Bar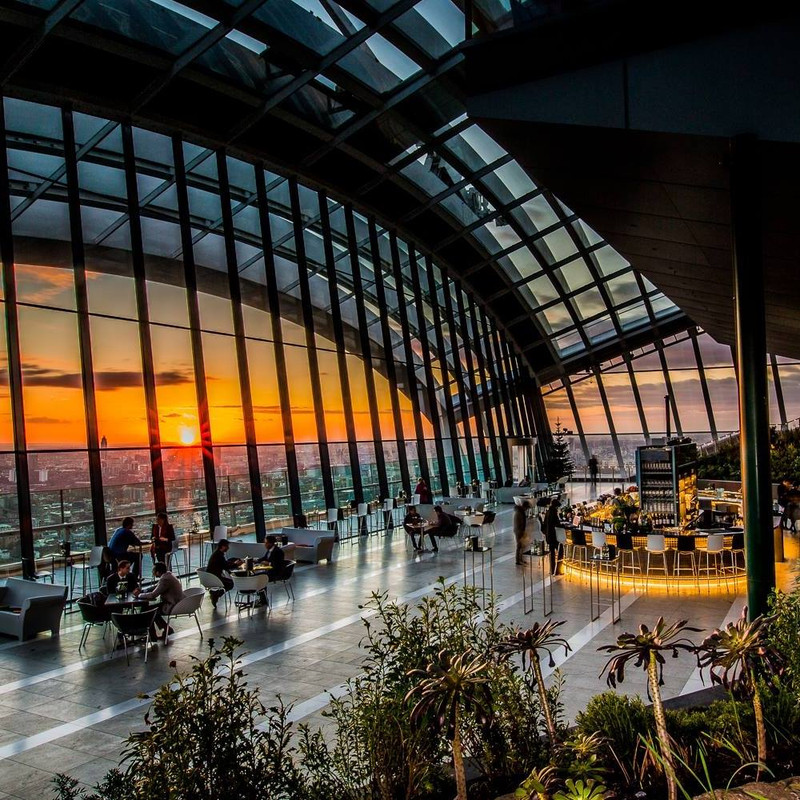 Image credit: Sky Pod Bar on Facebook
The Sky Garden bar is absolutely stunning with crazy views, green plants, observation decks, and an open-air terrace. London's highest public garden also hosts live music and DJs. And with events like morning yoga, you've got a great excuse to head over in the day, too.
---
Aviary London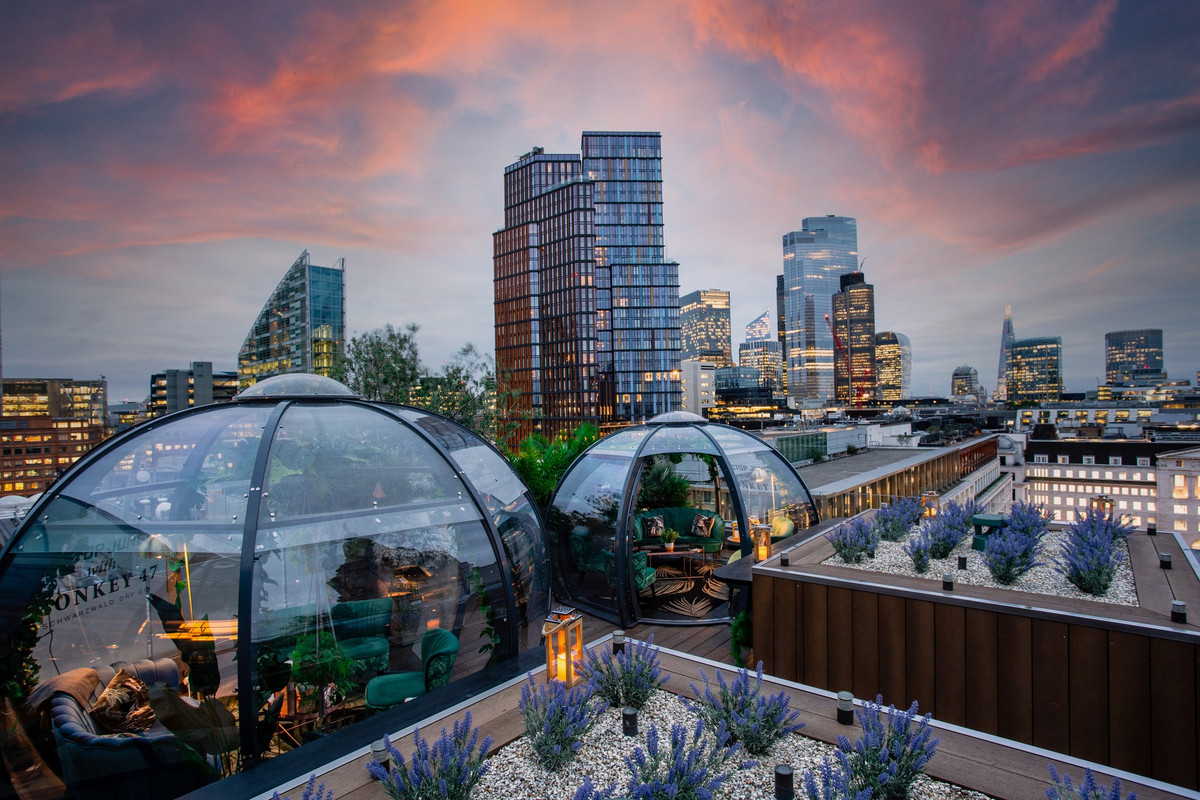 Image credit: Aviary on Facebook
Sometimes you just want to sit with your mates and vent. And so you might prefer a more private setting. One of the best rooftop bars in London for those looking for a little privacy is definitely Aviary thanks to these cool pods that are perfect for catch-up chats. Another bonus of Aviary is that they have popular drinks, such as beer on tap and cider, which you might not find at other London rooftop bars.
---
Radio Rooftop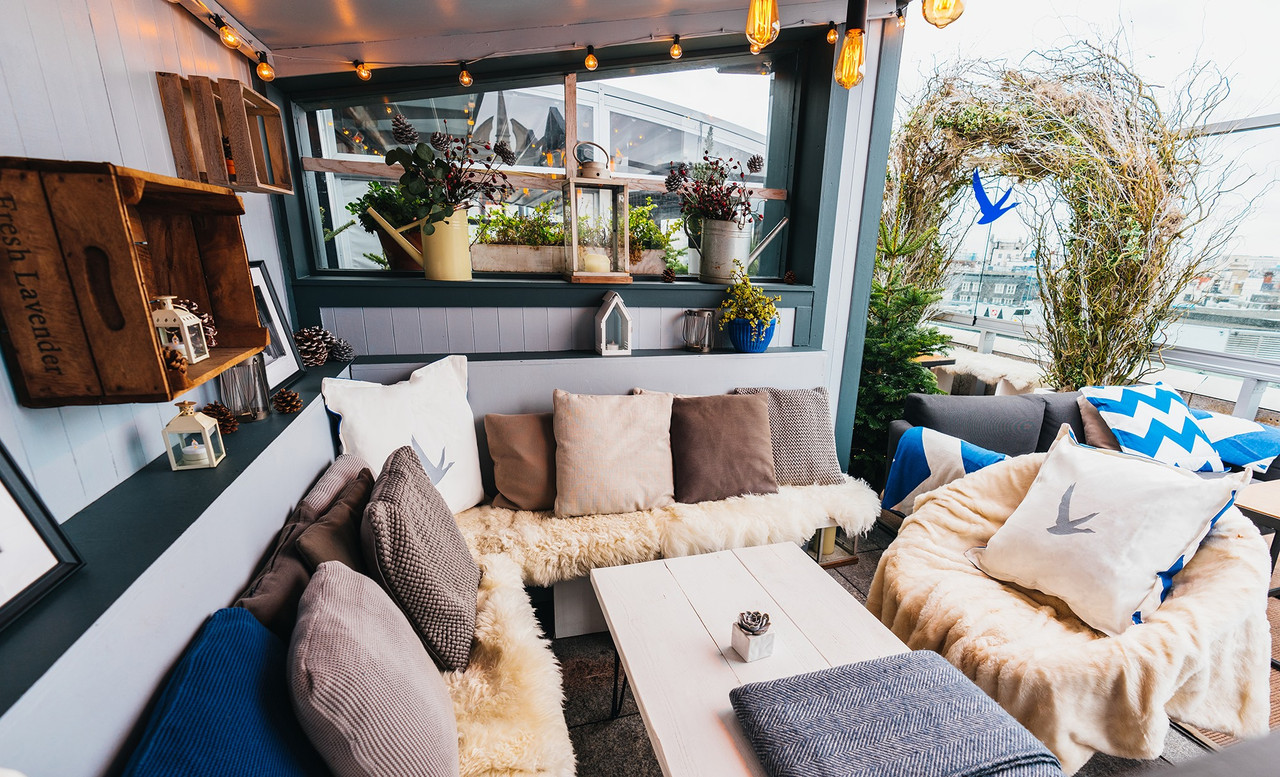 Image credit: Radio Rooftop London on Facebook
Located on the 10th floor of ME London, Radio Rooftop offers the most perfect views across the River Thames that'll pair magnificently with a glass of bubbly. Thanks to a few cosy spots, like the one pictured above, it's a cracking bar for a drink and a chat with friends after a hectic week.
---
The Rooftop at The Standard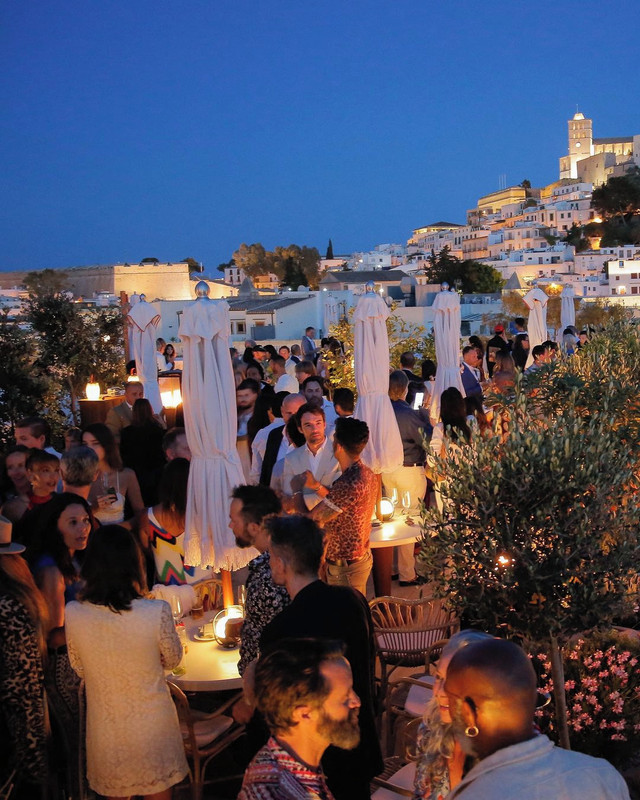 Image credit: The Standard, London on Facebook
With astroturfed floors, pink loungers, and yellow tables and chairs, The Rooftop at The Shard might be the coolest London location for a summer brunch. And as Sundays at 11 am offer one hour of bottomless drinks and breakfast tacos… well, we've already told the group chat to figure out what they're wearing next Sunday.
---
Image credit: Bar Elba on Facebook
There are super elegant, classy establishments, and then there are London rooftop bars that focus on making sure you have a mad time out with your mates. We'll let you guess which Bar Elba is. At this sheltered bar, you can expect bottomless brunches, games, and even the occasional rooftop cinema night!
---
Garden Rooftop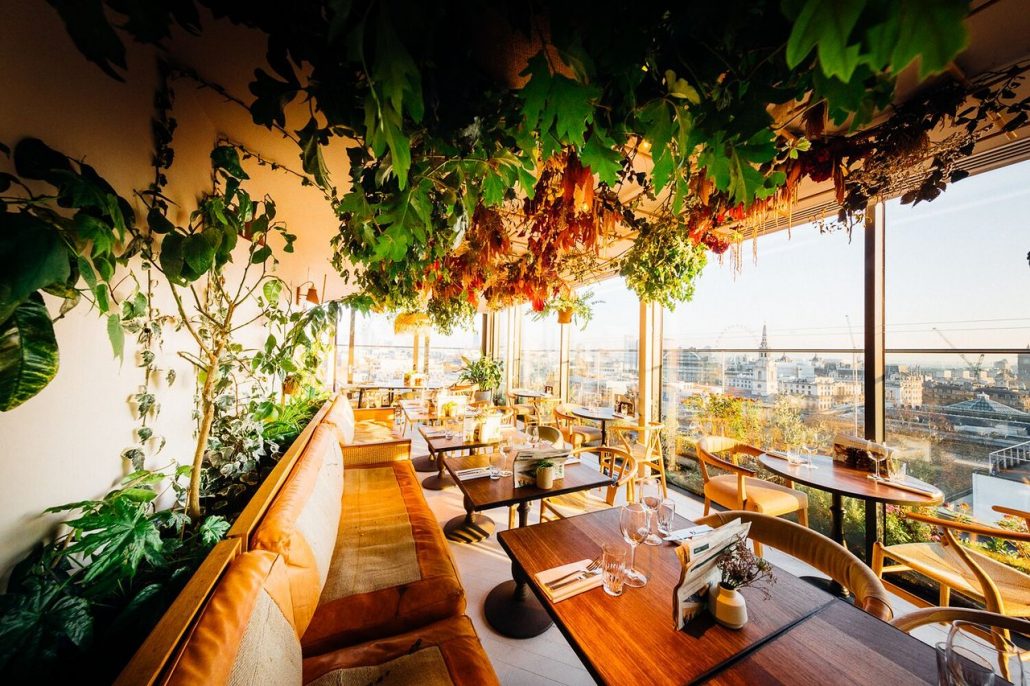 Image credit: Garden Rooftop on Facebook
Garden Rooftop is an indoor rooftop bar in London that offers panoramic views through its floor-to-ceiling glass windows. Decorated with greenery, the Garden Rooftop might be the best place to brunch in London. You get 90 minutes of all the prosecco and rosé you can manage, two courses, and live music. Beautiful.
---
Willows On The Roof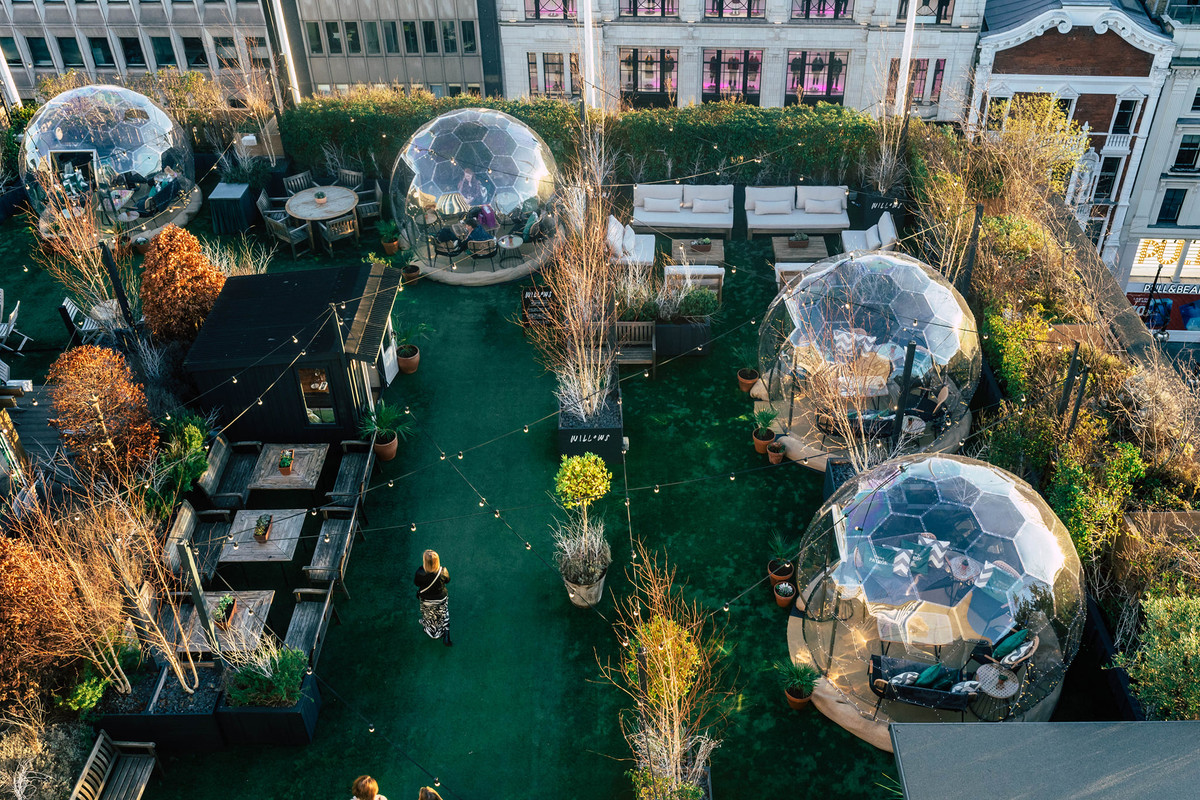 Image credit: Willows On The Roof on Facebook
Visiting London rooftop bars is about as summery as it gets. But at Willows On The Roof, it can also be a fantastic winter activity thanks to its winter-friendly huts and fairy lights. Sat on top of John Lewis, the bar is coloured green with grass, trees, plant, and foliage archways. Complete with panoramic views and seasonal cocktails, Willows is a solid choice no matter the season.
---
Laurel's On The Roof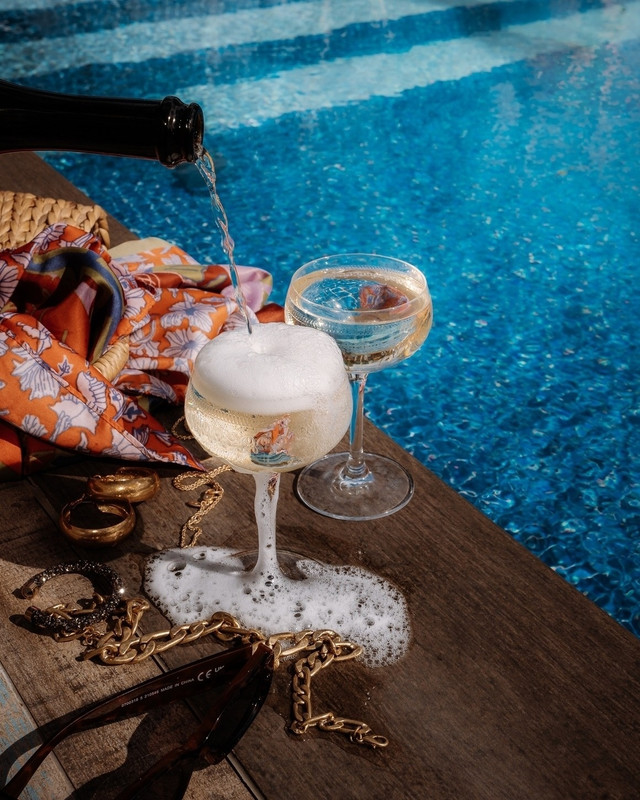 Image credit: Laurel's On The Roof on Facebook
All about that retro glam, Laurel's showcases its aesthetic with 70s glassware and nostalgic dishes (think shrimp cocktail). Picture it: after emerging from the pool to have another sip of some light, fruity champagne, a DJ hops onto the decks, and it's impossible not to be swept away by the magnetising 1970s Los Angeles vibes. Lovely.
---
Sabine
Stroll in through a plant-covered archway to the bar, and order a signature botanical cocktail before waltzing to one of the two outdoor terraces. there, you'll sit beside St Paul's Cathedral to enjoy panoramic views of London's iconic skyline. If you get peckish, you'll indulge in sophisticated bites such as tiger prawns and charred seasonal greens. doesn't sound too bad, right?
---
Frank's Cafe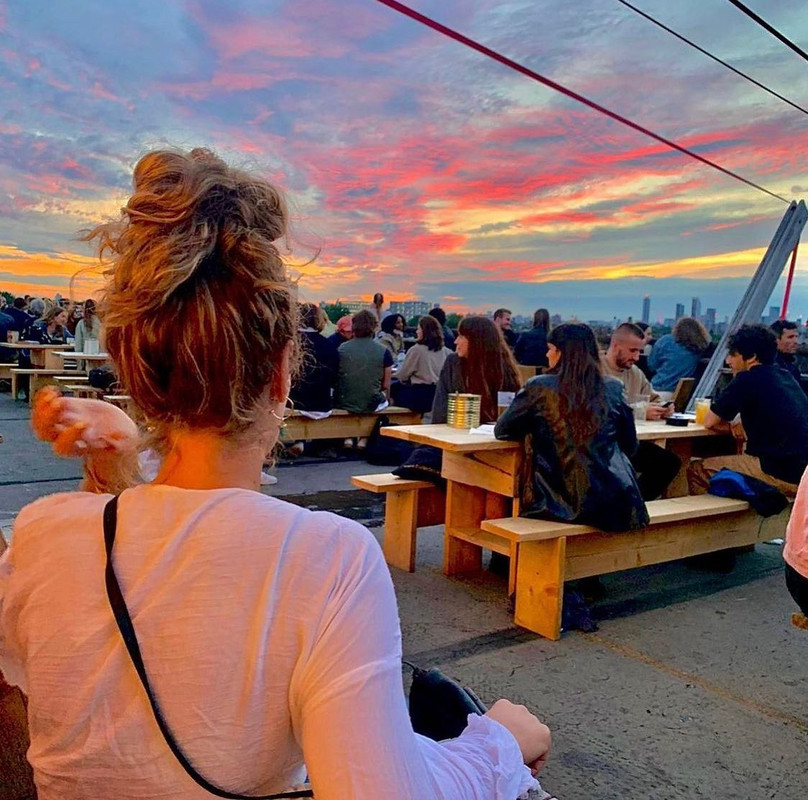 Image credit: Frank's Cafe on Facebook
A crucial venue in London during summer, Franks Cafe, has everything you could want in one convenient rooftop bar. Expect delicious food, a range of drinks, and live music. Tie that together with wooden picnic-style benches and chairs, meaning there's plenty of space for everyone and lots of room to sit and soak in the sun, and you're laughing.
---
Sushisamba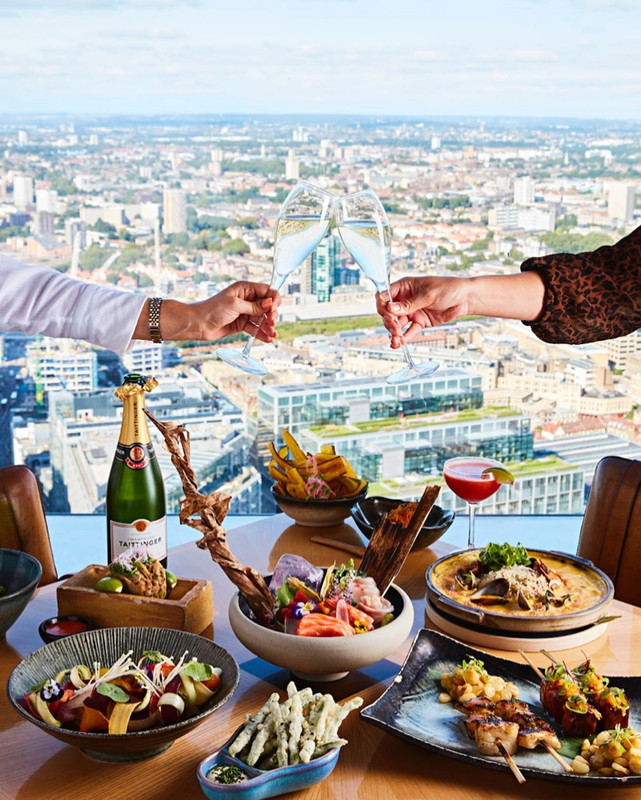 Image credit: SUSHISAMBA on Facebook
If you're going to a rooftop bar, you want to do it properly. Sushisamba sits on top of one of the city's tallest buildings - Heron Tower on the 38th and 39th floors. Sushisamba's menu features Japanese, Peruvian, and Brazilian dishes alongside their creative signature cocktails. Tuck in, enjoy the view, and transcend to heaven with their gorgeous cocktails.
---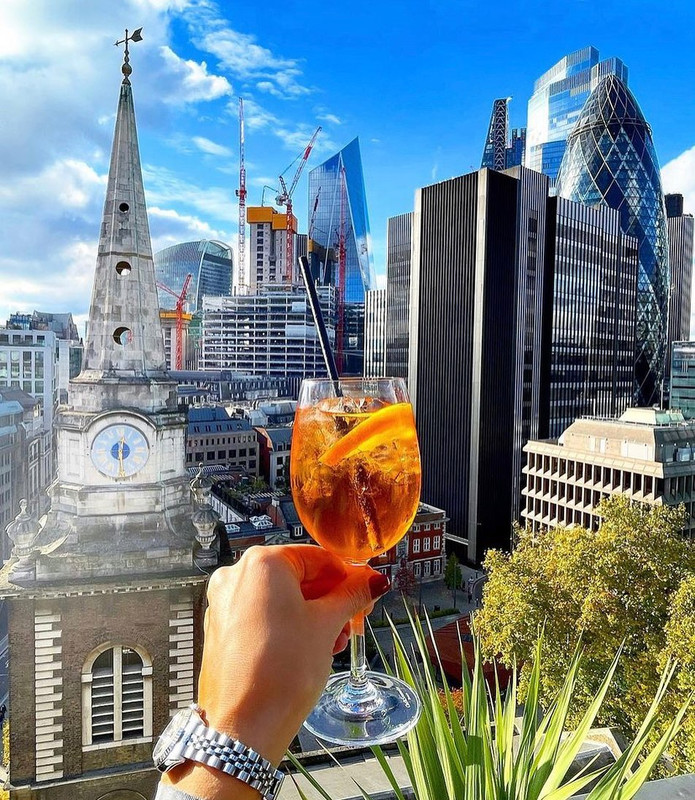 Image credit: Jin Bo Law on Facebook
Definitely one to check out if you're keen to impress or treat yourself, Jin Bo Law does entertainment the sophisticated way. If you're looking for games, head somewhere else. But if DJs and fire performers are your vibe, you're in the right place. Small but effective, Jin Bo Law is perfect for those looking for a night out that leaves an impression.
---
The Nest in Treehouse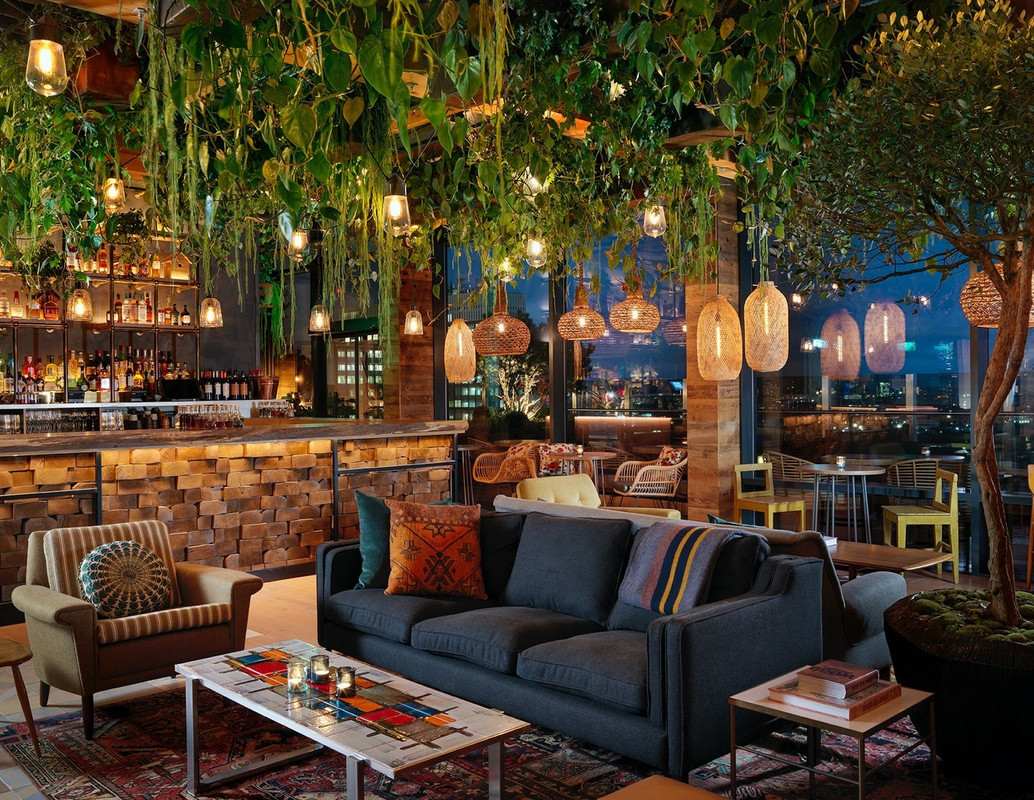 Image credit: The Nest in Treehouse on Facebook
Possibly the cosiest of all London rooftop bars, The Nest in Treehouse is brought together by ceiling greenery, patterned rugs, exposed brickwork on the bar, warm lights, and sofas for relaxing on. This bar also boasts 360-degree views, loungers, and even rooms so you can stay overnight.
---
London Bridge Rooftop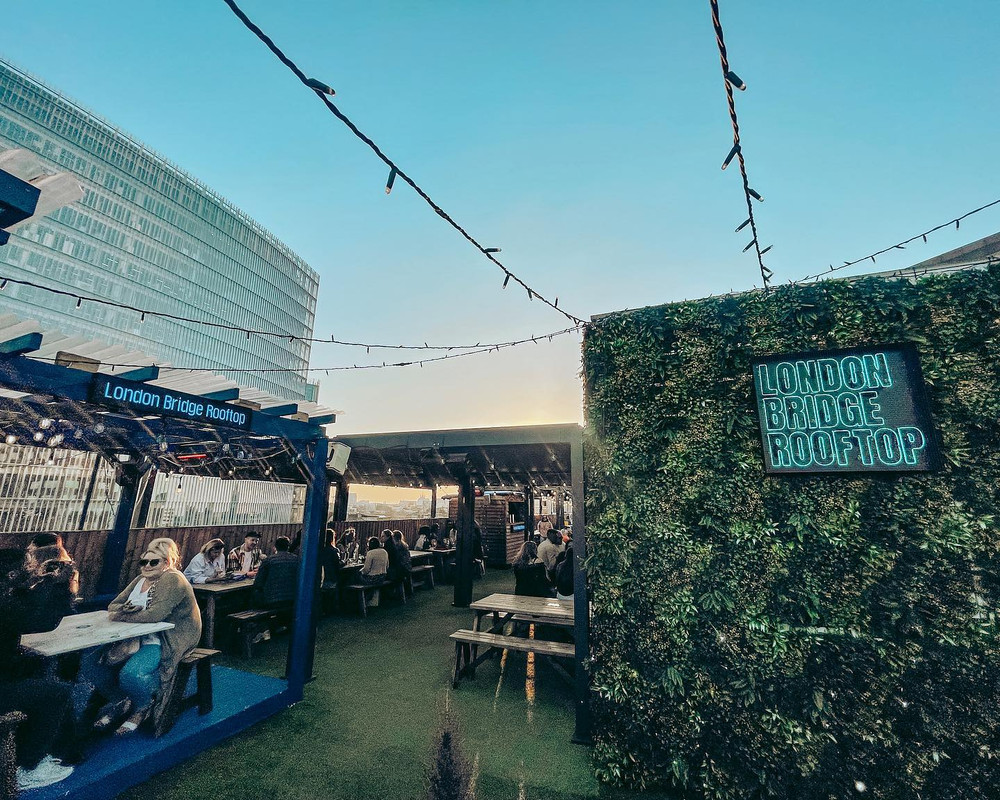 Image credit: London Bridge Rooftop on Facebook
Daily DJs, Spanish grub, a selection of drinks including beer on tap, bubbly, shots, cocktails, and panoramic views. What could possibly make this bar any better? Well, if you needed more, the bar (as you can probably tell by its name) is right next to London Bridge, meaning you get lovely views over the River Thames!
---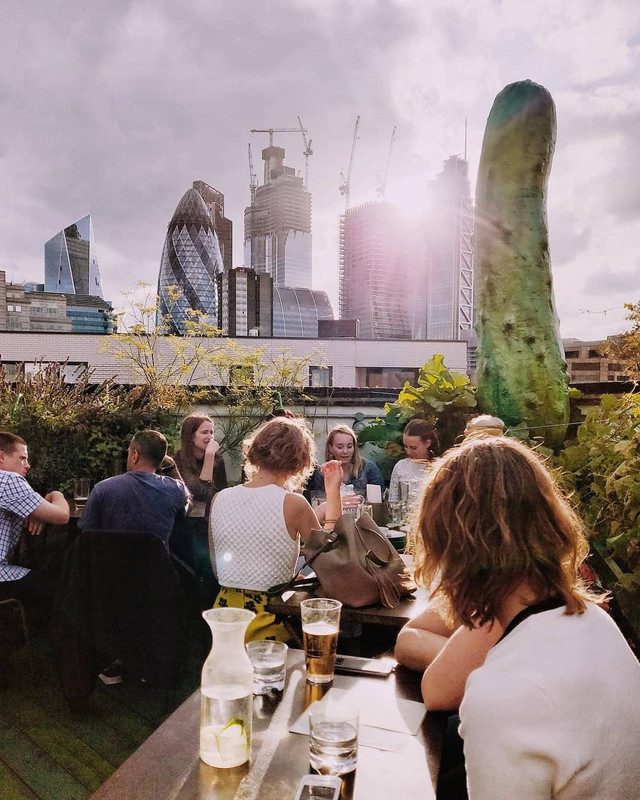 Image credit: The Culpeper on Facebook
The Culpeper really has almost everything you could want it to. First, the venue itself is a pub that serves a variety of drinks, including draught beer, and they serve food that makes your mouth water from the pictures alone. There are lots of plants to make it prettier, they've hosted events on topics such as gardening, and it even has a tiny hotel.
---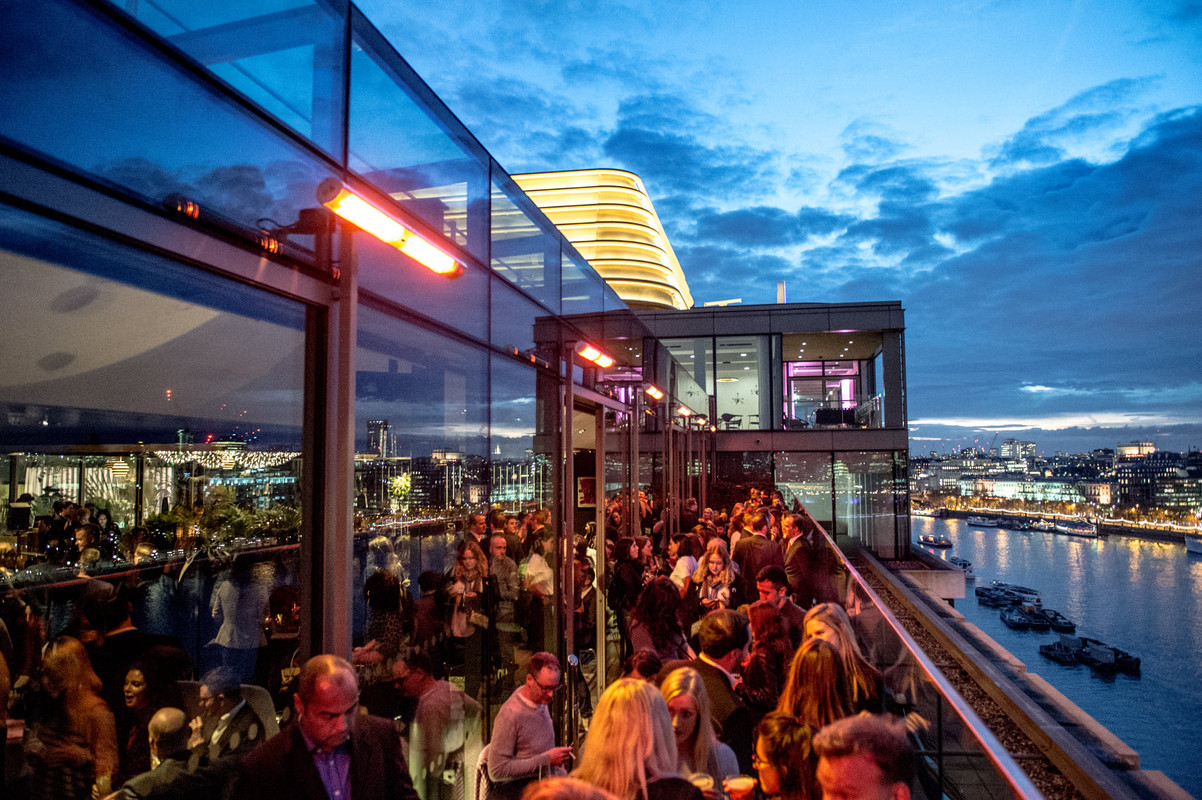 Image credit: Sea Containers London on Facebook
When the sun sets, leaving the sky a deep pink, purple, or orange hue, you obviously don't want to miss any of it. If you can relate, you'll probably agree that 12th Knot is one of the best rooftop bars in London. With floor-to-ceiling windows everywhere, the place will be drenched in colour while you sip tasty cocktails and look over the River Thames from the stylish twelfth floor of Sea Containers.
---
---
Check out our What's On Guide to discover even more rowdy raves and sweaty gigs taking place over the coming weeks and months. For festivals, lifestyle events and more, head on over to our Things To Do page or be inspired by the event selections on our Inspire Me page.