Three lions on a t-shirt. It's coming to the home. Vindaloo. On your head, Bojo etc, etc...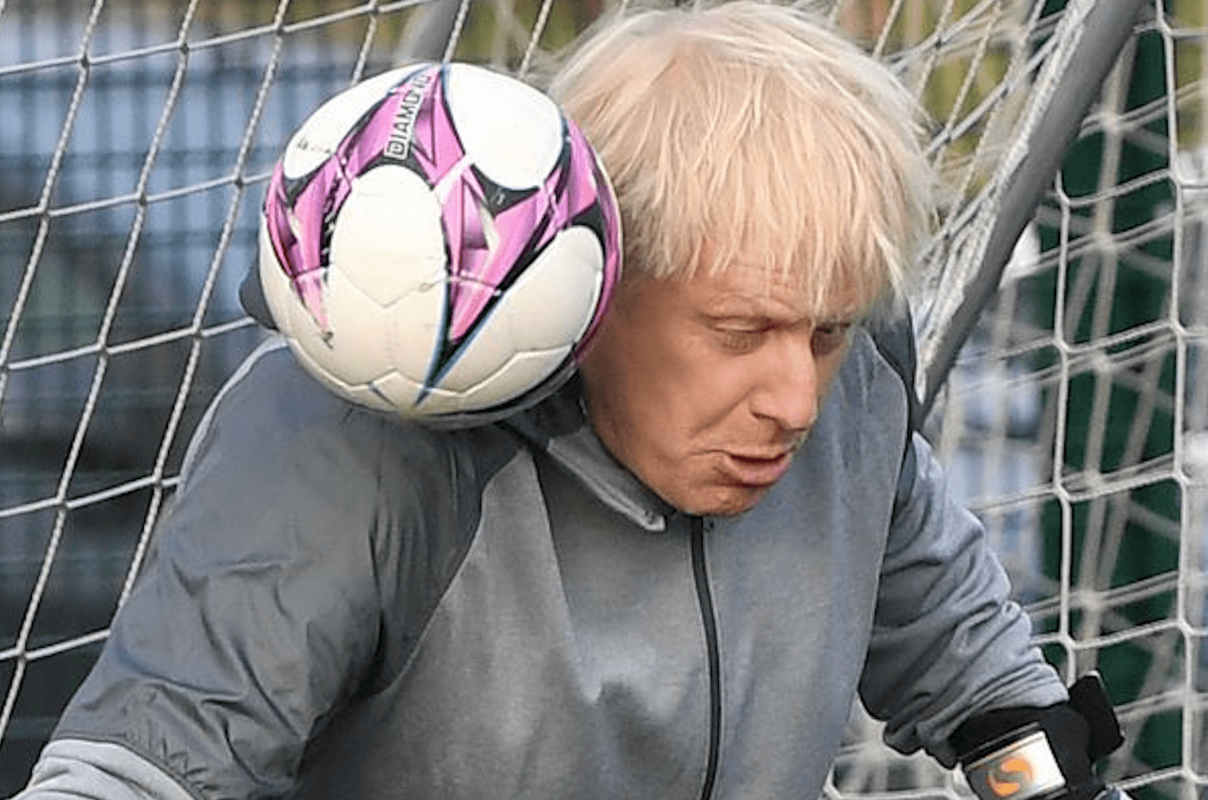 The people of England rejoice as the nation's favourite bunch of men head into the semi-finals of the kicking competition 2021 to face down the mighty Danish men of Denmark. A momentous occasion in soccer ball history, as England appear in a major tournament semi-final for only the third time.
I was fully prepared to start this write-up with "finally, The Alternative Guide to the Euros comes to a close", to gently break it to the people of England that their hopes and dreams of victory had come to an end. But no. Instead, I now have to watch ANOTHER game of kickball. I mean, this is getting out of hand now. When I was first approached about the idea I thought "yeah, that sounds like a bit of fun, pretending I know about soccer and that, make a few jokes, write a couple of blogs, bosh." Instead, I've now had to sit through god knows how many minutes of football, taking notes on the action, feigning interest in the various kicks and laborious chants and for what? For them to bloody end up in the final showdown of the competition. I swear they're doing it to me on purpose, Kane and his mates. Oh, and don't even get me started on how long the semi-final lasted. An additional thirty minutes? Are you having a laugh? It's bad enough that there were nearly seven minutes added on to the standard ninety! Over two hours of my life. Gone.
Anyway, let's get into it.
The first half
I'm back in Charlotte's living room for this game with the usual crowd, only this time, we're joined by one of my favourite humans, Charlotte's Grandad, Brian. And boy did he get things off to a good start by supplying a big bag of Marks and Spencer's chilli crisps; Premium quality, rated three chilli's. Spicy. I'm salivating just thinking about them. Lined up alongside nuts, jelly babies and more crisps, the evening looked set to be a pleasant one.
The first twenty minutes of the game felt intensely long, with very little action taking place. Brian and Oliver (Charlotte's brother) got into a debate about players positions, which I contributed to with the occasional nod. At one point Warren shouted, "back pass, pass back". I think he might be rapping or something...
Nic Cage, sorry, Harry Kane had a go at booting the ball into the goal zone, but he 'scuffed' it way over the net. I think this must have upset him, somewhat, as he didn't really do much else after this for quite some time.
There was a brief kerfuffle near the goal zone of the Englishmen and the tension of the room increased, but once this subsided, we went back to discussing walks and walking boots. I need a new pair, you see.
Disaster struck, not long before the thirty-minute mark. A for-nothing kick was awarded to the Danes, right in front of our point zone. Warren claimed this could be dangerous, and right he was to make such a remark, as the young Danish man (and he really did look young) collided his foot with the ball, sending it on a forward trajectory right into the goal hole. The mood turns sombre, as Brian proclaims, "well that's it then. They may as well get on the bus and go home". Sterling liked the look of this goal-scoring thing, so he tried the same thing at the other end of the pitch, but instead powered the ball into a Danish bloke's face. Must have bloody wrecked, that.
However, shortly before halftime, England managed to bag themselves a point, as the ball bounced off a Danish man's leg right into their own goal zone. Warren leapt to his feet, threw the front door open and screamed "come on!" before sitting down and concentrating on the game once more. This resulted in me crying with laughter, so I guess we all got a little something from that point.
The first half came to a close and the usual intermission took place. I used the loo, got some Daim bar cake, Charlotte made a brew and we all took our seats for the second act of the show.
---
Click or tap on the image below for to find tickets for live screening events of the final of this Euro 2020/21 - England v Italy, this Sunday

---
The second half
The second half resembled the first, in that balls were kicked, men fell on the floor, players shouted things at each other, offside was mentioned a few times (I think I'm starting to understand it) and some players were sent to sit in big comfy chairs at the side of the pitch, as other men came running on to have a go at doing some kicking. One of the said men was Jack Grealish, much to the delight of a large percentage of Wembley Stadium. I think they must all fancy him.
I became exceedingly confused at one point, as Kane was pushed to the floor in the "penalty" area, which usually results in a free go at kicking the ball into the net. Instead of this, Denmark got another for-nothing kick. I genuinely have no idea what took place here and I feel as though this has set back my knowledge of the game somewhat, just as I thought I was getting to grips with it.
The game drew to its ninety minute close (more like ninety-seven, bloody joke) with a few more attempts at the goal zone from the England boys, one of which was an attempt from Philips. Brian said he forgave him for missing, but then followed up by saying "I could have done better than that." I don't even doubt him, to be honest.
This is the point at which I become especially angry. Not only did I never receive a response regarding my complaint of this adding extra time nonsense, they now rub it in my face entirely by adding a whole thirty minutes to the game. I'm told this is what happens in the event of a tie, but I think this was just to irritate me. I was fuming. This half an hour is then split into two fifteen minute halves with a slight pause in between. Unbelievable.
Extra time
The first fifteen minutes saw Sterling "tackled" in the penalty area, but again, I'm not really sure why this was the case, as he just seemed to fall over, but either way, this finally gave England what they were looking for; a chance at kicking the ball into the goal zone with no-one blocking it, often referred to as a penalty. And what do you know, it went in the bloody netted area. The room goes crazy, Warren runs outside, Buster jumps up and down barking and I ate some spicy crisps. Oh, the excitement.
Nothing much else happened after that really, they just sort of slowly passed the ball about for a bit and then the game ended. I mean, what else can I write? I've covered it all now, surely? How do these sports journalists do it?
In all seriousness, it was quite tense and exciting, and just seeing how happy it made everyone was the most enjoyable part of the evening for me. I'm just a bit upset that I now need to write another damn blog post. If you have any jokes I could use, please get in touch. I'll even credit you.
England are now in the final against the Italian men of Italy. Who will win? What flavour crisps will Brian bring to the table? Can I really string together another one of these write-ups? Tune in next time to find out.
---
---
Do you want to watch the Lions make history and bring football home this Sunday? Then check out our Euro 2020/21 Inspire Me page and grab yourself a ticket for one of the many live screening events happening across the UK! Hurry - tickets are in high demand!
Football not really your bag? We've got hundreds, if not thousands of live gig listings, club events, festivals and more! With many set to take place in the coming weeks and months, now is the perfect time to start planning your summer! Head to Live Page, our Club's page or use our Festival Finder Tool to find your perfect event.