Panic in the streets, outrage across the nation, a general feeling of terror has swept across the UK. People are lost, bewildered, scared, left without purpose, wondering when life will return to normal…
Cries can be heard for miles screaming, "What has happened to The Alternative Guide to the Euros!"
But fear no more, dear non-soccer loving friends, for I have returned from my holiday in Northumberland, rejuvenated and ready once more to bring you up to speed with how the Englishmen of England have been getting on in that ball-kicking competition thing I've been writing about.
That's right, even on my holiday, a time to relax, unwind and enjoy the finer things in life, I still sat and watched one-hundred and eighty minutes of soccerball. You're probably thinking "oh Jonny, you do too much! Have a day off". To you, I say, NO! The people need to hear how the kicking has been proceeding, and I'm obviously the only man fit for the job. Normal service resumes from this moment forth. It's coming to my house… The soccer, that is…
When last we spoke, the English folk had just beaten the Czech Republic in a very uninteresting display of ball kicking action and I ate a really nice burger and won a tenner off Liam (still to receive payment of said tenner). This lined Sterling and crew up for a showdown with the Germans of Germany; a game which I was told time and time again would spell the end of England at the Euros. I'd hoped I could stop trying to come up with jokes to write on these blogs (and let's face it, I ran out of them about three games ago). However, as I'm sure you've already been made aware by the sheer number of flags flying from people's living room windows, the English soccer men remain in the competition…
England v Germany
As I've already mentioned, I've been on my jollies in Northumberland, which was bloody lovely, thanks for asking. We had booked the holiday to celebrate my brother's 30th birthday, the very same brother that I very confidently bet a tenner with that Germany would knock England out of the competition. Not to get ahead of myself, but I miss that tenner greatly.
So what happened in this game? Well, a German man that resembled Ringo Star scratched his arse, picked his nose and then proceeded to eat it on camera, Harry Kane decided to have a go at playing football for the first time in the competition (does that sound like I know what I'm talking about?), I ate some really good chips and curry sauce, Walker ran really fast and I said "never mind Walker, he should be called 'Runner'", which no one laughed at, and Sterling scored a goal which made my brother, his girlfriend and my Dad all shout really loud, which made my little sausage dog, Lulu, very scared. All in all, I'd call this an action-packed game.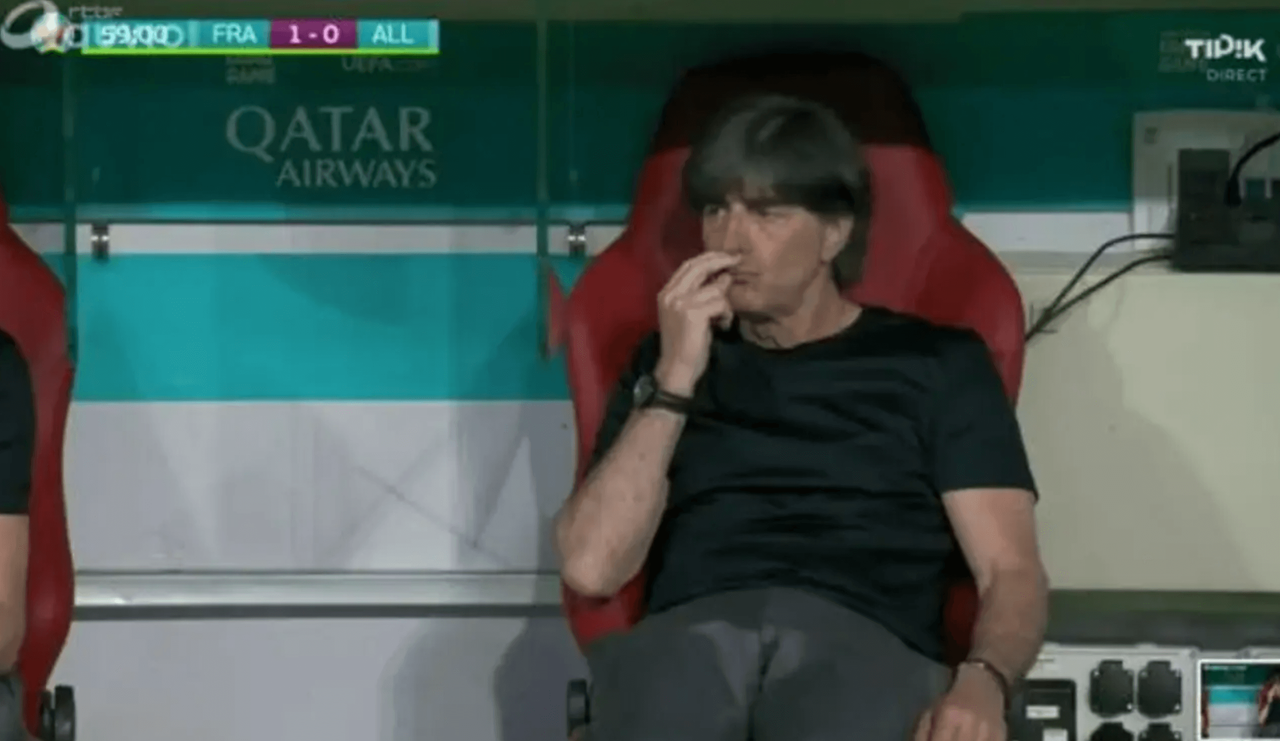 Image credit: Twitter
At one point, while I was looking out of the window to try and find out what Lulu was barking at, I heard the commentator say "Wherever you are watching, take long deep breaths." This impromptu meditation session was absolutely wonderful, definitely a highlight of the game!
But to be honest, despite my best efforts to make it sound absolutely thrilling, it really wasn't that exciting. I had to even drop the facade at one point and exclaim "I remember now why I don't like football". The first 45 minutes of the game was like visiting a paint drying museum, where… Wait, I've done that one before haven't I?
I really have tried to get into the spirit of it, since I'm watching more soccerball than I have in my life, but try as I might, the ball kicking just doesn't excite me. But alas, I shall continue soldier on for the people of our fair nation. Those who rely on me and this guide to keep up to date with the kicking competition.
Anyway, England won the game, 2 points to 0. This came as a lovely surprise to all who are English and care. The camera focussed on a young German girl crying in the crowd, which really brought out the best in the people of England as they took to social media to ridicule a child. That'll show her! I solemnly handed over the £10 note to my brother, with a salty tear in my eye. Granted, I found the tenner on the street earlier that day, but still.
---
Click or tap on the image below for live screening events of this years remaining UEFA Euro Championship games...

---
Next up…
England v Ukraine
My initial thoughts as I switched over to BBC One from a repeat of Ramsay's Kitchen Nightmares were "Here we go again, another ninety minutes of my life I'll never get back". But how wrong I was! This game included not one, not two, not three, but four whole goal points! All of them for the English boys of England!
The first goal came from Mr Kane himself, just over three minutes into the game. I believe it was a good goal, but something much more important happened at that moment: I finally realised who Harry Kane looks like; Nicolas Cage.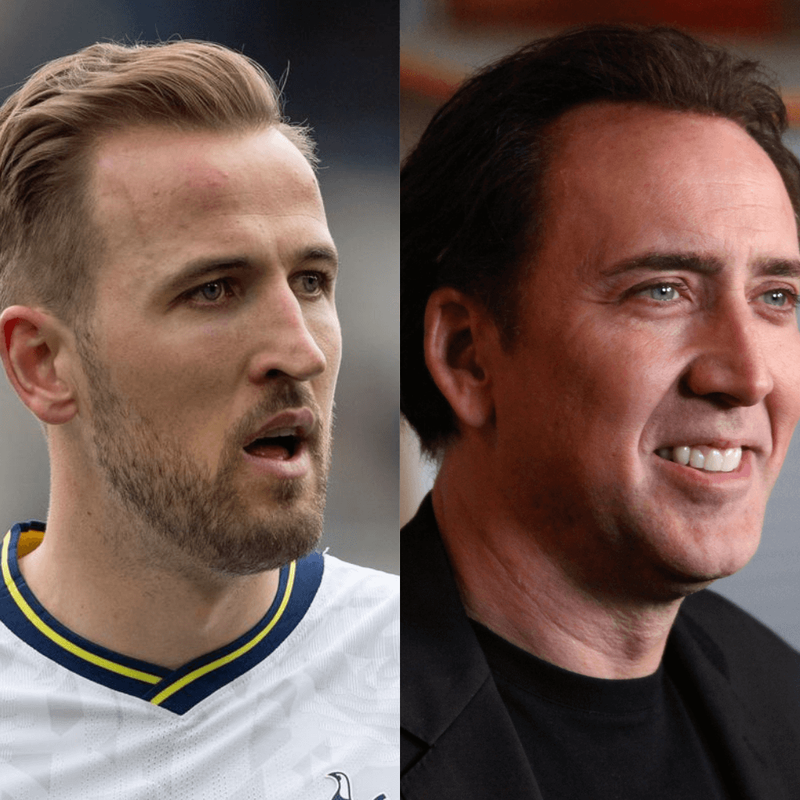 I'll be honest, the resemblance was far more uncanny in my head…
Moving swiftly on, let's go over some highlights of the game; Sterling stood on a bloke's foot, which I thought was a bit mean, Maguire had a row with a bloke from the Ukraine who tried to help him to his feet, but then they patted each other on the back at half time, so it's all good. A second goal happened just after halftime, a third goal happened after the ball hit Kane on the forehead and a fourth goal happened from a bloke called Henderson; another one of those head kick things. You may have also noticed that I'm using players names now instead of various numbers. Picked them up recently, which should help greatly when someone asks me "who kicked the ball, then?".
I've got to say, all joking aside, I was genuinely quite impressed with this particular showdown. The kicks and head kicks were exciting, the English goalkeeping man (I've forgotten his name now) did a wonderful job of stopping balls from going into his goal-scoring area and I don't think I yawned once throughout the whole game, which is definitely a first! Oh yes, and they didn't add any extra minutes to it! They told us it would be ninety minutes and they delivered, so I can't fault them, since I've grown very tired of the previous games' false advertising of a running time of ninety minutes. Good job, Englishmen. I'm proud of you.
And so here we are. The semi-finals of the Euros 2021 (the year is 2021, don't give me any of this 2020 nonsense). England have maintained a 'clean sheet', whatever that means, they've knocked out Germany, which I was told would never happen (frankly, the people who told me this owe me a tenner) and Harry Kane has finally decided to join in with the football, rather than just going for a nice stroll around the pitch with his kit on.
Tonight, we see the Englishmen go against the Danes of Denmark in the second semi-final showdown. Who will win? Tune into the next Alternative Guide to find out… Or you could just watch it, but I probably wouldn't recommend that. There's no point in both of us having to sit through it. And besides, these write-ups cover all the important bits, anyway.
---
---
Looking for somewhere to watch the England team make the Euro finals for the very first time? Check out the Euro 2020/21 Inspire Me Page and book yourself a ticket to a live screening event before it's too late!
If football isn't quite your cup of tea, take a look at our Festival Finder Tool. Don't be shy, you might just find the perfect event to attend this summer!