Richie Hawtin, Nina Kraviz, Green Velvet, Charlotte De Witte, Derrick Carter and more of electronic music's biggest names have been confirmed for Terminal V's Easter weekend 2021.
The newly expanded two-day event will see a return to The Royal Highland Centre just outside of Edinburgh on Saturday 3rd and Sunday 4th April.
All of the acts confirmed for 2020's postponed event - including the likes of Eats Everything, Ben UFO, Floorplan, Solardo and Honey Dijon - will be carried over into 2021, with some new additions including Sven Vath, Alan Fitzpatrick and Haai.
Spread across five "expertly produced" stages, the team behind Scotland's largest electronic music festival say they plan to announce a further 25 names later this year.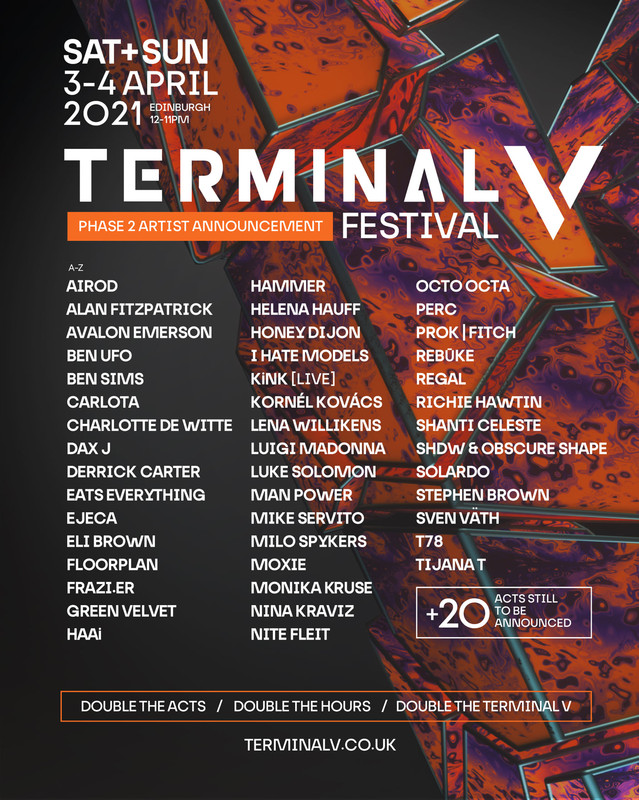 Right now the impressive A-Z looks like this: AIROD - ALAN FITZPATRICK - AVALON EMERSON - BEN SIMS - BEN UFO - CARLOTTA - CHARLOTTE DE WITTE - DAX J - DERRICK CARTER - EATS EVERYTHING - EJECA - ELI BROWN - FLOORPLAN - FRAZI.ER - GREEN VELVET - HAAI - HAMMER - HELENA HAUFF - HONEY DIJON - I HATE MODELS - KINK (live) - KORNEL KOVACS - LENA WILIKENS - LUIGI MADONNA - LUKE SOLOMUN - MAN POWER - MIKE SERVITO - MILO SPYKERS - MOXIE - NINA KRAVIZ - NITE FLEIT - OCTO OCTA - PERC - PROK | FITCH - REBUKE - REGAL - RICHIE HAWTIN - SHANTI CELESTE - SHDW & OBSCURE SHAPE - SOLARDO - STEPHEN BROWN - SVEN VATH - T78 - TIJANA T.
Organisers say ticket buyers can also be safe in the knowledge that should the Easter 2021 event be cancelled, they can automatically transfer tickets to a new date or claim a refund.
Main image: Hannah Metcalfe
Tickets for Terminal V Easter 2021, The Royal Highland Centre Edinburgh, Saturday 3rd - Sunday 4th April, can be purchased below:
Tickets are no longer available for this event