Festivals aren't all about muddy fields, sleeping where you pass out, and waking up with the burning heat of the sun beaming down on your tent, hung over, dehydrated, and totally uncomfortable. That can be part of what makes a festival fun, but there are other, more pleasurable options on offer.

Many festival sites are now featuring a whole range of alternative types of accommodation, from caravans to posh yurts, chalets to campervans, VIP camping areas and even on site apartments.
Check out some of the many accommodation options available at festivals this year, below...
Image: campervanhire.com
We cannot think of a more stylish way to arrive at a festival than in your very own Campervan. With no time needed to pitch a tent or bang pegs into unyielding round, but with the possibility of lying in a comfortable bed whilst being able to cook your breakfast (without even leaving it), this is one of the most attractive temporary living options available.

Some of the many festivals that welcome Campervans include Scotland's Knockengorroch Festival, Latitude Festival, Kendal Calling Festival, Cloud Spotting Music and Arts Festival in Lancashire, Boomtown Fair, Arctangent and the legendary Isle of Wight Festival.
For the ultimate in luxury at a festival this year, you can't do much better than turning up and being escorted to your very own chalet for the weekend. With pretty much all of the hassles taken out of the festival experience, all you have to worry about is how to smuggle your chilled alcohol into the main arenas.

Festivals that feature chalet options include the likes of rock and metal Valhalla Download Festival, Annie Mac's Lost & Found in Malta and Defected, Suncebeat, and Fresh Island Festival in Croatia.


Check out our Festival Finder to find more events offering apartments and chalets this coming festival season.
For many festival goers, the camping experience is just as important as the entertainment on offer. However, there are those of us, usually the older festival demographic, that would prefer a more comfortable option. One that offers exclusive toilet facilities, a ready built tent and some other home amenities to make the whole experience a more enjoyable one, without losing that special campsite vibe.
Huzzah! The perfect remedy has been found. If you've got the funds to play with, pre-assembled Yurts and Tipis might be worth a look. Devised by clever festival planners, these luxury lodgings come complete with their own air beds, tables and chairs, and are housed within their own private area, with access to VIP loos and showers. When we think about it, it's hard to argue the reasons not to go luxury this year.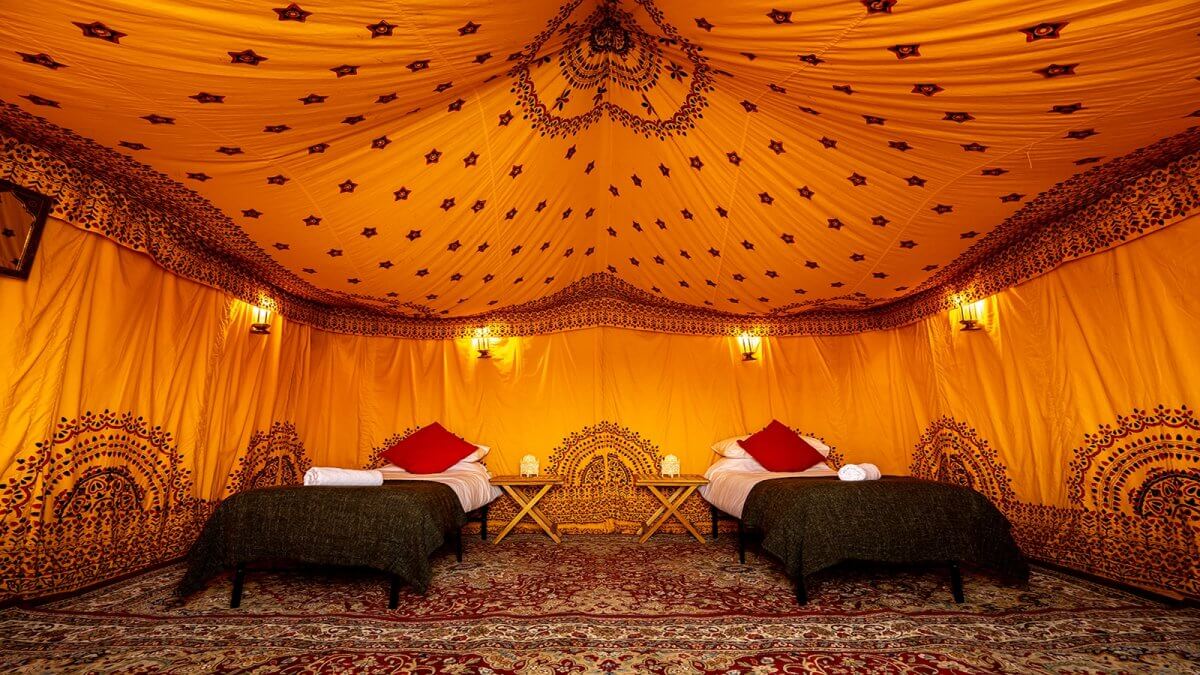 Image: Bluedot Festival
One of our favourite festivals - Bluedot Festival, based at the foot of the stunning Jodrell Bank Observatory in Cheshire, features such luxury options (see image above), along with a whole host of other VIP accommodation types - from private geodomes to a cosy two-sleep pod pads, Bedouin's, Bell tents and even 8 birth party tents.
Other festivals offering luxury and VIP camping include Cumbria's finest Kendal Calling, hard rock and metal head fest Download Festival, as well as The Weekender Festival and Belladrum Tartan Heart Festival in Inverness.
For more festivals with luxurious camping options use our Festival Finder.
It's widely known that we, the UK, are a nation of caravan lovers. Given the opportunity, we love nothing more than heading out on the road in search of adventure at the weekends and on bank holidays, with our nearest and dearest, and potable homes in tow.
It's therefore unsurprising then, that a growing number of festivals are welcoming Caravans onto their grounds. For ease and comfort, and with the added bonus of bringing your mobile home with you, caravanning is becoming an essential part of the festival experience.
Festivals that offer Caravan areas include Stockport's super cool and laid back Moovin' Festival, Bearded Theory's Spring Gathering in Derbyshire, eclectic holiday experience Weyfest, Solfest, and Beat-herder. There are so many more to choose from, just go to our Festival Finder and have a browse.

With so many ways to stay over at festivals this summer, the choice is really yours. Just search for what you want to experience at your choice of festival this season, from accommodation to location, from the dates you want to go to bands you want to see, and let our unique Festival Finder do the rest.