Have you been thinking about taking up a new hobby? About finding a way to express yourself and indulge your creative side? Or maybe you want to improve the skills you already have? Let us introduce you to Music Worldwide Summer Camp.
Created by the founder of Drum Camp, this camp is set to host over 84 mixed-ability workshops on percussion instruments including Xylophone, Bendir, Udu, Kora, Darbuka, Djembe, Sabar, Hang, Native American Frame drum, and more stunning instruments from across the globe. So whether you're an absolute beginner or drumming master, there'll be workshops for your ability!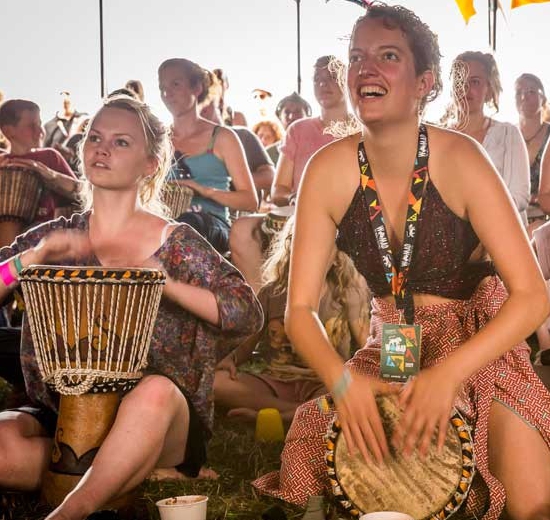 Then, you can head to the Jam Tent for community music making or perform at the open mic in the Lunar Stretch Tent bar.
There'll be instrument and artisan trade stalls open over the weekend, and each evening will end with a big central fire for jam sessions beneath the stars.
Expanding their offering further, alongside instrument workshops, there'll be lessons in African, Brazilian, and Arabic dance along with Tai Chi and morning sound baths.
For when you get peckish, street food vendors will be on hand to offer delicious world food options, or you can opt for self-catering.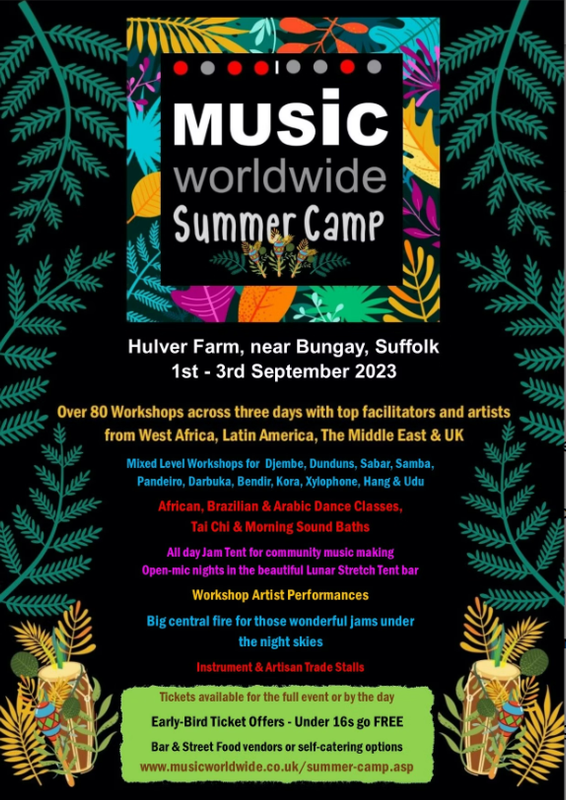 The Music Worldwide Summer Camp is a camping event that runs from Friday 1st - Sunday 3rd September 2023 at Hulver Farm in Bungay. Under 16s go free, you can camp in a tent, live-in vehicle, or caravan for free, and you can choose to attend for the entire weekend or secure day tickets.
With top artists and facilitators from the UK, Middle East, Cuba, West Africa, and Latin America running the workshops, the camp is a fantastic way to connect, explore other cultures, and come together over a shared love of music, art, dance, and culture.
---
Check out our What's On Guide to discover more rowdy raves and sweaty gigs taking place over the coming weeks and months. For festivals, lifestyle events and more, head on over to our Things To Do page or be inspired by the event selections on our Inspire Me page.


Header image credit: Music Worldwide / Facebook.com
Tickets are no longer available for this event