Greg Wilson, Hacienda DJ, the godfather of electro-funk, writer, dance music expert and so much more, brings his Discotheque Archives to Stoke, kicking off with a book launch and talk followed by a club night with Wilson and three huge local DJ legends at The Underground in Stoke-on-Trent on Saturday 7th October 2023. Secure your tickets now!
This super special two-part event will have die-hard music fans stuck with a Cheshire Cat-style grin across their faces as Wilson launches his book that details the "pre-rave" era, followed by a talk with Colin Curtis and Trevor M hosted by Lee Fredericks. To close, a huge party. Let's take a look at who's providing the tunes for the club night…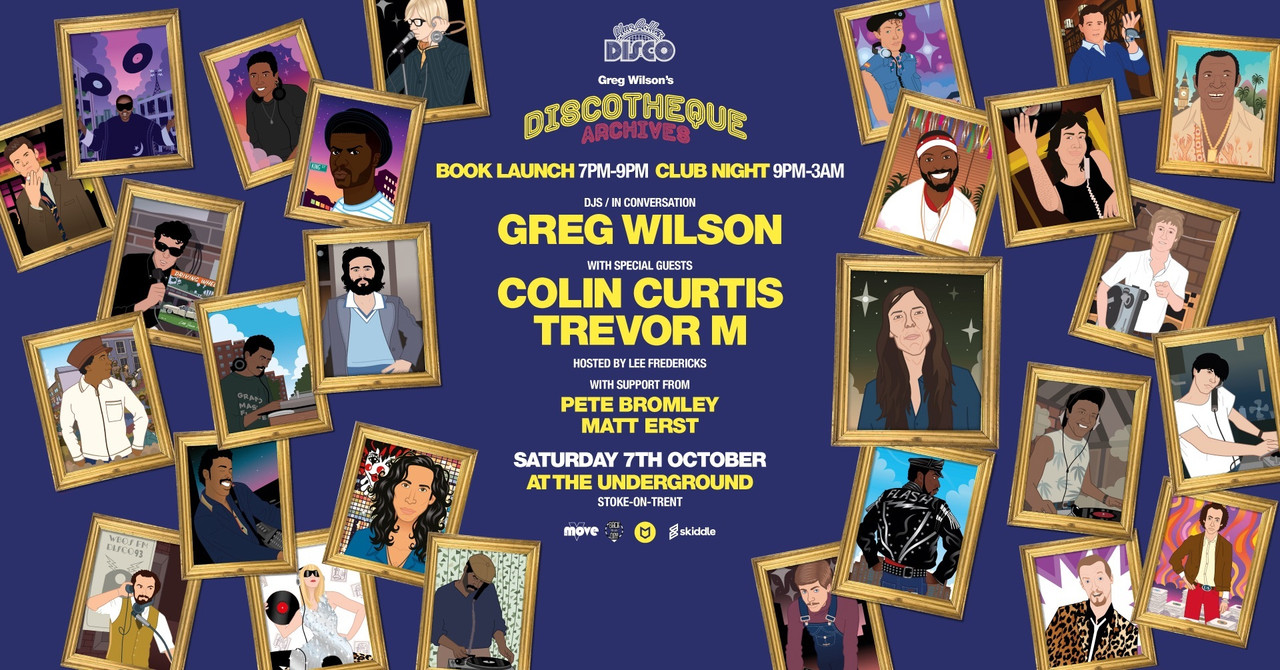 One of the names joining Wilson is the truly legendary Colin Curtis. As well as inspiring Wilson, Curtis pioneered multiple scenes as well as taking residencies at some of the biggest clubs up and down the UK. Always championing black music including disco, funk, soul, house, and much more, it only makes sense Curtis introduces the crowd to the many stunning genres he's pioneered over the years.
Pete Bromley will also be joining, a true legend in Stoke-on-Trent in house music who's played just about every big club in the city over the past three decades. He was the first to perform at the iconic Shelley's in 1988 and is widely regarded as Stoke's best house disc jockey.
As if the lineup wasn't already on fire, Trevor M, a huge part of the scene in the midlands in the late 70s and 80s, who became one of the most influential black music DJs also based in Stoke, is set to perform. Disco aficionado Matt Erst completes the bill with his atypical mixing style that effortlessly dives in and out of different genres.
Secure your tickets for Blue Collar Disco Presents Greg Wilson's Discotheque Archives now at the bottom of this page for a thrilling evening of music by Stoke's greatest and an introduction to Wilson's pre-rave era book.
---
Check out our What's On Guide to discover more rowdy raves and sweaty gigs taking place over the coming weeks and months. For festivals, lifestyle events and more, head on over to our Things To Do page or be inspired by the event selections on our Inspire Me page.


Header image credit: Greg Wilson / Facebook.com
Tickets are no longer available for this event