Back by popular demand, oldskool party starters MC Evenson Allen and The Lipmaster Mark, aka Ratpack, will once again head up proceedings at popular online Nightclub - Zoom Dance.
Taking place on Saturday 30th January 2021, the virtual 'Pyjama Party' rave experience will see the infamous pair performing a carefully curated headline set, containing a naughty selection of retro rave classics - including Ratpack bangers 'Searchin' For My Rizla' and 'Captain Of The Ship'.
Image credit: The Ratpack

Regarded by many as the very first MC/DJ team to emerge from the illegal warehouse rave scene back in the '80s, the sought-after duo have since taken their sound worldwide, entertaining huge audiences at some of the biggest events and festivals on the dance music calendar - such as Manchester's The Warehouse Project and the legendary Glastonbury Festival.
Ratpack will be joined on the upcoming events lineup by a handful of respected drum n bass legends and emerging DJ talents. Amongst them, one of the scene's original pioneers and a pivotal figurehead of the genre - DJ Nicky Blackmarket, who is set to appear at the virtual venue alongside fellow drum n bass head, Sub Zero and junglist - Ray Keith.
Other artists to feature on the bill include Jamie D, Crucial, Ben Phillips, Noelsie, Darren Harvey, Ellie Cole, Collusion, E-Lisa and Dizzy.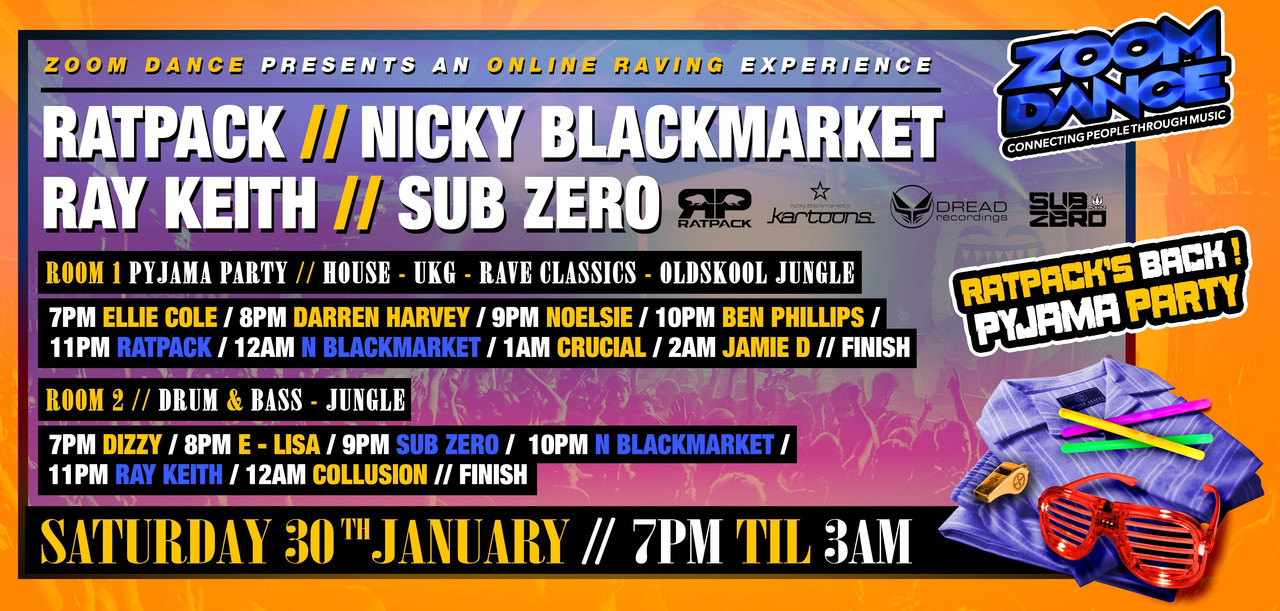 Image credit: Zoom Dance
Split across multiple virtual rooms, the online event will consist of some brand new interactive features. In addition to the main room, where ticket holders can expect 8 hours of non-stop heavy hitting tracks covering UK Garage, house, oldskool jungle and drum n bass, punters will also be able to be access a 'Smoking Area' and a 'Back Stage Area'.
The Smoking Area, as per the real, non-socially distanced world, offers ravers a quiet space to take a break from the music, to converse over camera with friends and up to 1,000 other dance music fans from across the globe, via the interactive chatroom. The Back Stage Area allows fans to connect, ask questions and hang out with their favourite artists performing at the event, in real time.
There's also a semi-strict dress code, as you may now have gathered, with the events organisers encouraging attendees to don their very best night time attire. Sporting the most exceptional set of Pyjama's on the night could win you £50. Result!
Sounds good? Here's what you need to do to get involved...
- Download the Zoom app, it's very simple to use and can be downloaded for free
- Get yourself a ticket - You'll receive an email with a link to the event ten minutes prior to the start time. Alternatively, you'll receive a link in confirmation once the event is live. The admin/virtual bouncers will have a list of people that have purchased tickets and will not allow entry for anyone not on the list
- You'll be placed in a waiting room whilst the bouncers check your details. Enter the event using your first and surnames
- You will hear a live feed of the DJ performing as you enter the event. Using the Zoom app features, you can use the chat room, set up your camera and rave, or simply watch others dancing in their PJ's
- Live technical support will be available to help with issues entering the event, via the Zoom website
Camera shy? No need to worry. You can to choose to let loose and dance with the rest of them or disable your camera and watch the spectacle unfold!
Don't miss your chance to experience Zoom Dance's 'Pyjama Party' online rave. Purchase your tickets below...
Ticket waiting list for Ratpack, Nicky Blackmarket, Ray Keith, Sub Zero! Zoom Dance.
Tickets you want not available? We know it's frustrating, but don't worry we've got your back. Join the waiting list below and we'll reserve you tickets if they become available.