It's no secret that the events industry has been hit quite hard by the COVID-19 pandemic, being the "first to close, last to open". With this in mind, Skiddle have proudly put together a free two-day conference that is dedicated to getting the events industry back on its feet.
Supporting those who are looking to break into events and current promoters who are looking to maximise their reach. Below, there are further details on the 11 vital conversations that will be hosted between the 27th and 28th of May, all online and all for free!
---
How have events shifted during COVID?
When: Thursday 27th May 10- 10:45 AM
Join our panel of experts, including Jorge Meehan and Brian Murphy, part of the team behind the highly successful Social Avenue in Manchester. Michael Kill, the CEO of the Night Time Industries Association and Skiddle's Head of New Business Duncan King to discuss how COVID has changed the way we view events, and how this could impact the future post-COVID. These are some of the most burning questions surrounding the industry at the moment and key insight will be provided as to where we may stand over the next year and beyond.
To get an insight into how COVID has affected the industry, book your place here:
-
---
Running an event from start to finish
When: Thursday 27th May 11- 11:45 AM
This is where you want to be if you would like to see seasoned event promoters cover all the basics and top tips on how to see your event through to the end. On hand to prevent you from getting caught out are Brian Murphy and Jorge Meehan from JBM who host events all across the UK. Will Cranny is a Liverpool based event promoter who has been running events since as early as 15 and Andrew Hill will also be attending, having been running events in Liverpool and London for over a decade.
To get the chance to see how to run a successful event, book your place here:
-
---
How to break into event management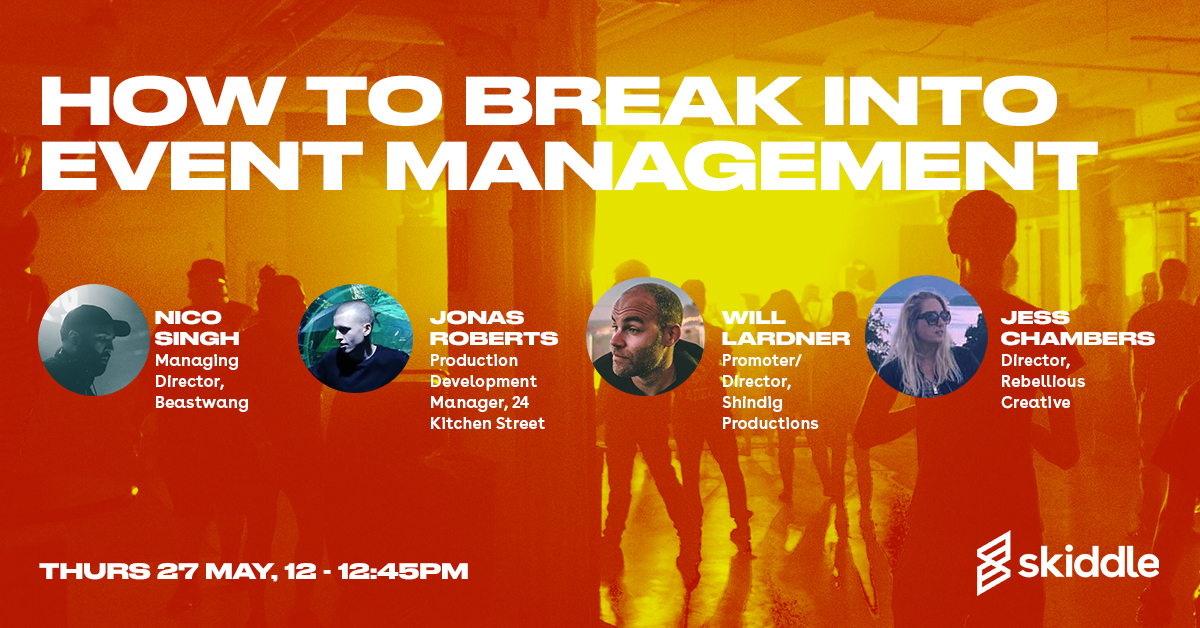 When: Thursday 27th May 12- 12:45 PM
On this panel, all things event management will be discussed by Nico Singh, Jonas Roberts, Will Lardner and Jess Chambers. Nico has been building up the dance music scene in Leicester since 2012 and his promotion company now spans multiple genres. Jonas is the Production & Development Manager at 24 Kitchen Street in Liverpool and Festival Manager for Baltic Weekender. Will is an award-winning promoter and consultant to the UK events industry. Jess is the Director of Rebellious Creative, an event management & consultancy company, and has worked on large scale events for 10+ years.
It's quite the experienced panel to take you through all queries regarding event management. Book your place here:
-
---
How festival bookers manage big personalities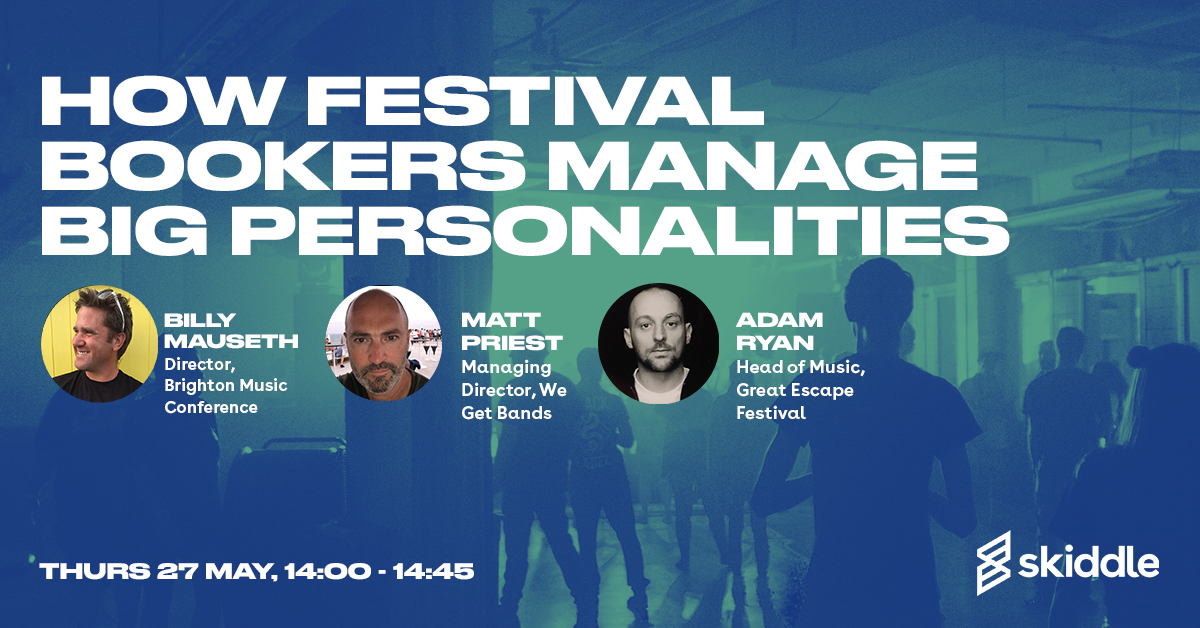 When: Thursday 27th May 2- 2:45 PM
This is all about dealing with the bigger names in the industry and the guest speakers are appropriately well versed in creating amazing line-ups. The experienced bookers that will be holding the conversation are Billy Mauseth, the Director of Brighton Music Conference, board member of the NTIA and Head of the Electronic Music Department at Waterbear College, who has organised events all over Europe. Music Talent Booker Matt Priest produces line-ups for Highest Point Festival, The Big Feastival and lots more. Adam Ryan, who is the Head of Music for The Great Escape, the biggest new music conference in Europe will also be chatting.
To hear how they manage to pull off the big line-ups book your place here:
-
---
Mental health in the live music industry
When: Thursday 27th May 4- 4:45 PM
In partnership with Music Support, we're bringing together a panel of promoters to discuss how they've looked after their mental health during COVID and how things are looking for them since the unveiling of the UK's roadmap. Laila McKenzie (Author, Lady of the House), Sally Anne Gross (Programme Director and Principal Lecturer, MA Music Business Management), Andy Franks (Co-Founder, Music Support) and Ellie Talebian (Broadcaster and Consultant) will be joined by Business Psychologist Elissa Makris to discuss strategies that can help you and your mental health regardless of industry.
You can book your place for this important discussion here:
-
---
How to promote your event with Skiddle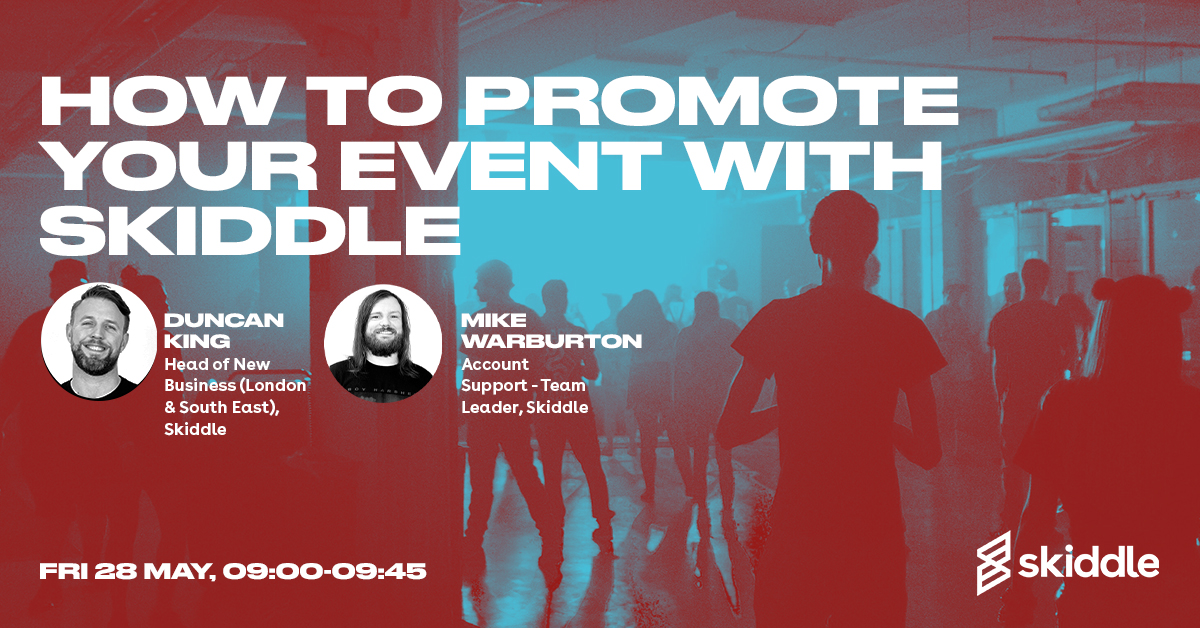 When: Friday 28th May 9- 9:45 AM
To kick off the Friday, Skiddle's own Account Support Team Leader Mike Warburton will be in discussion with Skiddle Head of Business for London and South East Duncan King. Skiddle is currently the UK's biggest What's On guide, offering a free facility for event promoters across the UK. We currently work with over 35,000 UK and European promoters at over 30,000 venues. Join this panel to hear about case studies and how Skiddle can help maximise your sales.
You can book your place for this one here:
-
---
Essentials of festival insurance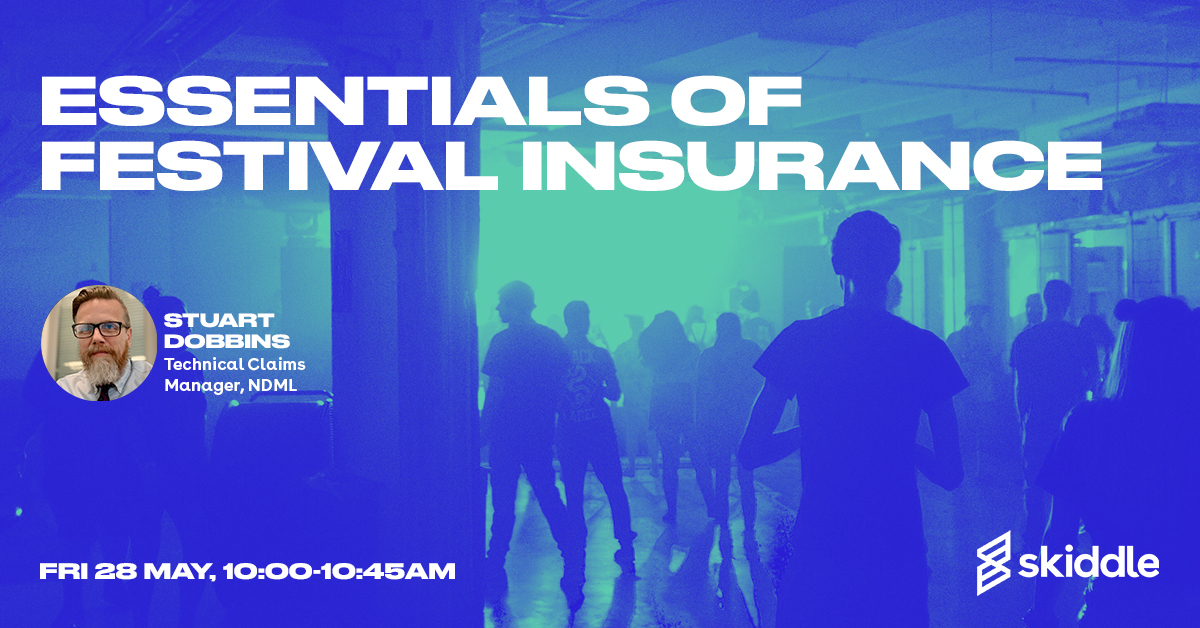 When: Friday 28th May 10- 10:45 AM
On this panel, we will be discussing one of the essentials of setting up your own festival, insurance. Joined by Stuart Dobbins, Technical Claims Manager of Insurance Broker NDML, he'll be taking you through how vital this is and why it should not easily be overlooked. With over 20 years of experience, Stuart has a vast portfolio.
You can see how important festival insurance is by booking your place at this panel here:
-
---
How to secure a brand partner for your event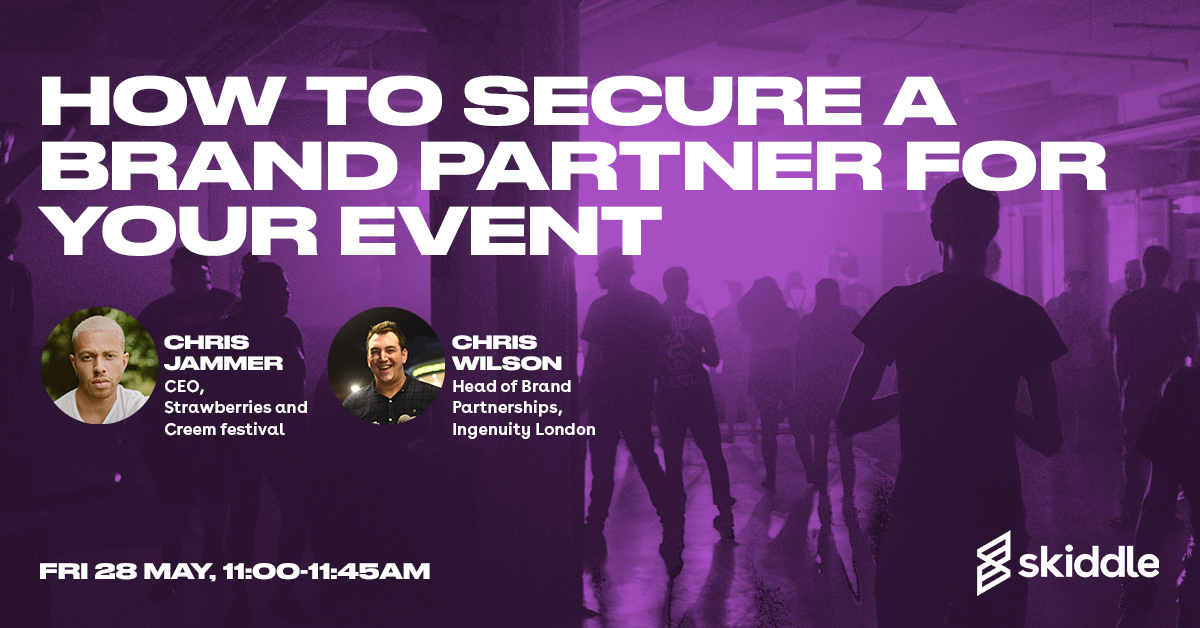 When: Friday 28th May 11- 11:45 AM
In conversation will be Chris Wilson, Head of Brand Partnerships at Ingenuity London and Chris Jammer the CEO of Strawberries and Creem Festival. They'll be taking a look at how vital brand partnerships are in any event, how they allow you to maximise your reach and create long-term partnerships. They will be spilling the secrets of how to secure a partner for your event.
If this sounds like something you'd be interested in hearing about then book your place here:
-
---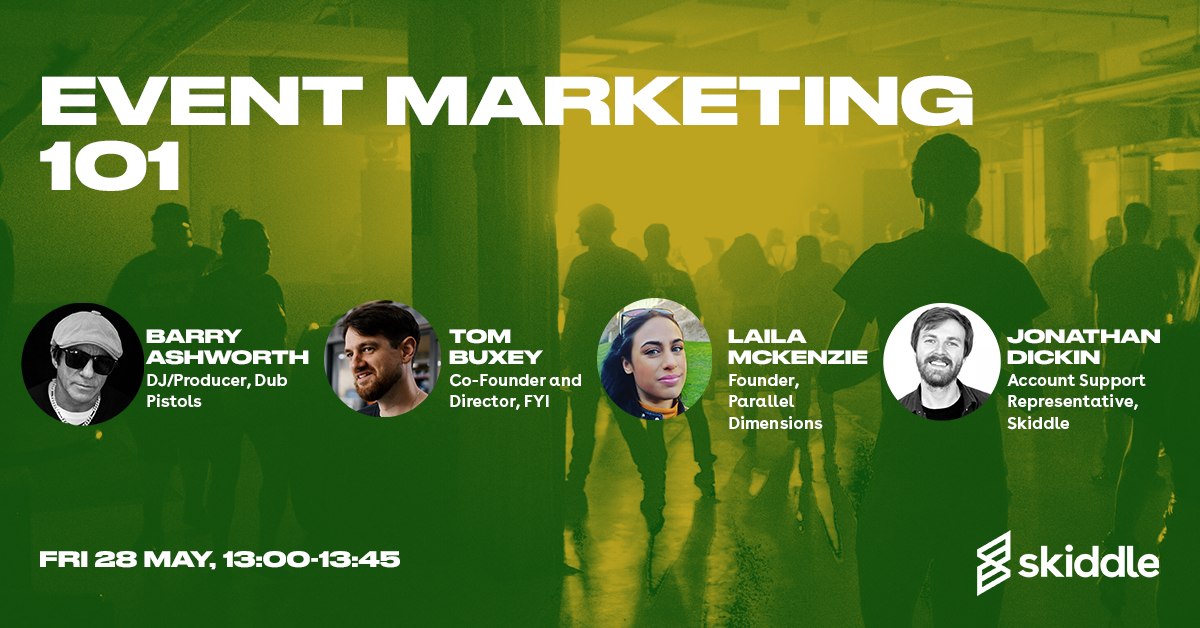 When: Friday 28th May 1- 1:45 PM
No festival is complete without some proper marketing. Social media and marketing technology (or martech) is growing so quickly that it can be hard to keep up. This expert panel includes Barry Ashworth of Dub Pistols, Tom Buxley, the Co-Founder and Director of FYI, Laila McKenzie, the Founder of Parallel Dimensions and Jonathon Dickin, Account Support Representative at Skiddle. Join them to see how you can optimise ticket sales for your events, sharing tips and experiences.
You can get more of a handle on marketing if you book your place here:
-
---
Building a successful live brand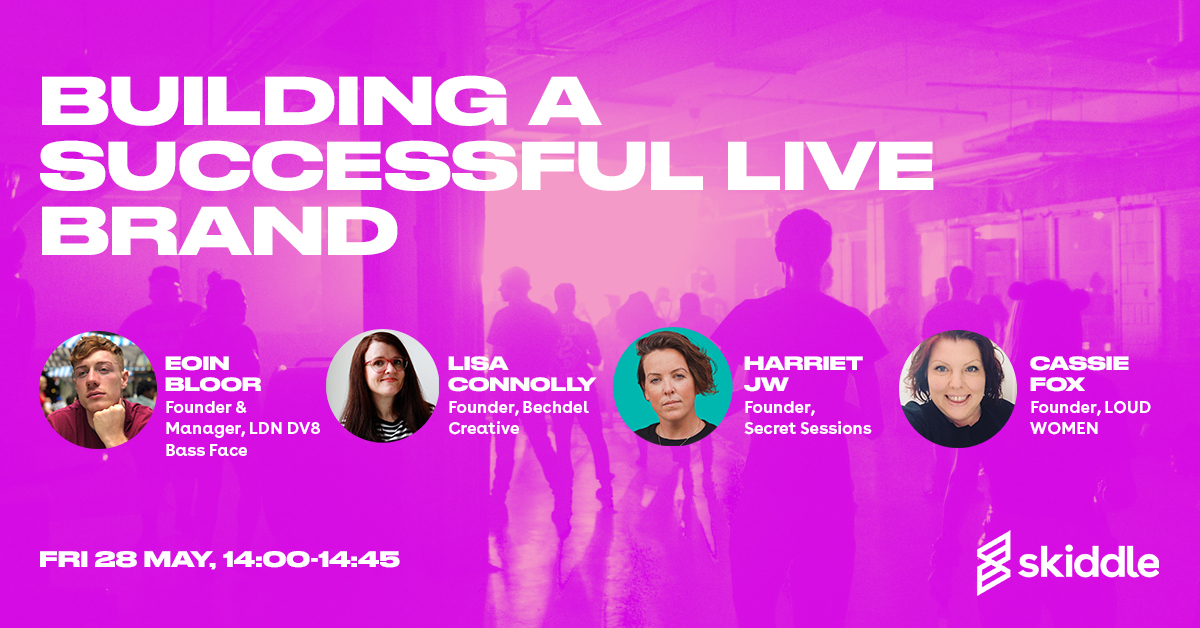 When: Friday 28th May 2- 2:45 PM
This panel brings together a group of promoters who have built their live brand from the ground up. There's Eoin Bloor of LDN DV8 Bass Face, a DNB and Bassline events company. Lisa Connolly of Bechdel Creative, which celebrates women and gender minority talent in music and wider culture. Harriet JW, Founder of artist network and podcast GIRLS TO THE FRONT and Cassie Fox who is the Founder of the LOUD WOMEN organisation, supporting women and non-binary DIY and independent musicians.
Hear this experienced and admirable panel discuss just how they did it by booking your place here:
-
---
The future of sports is grassroots football
When: Friday 28th May 3- 3:45 PM
COVID has had quite an impact on grassroots football, with more people taking to supporting their local teams who have needed that support more than ever. To talk about the future of grassroots football post-COVID we are joined by the Finance Director of the City of Liverpool Football Club Peter Furmedge, CEO of Elite Sport Technologies Emile Coleman and Billy Wood the CEO of Hastings United Football Club.
To hear about the future of the beautiful game in the UK sign up for a place here:
-
---
---