We're well into the new year, and whilst you may feel under siege with the bombardment of festival announcements coming your way, you can't afford to miss out on the now thinking about the tomorrow, as there is still a multitude of quality events and experiences happening across the country this February. All of them have tickets now on sale on Skiddle.
Below, you'll find just a sample of the many events still to come this February. From huge indoor raves from the biggest names in every facet of the genre to intimate gigs from some of the most promising bands on the circuit. Stand-up comedy nights from some of the funniest in the biz to pro wrestling events that'll have you cheering, booing, and in awe of all the wrestler's abilities.
There's so much to do and it's all right here on Skiddle this February, so scroll down, check the events out, and sort your tickets in the boxes provided. February may be the shortest month of the year, but that doesn't mean you should be short on things to do.
(Click or tap on the event titles, artists or venue names below for tickets and more)
Cirque Du Soul: Brighton // The Road to El Dorado // Goddard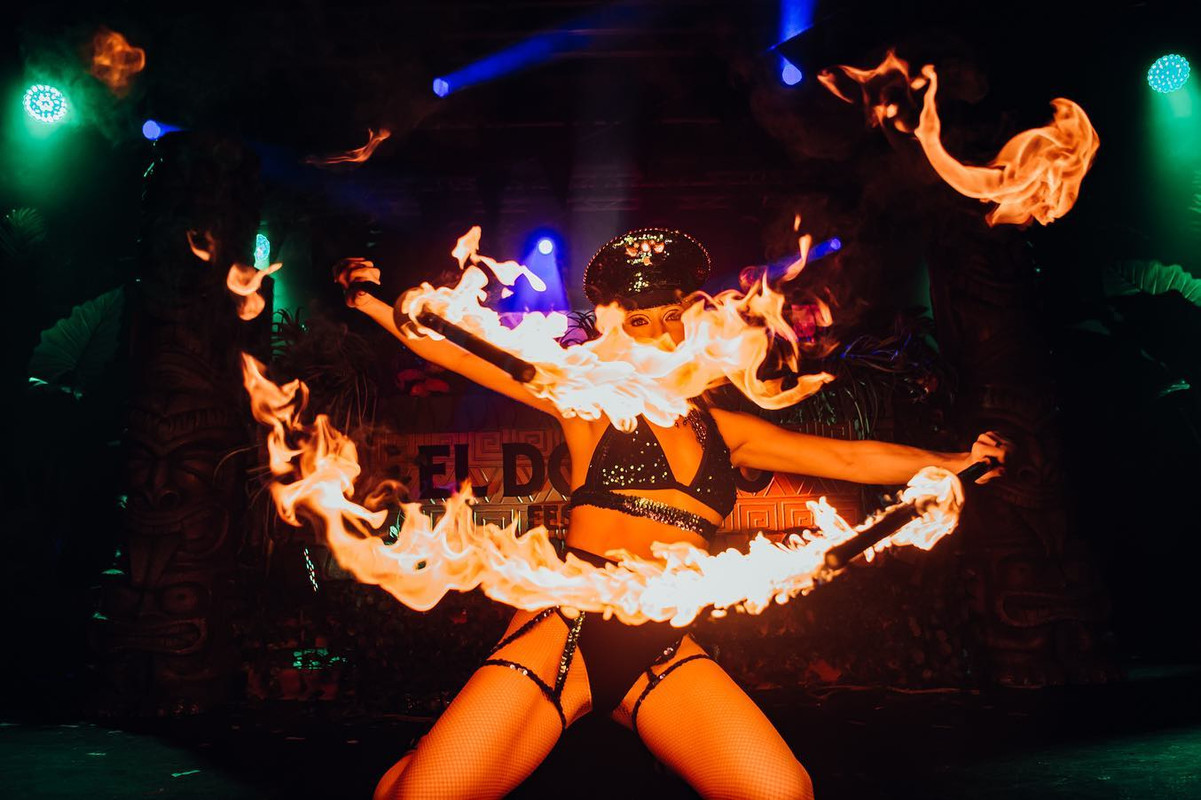 Photo: Cirque Du Soul / Facebook.com
When: Saturday 18th February 2023
Roll up, roll up! One of the best venues in Brighton is going off with The Road To Eldorado presented by Cirque Du Soul. The Arch will be completely transformed into a mythical jungle playground, giving us a flavour of what can be expected from El Dorado Festival in July.
In terms of tunes, house, drum and bass, hip-hop, UKG, and disco will be blaring across three rooms, so you can dip in and out of different vibes with over 750 other ravers. And what's a good tune without killer pyro? Tunes will be given an extra punch with CO2 jets, sparks, and confetti. So far, we know Goddard will be on the decks, and more names will be announced soon.
Tickets for Cirque Du Soul: The Road to El Dorado
---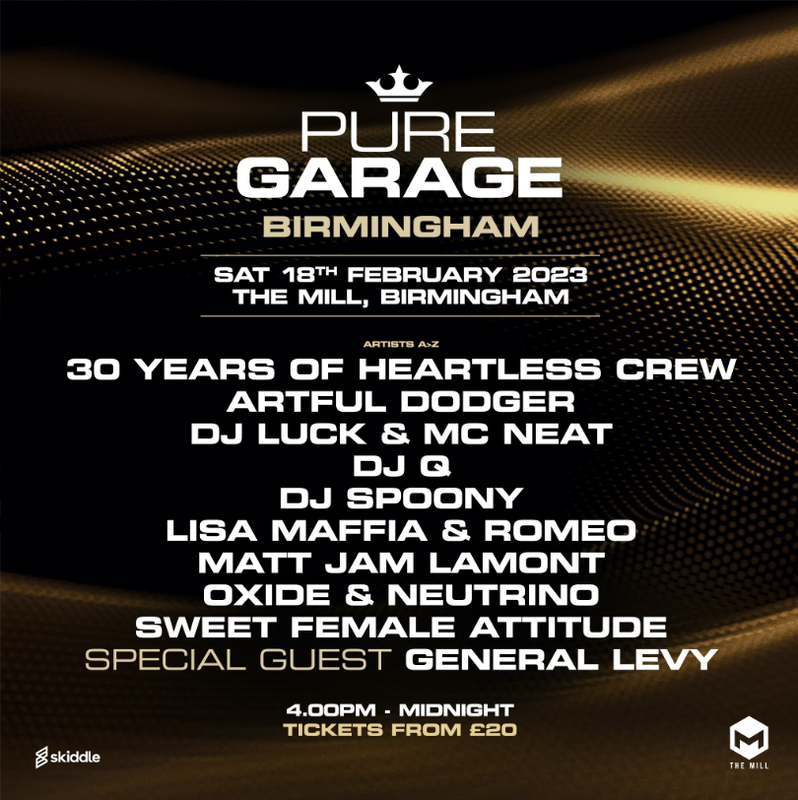 When: Saturday 18th February 2023
Where: The Mill in Birmingham
Coming in with the biggest UKG lineup Brum has seen, PURE Garage is an 8-hour celebration of garage bangers with some of the biggest names in the genre on the decks. Alongside the fresh, groovy sounds of UKG, drum and bass and similar genres will flood the venue.
The lineup is truly stunning, with huge names like Artful Dodger, Heartless Crew, special guest General Levy, and Sweet Female Attitude on there. Going down in The Mill, one of the city's best music venues that features the rooftop terrace (hosted by Joe Hunt & Friends), it's definitely gonna go off! If you fancy a bit of this, you know what to do…
Tickets for PURE Garage Birmingham
---
VTSS For Your Entertainment: Tommy Holohan, OK Williams & more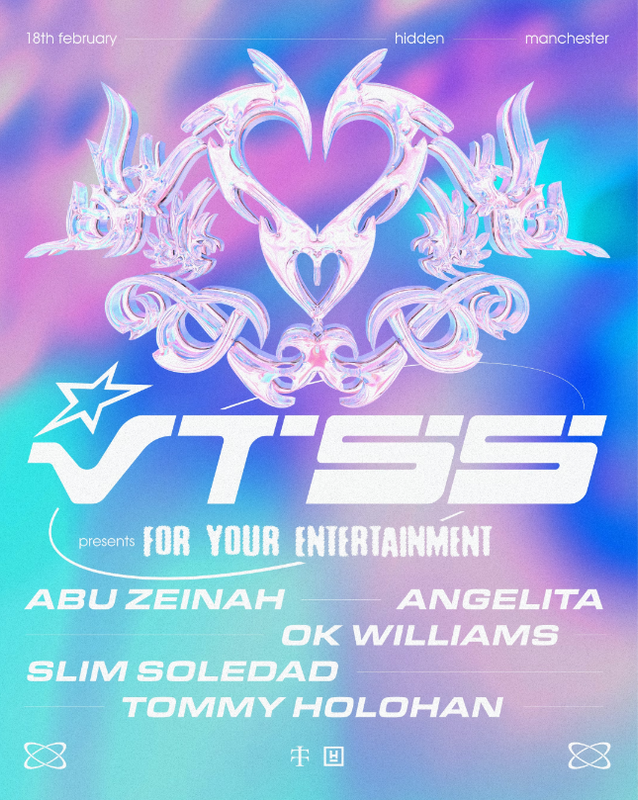 When: Saturday 18th February 2023
Where: Hidden in Manchester
If you've had the pleasure of visiting Hidden before, you'll know it's easily one of Manchester's best clubs. Lucky for you, there are still a few tickets left for their huge techno rave this Saturday! On the lineup for this one, we've got some stunners: VTSS, Tommy Holohan, Slim Soledad, OK Williams, Angelita, and Abu Zeinah. Let's have a little look…
VTSS creates moody electronic tunes that fuse elements of techno, trance, hardcore, and more. Tommy Holohan's tunes are predominantly techno with splashes of jungle, rave, and other genres. Slim Soledad is another artist that bends genre, focusing on techno with funk and bass. So if you love techno, tunes with dark vibes, and artists who throw the rule book out the window, this is the one for you.
Tickets for VTSS For Your Entertainment: Tommy Holohan, OK Williams & more
---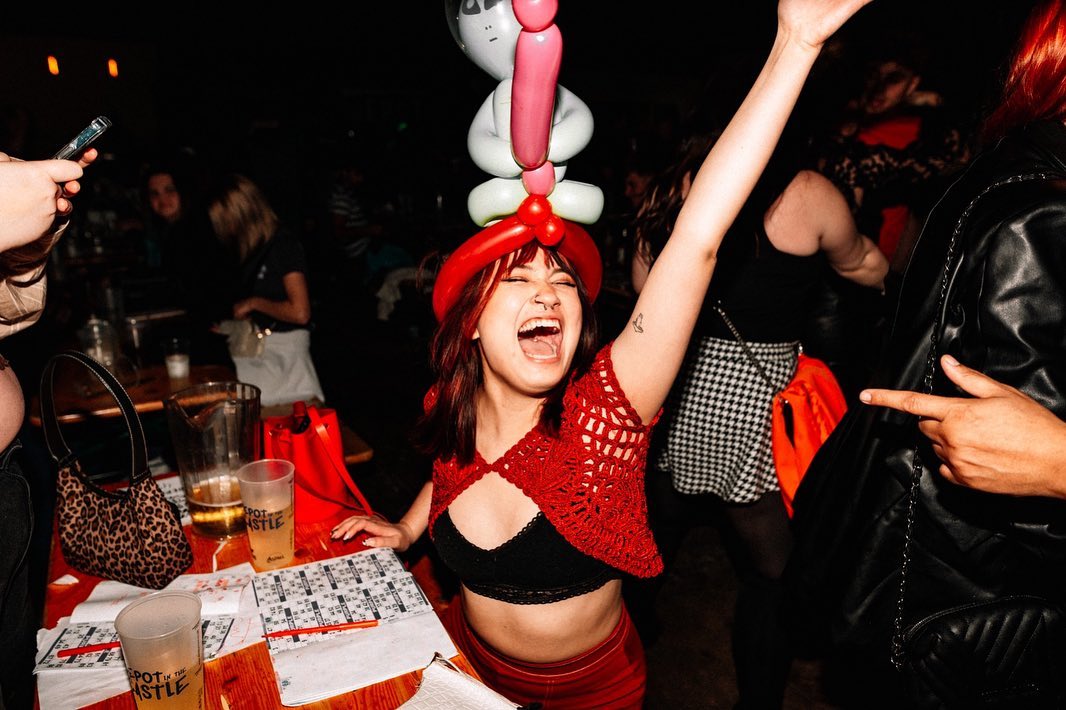 Photo: BINGO LINGO / Facebook.com
When: Friday 24th February 2023
Ever wondered what the most chaotic game of bingo ever looks like? Head over to the Depot in Cardiff to find out! Bingo Lingo is back with more absolute madness. Picture this: you and your mates singing your hearts out to the cheesiest tunes, club classics, and other certified bangers, god only knows how many drinks in, watching two people dressed as elderly ladies call out numbers.
If enough of those numbers are on your sheet, you could be in with a chance to win truly bizarre prizes. They've dished out cars, Nerf guns, Darth Vader costumes, and more to lucky winners in the past. Who knows what they'll have up for grabs this time around? To supplement the bedlam, there'll be onstage battles, performers, and confetti to dance under.
Tickets for Bingo Lingo - Cardiff
---
Image: Schak on Facebook
When: Friday 17th February 2023
Where: The Lofts in Newcastle Upon Tyne
The Lofts in the Toon know how to put on a proper rave, and do so pretty much every Friday night. However, this time round, it's particularly special, as they are joined by rising North East legend Schak, who returns to as part of his headline tour.
You may have seen Schak on your social media, thanks to his ever-increasingly bonkers guerilla DJ stunts, where he has done everything from DJing on the metro and Newcastle buses to playing St James Park, to now planning on playing an Ice Rink. But on this night, following the success of his huge hit on Trick, he will no doubt have us 'Jumping all around' the dance floor, once again.
He will be joined by Loft resident Jonny Burn & locals Daniel Persson / Thompa / Tricky Rick for a very Northern starlit line-up, indeed.
Tickets for Schak - Headline Tour
---
Simon Brodkin - Exclusive UK tour warm-up
Image: Simon Brodkin on Facebook
When: Wednesday 22nd February 2023
Where: The Attic At River Studios in Southampton
Fresh from his sold-out, critically-acclaimed Edinburgh Fringe run and becoming the most-viewed British comedian of all time on TikTok, world-famous prankster and Lee Nelson creator Simon Brodkin is back with an outrageous new stand-up show.
In 'Screwed Up' Simon rips into celebrity culture, social media, the police, Putin, Prince Andrew and Jesus. Nothing is off limits in this hilarious show, including his own mental health, his family, his five arrests and how he once found himself at an underground sex party.
You may recognise Simon from some of his outlandishly funny stunts, most famously when he threw cash at then Fifa President Sepp Blatter following the corruption scandal, and if you loved that, well you'll be in for a treat here.
Tickets for Simon Brodkin - Exclusive UK tour warm-up
---
Nightvision presents BLK. All Night Long Scottish Tour
Image: BLK on Facebook
When: Friday 10th February - Friday 24th February (4 dates)
Where: Various venues in Scotland
Hardstyle techno enthusiast and producer extraordinaire, Blk. will embark on a journey across Scotland through February, taking in 4 dates on his first-ever tour of the nation with support from a score of fellow techno specialists.
Irish-born-and-bred, Blk. has been crafting his own unique sound in techno for the past 6 years. Pushing boundaries and unafraid to experiment with melody and bass, his distinct sound has won over swathes of audiences across the world, gaining him bookings at some of the most significant techno events on the circuit, including Edinburgh's Terminal V.
Scheduled to perform in Dundee, Aberdeen, Edinburgh and Sterling, almost all tickets for his upcoming have already sold out! Secure one of the last few tickets remaining to see this powerhouse of techno live in Scotland this February below...
Tickets for BLK. All Night Long Scottish Tour available - Here
---
Image: Sarah Keyworth on Facebook
When: Wednesday 22nd February 2023
Where: The Leadmill in Sheffield
Since being nominated for best newcomer at the 2018 Edinburgh Comedy Awards, Sarah Keyworth's comedy career has only been on an upward trajectory. With appearances on Live at the Apollo, Mock The Week, and 8 Out of 10 Cats, they have been well and truly a delight on stage, leaving many an audience member in need of a tissue.
Now, performing their incredible new show, Lost Boy, which received widespread plaudits during its Edinburgh Fringe run, Keyworth is set to headline The Leadmill. Searing indictments on her relationships, ludicrously funny observations on the difference between male and female masturbation, and much more, this show is not one to miss.
Tickets for Sarah Keyworth
---
Thursday Night Live - Phil Chapman, Adam Rowe, Mick Ferry, and one TBA
Image: Adam Rowe on Facebook
When: Thursday 23rd February 2023
Where: Hot Water Comedy Club Hardman Street in Liverpool
There are very few people around the country who haven't heard of Hot Water Comedy Club by now. The scouse comedy mecca, most notably hosted by legendary comic Paul Smith, puts on weekly nights on a Thursday where four of the biggest names in the game come down for a night filled with barrels and barrels of laughs.
This night is one of particular note. Performing will be the scouse icon, and one-half of the Have a Word podcast, Adam Rowe; One of Manchester's most sought-after comedians, Mick Ferry; and the uproariously funny Phil Chapman have already been announced, with one more still to come.
A night with just these three would be enough to sell us a ticket, but with one more on the cards, this one is bound to go down as one of the best nights at Hot Water in recent memory. Just drop everything and get the tickets. You won't regret it.
Tickets for Thursday Night Live - Phil Chapman, Adam Rowe, Mick Ferry, and one TBA
---
Image: REZtron on Facebook
When: Tuesday 28th February 2023
Where: Hyatt Place London City East in London
Are you a fan of retro gaming? Think you're street fighter skills are the bomb? Are you a master of Tetris, Pacman, or Sonic? Well, REZtron are inviting you to Sky Bar Retrotainment, a retro gaming summer social located on the 9th floor of Sky Bar of the stunning new Hyatt Place London City East Hotel.
Throw yourself back to, or let your gaming-crazy kids in on, the golden era of gaming with this evening of 80s and 90s retro games (Pac-Man, Double Dragon, Golden Axe, R-Type, Micro Machines, Mortal Kombat, Street Fighter II, Streets of Rage, Sonic, Marvel vs Capcom, Virtua Cop, House of the Dead and many more!) displayed on SEGA consoles, CRT TVs and projectors. This is all mixed with drinks, music, a Sonic speed run competition, and breathtaking views of the London skyline, what's not to love?
Tickets for Sky High Retro Gaming
---
Image: Motion on Facebook
When: Saturday 18th - Sunday 19th February 2023
Where: Motion in Bristol
Enigmatic Australian party starter, Partiboi69 brings his zany live show to Motion Bristol next month, joining an already stellar programme of events happening at the superclub in the early part of 2023.
CEO of Mutual Pleasure Records, internationally acclaimed DJ and producer, martial arts expert and social media content king, he's seemingly a man with limitless talents. With an off-kilter sense of fashion, always donning what looks to be a desktop PC headset, a penchant for ghetto house and techno, and a proven mastery of using green screens (see any of his music videos), he's also something of an internet sensation.
For a truly entertaining evening, we highly recommend catching Partiboi69's unique show at Motion this February.
Tickets for Partiboi69 - Motion Bristol
---
Folamour presents House of Love
Image: Folamour on Facebook
When: Friday 24th February 2023
Where: O2 Academy Leeds in Leeds
Coming to the O2 Academy in Leeds is wavy techno connoisseur Folamour, with his new labels club night of the same name, House of Love. The label is the DJ's way of creating an environment for you to dream, whilst also creating a safe space for attendees to dance and share experiences, perpetually in line with the House of Love values.
Folamour is a sure-fire night of the highest quality nowadays, with the producer more than cementing himself within the techno scene. If House of Love is even half as good as it sounds then you quite simply can't miss it, and by the sounds of the reaction to this night already, it's going to be yet another belter for Folamour and his rocketing career.
Tickets for Folamour presents House of Love
---
---
Check out our What's On Guide to discover even more rowdy raves and sweaty gigs taking place over the coming weeks and months. For festivals, lifestyle events and more, head on over to our Things To Do page or be inspired by the event selections on our Inspire Me page.