Image credit: Jesse Lirola
It's a Thursday morning in mid September when Jake Bugg answers the phone and tells us: "I've not long got up, I went out for a few drinks last night." Midweek drinking and lying in until late morning are most likely not an option readily available to a lot of lads like Bugg, whose working class Nottingham roots mean that most of his pals from way back would probably be well into their working day by the time we call the 24 year old to chat.
"I've got a writing session today" He says." I'm just song collecting at the minute, I'm just trying a few things and trying to learn as much as I can" You imagine that these words represent the dreams of any any aspiring songwriter, yet there is no part of Bugg that seems at all like he takes his privileged position as a successful touring musician for granted.
When asked about reworking his older numbers for his acoustic tour that has taken place this year, it's clear that he puts the fans first: "I play songs from all the albums, and that's one of the benefits of having a few albums out - I'm not strict because people pay good money to come and see you so you want to create a nice evening for everyone."
Find Jake Bugg tickets
Bugg's career was kickstarted into life back in 2011 when the then 17 year old was selected to perform on the BBC Introducing stage at Glastonbury Festival after submitting material to their website, and following that was signed to Mercury Records. Within a year he was touring alongside boyhood hero Noel Gallagher as the former Oasis guitarist hit the road in support of his debut solo record alongside his High Flying Birds, and minus his younger brother Liam.
"I can't remember the last time I saw him but we're in touch still, I'll say hello if I see him." Says Bugg, "He's always been cool with me and him taking me on the road with him when I was so young was great, and I'll always be really thankful for that."
In a year where simply everything went right, the singer's track 'Lightning Bolt' was used to soundtrack the 100m win by Jamaican sprinter Usain Bolt as 2012 London Olympics fever reverberated around the U.K, and the subsequent release of Bugg's self titled debut recorded raced straight to the top of the album charts in October of the same year.
Fast forward to summer 2013 and Bugg's career bad been turned up yet another notch. A performance at 2013's Glastonbury Festival saw him become the first artist to ever jump straight from the Introducing Stage to the Pyramid in successive years (the 2012 edition was cancelled) and that summer, Bugg also flew out to record at the Malibu studio of world renowned producer Rick Rubin.
Find Jake Bugg tickets
The recordings, that were frequented by special guest drummers Chad Smith of Red Hot Chili Peppers and Elvis Costello's sticksman Pete Thomas, gave fruition to album number two Shangri La. Released in November 2013 the record saw Bugg embrace the electric guitar a lot more than his acoustic heavy debut, and despite some occasional turbulence in the music press it landed at a respectable number three in the charts.
The difficult second record was out of the way, but what about the even more difficult third?
Bugg says of it: "There's a few things I wish I could change about the third record, but it's always hard to get every single one right. For a lot of my favourite artists in the world, not every record they made was as good as they probably wanted it to be."
It's probably fair to say Bugg's fans felt the same about 2016's On my One, an album that experimented, meandered and unfortunately suffered from elements of over production.
Its lead single 'Gimme The Love' was deemed to 'trip him up' by Rolling Stone Magazine, with its 90s Madchester-esque drums and a vocal melody that borrows blatantly from Red Hot Chili Peppers, and when placed among tracks that mirror a lot of Bugg's earlier work, it made the singer's third studio album seem messy and sporadic.
Find Jake Bugg tickets
Perhaps the, this is why he was so eager to start work on his fourth, and most recent album, Hearts That Strain which came just a year later in 2017.
Speaking to Bugg, you can tell that the whole experience was a wholly life changing experience for him, recording at Nashville's American Sound Studio with the help of the Black Keys' Dan Aurbach and also legendary house band The Memphis Boys.
"I think being near these guys does rub off on you, when they're showing tunes they played on in the 70s and just playing along with them is an amazing opportunity for any musician and an amazing experience for me."
Some of those players include Gene Chrisman and Bobby Woods who were integral to some of the most popular albums in history. They were part of Dusty In Memphis, 'In The Ghetto', 'Suspicious Minds', and 'Dark End Of The Street', as well as collaborating with icons like Wilson Pickett, Aretha Franklin, and Dionne Warwick.
Under the production of Grammy Award winner David Ferguson and Matt Sweeney, you feel that Bugg was in his element out in Nashville, and it was producer Ferguson who put his track 'Waiting' into the hands of Billy Rae Cyrus, which in turn led to his daughter Noah joining up with the Nottingham star for a surprise collaboration: "
It was good for me because Noah comes from more of a pop background and I've never collaborated with anybody on any of my records as well so it was nice to try something like that out. Her voice was great and it was nice to hear someone from that background singing one of my songs."
Find Jake Bugg tickets
Despite saying about Hearts That Strain, "I wrote a lot of that album at home in London", it's clear that Nottingham is never far from Bugg's thoughts (plus his midlands accent is as thick as ever). He tells us about becoming the shirt sponsor for his beloved, and beleaguered, Notts County F.C for the month of November during the 2017/18 season: "I read it in a local Nottingham paper that they were looking for different sponsors as part of some strategy they came up with so I thought I'd give it a go"
He concludes, triumphantly "I'm on the shirts on FIFA which has made me happy."
In the past critics have levelled accusations at Bugg of being surly, moody and difficult to chat to, but when we speak to him there is not even a hint of any such behaviour - he's charming, chatty and seems happy and contented, and why wouldn't he be?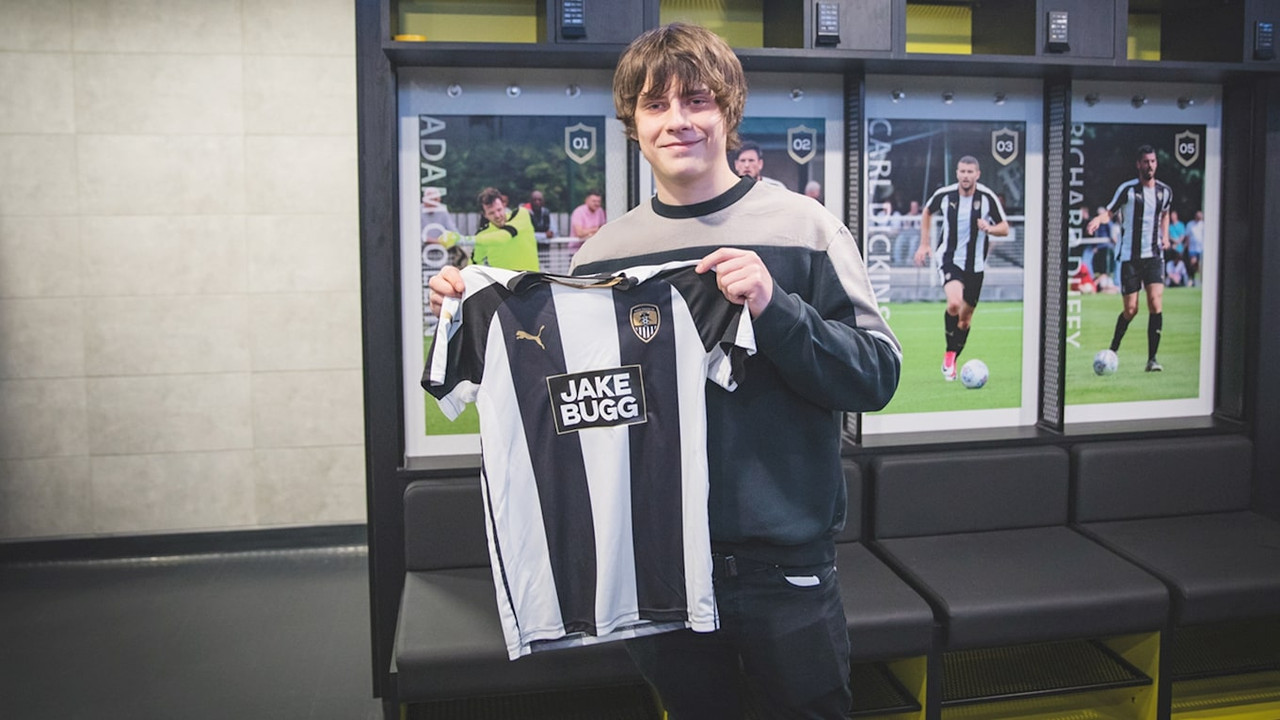 Bugg has lived out pretty much every dream there is to live out; touring with musical heroes, a number one debut album, recording in California and Nashville, touring every corner of the earth and playing to thousands of people, and perhaps most importantly, he now has his name immortalised in Notts County history.
Despite all these triumphs, you feel like his current solo acoustic tour has appeased him in the most wholesome of ways, forgetting all the jet setting, star studded experiences he must have lived out it's, the simplicity of playing an acoustic guitar and singing that remains as the biggest perk of his career:
"I just feel like I'm in my bedroom, like I was when I was younger, and then I lift my eyes up and there's a couple of thousand of people there. It's a wonderful thing to do."