Days Out With Skiddle is here to give you the very best ideas of where to go for all the best attractions and events. If you're looking for a solo adventure, family trip or couples retreat then we will likely have something that ticks your boxes. This is the place to be to get inspired.
Click on the event titles for more information.
Chant to the fire- Canto Al Fuego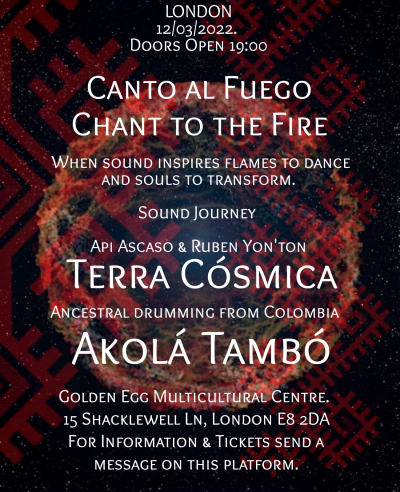 When: Saturday 12th March
Where: Golden Egg Multicultural Centre, London
This is a bit more than your usual day out. Here you're invited to attend a ceremony where sound inspires flame to dance and souls to transform. What you'll experience is a captivating journey to connect with your inner fire and if that sounds just like the kind of thing that you're needing right now then come along.
Find tickets for Chant to the fire- Canto Al Fuego - here
-
---
When: Saturday 19th March
Where: Pryzm, Leeds
The Leeds Comedy Cabaret takes place every week at Pryzm and it sees a rotation of some of the UK's finest upcoming comedians take to the stage in an attempt to make sure that you never forget their name. With a different line-up every week it's full of comedians eager to impress.
Find tickets for Leeds Comedy Cabaret - here
-
---
When: Saturday 14th May
Where: The Dutch Master, London
Here's a DnB Brunch event with a difference as it'll be taking place on a boat. In the warm sunshine of May, you'll be taken around the Thames on a mad party with a whole line-up of DJs invited along to keep you entertained the whole time whilst you dance and brunch away.
Find tickets for DnB Brunch Boat Party London - here
-
---
When: Saturday 23rd April
Where: Players Lounge, Billericay
Here comes a clash between two of the fiercest competitors in boxing as Tyson Fury and Dillian Whyte go head to head at Wembley. Make sure that you don't miss a minute of the action and come down to Players Lounge in Billericay to see the whole event unfold live alongside your fellow boxing fans.
Find tickets for Tyson Fury vs Dillian Whyte - here
-
---
When: Sunday 27th March
Where: Revolucion De Cuba, Liverpool
If you're looking for some plans this Mothers Day why don't you take her out to this event at Revolucion De Cuba in Liverpool where a bottomless brunch is provided which of course means that bottomless cocktails will also be on offer. There's no shame in getting a bit light-headed on a Sunday
Find tickets for Mothers Day Bottomless Brunch - here
-
---
(This embedded post has since been removed)
When: Sunday 13th March
Where: Frog and Bucket Comedy Club, Manchester
Bobby Mair is a face that you'll have seen more and more of recently as he's made appearances in Feel Good, Roast Battle, Killer Camp and more. Now the comedian brings you his own standup show which will be an hour of dark and gut-wrenching comedy from an emerging talent.
Find tickets for Bobby Mair- Cockroach - here
---
Leprechaun Trickery (Murder Mystery Evening)
When: Saturday 19th March
Where: St Mary's Church, Mirfield
This is an immersive murder mystery theatre performance where you become the detective. Not all is as it seems in this production and you must use your own deduction skills to determine what is really going on. Interacting with fun characters along the way can you figure out what's really going on?
Find tickets for Leprechaun Trickery (Murder Mystery Evening) - here
-
---
When: Thursday 17th March
Where: Festival Square, Edinburgh
Van Gogh is one of the most celebrated artists of all time and this special exhibition has been touring his work in a whole new light. An immersive experience that broadcasts his work in a multi-sensory experience this is Van Gogh as you've never seen him before. Don't regret missing out on this one.
Find tickets for Van Gogh Alive - here
-
---
---
Check out our What's On Guide to discover even more rowdy raves and sweaty gigs taking place over the coming weeks and months. For festivals, lifestyle events and more, head on over to our Things To Do page or be inspired by the event selections on our Inspire Me page.