With the cost of living crisis harming grassroots venues, artists, and of course those who attend live performances, Brighton's Offie Mag is putting on four gigs in different venues with tickets costing just £5. Tickets available below.
The Brighton based mag has organised four live music gigs in four independent Brighton and Hove venues to support the sector during this difficult time, with tickets costing just £5 to ensure they're financially accessible as possible.
Tickets for Goya Gumbani for £5 | Saturday 10th June 2023 | Brighton Unitarian Church in Brighton
All four events can be seen below on the poster. And tickets for these events can be bought throughout this article.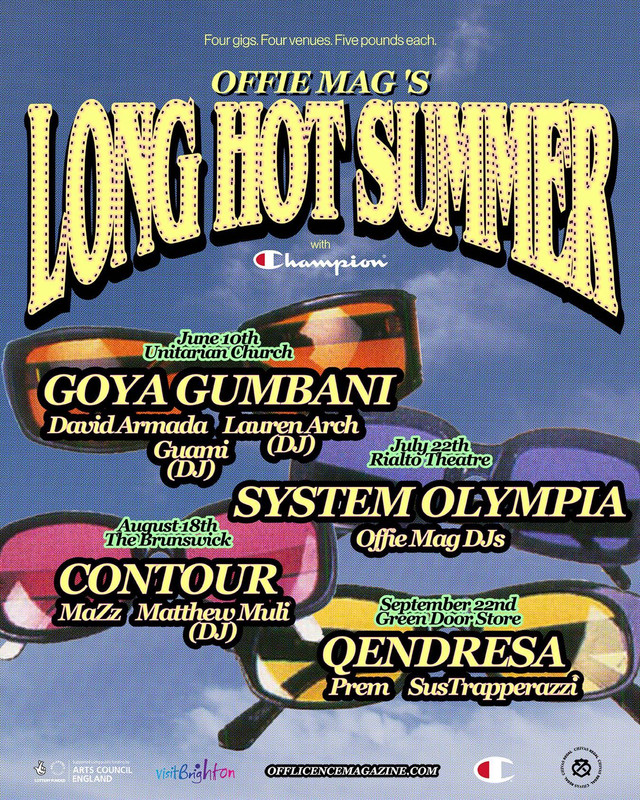 Tickets for System Olympia | Saturday 22nd July 2023 | Rialto Theatre in Brighton

Offie Mag's events are diverse with genres including house, funk, disco, hip-hop, jazz, R&B, blues and more from independent musicians from London (Qendresa and System Olympia), New York (Goya Gumbani), and North Carolina (Contour). Each event features support from Sussex-based artists.
Tickets for Contour Live | Friday 18th August 2023 | The Brunswick in Hove
Founder of Offie Mag, Greg Stanley, said, "Coming out of the pandemic, the live music sector and the independent music industry at large have faced huge challenges… In a landscape where most artists make very little money from streaming platforms, gigging and touring is the most effective way to sustain their careers."
'However, the Cost of Living crisis has made attending gigs and supporting live music understandably less viable for many, so this project is about creating revenues for artists and venues, and providing an affordable opportunity to experience live music and culture for Brighton locals and visitors.'
Tickets for Qendresa Live | Friday 22nd September 2023 | Green Door Store in Brighton And Hove
---
Secure your ticket for any (or all four, why not?) events above to support your local venues, see your favourite artists, and support Brighton's nightlife scene. And, y'know, have a cracking time while you do it!
Eager to go out but need to save some cash? Click or tap here to find cheap club nights and raves all over the UK.
---
Check out our What's On Guide to discover more rowdy raves and sweaty gigs taking place over the coming weeks and months. For festivals, lifestyle events and more, head on over to our Things To Do page or be inspired by the event selections on our Inspire Me page.


Header image credit: The Green Door Store / Facebook.com