Image: Comedy Store Manchester
Perched on the ever-popular Deansgate Locks, The Comedy Store in Manchester continues to flesh out the comedy experience with the best alternative night out the city has to offer.
Often our comedic experience is limited to the television or the occasional touring comedian doing the rounds at a local theatre, but for those of you adjusted to the live comedy circuit, you'll attest that no television screen quite captures the magic of comedians slinging jokes in the flesh while the staple nob head on the front row gets eaten alive.
The Comedy Store packs that electric feel into an incredibly intimate 500 seater theatre that feels considerably smaller when you're plonked into your seat with a bottle of wine, pint or pizza. Ahead of you lies the smoky podium decked out with an illuminated emblem and a lone speak-easy style stool to give it a feel of underground authenticity.
What sets the venue aside from any run-of-the-mill comedy club, is that it's a built-for-laughs setting, offering a fully fledged experience complete with a downstairs restaurant and bar. On the night it's seemingly populated by couples, clusters of friends and the odd family outing.
On arrival we are directed to the bar where we can get a drink before being invited down its winding stairs to a restaurant set under the locks cavernous arches. Darkened lights set the mood with plenty of waiters on hand to explain the ins and outs of its A La Carte Menu.
Alternatively, the less formal night out is catered for by the upstairs bar which offers casual dining amidst the punters wetting their whistle before the shows starts.
A simplified menu offers varying dishes with vegetarian options included. Our party opts for a plump fish cake starter packed with salmon, cod and prawn with an accompanying tar tare sauce. Oh, and of course guzzlings of prosecco drafted from the comprehensive wine list that's delivered in a chrome ice bucket to continue the venue's retro jazz-bar feel.
Our main courses land a traditional steak pie and chips with honey glazed carrots sharply reminding us we're in the heart of Manchester; and a classic Saturday night staple in a chicken tikka kebab with pitta and rice that surpassed the spiciness of a three chilli rated pub meal that packs as much fiery punch as a Lemsip quenched dragon.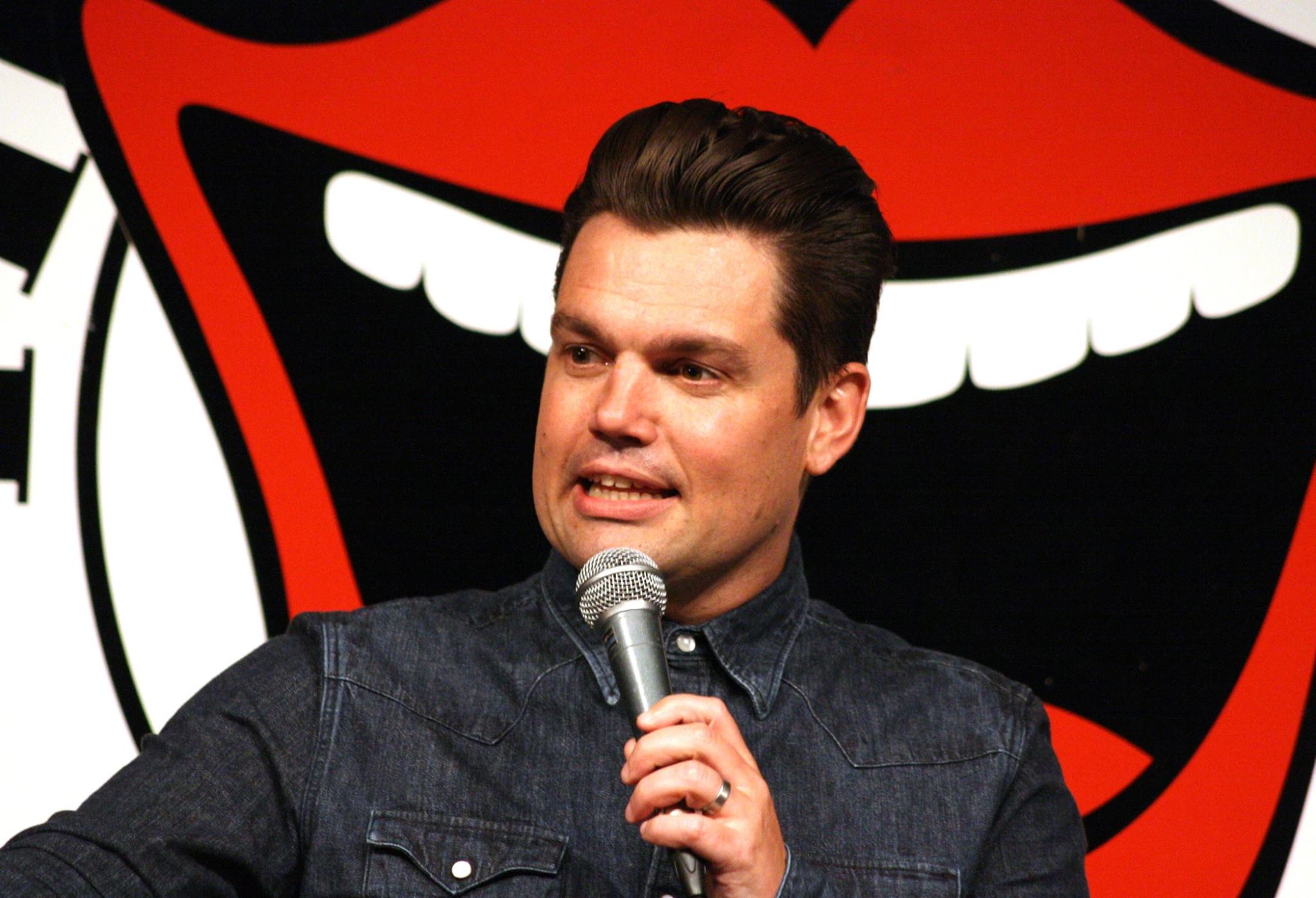 Once we're ushered to our reserved seating by the friendly staff, we loosen up in our seats for the show. As always is the case, the late arrivals are ridiculed by the show host, Devon funnyman Charlie Baker, who's also quick to put the stag party on the front row in their place with a quick-witted lambasting to set the tone.
The first act, Geoff Norcott, an Edinburgh Fringe regular livened the crowd with a topical bag. A satirical incision of current news stories and everyday musings, including some backhanded lefty bashing, leaving your 'back doors' open and touching on the north and south divide before proclaiming North Korea took it a little too far.
Comedy legend Otiz Cannelloni switched the dynamic with an opening double whammy of magic tricks involving a steel ring and a nifty card trick entitled 'the Tandoori shuffle'. In usual fashion he peeled the crowds off their seats with a quick-fire salvo of one liners. A memorable moment washes when he declared he'd been to Dubai, [insert various Gulf states] and then they tried to make him go to Riyadh but he said no no no.
After a welcoming short break to the bursting bladders around the room, John Thomson accelerates the night of rollicking laughs with an incredible Rocky impression, perhaps he should have swapped Cold Feet for a role in The Sopranos looking back, although his return to stand up is a more than welcome one (see him in action below).
Mike Gunn has the weight of rounding off the night, a comedian synonymous with bumper crowds and renowned for his starring role in Michael Macintyre's Comedy Roadshow and Al Murray's Time Gentleman Please, so naturally after three performances free from any awkward laughter the bar is raised.

Not that he could give a f*ck though, clad in his trademark oversized suit, his particularly stoney delivery accentuates his jokes that touch on cocaine cut with vitamin c, low percentage Viagra, his wife's dying wish to be buried in her wedding dress and the tying up of his parents home in a dark but equally laughter sodden twenty minutes.

The Comedy Store's Best In Stand Up is what it says it is: offering dynamos of comedy in a strictly intimate and authentic setting to command a night with one eventuality being that everyone's eventually shipped off to a comprehensive night of heavy duty side-splitters.
Scan The Comedy Store's full programme of events and bag your tickets