The latest weekend of football action saw our first North London derby of the season and it certainly didn't disappoint. In a game that finished 2-2, Arsenal were on top in the early stages with Saka's cross bounding off the leg of Romero for an own goal. Yet, Spurs showed plenty of resilience.
Son levelled just before half-time, and the second half was even. Arsenal lost Rice due to injury at half-time and the home side did seem to drop a level in his absence. Saka converted a penalty before Son equalised again after a quick break and mistake from Jorginho. It had a bit of everything and was easily the most entertaining game of the weekend.
The result also allowed Liverpool to leap over both sides in the table by winning 3-1 at home to West Ham. A Salah penalty opened the scoring before Bowen equalised. The home side were much better in the second half however and a clever finish from Nunez and a tap-in for Jota saw them win comfortably. It was embarrassing for Michael Antonio who played poorly despite saying on his podcast that West Ham would finish above Liverpool this season.
Marked out of the game, it is a staunch reminder that his podcast with Callum Wilson shows a complete lack of respect to their fellow professionals, who they often criticise despite never excelling themselves in the Premier league. The biggest result of the weekend saw Newcastle thrash an aimless Sheffield United 8-0.
Nobody thought Sheffield were going to be good this season but their recruitment has been woeful and they are paying for it. At 5-0 down Tom Davies, one of the league's worst players ever came on and was at least partly responsible for the last three goals. Newcastle had eight different scorers and delighted in their opposition's misery.
Chelsea continued their poor form by losing at home to Aston Villa. Ollie Watkins got off the mark for the season as Villa looked to respond to their surprise loss in Europe earlier in the week. Luton are still looking for their first win despite playing against a 10-man Wolves for most of the game. They may be waiting a while to pick up their first three points.
It was relief for Everton fans as their side finally won a game, and at the usually ruthless Brentford too. The Bees looked disorganised and Everton punished them at set-pieces, in true Sean Dyche fashion. Another slump was lifted as Manchester United gained a slim 1-0 victory away at Burnley.
Manchester City beat Nottingham Forest 2-0, despite a Rodri red card where City held on for the rest of the game to keep their clean sheet intact. Brighton went up to third in the table after coming back from behind against Bournemouth. For more football action take a look at the events below.
Newcastle vs PSG Screening Hosted by Legend
When: Wednesday 4th October
Where: The Fed, Gateshead
Newcastle are back in football's biggest competition and they're playing some footballing royalty in the group of death. An away draw with Milan was a good result and with one of the best home crwds in the world behind them, they could always spring a surprise against PSG who love faltering in the Champions League.
This event has been cancelled
Unfortunately this event can no longer take place due to unforeseen circumstances.
---
Tam Cowan's Aff The Baw With Jonathan Watson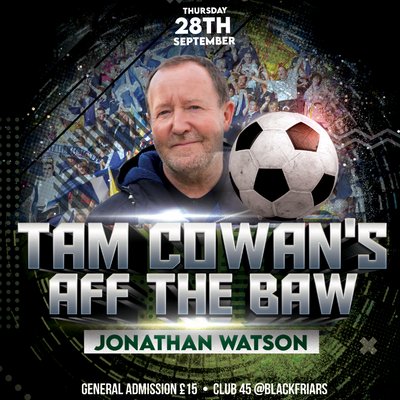 When: Thursday 28th September
Where: Club 45 @ Blackfriars, Glasgow
Tam Cowan is back this week and his latest guest will be Jonathan Watson. The Scottish showbiz legend has an extensive knowledge of Scottish football and will know plenty of great stories and trivia about Scotland's footballing heroes. Join the pair for what will be a hilarious conversation.
Ticket waiting list for Tam Cowan's Aff The Baw with Jonathan Watson
Tickets you want not available? We know it's frustrating, but don't worry we've got your back. Join the waiting list below and we'll reserve you tickets if they become available.
---
---
Check out our What's On Guide to discover even more rowdy raves and sweaty gigs taking place over the coming weeks and months. For festivals, lifestyle events and more, head on over to our Things To Do page or be inspired by the event selections on our Inspire Me page.