Skiddle covered Rubber Ducky Records, the UK's only floating record shop, a few months ago. A tragic accident over the weekend led to the launch of a GoFundMe page to help the independent record shop get back up and running.
Rubber Ducky Records is run by music fanatic Myles, who plans to sail across the UK with his shop and bring incredible electronic records to people all over.
Myles has a collection of over 2,000 records spanning house, techno, tech house, acid, hip-hop, and a splash of rock. He hand sourced his catalogue for years, with plenty rarities, old school tunes, and newer music.
Over the weekend, an unfortunate accident, which saw his boats propeller get stuck on a rug or mattress, breaking the boat's stem, and sinking his floating shop, saw much of what was on board submerged in the water. Thankfully, he managed to save three quarters of his records, but everything else, including equipment, has suffered damage.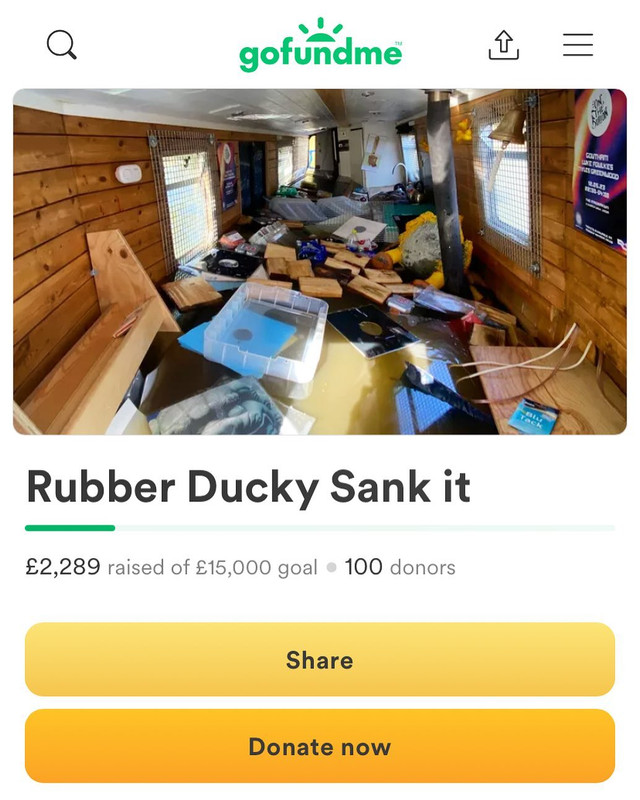 Photo: Rubber Ducky Records / Facebook.com
A rescue mission saved the boat and got it floating again but of course the damage is pretty severe, and he lost many records he collected over the years.
Following the set up of his GoFundMe page for his shop, Myles has already received over 100 donations but still needs more to hit his goal.
Consider donating to this sound guy and fantastic floating record shop on his GoFundMe page to help him get back up and running.
---
Check out our What's On Guide to discover more rowdy raves and sweaty gigs taking place over the coming weeks and months. For festivals, lifestyle events and more, head on over to our Things To Do page or be inspired by the event selections on our Inspire Me page.


Header image credit: Rubber Ducky Records / Facebook.com