It might seem like a strange time to be knocking around in a golden plague doctor-style mask - but then German house DJ/producer Claptone is anything but normal.
Daft Punk. Deadmau5. Marshmello. Malaa. Elaborate head gear is not, of course, uncommon in electronic music. But there's something altogether more curious about Claptone.
If the all-black get-up, white magician's gloves, Abe Lincoln-esque top hat and Black Death beak weren't enough, face-to-face interviews conducted through labyrinths and by candlelight with the self-proclaimed 'mythical being', who had a canny knack for playing shows at opposite ends of the world at the same time (yes, there's more than one Claptone), certainly added to his enigmatic mystique.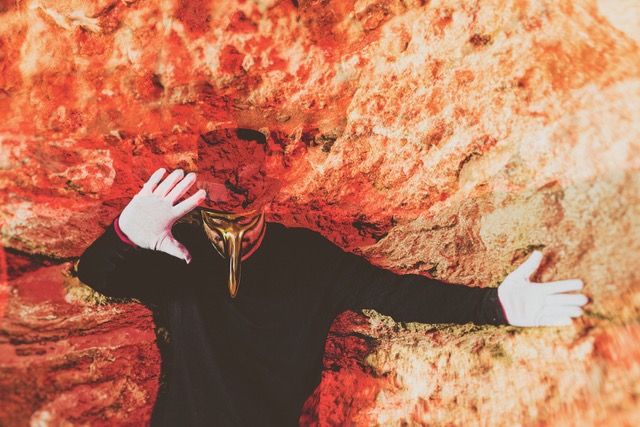 It seems ironic, given the look, that the disguise is borne of a desire to keep the focus on the music. Though the true identity, background and private life of the artist (or collective... god knows) still remains a mystery, the music is very much out there.
His brand of joyous, vocal-heavy house has seen Claptone rack up tens of millions of streams, including over 43 million alone for his 'No Eyes - Radio Edit', and another 36 million for his celebrated remix of Gregory Porter's 'Liquid Spirit' in 2015.
His recent collaboration with Mylo on his 2004 classic 'Drop The Pressure' remains (at the time of writing) number 1 on the Beatport Top 100 chart, following successful remixes of Michael Kiwaunka's 'You Ain't The Problem' and Mark Ronson's 'Don't Leave Me Lonely' last year.
Last year, he scored a residency at Pacha Ibiza which, all being well, will return this summer in the headline Saturday slot, and tells Skiddle that, with two critically-praised albums in the bag - 2015's Charmer and 2018's Fantast - he has now begun work on a new record (helped in no small part by the enforced isolation).
Hi Claptone. You're renowned for your theatrical disguise, but does wearing gloves and a plague doctor-style mask, given the current situation, feel a bit (for want of a better word) unbecoming?
Claptone: "I've been unknowingly protecting myself from viruses since the dawn of time. My golden mask and velvety-smooth white gloves have served me well."
Where are you isolating right now, and how are you keeping busy/sane?
C: "I've found refuge at home in Berlin. Spending time between my sprawling cactus garden and spaceship-esque studio has proven to be a great balance. I'm making more music than ever. And I am working on a very special video streaming project to make all our quarantine times a bit more fun - more info soon."
As we speak you're sat at the top of the Beatport Top 100 chart with your Mylo collaboration, 'Drop The Pressure'. How did that come about?
C: "I've always had a soft spot for Mylo's productions. Do you remember 'Destroy Rock & Roll'? What a great track. That whole album of his is amazing! When the opportunity presented itself to work with Mylo on 'Drop The Pressure', I just had to say yes! It's been a serious weapon in my DJ sets at The Masquerade and beyond for the last year, and I'm very glad it's finally out for you to enjoy."
Is there more new music on the horizon? A third album perhaps, to follow Charmer and Fantast?
C: "I'm always making new records and this time of self-isolation has proven to be very productive."
You're lauded for your stamina, performing up to 260 shows per year. How badly will this global lockdown affect you? How do you begin to mitigate the impact?
C: "Sometimes, at a lonely airport somewhere in Europe, alone at five in the morning, I find myself thinking about taking a couple of weeks off to enjoy a holiday. Now that I've been home for a couple weeks, there's nothing that I want more than to be out there, lining up for security, putting my liquids into grey plastic bins. I have the best job in the world, I'm itching to get back out there."
All being well, you've announced that your Masquerade residency will return to Pacha Ibiza this summer. For those who don't know/haven't been, what does a Claptone Masquerade party look, sound and feel like (and who might be playing this year)?
C: "The Masquerade is a land of wonder. Throughout the years, I have brought The Masquerade to nearly every continent, each edition better than the last. In 2019, I decided that the time was right to distill everything I loved about my worldwide journey into a weekly presentation on the world's most exciting island - Ibiza. I'm joined once a week by my favourite artists, DJs, producers and spellbindingly talented dancers. The Masquerade is a concept beyond words. You need to experience it to fully embrace its magic touch."
What makes Claptone dance?
C: "A funky bassline and infectious groove - a match made in heaven!"
What makes Claptone cry?
C: "A night at the opera and a truly breathtaking performance."
You recently began selling golden toilet paper on your website. We know there's been a rush on toilet paper of late, but still… why?
C: "Once I noticed the shortage of toilet paper due to people stocking during the Coronavirus, I had an idea: let me manufacture the finest rolls of toilet paper that the world has ever seen, woven out of gold leaf… no, it was an April Fool's joke of course, which was unveiled after adding the toilet paper to your cart. People were then presented with the opportunity to donate the price of the toilet paper to the WHO's charity supporting the Covid-19 Solidarity Response Fund."
Finally, the three tracks pulling you through isolation are…
C: "I actually put together a whole playlist, which you can find here. But if I had to choose three tracks in particular, it would probably be: Joy Division, 'Isolation'; Pixies, 'Where is my mind?'; Opus, 'Life is Life'."
You can find upcoming Claptone events and tickets here. The stream/purchase link for 'Drop The Pressure' is available here.