Another event as part of the Up Close and Personal series at Unit Nine in Milton Keynes, DnB duo Chase & Status is heading over for a biggun on Friday 1st September 2023. Sign up for tickets at the bottom of this page.
If you love a bit of drum and bass, or just electronic music in general, you'll have noticed Chase & Status on countless festival posters including Creamfields South, NASS Fest, WAH In The City, and On The Beach in Brighton.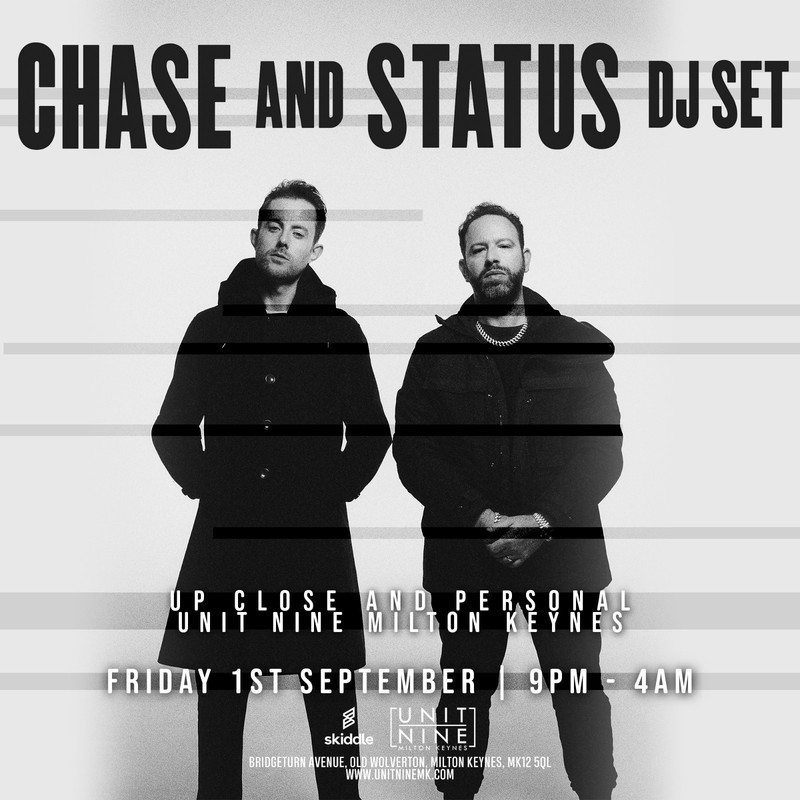 The drum and bass soon-to-be legends are known for experimenting with the sound, fusing elements of reggae, hip-hop, rock, pop and more, crafting high-energy radio, club, and festival-ready bangers.
Bringing their hits like Blind Faith, No Problem, Mixed Emotions and dozens more to an intimate crowd of around 500, it's going to be beyond electric.
Obviously tickets for this one are going to be in wildly high demand, so to be in with the best chance of getting tickets, scroll to the bottom of this page, stick in your details, and sit tight for when tickets go on sale on Friday 26th May at 7 pm.
---
Check out our What's On Guide to discover more rowdy raves and sweaty gigs taking place over the coming weeks and months. For festivals, lifestyle events and more, head on over to our Things To Do page or be inspired by the event selections on our Inspire Me page.


Header image credit: Chase & Status / Facebook.com
Tickets for Chase & Status | Unit Nine in Milton Keynes | Friday 1st September 2023